In a Nutshell
SpectrumVoIP's integrated VoIP solutions stand out as excellent. It offers cellular options for those with poor wired connections, and its solutions are backed by a suite of call-management and call-center tools. There's a single out-of-the-box plan, but custom solutions are available as required. The customer service is decent and the security tools are great, although the mobile app could be better. But overall, there's a lot to like here.
pros
Deskphone hardware with every subscription
24/7 customer sGreat call-management featureservice
Excellent security across the board
cons
Mobile app could be better
No mobile app

SpectrumVoIP Visit Site
SpectrumVoIP Pricing & Plans - How much does SpectrumVoIP cost?
SpectrumVoIP advertises a single Everything plan which starts from $24.95 per seat per month. This includes the company's full range of VoIP features, along with business phone hardware, flexible term options, and constant updates. There are no hidden fees or upfront costs, and you shouldn't ever have to pay more than you were expecting. However, SpectrumVoIP is slightly higher-priced than some competitors, and it's not the best option if you're on a tight budget.
There's no free trial. However, you can request a demo from the SpectrumVoIP team if you would like to explore the tools on offer a little more. The company also offers flexible custom solutions with bespoke pricing for businesses requiring something a little different.
SpectrumVoIP Available Features
SpectrumVoIP offers a wide selection of business phone and contact center features, including voice calling, video conferencing, and text messaging. You will have access to 40 great call-management tools, including call recording, custom hold music, visual voicemail, and auto attendants. On top of this, there are a number of advanced tools worth mentioning.
Service Failover
One thing that stands out about SpectrumVoIP is its Service Failover feature. If you decide to include this option with your subscription, your VoIP system will be connected to the 4G network. This enables you to continue working efficiently, even if you experience an outage or other issues with your main business internet.
Anywhere VoIP
SpectrumVoIP also offers an innovative Anywhere VoIP option. With this, you will receive a base station and wireless deskphones that can be easily moved. It runs on the AT&T and T-Mobile cellular networks, and it has a simple plug-and-play setup that enables you to use it virtually anywhere. This is a great option for those who don't have a reliable wired internet connection.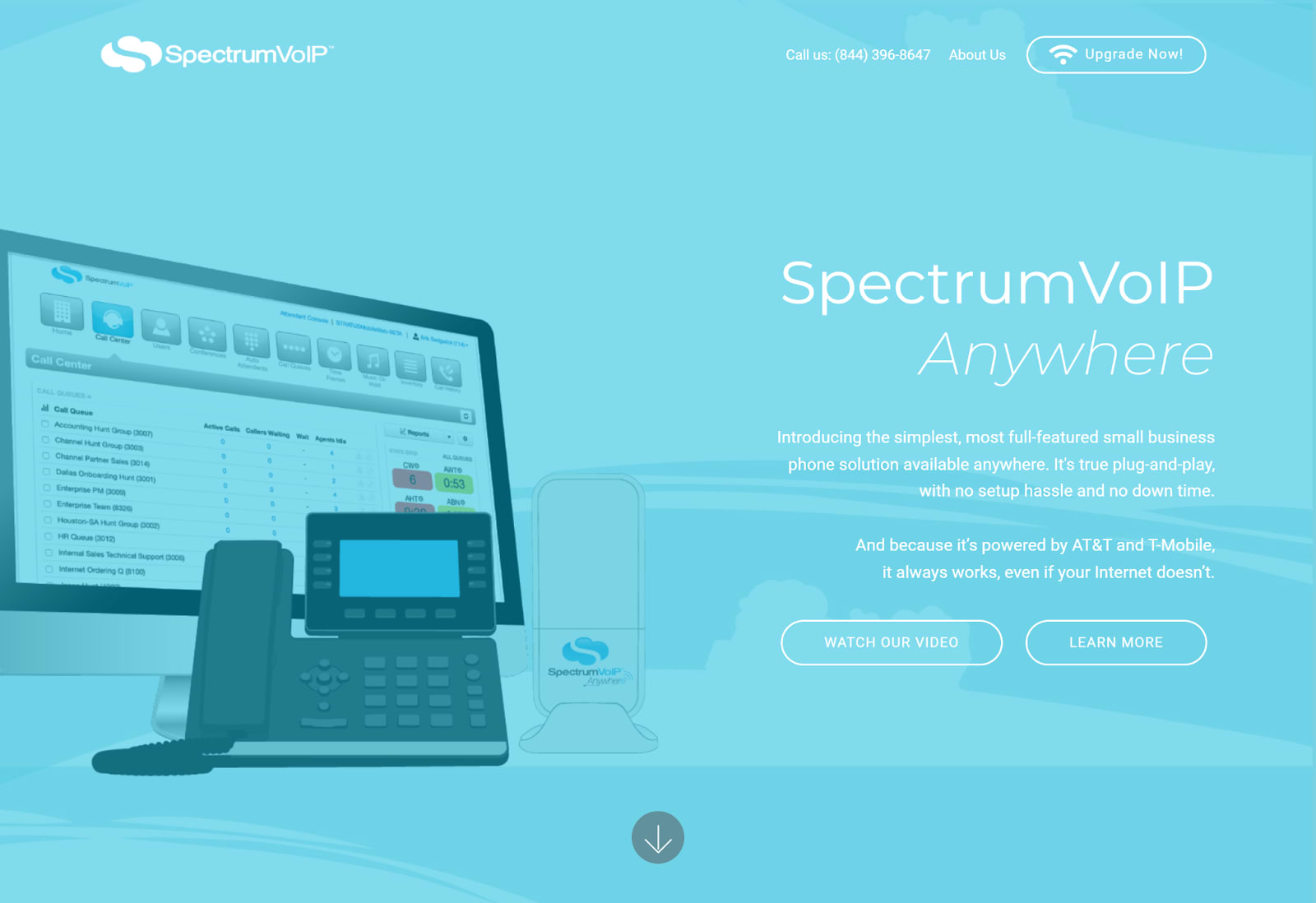 Deskphone hardware
All SpectrumVoIP users will receive a deskphone with their subscription. There are no extra equipment costs, and you can select from a variety of options. However, this could also be a little constraining, as there are no options to use SpectrumVoIP's solutions without purchasing a deskphone.
Call center tools
There's a number of call-center tools on offer for those who need them. With unlimited call queues, a queue call back tool, and custom queue hold music, you will be perfectly poised to configure your call center. You can also view call history, add wait time announcements, and use skills-based call routing.
Call Recording
SpectrumVoIP enables you to record all incoming or outgoing calls as required. You can access up to 30 days of recordings for free, although you will have to pay an additional fee to keep recordings older than this.
Security and Reliability
SpectrumVoIP boasts excellent security across the board. A full summary of the protective measures it employs is available on the company website.
For starters, all data is fully encrypted when in transit. The industry standard SRTP/TLS encryption method is used to protect voice traffic. All employees undergo comprehensive background checks, and strict access controls are used to secure the company's data centers.
In addition, you can configure advanced security settings via your admin dashboard. Multi-factor authentication can be used to reduce the risk of your account being hacked, and you can control user permissions.
SpectrumVoIP also boasts full HIPAA and PCI DSS compliance, among other certifications. The company also makes use of regular backups to secure customer data, and its network is highly resilient and able to function normally if one or more locations goes offline.
SpectrumVoIP Mobile App
The SpectrumVoIP mobile app is available on both iOS and Android devices. It's functional and easy to use, enabling you to make and receive calls and check your voicemail from your mobile device. Video calling is also available with the SpectrumVoIP app, and there are neat internal chat messages.
However, the SpectrumVoIP app is only available to those with a hosted VoIP account, which includes a deskphone by default. There are no mobile-only solutions. Additionally, many customer reviews mention a buggy app that has frequent issues with connectivity and call quality. This is certainly something to be aware of.
SpectrumVoIP Integrations
At the time of writing, SpectrumVoIP integrated seamlessly with a small number of CRMs. These include Netsuite, Kayako, Zoho, SalesForce, Dealer Socket, ConnectWise, Hubspot, and a few others. However, the company appears to be focused on adding more integrations, so we expect this list to grow in the future.
Help and Support
SpectrumVoIP offers 24/7 phone and online ticket support. It uses US-based support agents who are usually friendly and knowledgeable. In addition, Spectrum can arrange for a local technician if you require repairs or IT assistance for your phone system.
Alongside its live support, SpectrumVoIP offers a comprehensive support site packed full of great resources. It's fully searchable, and you will find everything from troubleshooting guides and FAQs to step-by-step tutorials and informational articles. There's also a blog containing a small number of interesting informational pieces.
How SpectrumVoIP Compares to Other VoIP Providers
$24.95 per user, per month
$19.99 per user, per month
$19.97 per user, per month
Yes (Outlook and SugarCRM only)
24/7 phone, 24/7 online ticketing, support site
24/7 phone, online ticketing, support site
Phone, email, live chat, FAQs
SpectrumVoIP vs RingCentral
RingCentral is a standout in the VoIP world, and it eclipses SpectrumVoIP in almost every way. It has an excellent mobile app, it boasts integrations with hundreds of third-party programs, and it has industry-leading security. However, SpectrumVoIP does include deskphone hardware—RingCentral doesn't—making it a competitively priced option if this is something you require.
SpectrumVoIP vs CloudPhone
CloudPhone offers simple VoIP solutions with a strong emphasis on workplace automation. It has no video conferencing tools, and its support is much more limited than SpectrumVoIP's. It does have a 30-day free trial and supports integrations through Zapier, but SpectrumVoIP certainly stands out as a better option if you require deskphone hardware.
SpectrumVoIP vs Alliance Phones
Alliance Phones offers feature-rich VoIP solutions that are perfect for those on a tight budget. However, its user interface is much more outdated than SpectrumVoIP's, it lacks integrations, and there's no mobile app. We'd choose SpectrumVoIP in most cases, but Alliance Phones does have a neat 30-day free trial that you can use to test the platform.
Is SpectrumVoIP Right For Your Business?
SpectrumVoIP offers a selection of integrated VoIP solutions backed by various tools and advanced features. Its basic package is relatively affordable and includes unlimited calls throughout the US and Canada. However, it requires a deskphone to use, and there are no mobile-only options.
On the plus side, SpectrumVoIP offers advanced custom solutions for businesses of all sizes. All plans come with a suite of call-management and call center tools, including things like call recording and voicemail transcription. The beta version of the company's new video conferencing platform was also released recently.
You will also benefit from excellent security across the board. The customer service is decent, although live chat is lacking. The mobile apps are average at best, and we would have liked to see a few more integrations.
But at the end of the day, there's a lot to like about SpectrumVoIP. If you're looking for a custom VoIP solution that's built around deskphones, we'd suggest reaching out to the sales team and organizing a demo.