We'll get into this in more detail later, but, in a word, yes. While it may not be as effective or fast-acting as professional whitening treatments, whitening toothpaste can improve your smile and restore confidence.
Most conventional toothpaste contains ingredients such as baking soda or silica, which act as an abrasive to polish out surface staining. Whitening toothpaste typically includes those ingredients, plus a bleaching agent such as hydrogen or carbamide peroxide. Some may also contain a chemical called blue covarine, which gives the appearance of a whiter smile by making teeth appear less yellow.
While toothpaste incorporating blue covarine can have an immediate whitening effect, whitening toothpaste containing a bleaching agent can take several weeks or more to make a difference.
How Does Whitening Toothpaste Work?
Tooth staining falls into two categories—discolorations on the surface of the tooth (extrinsic stains) or discolorations on the inside of the tooth (intrinsic stains). Different formulas address each stain issue.
Toothpaste that contains abrasive substances like silica or dicalcium phosphate works to polish or buff the extrinsic stain away from the surface of the tooth enamel. Products containing an active bleaching agent like hydrogen peroxide take it one step further. These ingredients penetrate tooth enamel to lift stubborn ingrained staining and whiten teeth simultaneously.
In most cases, whitening toothpaste is used in the same way as regular toothpaste, though you should remember only to spit the toothpaste out and not to rinse. The biggest difference is how often whitening toothpaste can be used.
The coarse abrasives contained in regular toothpaste are typically formulated to be softer than your enamel. So, they can be used several times daily to polish away surface staining without damaging teeth.
Conversely, whitening toothpaste containing hydrogen peroxide may be different. While some can be used several times a day, others are formulated for daily use or are designed to be used intermittently. It's essential to follow the instructions on the box to avoid overuse and damage to teeth.
Best Whitening Toothpastes of 2023
Now that you know how whitening toothpaste works, it's time to take a look at your options. I've done the research to come up with ten of the best whitening toothpaste brands this year.
SNOW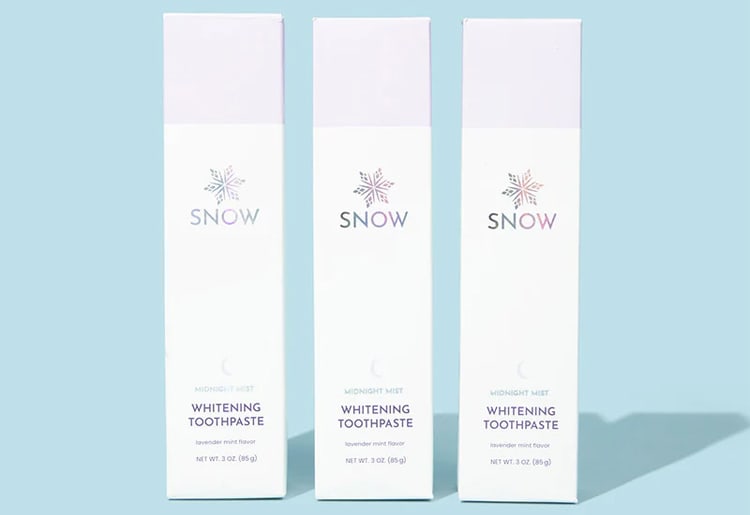 AM and PM whitening formulas
After over 17 months in development, SNOW finally released their sought-after teeth whitening toothpaste in 2019. The SNOW system includes not one but two kinds of toothpaste that work together to maintain a healthy, brighter smile using hydrogen peroxide as a whitening agent. Morning Frost is the AM toothpaste with a distinct minty-fresh flavor, while Midnight Mist provides overnight whitening with a soothing blend of lavender and mint.
Out of 1762 reviews on Amazon, 63% highly rated it. Positive reviews noted that the toothpaste had a great flavor, was non-abrasive, and whitened teeth.
On the flip side, others thought the product was quite expensive, and results took some time to achieve. It also doesn't foam up like regular toothpaste, which could be a turn-off, with some people likening it to a flat soda.
Overall, although it's a little pricey, SNOW offers a good whitening toothpaste that can stand in for your regular toothpaste both morning and night.
Pros
Great flavors

Non-abrasive

Simple AM and PM use
Cons
Quite expensive for a toothpaste

Doesn't foam up like regular toothpaste

Snow Try Now
SmileDirectClub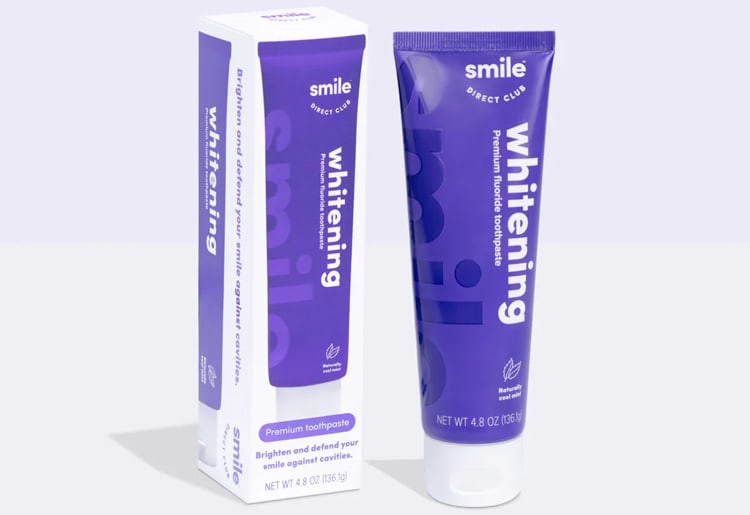 Mild whitening from a global brand
You probably know SmileDirectClub for its brand of at-home orthodontics. Its whitening toothpaste is affordably priced at just $3.00 per tube, and it provides an entry point for those looking for an affordable solution to maintaining a white smile.
This toothpaste is marketed as a premium fluoride toothpaste that whitens teeth, and, in fact, it doesn't contain any bleaching agents like hydrogen carbamide or peroxide. Therefore, it relies on abrasives to lift staining—in this case, silica. This ties in with reviews suggesting it's excellent on lighter surface staining but struggles to remove heavy or ingrained staining.
SmileDirectClub's whitening toothpaste is cruelty-free, shellfish-free, gluten-free, and vegan-friendly, making it a great choice if you have specific dietary requirements or animal welfare concerns.
If you're looking for an all-rounder with stronger bleaching power, there are more expensive products better suited to your needs. However, SmileDirectClub's toothpaste is a low-cost, entry-level whitening option if you want slightly whiter teeth without any bleach.
Pros
Great price at just $3.00 a tube

All-natural ingredients

Peroxide-free
Cons
Works on light surface staining only

Some people say that it has a fake sweetener aftertaste

SmileDirectClub Try Now
CO. by Colgate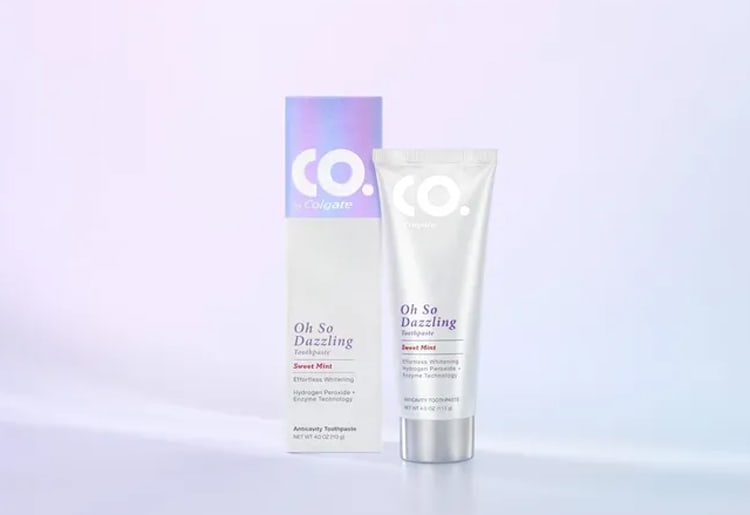 Having been around since 1873, it's safe to say that Colgate knows a thing or two about toothpaste. It was the first company to mass-produce toothpaste in jars and invent a whitening toothpaste in the US. With Oh So Dazzling whitening toothpaste by its sub-brand CO., it's introduced an enzyme-boosted whitening toothpaste with hydrogen peroxide.
Enzyme technology aids gum health while sodium mono-fluorophosphate guards against cavities. Silica and hydrogen peroxide work to remove surface and deep-down stains. Results suggest that this product is a complete all-rounder, and the sweet mint flavor seems to hit the spot with reviewers.
At $15.00, Oh So Dazzling whitening toothpaste is at the pricey end of the spectrum, but reviews seem to suggest that the cost is worth it, because it gets results. Customers like that the products whiten and provide protection simultaneously with zero irritation.
Pros
Good all-rounder for whitening and tooth health

Great minty flavor

Unique enzyme technology for gum health
Cons
Pricey for a toothpaste

Not as quick as other whitening products on the market

Co. by Colgate Try Now
Auraglow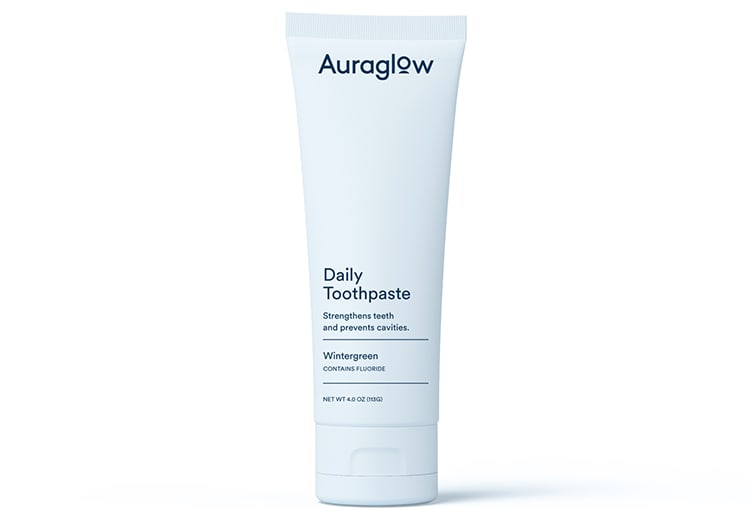 Great-tasting daily use toothpaste + whitening
This daily toothpaste from Auraglow is not so much a whitening toothpaste—although it does have whitening qualities—but is more of a daily-use anticavity paste. While it doesn't contain hydrogen or carbamide peroxide to whiten teeth, it does contain abrasives such as silica to polish up or buff off mild surface staining.
Customers love the fresh wintergreen taste—minty-fresh without being super-sweet. They also like the texture and that the fluoride helps protect against cavities.
Customers aren't so enamored with the price, as Auraglow's daily toothpaste costs $12.00 for a daily-use toothpaste which is a little expensive. Although some said it left their teeth whiter, others felt it made little difference. That said, Auraglow's daily-use toothpaste doesn't claim to be a whitening toothpaste in the true sense of the word, so perhaps it's unsurprising.
The verdict? This toothpaste is perfect for a daily-use anti-cavity toothpaste with fluoride protection that may sometimes whiten. It's worth mentioning that Auraglow does have a dedicated whitening toothpaste, but this was unavailable at the time of writing this review.
Pros
Great wintergreen taste

Good texture

Fluoride for cavity protection
Cons
Quite pricey for a regular toothpaste

No specific whitening agent

Auraglow Try Now
BURST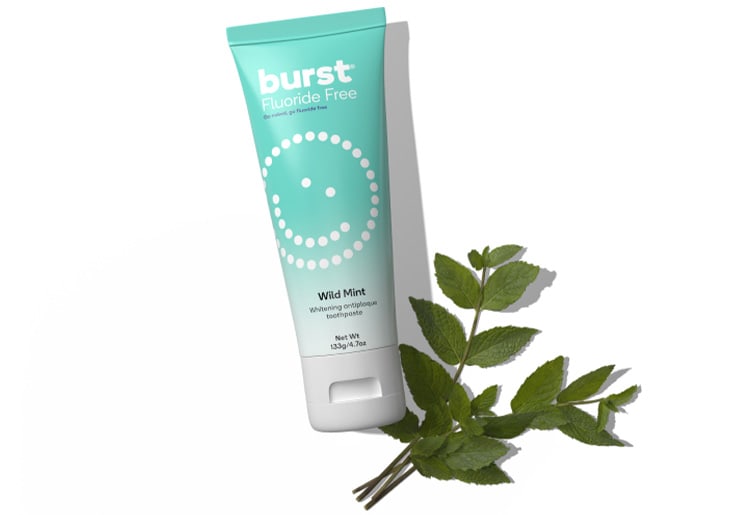 Eco-friendly whitening toothpaste
Burst appeals to the eco-conscious consumer, and its range of toothpastes is no exception. Brimming with natural ingredients and not an artificial color or paraben in sight, these toothpastes aim to be gentle on sensitive teeth. Moreover, the tubes are 100% recyclable and made from BPA-free plastic.
BURST's fluoride, non-fluoride, and charcoal-fluoride toothpastes come in two great flavors, wild mint and coconut salt, which people seem to love. And at just $6.99 per tube on a subscription, it keeps you feeling good about what you put in your mouth without breaking the bank.
Like some of the other brands we've reviewed, it doesn't contain bleaching agents but hydrated silica. Therefore, you can expect this toothpaste to remove light staining but not to have a noticeable whitening effect.
While it might not be great for dramatic brightening, BURST toothpaste will be perfect if you're an eco-conscious consumer or have sensitive teeth.
Pros
All-natural ingredients

Great for sensitive teeth

Eco-friendly packaging
Cons
Doesn't whiten as well as other brands

Some people found the consistency to be quite thick

BURST Try Now
Dr. Brite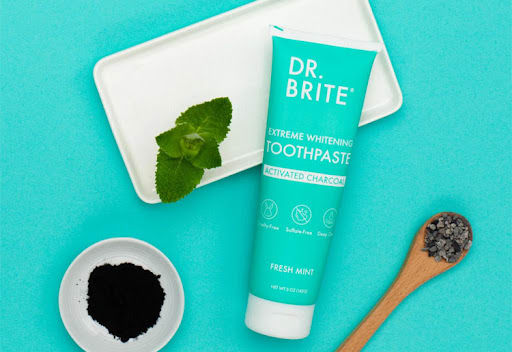 All-natural toothpaste with subscription options
Dr. Brite prides itself on providing a range of oral health and cleaning products free from toxic chemicals, inflammatory agents and hormone disruptors. Its Extreme Whitening toothpaste uses plant-based and all-natural materials, enabling you to remove stains and protect your teeth without worrying about unhealthy chemicals.
Like other eco-conscious brands, Dr. Brite's Extreme Whitening toothpaste uses hydrated silica rather than a bleaching agent like hydrogen peroxide. So does it perform extreme whitening?
Reviews suggest that consumers have noticed a difference after some use, but it's a gradual process. Feedback from consumers also indicates that they love that ingredients are all-natural, but it doesn't foam up like other toothpaste, which could take some getting used to.
Other positives are that Dr. Brite's toothpaste is Environmental Working Group (EWG) certified, meaning that the products don't contain any chemicals or parabens from EWG's unacceptable list. At a little over $9.50 when you subscribe, the product offers decent value for money, making it a good solution for consumers seeking less-sensitive stain removal who want to buy into an ethical and eco-friendly product.
Pros
All-natural ingredients

Great for sensitive teeth

EWG certified
Cons
Non-foaming paste can feel a little flat

Whitening is gradual rather than fast-acting

Dr. Brite Try Now
GLO Science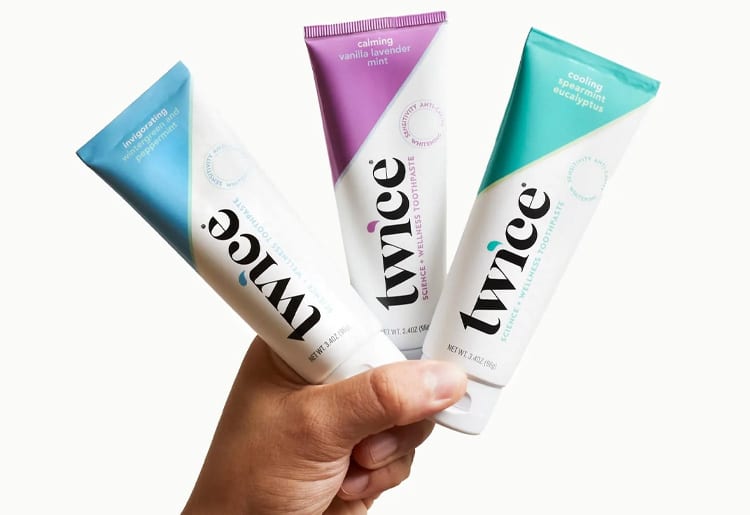 Science meets wellness toothpaste from GLO
Launched in 2018, Twice toothpaste from GLO Science has the backing of a celebrity endorser in the Grammy-winning artist Lenny Kravitz. The product is named Twice because of the brand's dual focus on science and wellness, and it's meant to offer both whitening and oral health. Plus, 10% of profits go to the Glo Good Foundation.
Utilizing hydrated silica as the whitening element plus a whole host of vitamins to incorporate teeth and gum health, Twice seems to have every angle covered, but does it work?
Reviewers love the subtle, no-burn flavors of lavender + vanilla and various types of mint, and the fact that the paste is sulphate-free for sensitive mouths. Consumers also suggest that there is a whitening effect.
Although the ingredients won't have as much of an effect on heavily stained teeth, Twice excels as a feel-good product that promotes a healthier routine for your teeth and mouth while whitening along the way.
Pros
10% of profits go to the GLO Good Foundation

Subtle, no-burn flavor choices

Celebrity endorsed
Cons
Smaller tubes than other whitening brands

Not ideal for heavily stained teeth

GLO Science Try Now
hismile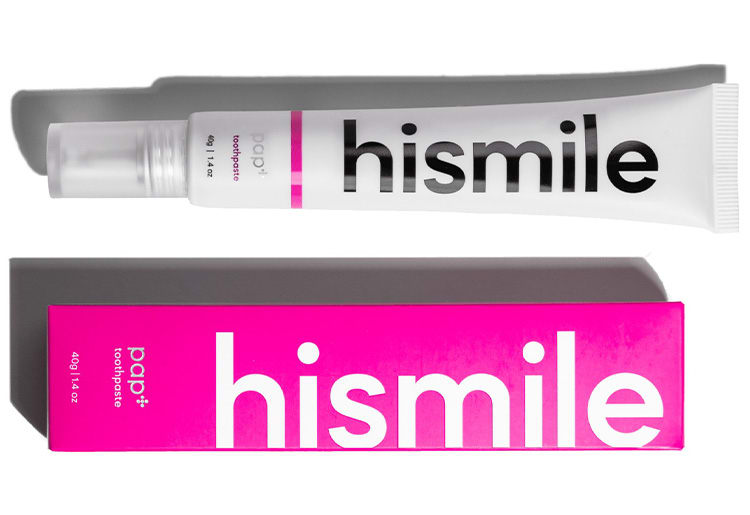 Peroxide-free whitening for sensitive teeth
hismile whitening toothpaste certainly stands out from the competition. Part of this is the luminous pink branding, but more importantly, it's that it's one of the only toothpaste brands to use PAP, short for phthalimidoperoxycaproic acid, as its primary whitening ingredient.
PAP is the safer and less aggressive whitening alternative to hydrogen or carbamide peroxide. Unlike peroxides, it doesn't release free radicals, so there is no impact on teeth and gums, meaning it's ideal for those with sensitive teeth and shouldn't cause discomfort.
Reviewers seem to agree that hismile's peroxide-free formula works well. Unlike silica-based toothpaste that removes staining but won't necessarily whiten teeth, this product whitens without any of the occasional harmful effects of peroxide.
This toothpaste doesn't come in the largest tube in the world, so, at over $10, it may be on the pricey side, but that's a small price to pay if it works for you.
Pros
No sensitivity

Peroxide-free PAP technology

Fun branding
Cons
Small tube compared to other brands

A little on the pricey side

Hismile Try Now
Primal Life Organics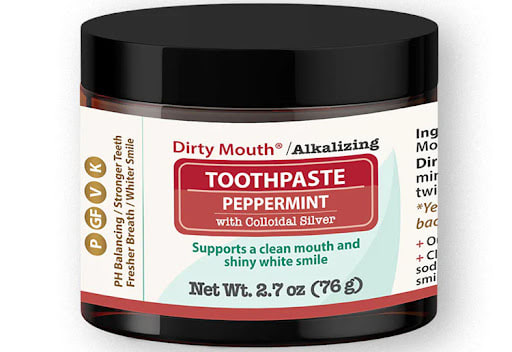 Mineral toothpaste with stain-busting qualities
The aptly named Dirty Mouth Alkalizing Toothpaste is one of a selection of oral health products from Primal Life Organics. Creative flavors like bubblegum and black spearmint appeal to those that want something out of the norm, and high-quality organic ingredients will entice those who care about what they put in their bodies.
Dirty Mouth Alkalizing toothpaste contains alkalizing ingredients like baking soda, but this is skilfully blended with other elements, including colloidal silver, hydroxyapatite, French green clays, essential oils, and other minerals, such as bentonite. The result is toothpaste that whitens teeth while strengthening and protecting gums at the same time.
Reviews suggests that it works, with reviewers mentioning things like "amazing smile transformation," "healed cavities," and "fresh-from-the-dentist feeling." However, some consumers said that it left a distinctive clay taste. Plus, at $34.97, it's at the top of the price range for a toothpaste.
Despite this, if you're looking for a good all-rounder whitening totohpaste that protects, mineralizes and whitens teeth, all packaged in a convenient jar, Primal Life Organics' offering might be perfect.
Pros
Stain-busting qualities

Organic, vegan, and peroxide-free

Creative flavors
Cons
High-end prices

Some people reported a distinct clay taste
Read Primal Life Organics review

Primal Life Try Now
Supersmile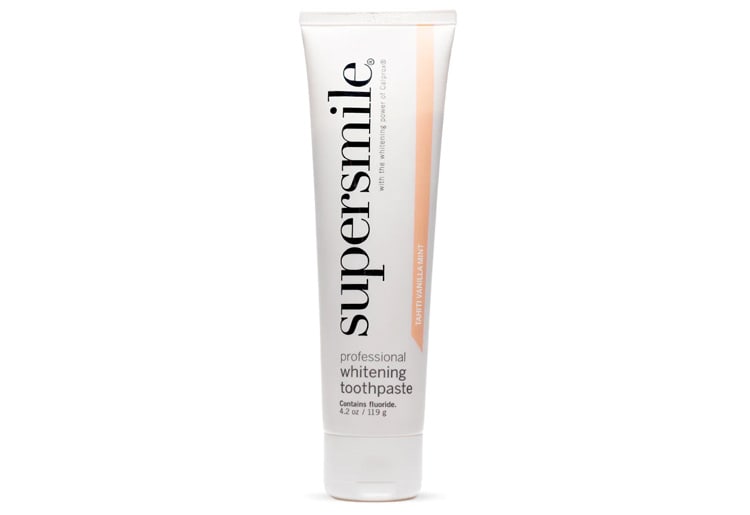 Whitens, mineralizes, and strengthens teeth
Supersmile has been leading the way in innovative oral whitening since 1987 and continues to expand its range. Its professional whitening toothpaste is available in seven creative flavors and is said, on average, to whiten teeth up to six shades in five days.
The professional whitening toothpaste from Supersmile uses a product called Calprox, an encapsulated form of calcium peroxide which helps whiten, mineralize, and strengthen teeth. Unlike many silica-based toothpastes with no specific bleaching ingredient, this one will lighten teeth and bust stains.
Most reviewers saw a noticeable difference in the whiteness of their teeth, with many posting before and after pictures. However, other comments stated that six shades in five days was a bit of an overstretch. In most cases, the whitening effect took longer to achieve by several weeks or more. Given that many whitening toothpastes only have mild touch-up effects, though, the wait could be worth it.
$25.00 is at the pricey end for whitening toothpaste, but it could be a good investment if you'd like to see results up to six shades whiter without having to change your regular routine.
Pros
Teeth up to six shades whiter

Seven creative flavors

Re-mineralizes and strengthens
Cons
Relatively pricey

Sometimes takes longer to whiten than advertised

SuperSmile Try Now
How to use whitening toothpaste
Perhaps the best thing about whitening toothpaste is that, in most cases, it provides cosmetic whitening on top of the benefits of toothpaste without a big change in your daily routine.
Some whitening toothpastes, mainly those with all-natural ingredients, can be used several times a day, just like your everyday toothpaste. Other peroxide-based toothpastes should only be used once daily to supplement your conventional toothpaste. Either way, the process is pretty simple.
Squeeze a measured amount of toothpaste onto your toothbrush of choice.

Gently brush the teeth for two minutes.

Spit out any remaining toothpaste but don't rinse.

Repeat per the instructions for your specific toothpaste.
Certain whitening toothpastes are all-rounders and contain built-in enamel strengtheners, but if yours does not, you may want to use it in conjunction with a toothpaste that does to help build the tooth surface while you whiten.
Finally, if you have sensitive teeth or have an abundance of crowns and fillings, it's recommended that you talk with your dentist first before using whitening toothpaste.
Does Whitening Toothpaste Really Work?
All toothpaste containing some form of abrasive is capable of removing staining to a degree. But you'll want a toothpaste containing a bleaching agent for greater whitening power. That agent may be hydrogen peroxide, carbamide peroxide, PAP+, or a calcium peroxide derivative. These are the same compounds used in professional teeth-whitening treatments by your local dentist and they generally whiten teeth faster and more than just an abrasive treatment.
However, the quantities of bleaching agents in whitening toothpastes are minimal compared to those used in professional treatments. For this reason, it will take time to see results from whitening toothpaste, several weeks or more in most cases.
Daily use of a quality whitening toothpaste can gradually reverse minor yellowing and tooth staining. It's also a good option to use a non-abrasive whitening toothpaste after you've had your teeth professionally whitened so that you can maintain a bright white smile for longer.