In a Nutshell
Auraglow offers a variety of popular and cost-effective teeth whitening products that provide clinically proven and enamel-safe solutions. Auraglow's signature product is a teeth whitening kit that combines professional whitening gel with LED light technology to remove stains and brighten smiles. You may experience results after the first treatment; however, more noticeable improvements are typically seen after three to five treatments.
pros
Noticeable results within a few days
Cost-effective compared to similar brands
Causes no sensitivity or irritation
cons
Many customers find the mouth tray breakable
Mouth tray only comes in one size

Auraglow Visit Site
Auraglow at a Glance
Best For: An affordable smile makeover using easy-to-use, gentle products.
Starting Price: $26 for a teeth whitening pen.
Treatment Duration: Auraglow recommends seven to ten days of consecutive use for best results.
Estimated Length of Results: Typically, results last for one to three months.
LED Technology: Yes
Money-Back Guarantee: Yes
What is Auraglow?

Auraglow is a USA-based oral care company with a line of home teeth-whitening products, including teeth whitening kits, pens, trays and strips. According to Auraglow, you can achieve a bright, whiter smile in as little as 30 minutes per day.
Each product contains professional-grade ingredients that are 100% enamel-safe. Customer reviews are globally positive and speak to its ease of use and efficacy. Auraglow uses a 35% carbamide peroxide whitening gel, which research has shown is both safe and effective.
One of the most notable things about Auraglow is that it can achieve results in a short space of time. This is due in part to its industry-leading LED teeth-whitening technology, which can brighten teeth three times faster than using the gel alone.
How Much Does Auraglow Cost?
Auraglow sells a variety of teeth-whitening products at different price points. Prices start at $26 for a teeth-whitening pen and rise to $80 for their popular teeth-whitening kit. Shipping is free on all US orders.
Auraglow Teeth Whitening Kit
Auraglow Teeth Whitening Pen
Auraglow Custom Teeth Whitening Kit
Auraglow Prefilled Whitening Trays
Auraglow Teeth Whitening Strips
At $80, the Auraglow teeth-whitening kit is cheaper than similar whitening kits from other companies. Kits can be bought online with free shipping on all US orders. While Auraglow does not offer financing, they do provide coupons that can be used to unlock discounts on the company's website.
Auraglow Teeth Whitening Kit Review
This review looks at Auraglow's teeth-whitening kit. The clinically proven kit comes with 20 treatments, and, according to Auraglow, it can whiten up to ten shades in just seven days. We'll cover using the product, the ingredients, what you get for your money, how it works, and your expected results.
What comes in the Auraglow whitening kit
Teeth whitening LED light

Two tubes of 35% carbamide peroxide whitening gel (enough for 20 treatments)

Docking and storage case for the light

Magnetic charging USB cable*
*Note that a wall plug is not included. Auraglow recommends using your mobile phone's USB-A wall plug to charge your LED light.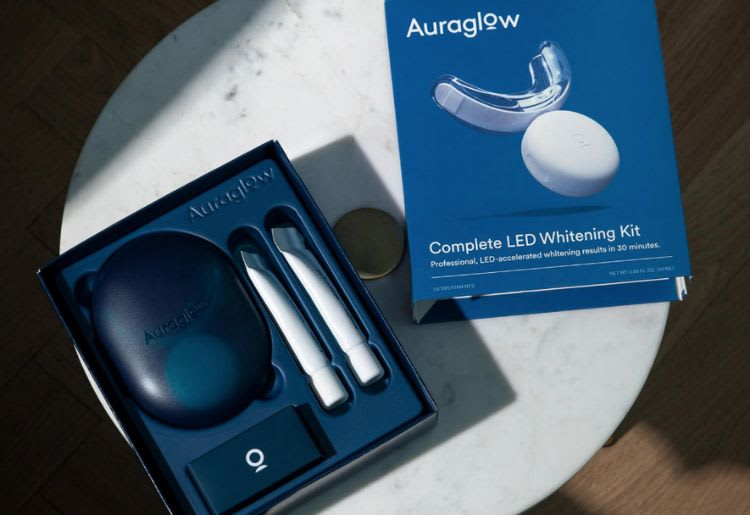 What are the ingredients?
Auraglow's teeth whitening gel contains 35% carbamide peroxide, a whitening agent that removes stains on teeth. It's safe to use at home without dental supervision.
Other ingredients include glycerin, urea peroxide, propylene glycol, xylitol, carbomer, mentha piperita oil, triethanolamine, aqua, ascorbic acid, eugenol, and camellia sinensis leaf extract.
How does Auraglow's whitening kit work?
Auraglow uses carbamide peroxide whitening gel and LED light technology to remove stains such as those caused by tea and smoking. The gel is similar to dentists' professional-grade materials and contains remineralizing ingredients and peroxide. They work together to whiten teeth without irritation or sensitivity.
An LED light attaches to the mouth tray, which is placed in your mouth to hold the gel in place. The light activates molecules inside the gel, penetrating the enamel and lifting stains, and is said to work three times faster than using the gel on its own.
How to use Auraglow's whitening kit
To whiten your teeth with Auraglow's kit, follow these steps.
First, charge the enclosed LED whitening light.

When you're ready to whiten your teeth, brush and dry them as you would normally.

Fill the top and the bottom of the teeth-whitening tray with the whitening gel. Be careful not to overfill the tray.

Place the tray in your mouth, firmly over your teeth. Then turn on the whitening light by tapping on the Auraglow logo. The light attaches to the tray and shines directly onto your teeth.

Wear the tray and light for 30 minutes for best results. The light beeps every ten minutes for your convenience.

Once 30 minutes have elapsed, the device will turn off. Remove the tray and rinse your mouth and the light tray with water.

Store the light in the storage case and keep it in a cool, dry place.

Avoid consuming staining food and beverages for about an hour.

Repeat this teeth whitening process for seven to 14 days, or until you have achieved your desired results.
As described, the whitening kit is easy to use. Simply fill up, insert and wait. Ideally, the best time to use it is between meal times because for best results, you should wait at least 1 hour before consuming any foods or beverages.
Is Auraglow safe, or will it damage your teeth?
Auraglow's teeth whitening kit is safe to use and will not damage your teeth. It safely eliminates stains without eroding or damaging enamel.
Participants felt no irritation or sensitivity in a clinical study of Auraglow's gel. Additionally, no ill effects or adverse reactions were reported.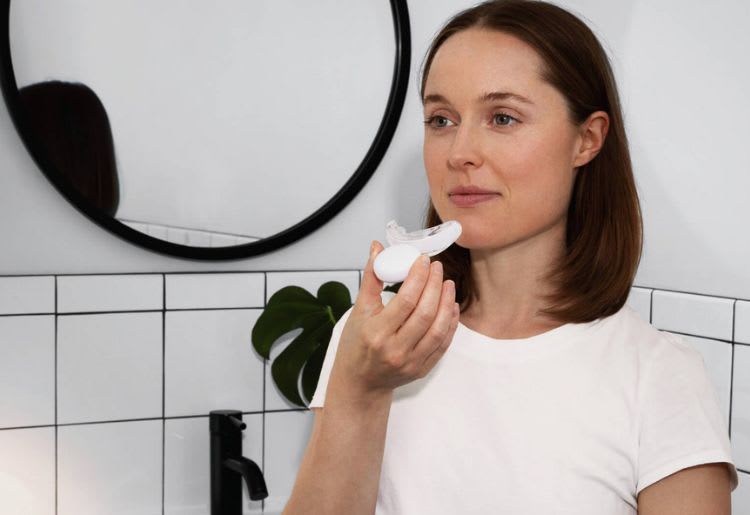 Does Auraglow actually work?
Thousands of people have purchased Auraglow's whitening kits and achieved excellent results. Based on customer feedback on major retailers' sites, many have enjoyed rapid results after a few days of use and have experienced no sensitivity issues.
According to Auraglow, you are likely to see results immediately or after a few daily uses. However, this depends on the starting shade. Best results are achieved by following Auraglow's recommendation of using the light and gel for 30 minutes per day for at least seven days.
While the whitening results vary from person to person, Auraglow says they last from one to three months for most people, provided they stick to good oral hygiene practices.
The whitening kit comes with a 100% 30-day money-back guarantee. If you don't get the smile you're looking for after 30 days, Auraglow will refund your purchase without quibble.
How Does Auraglow Compare to Other Whitening Kits?
LED light + Whitening gel
LED light + Whitening gel + lipcare
LED Wireless mouthpiece + whitening wands + whitening serum
Whitening Toothpaste + Whitening gel + extender gel
30 minutes each day for at least seven days
Four consecutive applications each day for five days
Nine to 30 minutes each day for 21-30 days in a row
Once a day for seven consecutive days
Results last from one month to three months
After the initial treatment (five to seven days), maintain consistent results with one day of whitening each month.
Results can be seen after a few days. Use consistently for long-term results.
Results last up to six months
Auraglow vs Glo
Glo's Original Brilliant Teeth Whitening Device is considerably more expensive than Auraglow's teeth whitening kit, $199 compared to Auraglow's $80. Both brands offer safe and effective teeth whitening gels that are easy to apply. However, instead of syringes, Glo packs its whitening gel into vials.
Auraglow vs Snow
Snow's at-home teeth whitening kit is pricier than Auraglow's—$149 compared to $80. Snow's results take longer to appear. The brand recommends a daily treatment of 9-30 minutes for 21-30 consecutive days. Meanwhile, Auraglow claims good results can be achieved after seven days of consecutive use.
Auraglow Vs. SmileDirectClub
At $55, SmileDirectClub's Pro Whitening System costs a bit less than Auraglow's teeth-whitening kit. Both require you to use their respective kits for seven consecutive days for the best results. However, SmileDirectClub's results tend to last a little longer.
Other Auraglow Products
Auraglow Teeth Whitening Pen
A handy teeth-whitening pen you can carry with you.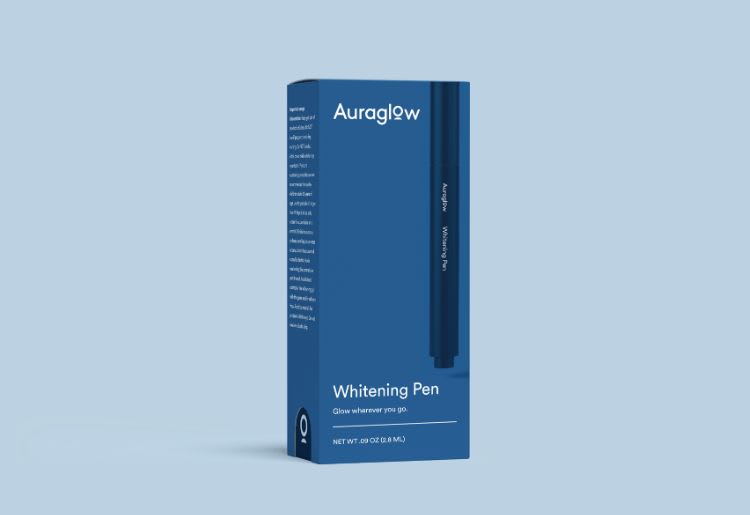 Starting price: $26
Treatment duration: Whitens teeth in under a minute. Use one or two times daily.
Results: Whitens up to ten shades in seven days.
Auraglow's teeth whitening pen is perfect for busy individuals. This convenient way to brighten your smile is a pocket-sized device ideal for maintenance or a little touch-up whitening.
One minute is all you need to achieve teeth that are visibly brighter and whiter. Just twist the pen and brush the gel onto your teeth. Use the pen once or twice a day for best results.
The product comes in a 2.8 ml tube and is sufficient for 15 treatments. It's easy to use and doesn't cause gum sensitivity or irritations. The whitening formula contains 35% carbamide peroxide and natural ingredients.
The teeth whitening pen comes with a 30-day, risk-free guarantee, and at $26, it's cheaper than many other teeth whitening products.
Pros
A quick way to whiten your smile.

Portable. You can easily carry it around with you.

Safe for tooth enamel.
Cons
Can be tricky to get the gel out of the tube.

Some users have said the whitening effects don't last long.



Auraglow Custom Teeth Whitening Kit

Customizable trays for at-home teeth whitening.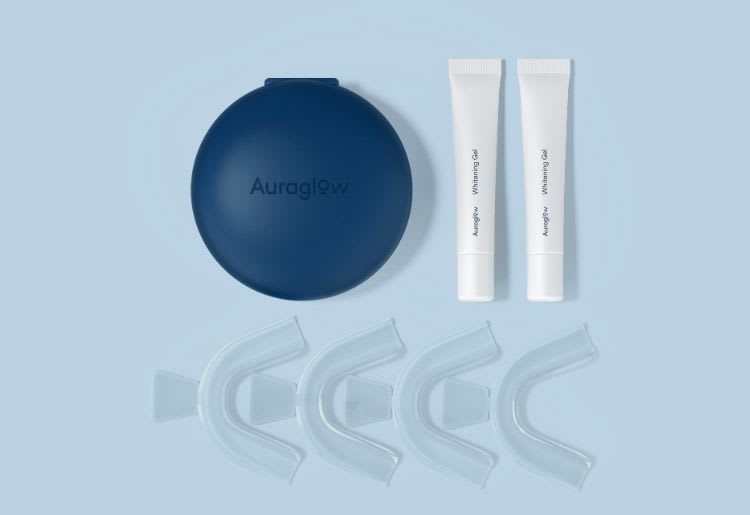 Starting price: $45
Treatment duration: Daily for at least seven days.
Results: Whitens teeth by up to ten shades in seven days.
Auraglow's Custom Teeth Whitening Kit utilizes customized trays to whiten teeth. They're similar to those used by dentists but at a much lower cost. The soft thermoform trays provide a snug fit for the contours of the mouth and teeth.
Each kit comes with four thermoform trays. Just dip them in water to create the perfect mold for your teeth. One tray is molded to your top teeth and one to your lower teeth. The other two trays are spares. You will also receive 20 treatments of whitening gel (20ml) and a premium storage case for the trays.
Pros
Trays that fit comfortably.

Trays for top and bottom teeth.

Spare trays supplied.
Cons
Does not come with an LED light.

Some people find it a little tricky to make the teeth molds.
Is Auraglow's teeth whitening kit worth it?
Auraglow's teeth-whitening kit is an ideal solution for people who want a brighter smile at an affordable price. The system consistently earns excellent reviews from customers and brightens smiles without damaging tooth enamel.
Some people see results after the first application, while others will see noticeable differences after three to five applications.
Overall, Auraglow's Teeth Whitening Kit is a reliable way to quickly whiten your teeth at home for a more affordable cost than much of the competition.