In a Nutshell
The Snow at-home teeth whitening kit is an affordable, all-in-one teeth whitening system. It's ideal for those who want professional-level results but don't want to spend time getting there. Designed by a leading cosmetic dentist, it's formulated to be gentle on gums and enamel. Treatment duration is nine minutes per day for 21 days. 97% of customers see results after one use, and 100% of customers see results after three weeks.
pros
Fast and easy to use at home
Red LED light technology that's gentle on enamel and gums
Good reviews and customer ratings
cons
No indication of how long results will last
Free shipping only in the US

Snow Visit Site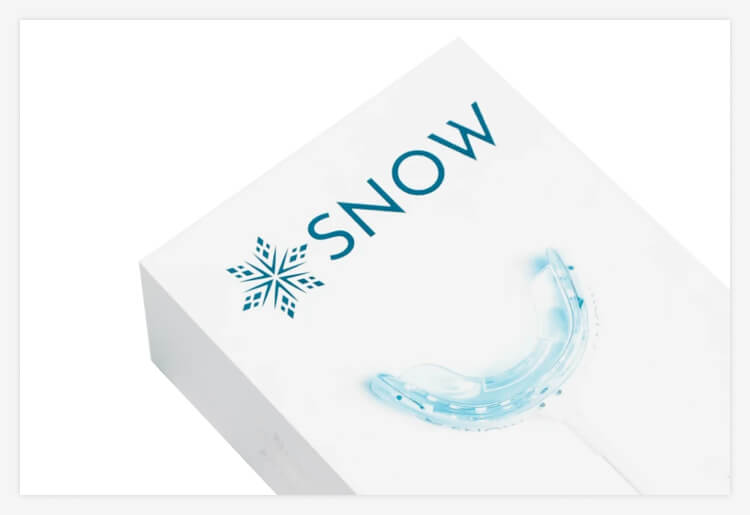 Snow At A Glance
Best For: Fast, professional-level teeth whitening and gum care.
Starting Price: $299.00
Treatment Duration: Nine minutes per day for 21 days
Estimated Length of Results: There is no definitive indication of how long results last.
LED Technology: Yes
Money-Back Guarantee: 30 days with a five-year warranty
What is Snow?
Snow is one of the most popular teeth whitening brands in the US with a solid track record. Since the company's formation in 2017, it has already had over 13 million customers. The company focuses on providing safe and non-abrasive oral care products, including serums, mouthwashes, toothpaste, strips, and teeth whitening kits. Moreover, many of its formulas are said to be the best in class.
Snow's website says, "A snow product is purchased every 6 seconds." This is no surprise. With a five-year warranty on whitening kits and a 30-day no-quibble money back guarantee, you get the impression that the company is really looking out for you.
If that isn't enough, Snow also invests some of its profits into helping the 18 million US children who currently don't have affordable access to dental care. All things considered, Snow is a feel-good company making a big impression in the market for all the right reasons.
How Much Does Snow Cost?
While prices for products like charcoal dental floss start at $14.95, you can purchase other products like Snow whitening strips, rejuvenating lip balm, or Arctic-Frost whitening mouthwash for somewhere between $20.00 and $41.00. As a great addition, Snow also offers interest-free payment plans using Afterpay and free shipping within the US. Snow also regularly promotes offers on their products for even better savings.
The LED Electric Whitening Toothbrush
New Wireless Teeth Whitening System
Extra Strength Whitening serum
$28.95 for 1, $88.95 for 6
The Arctic Frost Mouthwash
Magic Teeth Whitening Powder®
Snow Whitening Teeth Strips®
The Teeth Whitening Wipes
The Accelerating LED Mouthpiece
Limited Rainbow Magic Teeth Whitening Powder®
Snow whitening Shade Guide
The Accelerated LED Mouthpiece
1-Year Of Snow Teeth Whitening Wands
Snow's premium products (the wireless LED kits) are pricey compared to the industry average. However, you're buying into a brand with an exceptional reputation, and you can pay using interest-free installments.
What Comes in the SNOW Wireless Whitening Kit?
Snow's marquee products are undoubtedly its whitening kits. While the first-generation whitening kits start at $149, in this review, we'll talk about the premium wireless kits priced between $299 and $399. Here we'll look at what they are, how they work, how to use them, whether or not they work, and if they're safe to use.
What's In The Box?
Snow's wireless teeth whitening systems come with:
Wireless accelerating mouthpieces

Whitening wands

Extra-strength whitening serum

Charging unit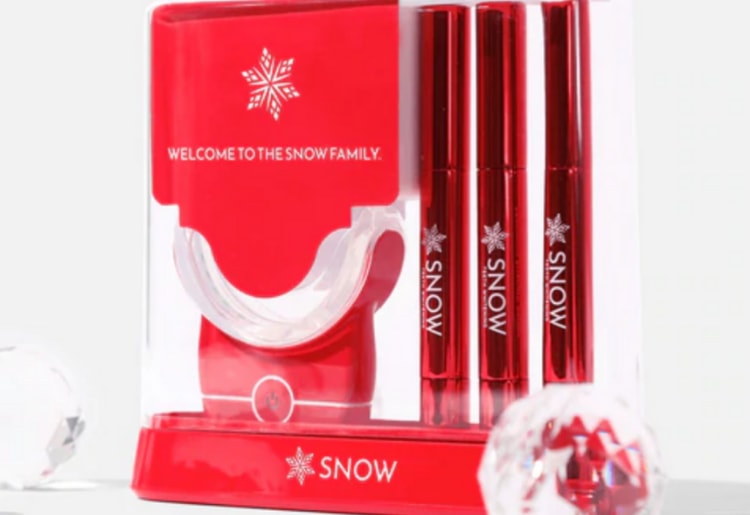 Snow Wireless Whitening Kit Ingredients
The main ingredients in the whitening serum are hydrogen peroxide and carbamide peroxide, which are the two key whitening agents.
In addition, serums contain glycerol, sodium bicarbonate, carbomer, potassium nitrate, and peppermint oil. No harmful chemicals are used, making it a good option for sensitive teeth.
How Does The Snow Wireless Whitening Kit Work?
Snow wireless whitening kits use red and blue LED light-activated technology, clinically proven to accelerate the tooth whitening process.
While blue light enhances the whitening process, red light therapy is designed to kill bacteria in the mouth and reduce any discomfort or inflammation. The clever dual-action system serves as an activator for the teeth whitening serum, but it also helps prevent gum and tooth sensitivity during the process.
How To Use The Snow Wireless Whitening Kit
Using the Snow wireless whitening kit is pretty simple. After ensuring your kit is sufficiently charged, follow the steps below:
Apply the whitening serum to your teeth using the applicator/wand.

Insert the mouthpiece into your mouth and switch it on.

Keep it in place for between nine and 30 minutes.

Remove the mouthpiece and rinse your mouth and mouthpiece with warm water.

Repeat for 21 days or until your desired level of whiteness is reached.
Snow also suggests that the wireless kit can be used twice a day if you want to turbo-boost your teeth whitening process. It also recommends brushing your teeth first before applying and storing the whitening wands in the fridge so they maintain potency.
Is Snow safe or will it damage your teeth?
Snow's wireless teeth whitening kit is safe to use. Snow prides itself on providing non-chemical ingredients where possible, and all products are designed with sensitivity in mind.
The system uses a guided applicator or wand to apply the gel. This ensures the formula goes directly onto the teeth. The glycerine within the product also makes for a thicker gel, so it shouldn't run down to the gum and cause irritation. Running gel is often a risk with other kits when applying a whitening gel to a mouth tray.
That said, women who are either pregnant or breastfeeding should consult their doctor before using any form of teeth whitening product. Children under the age of 12 should also refrain from using whitening products.
Does Snow Actually Work?
Research suggests they do. According to a consumer study by Snow Teeth, 97% of customers see results after one use and 100% after three weeks. While it isn't clear how many case studies were taken into account, the fact that Snow has amassed 13 million customers in a little over five years suggests that the products can deliver results.
Moreover, reviews on popular style and beauty sites like Byrdie have also proved positive.
Snow also offers a five-year warranty and a 30-day no-quibble, money-back guarantee, which suggests that the company stands behind its products.
Typically, people see tangible results within 21 days, although it isn't documented how long the whitening lasts. It would depend on factors like dietary intake and lifestyle habits such as smoking.
Customer Service
Snow has a lot of help resources for its customers. You can reach out via the live chat window that's ever-present at the bottom of the screen. Or you can shoot them an email, or try someone on the 888 number below. Snow also has a lot of reading material to help you with teeth whitening and dental hygiene in general. Visit the Snow blog or join one of the Snow social channels to learn everything there is to know about the industry and taking care of your teeth.
Email:
support@trysnow.com
Phone:
US: 1-888-991-2796. Canadian: 1-778-801-3531
Money-Back Guarantee
Snow has one of the best results guarantees in the industry. In fact, you get a five-year money-back guarantee on the machinery. So if it breaks anytime within five years, Snow will replace it for you, no questions asked.
Snow also has a 30-day money-back guarantee on results. If you're not happy with the results of your treatment after a month of using the product, Snow will reimburse you for your troubles.
How Does Snow Compare With Other Whitening Kits?
LED wireless whitening kit, accelerator pen, and serum
LED whitening system, pens, and trays
Wireless whitening kit with Bluetooth connectivity, gels, and lip care
LED whitening kit, whitening pens, and strips
Nine to 30 minutes per day for 21 days
Eight-minute sessions three times a day for seven days
Up to 60 minutes for 14 consecutive days
Indefinitely, but will need touch-up treatments
Six+ months depending upon dietary intake
30-day no-quibble guarantee
Moneyback guarantee if teeth are not at least two shades whiter
Snow vs Auraglow
While Auraglow and Snow have garnered favorable results with their whitening kits, Auraglow's kit is considerably cheaper. However, those who have invested in Snow feel that the cost is worth it as they appreciate the five-year warranty, the 30-day, no-quibble money-back guarantee, and the speed of results.
Snow vs GLO
Both GLO and Snow offer you a wireless whitening kit. The difference is that Snow uses light therapy, while GLO uses gentle heat and Bluetooth connectivity. The GLO kit needs more time investment as you need to use it three times a day for best results, while Snow takes up just nine minutes of your time each day.
Snow vs Zimba
Zimba's LED whitening kit is considerably cheaper than Snow's. However, the Zimba mouthpiece is primarily an activation/accelerator unit for a whitening gel pen. Whereas Snow's wireless unit incorporates blue and red light technology to whiten teeth faster, eradicate sensitivity, and protect the gums.
Other Snow Products
Snow Whitening Foam
Whiten while you dream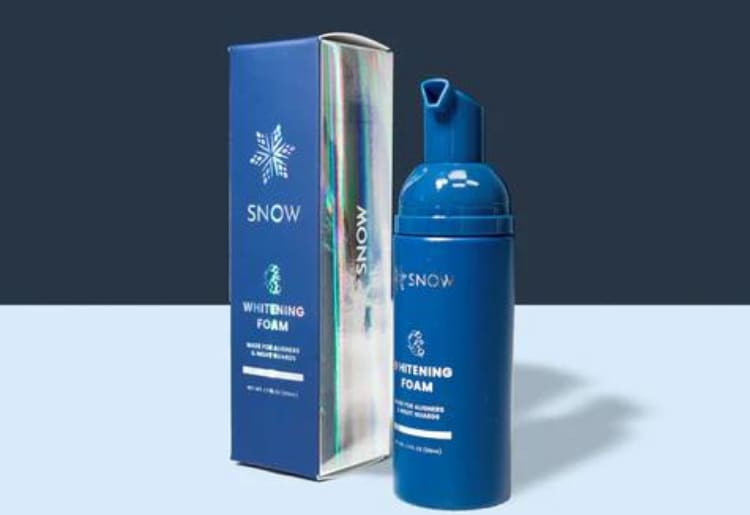 Starting Price: $39.00
Treatment Duration: Daily, as and when required
Results: Good for whitening while you sleep
This product is meant to be used while you sleep. Spray it on your aligner or night-guard tray and let it do its job while you dream of a brighter smile. It's vegan-friendly and gentle on tooth enamel.
The whitening foam also whitens teeth while keeping orthodontic devices clean and can be left in trays overnight while you sleep. You can even use it as a very gentle toothpaste.
Pros
Easy to use

Can also be used as a gentle toothpaste

No harsh chemicals
Cons
Takes time to take effect

It only comes in a 150ml bottle
Snow Magic Teeth Whitening Powder
Sprinkle a bit of magic into your everyday toothpaste
Starting Price: $45.00
Treatment Duration: Use up to four times a week
Results: Turns ordinary toothpaste into an instant boosting formula
Snow Magic Powder is a powder-based whitening enhancer that you can use with any toothpaste to help remove existing stains and keep new stains at bay. It comes in two flavors: lavender and mint.
The Magic Powder is ideal for anyone whose teeth are discolored from tea, coffee, wine, and nicotine. You can use it up to four times a week to maintain a bright white smile. One package can last for up to six months.
Pros:
Can use it with any toothpaste

One container can last up to six months

Gentle lavender and mint flavors available
Cons:
Won't shift intrinsic (ingrained) staining

May be abrasive
Is Snow's Teeth Whitening Kit Worth It?
Yes, Snow's LED teeth whitening kit is worth it. Despite the relatively high cost, you're not just purchasing a teeth whitening kit—you're buying into a brand that cares about its products, the nation's dental health, and you as the consumer.
Snow promises to refund anyone who isn't satisfied with their kit, no questions asked. Plus, Snow's five-year warranty ensures that you can get a new kit at no cost to you if defects occur from using it as directed. In a world where products come and go, it's nice to see a company that stands on its own.