In a Nutshell
Snow is an at-home teeth whitening kit that offers a fast, easy-to-use system for getting your teeth several shades whiter. The system focuses LED lights on a whitening serum to maximize results. Snow guarantees results with its money-back guarantee. Snow teeth whitening kits have good ratings from consumers and 97% of users saw results after just one treatment. Snow also has payment plans.
pros
Non-abrasive, safe materials
Fast and easy-to-use at home
Flexible payment plans available
cons
Doesn't tell you how long results will last
Free shipping only in the US
Snow Visit Site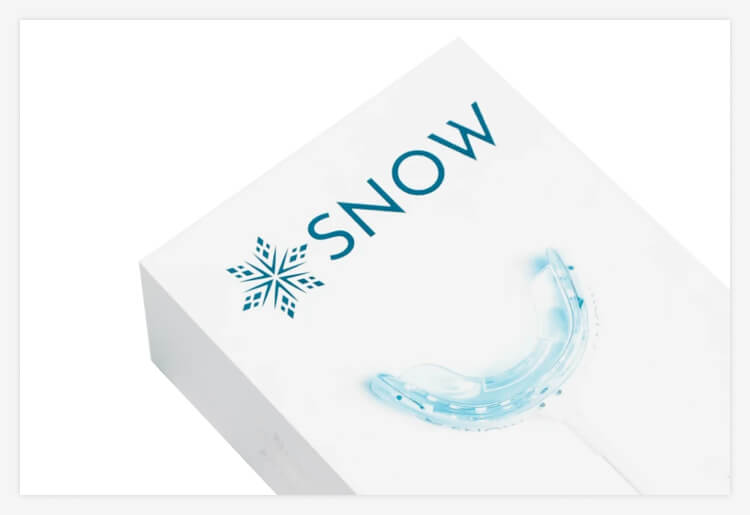 Snow at a Glance
Starting price: From $149
Treatment duration: 9 minutes per day, 21 days
Estimated length of results: N/A
LED technology: Yes
Money back guaranteee: 30 days, 5-year warranty
Best For
Snow is an all-in-one whitening kit. So it's really a cure-all for any type of staining on teeth. You can use the device if you have a special occasion you want whiter teeth for, are embarrassed by your discolored smile, or just want to give your grin a boost. Snow teeth whitening systems can be used to remove stains from:
Tea

Coffee

Red wine

Smoking

Sauces
And more.
How Does it Work?
Snow is an at-home whitening kit. So you can do it anywhere, anytime.
Step one: Apply the whitening serum
You'll use a whitening pen to "paint" your teeth with the whitening serum prior to treatment.
Step two: Begin the whitening session
Next, you'll place the mouthpiece into your mouth and turn it on to begin the whitening session.
Step three: Rinse and complete
Lastly, you'll remove the device from your mouth, rinse your mouth, and clean the mouthpiece before returning it to its case. And then you're done!
Snow only requires nine minutes each day for a session, but you can use it for up to 30 minutes twice a day if you want to turbocharge your results.
Snow also has other oral hygiene products, including charcoal floss, whitening wands, and lip exfoliating scrubs. You can also use the whitening toothpaste for faster results.
What Sets Snow Apart?
One thing that makes this service different from others in the industry is that Snow is a solid company that stands behind its products. You'll get a 30-day money-back guarantee on the results. That's a solid claim. What's more, Snow gives you a five-year warranty on the device itself. So you really get the impression that Snow is looking out for you, giving you the assurance you need that someone's got your back.
What's more, Snow isn't taking chances. The teeth whitening system uses two types of whitening treatments to ensure its results. And in case you were wondering, Snow has heart. The company donates to underprivileged children to help them get dental care even if they're not covered.
Pricing
Snow has good payment plans, making its whitening system more affordable for more people. Here's what you can expect to pay for the various devices on sale:
Snow offers payment plans through Klarna and AfterPay. What's really great is that you can get payment plans with monthly installments and 0% interest and no fees. That's incredible. You can also get various products from the online store like whitening toothpaste, accelerating LED mouthpiece, and rejuvenating lip balm for various prices ranging from around $12.95-$70. Snow ships across the US for free.
What You Get
When you order your Snow teeth whitening kit, you'll get everything you need for the treatment, including:
Four whitening serum pen applicator wands

LED light mouthpiece

Charger
Depending on whether or not you get the wired or wireless version, you'll receive a different type of cable.
Guarantee
Snow has one of the best results guarantees in the industry. In fact, you get a five-year money-back guarantee on the machinery. So if it breaks anytime within five years, Snow will replace it for you, no questions asked.
Snow also has a 30-day money-back guarantee on results. If you're not happy with the results of your treatment after a month of using the product, Snow will reimburse you for your troubles.
Customer Service
Snow has a lot of help resources for its customers. You can reach out via the live chat window that's ever-present at the bottom of the screen. Or you can shoot them an email, or try someone on the 888 number below. Snow also has a lot of reading material to help you with teeth whitening and dental hygiene in general. Visit the Snow blog or join one of the Snow social channels to learn everything there is to know about the industry and taking care of your teeth.
Email Support:
support@trysnow.com
US Phone Support:
1-888-991-2796
Canadian Phone Support:
1-778-801-3531
Snow Visit Site
Testimonials
"I always had yellowish teeth. Its a combination of genetics and a love for my morning coffee! I started seeing results after a couple of whitenings and now I just whiten a couple of times a week for maintenance. This product has been very effective and now I smile all the time!!" - Judy R
"This product is amazing. Last week I had my teeth cleaned, and my hygienist was amazed at how white my teeth are. She said she may even try it for herself. I saw the same result using Snow, as I did after a Zoom treatment. Snow is much more cost effective." - Susan K
"My Results In 8 Days Was Amazing! I Didn't Skipped Maybe Two Days Of Use Due To The Fact I Had So Much Going On But Overall This Whitening Works Magically! I Really Recommend Snow !" - Sadejhia T
Bottom Line
We like that Snow uses the dual whitening technology to do the job better and faster. It's also nice to see a company that stands behind its products with a solid guarantee. Snow's payment plans make it even easier to afford a nice, white smile, and for just 9 minutes a day, this treatment is definitely worth a try.