Laughland Visit Site
Overview
With Laughland, achieving a whiter, brighter smile is convenient without breaking the bank. In this review, we'll dive into their main product, the at-home whitening kit: how it works, how to use it, and safety information.
Laughland at a Glance
Best For: Eco-conscious consumers who need to whiten teeth fast.
Starting Price: $100
Treatment duration: Five minutes per day for six days
Estimated Length of Results: One to three months
LED Technology: Yes
Money-Back Guarantee: No
What Is Laughland?
Laughland prides itself on being the only provider of a personalized, all-natural, LED-led whitening kit. Since every formula is tailored individually, it makes it easy for you to hit on the right formula for your existing condition. Custom recipes are based on factors like the degree of staining, current diet, how often teeth are brushed, whether you've had recent dental work, etc.
According to its website, the company was formed in 2019 because they grew tired of whitening products that didn't work or caused sensitivity—hence why it only uses natural products. In just three years, the company has amassed quite a following, with thousands of consumers across 30 countries. This California-based company specializes in at-home LED whiteners and top-up pens that utilize all-natural formulas. All products are vegan-friendly and gluten-free.
What Comes in the Laughland Whitening Kit
The Laughland whitening kit comes equipped with the following.
A LED mouthpiece containing a whitening light

Three syringes filled with whitening formula

A power adaptor to connect to your iPhone or Android device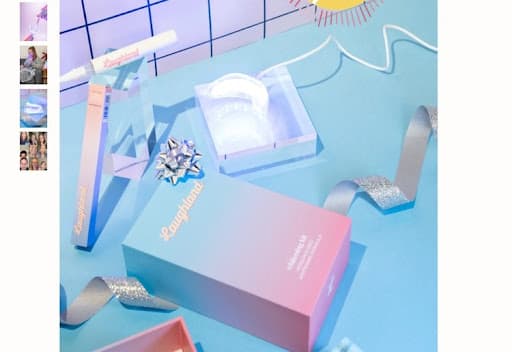 Laughland Whitening Kit Ingredients
Laughland uses the following ingredients in its whitening gels for both the whitening kit and whitening pen: hydrogen peroxide, propylene glycol, glycerol, deionized water, carbomer, carboxymethylcellulose sodium, polyvinylpyrrolidone, menthol and triethanolamine.
Hydrogen peroxide is the principal active whitening ingredient.
Other LaughLand Products
Laughland To-Go Pen
Starting price: $30.00
Treatment duration – Daily, as and when required
Results – Good for instant on-the-go whitening
The To-Go pen is designed to fit neatly into a handbag or toiletry bag and can be used as a daily top-up whitening treatment in between cycles of LED whitening. It contains all-natural ingredients, so it should be sensitivity-free. While the initial cost is $30.00, you can subscribe and save 20%.
To apply, remove cap and twist the bottom of the pen,

Apply evenly to the tooth enamel.

Leave on for 60 seconds and wait to dry.

Avoid eating for 30 minutes after treatment.
Pros
Portable

Instant results

All-natural ingredients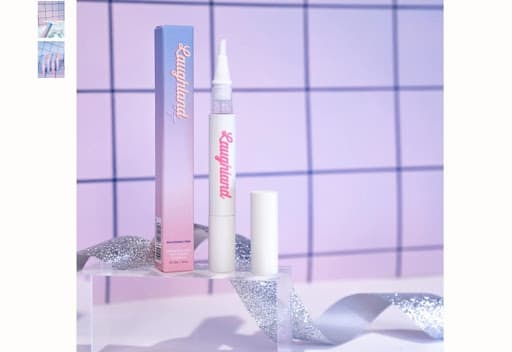 Cons
Gel can be hard to squeeze out.

No eating for 30 minutes after application.
Is Laughland Safe and Reliable?
For the safest experience, the key is to select a suitable whitening gel (either one of the starter gels or a personalized formula). The information Laughland receives allows them to create/select a gel personalized for your teeth.
By filling in a formula recommendation form on the Laughland website, you'll get to answer a series of quick questions, including how often you brush, how sensitive your teeth currently are, and questions about cavities or gum infections. Access to this information allows the Laugland team to create a bespoke formula that won't cause irritation, sensitivity, or damage.
Moreover, because the contents contained within the gel are all-natural, there should be little to no sensitivity. Over 90% of Laughland customers say they feel no sensitivity at all during use. If you are concerned about sensitive teeth, you might want to seek advice from your dentist before proceeding.
The company says that the product is safe to use with existing dental work like crowns or veneers, although bear in mind that restorations are not designed to be whitened.
How Laughland Works
The science behind the whitening kit is simple. When the whitening gel is applied to the tray and placed in the mouth, the LED light activates or "catalyzes" the molecules in the bleaching agent, in this case, hydrogen peroxide, which leads to more efficient stain removal.
A 2020 clinical study of Laughland's products revealed the following promising results. All results were verified by SGS, a leading clinical inspection company.
74% increase in brightness after six treatments

87% after 14 treatments

An average shade improvement of 7.2.
How To Use The Laughland LED Whitening Kit
When subscribing to Laughland, you can choose from three starter gels, Gentle, Everyday, and Super-Strength, depending on existing teeth sensitivity and staining. Alternatively, fill in a questionnaire to get a custom formula that works best for you from the get-go.
The process is pretty simple once you receive your kit. Here's a quick summary.
Brush your teeth to remove any food debris.

Apply half the contents of one syringe to the mouthpiece, a quarter on top and a quarter on the bottom.

Plug the device into your smartphone using the adaptor provided and insert the mouthpiece into your mouth, then let the LED do its work.

Wait for at least five minutes and a maximum of 30 minutes, then remove and rinse your mouth with water.

Clean the mouthpiece and repeat the following day.
Follow this process for six consecutive days for best results, although it may take longer to achieve the desired level of whitening. Laughland recommends that you should whiten every 2-4 months or as and when required.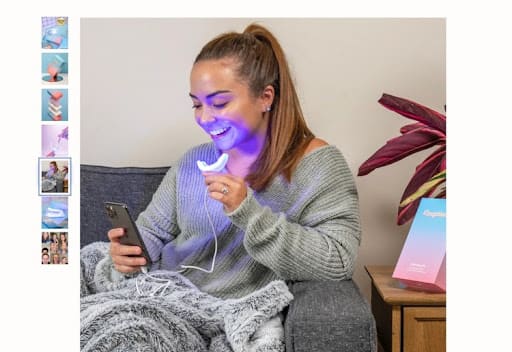 Does Laughland Actually Work?
Based on customer feedback on sites like ThingTesting, the Laughland whitening kit was generally received well by users. Just under 75% of those who used the product said they saw a significant change in results.
Some reviewers saw significant differences after one to two applications, while for others, results took around three to six months. Laughland doesn't offer a money-back guarantee, but you can alter your bespoke formula if the initial result isn't what you expected.
Laughland suggests that you should re-whiten your teeth every two to four months to maintain a bright white smile.
Laughland Pricing
How Much Does Laughland Cost?
Laughland offers a single-payment starter kit for $100, with a current promotional offer of $9. You can sign up for a flexible subscription plan that includes monthly customized whitening gels at $25 per month or opt for top-up pens and gift cards.Subscriptions are managed via a personalized account or by emailing the company directly at team@mylaughland.com
$100 ($9 for a limited time)
They also offer package protection where you can pay $0.98 cents to cover damage, loss and theft. Although it isn't specified on the company website, other sites suggest that Laughland does provide free shipping if you're based in the US.
Compared to average industry prices for at-home whitening kits, Laughland products offer excellent value for money.
Laughland Alternatives
How Does Laughland Compare to Other Whitening Kits?
Pre-Rinse, toothpaste, and accelerator
Can last one-three months
Can last up to three months
30-day money-back guarantee
30-day money-back guarantee
Laughland vs. HiSmile
Laughland and HiSmile have similar LED-powered whitening products, but while Laughland needs to be hooked up to a power source or a smartphone, HiSmile is battery operated. Both are similar in price, with equal treatment durations and results and similar return policies. However, Laughland's whitening gel formulas can be tailored to suit the individual, which could be important, especially for those with sensitive teeth.
Laughland vs. SuperSmile
While Laughland utilizes an LED-activated mouthpiece, SuperSmile uses a series of swabs dipped in whitening gel and rubbed across the teeth. Both processes take a similar amount of time, but while the treatment duration for Laughland is a six-day cycle, SuperSmile swabs are meant to be used for two weeks, making the treatment somewhat less quick.
Laughland vs. Dr. Brite
While Laughland and Dr. Brite both use light-activated mouthpieces, Dr. Brite's wireless whitening kit costs quite a bit more. However, the Dr. Brite website states that you can save 50% off the purchase price when you subscribe for a repeat top-up delivery. While the treatment duration for Laughland is a six-day cycle, the Dr. Brite mouthpiece can be used when required.
Laughland Visit Site
Bottom Line
Our verdict on Laughland: yes, it works!
On the whole, reviews are pretty positive. Most people love that they can personalize whitening to suit their current oral condition and like the fact that the gel uses gentle, all-natural ingredients like chamomile, menthol, and aloe vera extract.
But most importantly, reviews suggest that most people have had a great experience with this product and would happily recommend it to others. Moreover, the current introductory offer of just $9, combined with the chance to customize your own whitening formula, makes this LED whitening kit a risk-free option if you are looking to try at-home whitening for the first time.