In a Nutshell
We've trusted Colgate with our oral hygiene for decades, and now they are offering LED-based teeth whitening kits. These provide a fast and effective solution to long, expensive, and time-consuming alternatives. Colgate's kits are affordable, and the treatments last just ten minutes a day for ten days, and deliver whiter teeth.
pros
Just 10-minutes a day for 10 days
Suitable even for sensitive teeth
Clinically proven to whiten up to six shades
cons
Device needs to be charged at least four hours before use
Not always in stock
Colgate Visit Site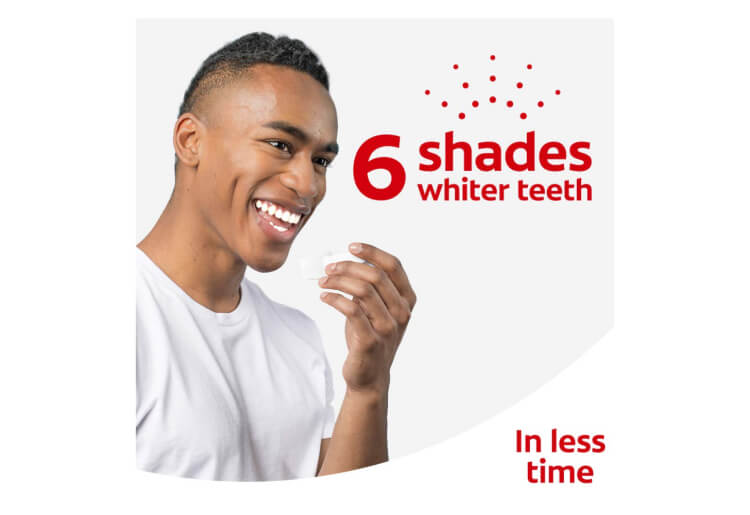 Colgate at a Glance
Starting price: $35.29
Treatment duration: 10 minutes per day, for 10 days in a row
Estimated length of results: Four to six months
LED technology: Yes
Money-back guarantee: 30-day
Best For
Colgate teeth whitening kits are good for taking out all sorts of stains, including coffee, tea, and other discolorations. Colgate doesn't specify who its product works best for, but it does claim to be able to take away 15 years of stains! The kits are not recommended for children under 12 years of age.
Smokers
Wine stains
Coffee stains
Yellowing teeth
General color deterioration
How Does it Work?
The Colgate teeth whitening device is easy to use and can deliver a professional teeth whitening treatment at home. In a nutshell, the device is a mouthpiece that comes with whitening gel serum that has been clinically proven to get your teeth up to 6 shades whiter than when you started. Best of all, the treatment takes just 10 minutes a day for 10 days to see results. Here's a closer look at how Colgate teeth whitening kits work:
To get started, select the product you want to purchase. Consumers usually begin with the starter kit. This provides you with the serum, charger, and whitening device. You can buy refills after that. Enter your shipping and billing info, and wait for your products to arrive.
Before you start your teeth whitening treatment, you'll need to make sure the device is fully charged. Lay the whitening device in the charging cradle, and close the tray. Note: Device won't charge if the tray isn't fully closed. So check to make sure it's properly closed. Plug the tray into the wall and let the device charge for at least four hours, preferably overnight. You'll see a little flashing green light to indicate that it's charging.
Next, fill the device with the whitening gel. Use one tube per brushing session. Apply the gel onto the device starting from left to right in the bottom corner of the mouthpiece. Do this for both the top and bottom tray. Press the power button, and you're ready to start your treatment.
Put the mouthpiece into your mouth, so the power button is facing up. You should keep your whitening device in your mouth for ten minutes straight. The device will chime when it's time to remove it from your mouth.
Rinse, and repeat for ten days straight. That's all it should take for a noticeable difference. Colgate does recommend doing touch-ups a few times a year, and you can buy the optic white whitening serum without having to purchase a new device.
Colgate also has an overnight whitening pen. It can be used for just a week before seeing results.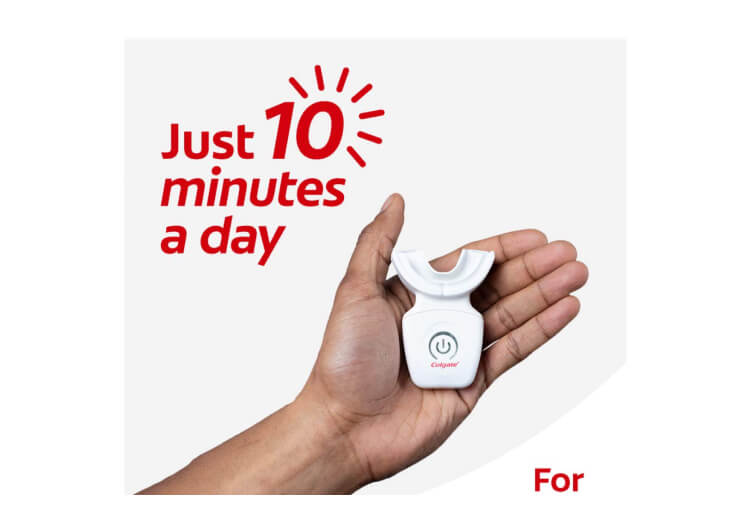 What Sets Colgate Apart?
Colgate has been a trusted name in oral hygiene for decades. As Colgate has already been taking care of consumers' teeth for ages, they will feel more comfortable using these teeth whitening kits. The whitening device harnesses the power of LED blue lights to turbo-charge the effects of the peroxide on the teeth. This results in whiter, brighter teeth at a faster rate than usual.
Colgate has tested its whitening treatment thoroughly, and it is proven to be safe when used on tooth enamel and gums. It's got a lower level of peroxide in it too, so you're not likely to feel any sensitivity from using the products. We also like that Colgate tells you exactly what's included in the whitening serum. No hidden ingredients to leave you wondering.
Colgate also offers other oral hygiene tools, including a smart electric toothbrush and smart manual toothbrush for a deeper, more thorough cleaning.
Pricing
Optic White whitening serum
$49 for ten-day supply (20 vials of serum)
Colgate kits start at just over $35. That's laughable when compared to professional whitening treatments you'll get at a dentist's office. Colgate also offers a 30-day money-back guarantee and a 2-year warranty on the device.
What You Get
Colgate has teeth whitening kits and refills. For your first treatment, you should begin with the starter kit. Once you've completed the initial treatment, you can order refills to touch up the treatment from time to time.
In every whitening system starter kit from Colgate, you'll get:
Teeth whitening device
Charging case
Charging cord and plug
20 vials of teeth whitening serum
That's enough to get you through the first ten days of treatment (if you're using the recommended treatment, which is a ten-minute treatment once a day).
Guarantee
Colgate has a 30-day money-back guarantee. So if you're not happy with the results, you can get a refund. Colgate also has a two-year product warranty that covers manufacturing defects.
Customer Service
Colgate has a lot of customer support options. You can reach out via phone, text, or email. There's also a live chat option on the site from 8 AM to 8 PM Sundays thru Fridays. Colgate also has helpful videos to walk you through the various stages of using the device and whitening treatments and a detailed FAQ section. All in all, it's very informative.
Phone:
Sun – Fri
8 AM to 8 PM (ET)
833-862-9251
Text:
Sun – Fri
8 AM to 8 PM (ET)
833-862-9251
Colgate Visit Site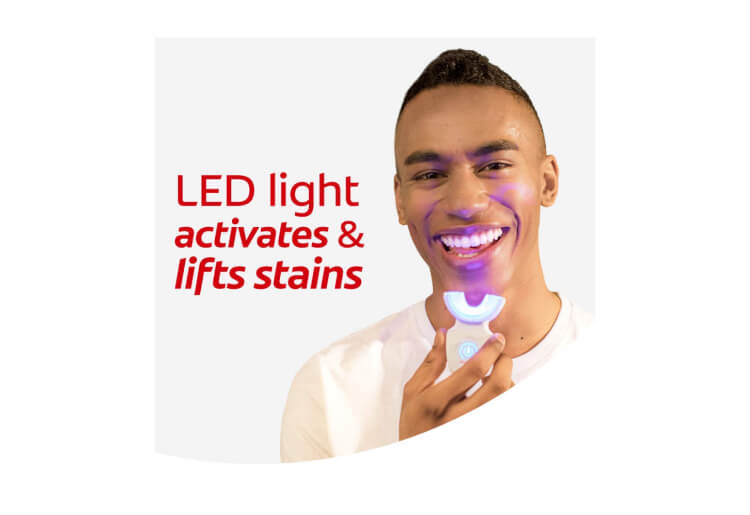 Testimonials
"Thank you so much for returning my confidence back to me and allowing me to smile again." -Tiffany
"It's easy to use, really whitened my teeth and didn't make them sensitive. I highly recommend this product." -Christina
"I LOVE YOU! Colgate Optic White Advanced LED Whitening System thank you so much for returning my confidence back to me and allowing me to smile again. You gave me back my pearly whites and I can't tell you how happy I feel." - Tiffany from Van Nuys, 30
Bottom Line
Colgate teeth whitening kits are easy to use, effective, and provide quick results. The LED-powered trays give your whitening treatment a boost. The treatment only lasts 10 minutes a day for 10 days. Colgate has a 30-day money-back guarantee, and you can expect to enjoy the results for four to six months at a time.