In a Nutshell
Hismile's at-home PAP teeth whitening treatment is a simple and time-efficient way of whitening teeth through state-of-the-art color-correcting technology. The process is said to take 10 minutes of daily use for six days to see results. It's a good choice if you want to lighten your teeth in the comfort of your own home without needing to visit the dentist.
pros
Safe, peroxide-free formula
Low risk of enamel problems
Quick and easy— just 10 minutes a day
cons
Number of treatments required may vary from person to person
Slightly more expensive than other brands

Hismile Visit Site
Hismile At A Glance
Best For: Those with sensitive teeth looking for a fast whitening effect in the comfort of their own home
Starting Price: $119.20 (with 20% discount code)
Treatment Duration: 10 minutes per day for one to two sessions
LED Technology: Yes
Money-Back Guarantee: Yes
What Is Hismile?
Founded in 2014 and based in Queensland, Australia, Hismile made sure that its whitening kits ticked all the boxes. They're safe to use, have an easy application process, and are free of harmful peroxide chemicals.
Hismile isn't your average oral hygiene company. It developed its very own educational platform called the Hismile Research Centre where the Hismile team works alongside dental experts to shape the future of teeth whitening. This shows in its latest product, the VIO405, where it raised the bar to produce an even quicker whitening experience.
Hismile's best-selling products include teeth whitening kits, PAP+ whitening strips, whitening pods, and V34 color corrector serum.
What sets the brand apart from others is its unique formulation. Although proven to lift staining, conventional whiteners also produce free radicals, which are more likely to cause sensitivity, gum damage, or demineralization. Hismile's products don't use traditional bleaching agents like hydrogen or carbamide peroxide.
Instead, Hismile's formula uses Phthalimidoperoxycaproic acid (PAP), a stain-busting compound that can lift complex staining without producing free radicals. This results, the company claims, in noticeable whitening without sensitivity.
How Much Does Hismile Cost?
The VIO405 costs $149, but you can purchase the product using a discount code on the website for $119.20. You can also spread the cost of payment across four payments of $29.80 using Afterpay.
Standard shipping costs $5.99 (typically three to six business days) while express shipping (two to four business days) costs $9.99.
Hismile product pricing starts at $11 for Day and Night Toothpaste to $178 for the Maximum Whitening Bundle. The VIO405 teeth whitening kit is a premium product priced at the higher end of the Hismile range. See the table below for a full range of products and prices.
Hismile V34 Colour Corrector Serum
The Ultimate Whitening Bundle
The Maximum Whitening Bundle
VIO405 Teeth Whitening Kit

V34 Color Corrector Powder

The Everyday Whitening Bundle

VIO405 Teeth Whitening Refills

PAP+ Whitening Toothpaste

Please note that all prices quoted above are before any applied discounts.
In addition to Afterpay, Hismile also accepts Visa, MasterCard, AMEX, PayPal, Apple Pay, PayPal Express, Shopify Pay, ZIP, and Google Pay.
What Comes in the Hismile Whitening Kit?
In this product review, we focus on Hismile's PAP+ Teeth Whitening Kit™. We'll analyze the ingredients the brand uses, how well the whitening kit works, and how easy it is to use. But first, let's explore what's included in the kit.
What's In The Box?
VIO405 Device

VIO405 Travel Case

Six VIO405 Teeth Whitening Refills

PAP+ Primer

Charger Cable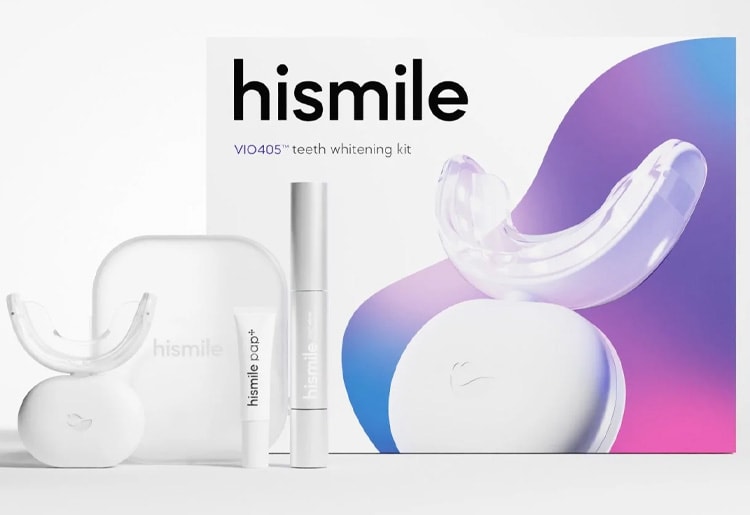 What Are The Ingredients?
As mentioned earlier, the brand refrains from using products that may harm the tooth's enamel, cause sensitivity or irritate the gums. Below are the top ingredients that go into making these highly-effective teeth whitening kits:
Phthalimidoperoxycaproic acid (PAP)

Hydroxyapatite (HAp)

Potassium citrate
Other ingredients include Glycerin, Aqua (Water), Ammonium Acryloyldimethyltaurate/VP Copolymer, PVP, Sodium Phosphate, Mentha Piperita (Peppermint) Oil, Disodium Phosphate, Potassium Hydroxide, Sodium Saccharin, Sodium Gluconate, t-Butyl Alcohol, PVM/MA Copolymer, Xanthan Gum, C12-15 Pareth-3, Monosodium Citrate, Titanium Dioxide (CI 77891), Mica, Tin Oxide (CI 77861).
How Does Hismile's Whitening Kit Work?
The kit whitens using a combination of Hismile's gentle PAP+ formula, primer, and 32 LED lights. When used together, these products accelerate tooth whitening safely. Because PAP doesn't release free radicals, you shouldn't experience any adverse effects on your tooth or the surrounding gums.
Along with the whitening ingredients, hydroxyapatite in the formula helps re-mineralize the surface of the tooth, while potassium citrate strengthens tooth enamel by replacing lost minerals from the tooth's surface. This will help relieve any sensitivity.
How To Use The Kit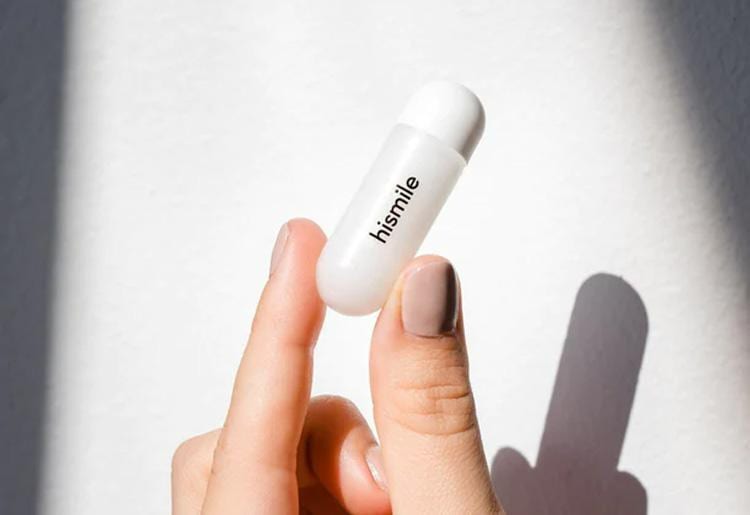 For optimal results, use the treatment one or two times for just 10 minutes each time. After that, use it for 10 minutes every few months or before an event to maintain a glowing smile.
Here's how the kit works:
Begin treatment at night by gently brushing your teeth..

Apply a layer of PAP+ primer to each tooth. Wait 10 seconds, then spit out any extra primer.

Open the refill pod for the whitening gel and apply half the formula to the top of the mouthpiece and the remaining half to the bottom.

Power on the device by pressing the hismile logo, then place the device comfortably in your mouth.

Wait 10 minutes while the device does its job. The device automatically turns off once 10 minutes are up, letting you know it's done.

Remove the mouthpiece and rinse your mouth thoroughly with water.
Note that the one-size-fits-all mouth tray may not fit everyone. Otherwise, the kit should be easy to use. For best results, pop it in when relaxing just before bed. Because hismile uses peroxide-free ingredients, pain or sensitivity should be limited.
Is Hismile Safe To Use?
While there have been many stories about at-home teeth whitening kits damaging the tooth's enamel or causing soreness, Hismile's peroxide-free whitening kit is less likely to have the detrimental effects on teeth and gums that other peroxide whiteners do.
These side effects are usually due to the overuse of ingredients like fluoride, hydrogen peroxides, or other free radicals. As Hismile uses small doses of PAP as an active ingredient, you get the most out of your teeth whitening experience without any damage.
Since Hismile doesn't use hydrogen peroxide gum soreness is reported to be limited. Instead, it uses potassium citrate, which aids comfort after treatment.
Gum soreness is limited, and potassium citrate aids comfort after treatment.
Does Hismile Actually Work?
The PAP+ Teeth Whitening Kit from HiSmile does work. A clinical trial published on the brand's website shows that 100% of participants achieved their intended results, and 61.9% saw an improvement of at least three shades after one 10-minute treatment.
Hismile suggests that once you achieve your desired shade of white, a single treatment every few months will help to keep your smile bright. The company also recommends using its teeth whitening strips and toothpaste in between treatments to help the results last even longer.
Based on TrustPilot reviews, Hismile's customers are happy to support these claims, with some going as far as to say Hismile has outperformed other whitening products they have tried. The brand has confidence in its formulas and gives you 30 days to return any unopened, unused products.
How Does Hismile Compare To Other Whitening Kits?
PAP+ Gel/LED light combination with mouthpiece
Pro whitening system with wireless whitening light
Gel/LED light combination with mouthpiece
Gel/LED light combination with mouthpiece
10 minutes a day for six days
Five minutes twice a day for seven days
Four eight-minute sessions per day for five to seven days
Nine minutes per day for 21 days


Hismile Vs. SmileDirectClub
Hismile may not have the brand recognition of SmileDirectClub, but Hsmile's VIO405 teeth whitening kit achieves results in one to two days as opposed to seven days for SDC. While Hismile is the pricier option, the sensitivity-free, and therefore more comfortable, whitening experience could be worth it.
Hismile Vs. Glo Science
Not only is Hismile cheaper than GLO Science, but it's also more convenient to use, with one 10-minute session a day as opposed to 32 minutes a day with GLO Science. That said, results may last longer when using GLO Science.
Hismile Vs. Snow
Hismile works fast and achieves optimal whiteness in just one to two days versus SNOW's 21 days. With the bonus 20% off first-time discount, hismile is also $30 less than SNOW, which puts it in the lead, although results seem to be similar for both brands.
Other Hismile Products
PAP+ Whitening Powder
Turn your regular toothpaste into a stain buster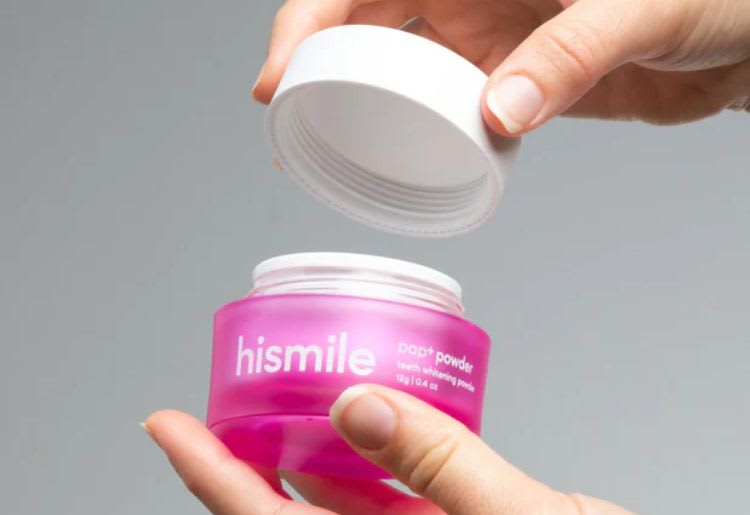 Starting price: $25
Treatment duration: Twice a day, daily
Results: N/A
Formulated at the Hismile Research Centre, this powder turns any toothpaste into a whitening toothpaste. You need to dip any toothpaste into the powder pot and brush thoroughly for roughly two minutes.
Pros
Safe for enamel and gums

Oxidizes stains without sensitivity or pain

Peroxide-free
Cons
Expensive compared to similar brands

Some reviewers stated it didn't work for them
Hismile PAP+ Strips
Whiten teeth safely and comfortably with this peroxide-free formula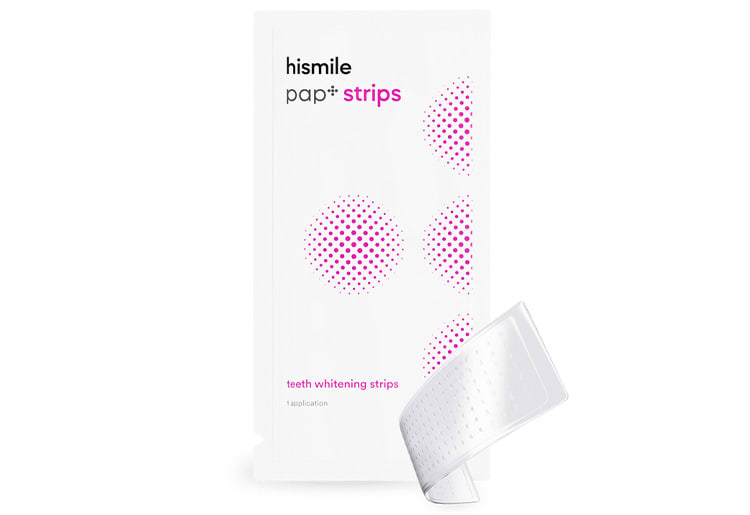 Starting price: $39
Treatment duration: 30 minutes a day
Results: Whiter teeth within 14 days
Ideal for those with sensitive teeth, or those who are concerned about harmful peroxides, these
peroxide-free whitening strips whiten teeth safely and comfortably with just 30 minute's use day.
Pros
Peroxide-free

Just 30 minutes use per day

Product can be paid for in 4 installments
Cons
May take longer to take effect than peroxide-based strips

Reviews suggest that strips can be tricky to remove
Is Hismile's VIO405 Teeth Whitening Kit Worth It?
The PAP+ formula combined with the latest light-activated treatment elevates the VIO405 kit above the competition. Because it's a peroxide-free active ingredient, users shouldn't experience sensitivity or irritation, even though there's a significant whitening effect in only a short amount of time.
Another reason you might favor this product is that it's convenient, taking only 10 minutes to work, thanks to the inclusion of LED technology. According to all the feedback we've seen, most consumers were impressed with their results, reporting that their teeth were up to three shades whiter. Moreover, the process also protects teeth and gums, and you can't put a price on that.