In a Nutshell
Dr. Brite offers at-home teeth whitening products free of parabens, sulfates, and harsh additives, which can damage gums and teeth and make them more likely to stain. Dr. Brite's products may whiten teeth faster than other leading brands. According to customer reviews, some people achieved a noticeable result after just one treatment, meaning the brand could be a good choice for those who want fast whitening results without worry about damage.
pros
Easy, at-home teeth whitening treatments
Quick results—as little as one session
Environmentally-friendly, non-toxic ingredients
cons
Gradual results compared to professional laser teeth whitening
Expensive compared to other home treatments

Dr. Brite Visit Site
Dr. Brite at a Glance
Best For: Quick at-home teeth whitening that is kind to teeth and the environment.
Starting Price: One-time purchase of $199 or $99.50 with subscription
Treatment Duration: Once daily for 15 minutes, as needed
Estimated Length of Results: Between two and three months
LED Technology: Yes
Money-Back Guarantee: No
What Is Dr. Brite?
Dr. Brite was founded in 2015 by two doctors who also happen to be sisters. It sells natural, plant-based products for oral and body care, as well as cleaning products and pet care items. Dr. Brite is based in Fullerton, California, and all products are manufactured nearby in Orange County. Their teeth-whitening kits include the Wireless LED Advanced Teeth Whitening System and other whitening oral care products including toothpaste and mouthwash.
A few things set Dr. Brite apart from its competitors.
Clean ingredients
Proud to be Leaping Bunny certified, Dr. Brite is renowned for clean ingredients that aren't tested on animals. Their teeth-whitening treatments are phthalate and sulfate-free—these chemicals often found in everyday beauty and cleaning products have been linked to health conditions. Dr. Brite's products also boast the following qualities.
Non-toxic

Eco-friendly

Vegan-friendly

Cruelty-free

Nut, gluten, and soy-free
Easy to use
Dr. Brite's claims that its teeth whitening products achieve results in a short amount of time. The products are easy to use and the instructions easy to follow—and no need to go to the dentist!
Variety of products
There are multiple products in Dr. Brite's teeth-whitening line—including extreme whitening oral care kits, wireless advanced whitening kits, and a peroxide-free wireless LED whitener.
How Much Does Dr. Brite Cost?
The cost of Dr. Brite's teeth-whitening products ranges from $39.99 for the Advanced Whitening Kit Refill Pens to $99.50 for the Wireless Advanced Whitening System. There are no shipping fees for orders over $50.
Dr Brite Whitening Product
Advanced Whitening System Peroxide-Free (PAP)
Advanced Whitening System
$199/$99.50 with subscribe and save
Extreme Whitening Oral Pen
$26.99/$21.59 with subscribe and save
Extreme Whitening Toothpaste
$11.99/$9.59 with subscribe and save
Whitening Gel Refill Pens
$49.99/$39.99 with subscribe and save
$12.99/$10.39 with subscribe and save
Extreme Whitening Oral Spray
$16.99/$13.59 with subscribe and save
Advanced Whitening Refill Kit + Toothpaste
$61.98/$49.58 with subscribe and save
Extreme Whitening Oral Care Kit
$73.95/$63.96 with subscribe and save
If you sign up for a subscription plan, you can have your supplies delivered every 30, 60, or 90 days according to your preference, and you will also get a discount of between 30 and 50%.
Compared to industry averages, Dr Brite products aren't the cheapest but you are buying into a brand that is chemical, inflammatory and toxin free. So buyers can feel worry-free about what they are putting in and on their bodies.
What Comes in the Dr. Brite Wireless Advanced Whitening Kit?
In this review, we're taking a look at Dr. Brite's peroxide-free Wireless Advanced Whitening System, which contains PAP—a strong stain remover that won't damage tooth enamel. We'll look at the ingredients, safety, and how to use the kit to see how it measures up.
What's in the Box?
The Advanced Whitening kit comes with the following.
Waterproof Wireless LED whitening tray with built-in dual blue and red light therapy

Two whitening pens, each containing PAP - a peroxide-free bleaching agent, plus other ingredients to strengthen tooth enamel and freshen breath

One booster pen
Dr. Brite Advanced Whitening Kit Ingredients
As well as the stain remover, PAP, the other ingredients also include naturally occurring minerals and plant extracts, such as:
Hydroxyapatite, a mineral that can increase the hardness of tooth enamel.

Glycerol

Deionized water

Carbomer

Carboxymethyl (cellulose gum),

Polyvinylpyrrolidone (water-soluble polymer)

Mentha arvensis (menthol crystals)

Sodium hydroxide

Chamomilla recutita matricaria (chamomile flower extract)

Mentha piperita (peppermint oil)
How Does Dr. Brite's Advanced Whitening Kit Work?
The science of teeth whitening has come a long way in the last few years. Wireless teeth whitening uses a light-emitting diode (LED) to activate the bleaching gel.
The light helps to break up stain molecules and allows for better penetration of the bleaching gel to whiten the teeth. Studies confirm it produces increased whitening and maintains the lighter shade for longer than other whitening treatments.
The blue light used in Dr. Brite's Advanced Whitening Kit is used to activate the whitening gel, while the red light helps to seal in the treatment. Together, they're designed to brighten teeth by several shades quickly.
How to Use Dr. Brite's Whitening Kit
The product is easy to use.
Use the pens to apply the whitening product to your teeth.

Bite onto the rubber tray attached to the wireless dual-LED accelerator light and switch it on.

Remove the light tray after 15 minutes.
This is a hands-free system, so you can relax while the kit does its work. The website suggests that you use it for 15 minutes per day and the dentist-developed whitening serum is ideal for sensitive teeth. You get a 2 month supply with the kit, and Dr. Brite suggests that you may want to take a break after this point to allow teeth to settle.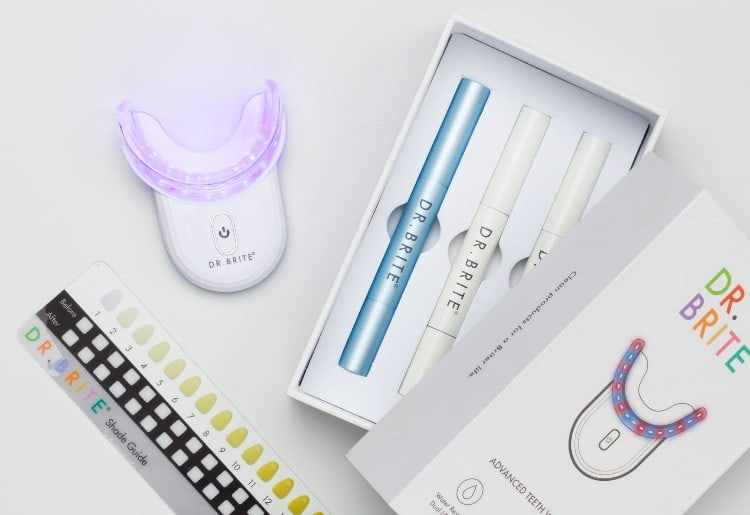 Is Dr. Brite Safe to Use?
Dr. Brite's products are designed to be safe for everyone. They're non-toxic and packed with natural ingredients to promote oral health and control bad bacteria that cause tooth decay and gum disease.
They are also safe to use during pregnancy and when you are breastfeeding—but anyone who is receiving any medical or dental care should always check with their healthcare provider before using a teeth whitening product.
Does Dr. Brite Actually Work?
Based on feedback from independent review sites, customers have noticed Dr. Brite's Advanced Whitening Kit can achieve results in as little as one or two treatments. However, for the majority of people, it may take several weeks.
Information on the Dr. Brite website suggests that you can expect results to last three months or more, depending on how often you consume dark foods and drinks. While Dr. Brite does advertise a 30-day money-back guarantee, on closer inspection, this doesn't apply to oral care products.
How Does Dr. Brite Compare To Other Whitening Kits?
PAP + LED teeth whitening
PAP + LED teeth whitening
15 minutes a day for two weeks
Five times a week for four weeks; ongoing three times a week
15 minutes a day for two weeks
Can last up to three months
Can last up to three months
Dr Brite vs Primal Life Organics
Neither system contains hydrogen peroxide. Dr. Brite's Whitening System recommends daily use for 15 minutes for up to two weeks, whereas Primal Life Organics' V3 Real Teeth Whitening System is used five times a week for four weeks. Both appear similarly effective for whitening teeth, but the V3 system is considerably more expensive.
Dr Brite vs BURST
Burst whitening strips and Dr. Brite's Advanced Whitening System require 15-minute daily applications to achieve the optimal whitening effect, which lasts around the same amount of time. However, if you're looking for an alternative to the harsh hydrogen peroxide contained in Burst's whitening strips, the Advanced Whitening System may be a better choice.
Dr Brite vs Supersmile
Supersmile is a toothpaste and accelerator system designed for ongoing daily use to whiten teeth. Compared to Dr. Brite's whitening system, results take significantly longer to achieve, and some Supersmile reviewers have found they didn't notice much of a whitening effect on their teeth.
Other Dr. Brite Products
Stay Brite Tooth Whitening Pen (Peroxide Free)
Daily defense against stains
Price: $15.99 - $19.99

Treatment Duration: As required

Results: Maintain bright teeth for longer with this top-up pen

Use to keep teeth stain-free. It gently scrubs surface stains away and is safe for daily use.

Remove the pen top

Apply to the teeth

Let the product work

Pros

Good for sensitive teeth

Reasonably priced

Keep your smile whiter for longer

Cons

Can be difficult to apply

May feel sticky
Extreme Whitening Toothpaste
Daily stain removal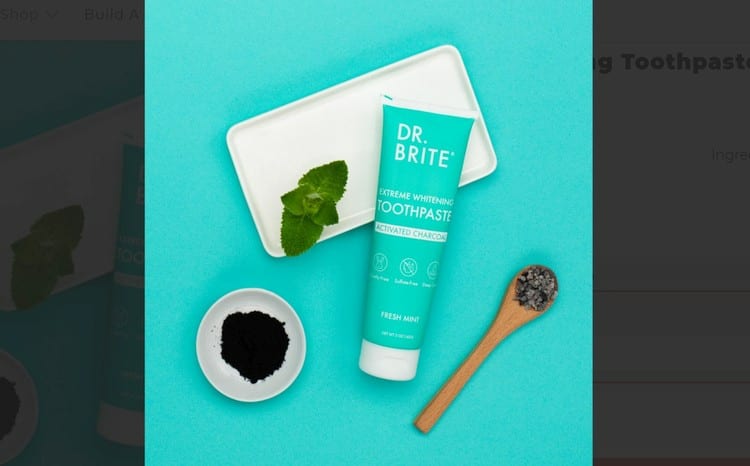 Price: $9.59-$11.99
Treatment Duration: Daily
Results: Dr. Brite claims this product whitens, strengthens, and protects teeth
Extreme Whitening toothpaste contain hydroxyapatite—a mineral that strengthens tooth enamel and is designed to protect and whiten teeth simultaneously.
Remove the top

Apply to a toothbrush

Brush the teeth in gentle, small circular movements
Pros
Mild, pleasant flavor

Gentle and doesn't burn the mouth

Keep your smile whiter for longer
Cons
Doesn't foam like other toothpaste

Paste color is unattractive beige
Whitening Mouthwash
Gentle stain removal and healthy mouth detox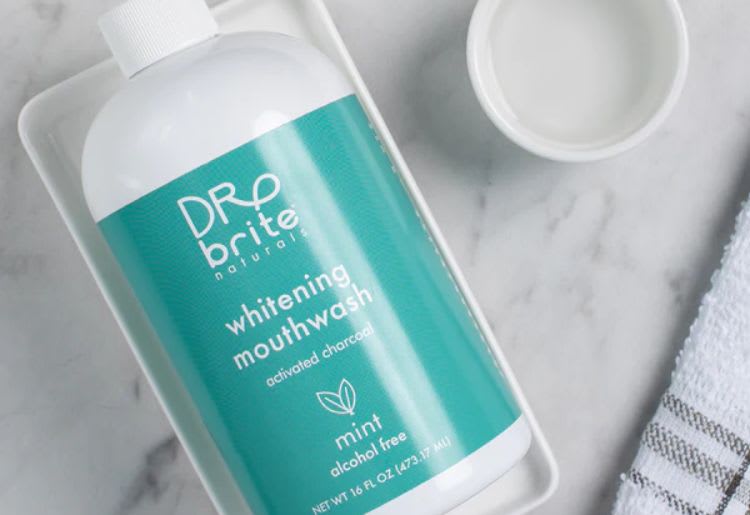 Price: $10.39-$12.99
Treatment Duration: Daily
Results: Freshens breath and gently whitens teeth
Dr. Brite's whitening mouthwash contains coconut oil, aloe vera and vitamin C to soothe and nourish gums, while active charcoal and sea salt provide a healthy detox for your mouth.
Pour the right amount into the cap provided

Swish round the mouth for 30 seconds

Gargle and spit out
Pros
No burn

No harmful chemicals or toxins

Gentle whitening effect
Cons
Some customers report a bad aftertaste

A little pricey for mouthwash
Is Dr. Brite's Teeth Whitening Kit Worth It?
Most people who have tried Dr. Brite's system say it works. They like the fact that it's all-natural and doesn't contain any harsh chemicals. Many have seen a noticeable difference in the color of their teeth after using the system for just one week. They also like the fact that it's peroxide-free and provides whiter teeth with 10 minutes of use per day.
While it may be on the expensive side for a whitening kit of this nature, on balance, it ticks all the boxes for the eco-savvy consumer. For this reason, it's probably worth it.