In a Nutshell
Dr. Brite was founded by two dentists, who also happen to be sisters. The idea is simple: develop everyday products that are healthy, safe, and eco-friendly—good for everyone. The Dr. Brite teeth whitening systems use safe LED light technology and are toxin, chemical, synthetic, and additive-free. Plus, the easy-to-use mouth trays are guaranteed to whiten teeth within a few days.
pros
Easy at-home whitening treatment
Immediate results guaranteed
Non-toxic, environmentally-friendly ingredients
cons
Shipping isn't free
Some people don't like wearing mouth trays
Dr. Brite Visit Site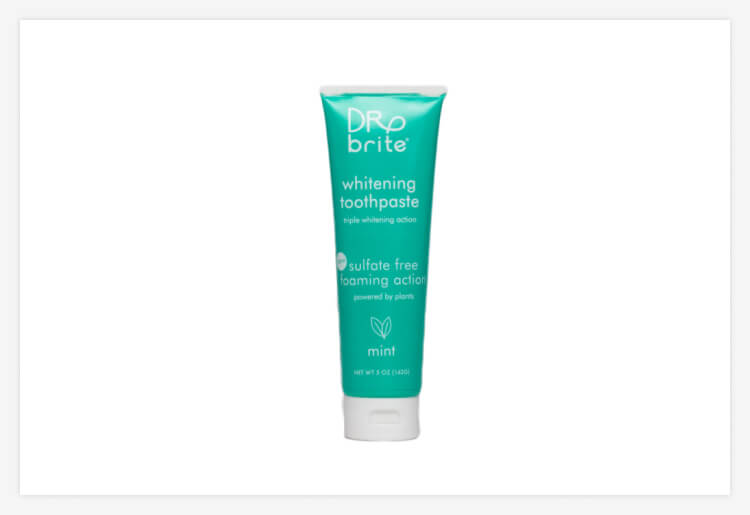 Dr. Brite at a Glance
Starting price: From $94.49
Treatment duration: 15 minutes per day for 2-6 weeks
Estimated length of results: Varies
LED technology: Yes
Money back guaranteee: 30 days
Best For
If healthy solutions or earth-friendly products are your thing, Dr. Brite teeth whitening is the right treatment for you. This is also a convenient solution for people who don't want to go down to a clinic and have whitening treatments done to them. It works for stains from:
How Does it Work?
Dr. Brite is an LED-based teeth whitening treatment. It combines the power of hydrogen peroxide with safe LED lights to effectively whiten your teeth. The blue light treatment whitens, and the red light treatment promotes gum rejuvenation for healthier gums and teeth. The all-natural whitening serum adds the final punch to the equation. Here's how it works:
Dr. Brite has a lot of stuff on the site. So give yourself some time to browse through the products. You can order the full kit if this is your first time, or just order refills when you are ready for a touch-up.
Shipping is generally received within 2-4 business days, but it can take up to 7 depending on where you live. You can get free shipping on orders over $50 if you live within the continental US.
Start by marking on the chart the shade of your teeth currently (i.e., before you start the treatment). Then you'll apply the serum to your gums (snap off the tip of the Q-tip looking thing). Don't put this on your teeth. Dry your teeth before inserting your mouth tray.
Press the button on the mouth tray. A little light should turn on. Center it into your mouth and bite down gently. You can use the swab to wipe away any excess gel. After fifteen minutes, remove the tray, rinse your mouth with water, and spit.
After your first time using the machine, you'll need to refill the tray each time you want to use it. Just squeeze the serum-filled syringe into the tray, applying evenly. It's a good idea to wash your tray after each use.
Dr. Brite says you can use the treatment once a day for fifteen minutes each time. Some customers have seen results after just one day of treatment. However, the average treatment time for real results is 2-6 weeks. You'll want to touch-up periodically, but Dr. Brite doesn't give an exact time for results to last.
Dr. Brite also has several supplementary products you can use to brighten your smile and generally keep up your oral hygiene. Things like whitening mouthwash, toothpaste, and mouth sprays can help fill in between treatments. Dr. Brite also has whitening pens, which are handy to keep in your bag for when you need a touch-up. The brand features several pens for different uses, including coffee and tea treatments, smoke and vape treatments, and general upkeep whitening pens.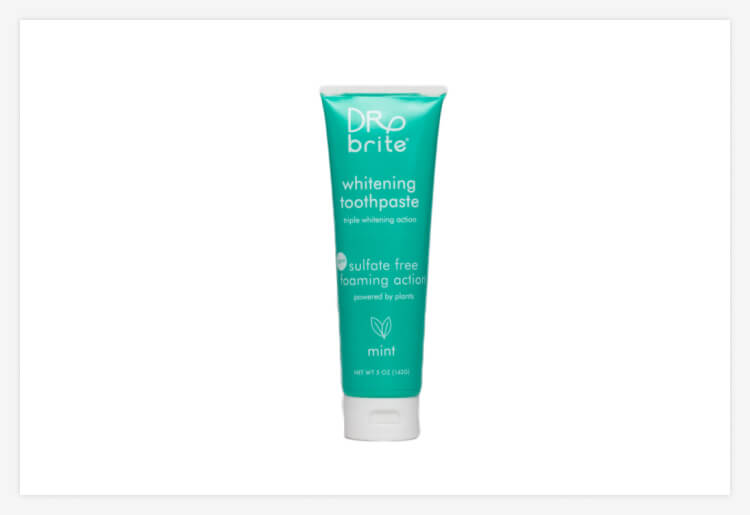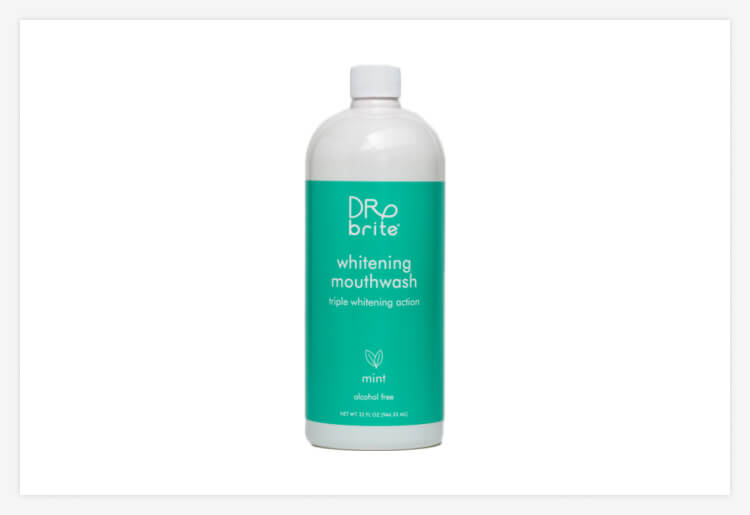 What Sets Dr. Brite Apart?
Dr. Brite has a few things going for it. Some points that I think make the brand stand out include:
All the Dr. Brite products are non-toxic, eco-friendly, and cruelty-free. The cleaning products use safer isopropyl alcohol and are infused with essential oils. How cool is that? The whitening treatments are all phthalate and sulfate-free and aren't tested on animals either. Dr. Brite is also vegan-friendly, and nut, gluten, and soy-free.
What's more, Dr. Brite is easy to use. You just put the mouth tray in your mouth, hang out for a few minutes, and you're done. There are no complicated treatment procedures. And you can do the whole thing at home. No annoying visits to the clinic. You only have to wear the tray for fifteen minutes per treatment. Big plus.
I also like that Dr. Brite has several products to promote oral hygiene (it's not just about vanity). You can buy healthy gums kits, enamel health kits, and relief kits to alleviate teeth sensitivity.
Pricing
Dr. Brite has reasonable pricing plans. You can pay all at once or break things up into multiple payments. You can also sign up for subscriptions that'll earn you a hefty discount. Here's a look at the pricing:
Subscription, ongoing deliveries
You can sign up for auto-deliveries to get a 30% discount. Then your supplies will be delivered regularly at intervals of 30, 60, or 90 days, depending on your preference. Dr. Brite also works with AfterPay. So you can break up the bill into four payments of $33.75 to make it more affordable for you.
What You Get
Dr. Brite is a teeth whitening treatment with kits and individual products on offer. If you order the full extreme whitening kit, you'll get:
The trays have blue and red light therapy built-in. You'll receive your whitening tray with one whitening formula already filled.
The whitening pens use organic cranberry seed extract to seal your teeth and block stains from forming.
Three whitening refill syringes
Syringes are filled with food-grade hydrogen peroxide.
Extreme whitening toothpaste (a 30-day supply)
Toothpaste is good for thirty days of use when brushing twice a day.
32 oz. extreme whitening mouthwash (also a 30-day supply)
This is a fun one. It is made from organic chamomile extract and has a minty aftertaste.
In your kit, you'll also get a shade guide so you can actually measure your progress, as well as vitamin E swabs for better oral hygiene. As mentioned, you can order refills or other whitening products like whitening pens, mouthwash, toothbrushes, and toothpaste.
Guarantee
Dr. Brite has a 100% satisfaction guarantee. If you are not completely happy with the results from this whitening treatment, you can return the product within 30 days for a full refund (minus shipping charges). That's pretty good considering some teeth whitening brands don't have any guarantee on their products.
Customer Service
Dr. Brite has email and phone support. There's also a small FAQ section on the website, though this covers mostly questions about ingredients and delivery.
team@drbrite.com
(949) 748-7873
Dr. Brite Visit Site
Testimonials
"I got this as a Christmas gift and I absolutely love it! Easy to use and it came with everything I needed. I instantly noticed a difference in my teeth and after a weeks use, other people have started to notice how bright my teeth are as well!" - Lauren A.
"This is a great kit. I have used their teeth whitening pens in the past and loved them and this extreme whitening kit literally comes with everything I need. I even threw out my crest toothpaste since this kit came fully loaded." - Steven M.
"My boyfriend whitens his teeth all the time with anything he finds at the drug store. I was worried that those product would hurt his teeth long-term, so I surprised him with this kit and he ACTUALLY uses it and now prefers it over the strips." - Mindy S.
"This is the best kit ever!! Literally has whitened my teeth so much and I have already repurchased the toothpaste bc its so good! One of my favorite brands!" - Nadia L.
Bottom Line
Dr. Brite emphasizes a smarter, healthier way to whiten your teeth. Using all-natural ingredients, Dr. Brite whitening solutions provide you with a safer solution to teeth stains without losing out on efficacy. The mouth guard only has to be worn for a short time, and the LED technology really does the trick. Dr. Brite products are reasonably priced, especially when compared to in-clinic treatments. You can also sign up for subscriptions to get discounted rates.