SuperSmile Visit Site
Overview
Supersmile at a Glance
Best For: Anyone looking for an extremely simple-to-use teeth-whitening treatment.
Starting Price: $25
Treatment Duration: Two minutes of brushing twice a day
How long to see results: Typically, within a month
LED Technology: No
Money-Back Guarantee: 30-day returns
What Is Supersmile?
The Supersmile brand was the brainchild of Dr. Irwin Smigel, who started the company in 1987. Known as the "father of esthetic dentistry," Smigel was already an eminent cosmetic dentist, having created the tooth bonding technique and brightened the smile of numerous celebrities in the 70s. Consequently, when he came out with a line of whitening products, people took notice.
Aside from its signature product, Professional Whitening Toothpaste, which contains Supersmile's exclusive Calprox formula, customers can choose from various shop-curated systems and sets for whitening and general tooth care.
What sets Supersmile apart from other teeth-whitening brands? For us, it's the fact that while many systems claim to be scientifically based, Supersmile was designed by a dentist. Dr. Smigel developed the treatments to help people get whiter teeth at an affordable price without damaging them. Plus, its treatment is very hassle-free and takes only minutes a day.
What Comes in the Supersmile Whitening Kit?
In this review, we'll take a closer look at one of Supersmile's best-selling products, its simple, toothpaste-based Professional Teeth Whitening System. Read on to find out what you get for your money with this whitening package, how it works, how to use it, and whether it's safe.
What's in the box?
The package contains one tube of Professional Whitening toothpaste plus one tube of whitening accelerator, which Supersmiles claims will whiten teeth within 30 days while fighting plaque and remineralizing tooth enamel.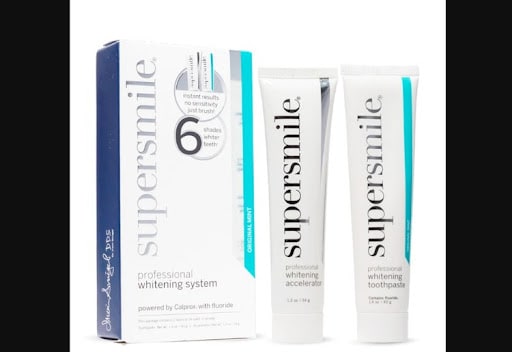 Supersmile Whitening Kit Ingredients
The ingredients in the whitening toothpaste and accelerator paste are said to be safe, vegan-friendly, and cruelty-free.
The active ingredients in the whitening toothpaste are Calprox, a proprietary peroxide whitening agent, and sodium mono fluorophosphate, a type of fluoride designed to help prevent cavities. Other ingredients include the following.
For the whitening toothpaste:
Calcium carbonate – a mild abrasive

Dicalcium phosphate – helps to remineralize tooth enamel

Sodium bicarbonate – helps remove plaque

Cellulose gum – gives the toothpaste its consistency

Sodium lauryl sulfoacetate – loosens surface deposits

Sodium saccharin – sweetener
For the whitening accelerator:
Hydrogen peroxide – a bleaching agent

Potassium hydroxide – eliminates acids and increases PH levels

Glycerin – for texture and smoothness
Other Supersmile Products
The Whitening BOLT
Stop stains before they start!
Starting price: $45
Treatment duration: Three times a day
Results: Locks out stains for six hours
Prevention is better than cure, and with the Supersmile Whitening BOLT whitening pen, you can apply a paste to your teeth to prevent staining before consuming stain-inducing beverages and foods. It's a great way to indulge in your favorite foods and still maintain a white smile.
Pros
Locks in whitening and shine

Removes coffee, tea, and red wine stains

Rejuvenates a dull smile
Cons
Messy to use

Packaging difficult to open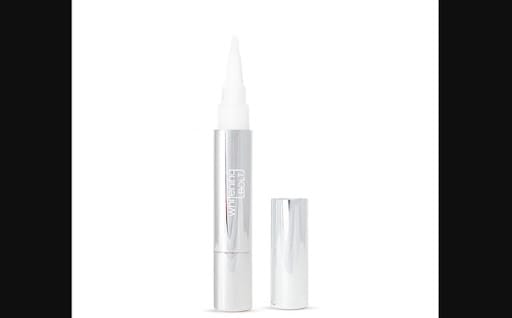 Quikee
A fresher smile on the go
Starting price: $18
Treatment duration: Works in minutes
Results: A fresh, just-brushed feeling
When you haven't got time to brush, Quickee offers a discreet solution. It's a convenient way to keep your breath smelling fresh and your smile brighter. Dab it on the teeth and wipe it across with your tongue to circulate the polish.
Pros
Zero sensitivity

Portable and convenient

Makes smiles look shiny
Cons
Not a lot for the money

Caused sensitivity in some customers

Is Supersmile Safe?
Supersmile was designed to be effective without harming the teeth. Calprox ® is safer and less abrasive than silica, which is often used in other whitening toothpaste. According to Supersmile, its products are 75% to 94% less abrasive than the limits set by the ADA (American Dental Association).
Not only is the system meant to brighten and whiten the teeth, but it remineralizes the tooth enamel to make it stronger. Supersmile also avoids harmful ingredients such as sulfates, parabens, silica, charcoal, animal by-products, and other toxins and replaces them with enamel-safe gentle ingredients.
However, be aware that if your teeth are stained from the antibiotic Tetracycline, Suresmile products will not work.
How Supersmile Works
It's actually very simple. The "magic" ingredient in the whitening toothpaste is Calprox ®, a proprietary substance created by Dr. Smigel and his team that gently whitens and cleans without any sensitivity.
Calprox is a proprietary form of calcium peroxide that whitens teeth by gently dissolving the thin layer of protein that forms on the tooth enamel, attracting stains, bacteria, and plaque. Brushing leaves the teeth feeling and looking cleaner for longer.
On top of that, baking soda freshens breath while phosphate and calcium remineralize and strengthen the teeth. The professional teeth whitening toothpaste removes surface stains on the teeth and is safe to use with artificial tooth surfaces such as bonding, veneers, and dentures.
How to Use Supersmile's Whitening Kit
The Supersmile Professional Teeth Whitening System is quite easy to use.
Place a pearl-sized drop of both the whitening toothpaste and the whitening accelerator onto a dry toothbrush. (Using a wet toothbrush will dissolve the Calprox, making it less effective.)

Brush your teeth in a circular motion for two minutes.

Repeat this procedure once in the morning and again before going to bed.
Supersmile suggests that once the teeth have reached the desired level of whiteness, the color can be maintained with its Professional Whitening Toothpaste without the accelerator.
Because the toothpaste uses Calprox, a whitening ingredient gentle on teeth, it can be used daily without harming or scratching the tooth enamel or causing sensitivity. This is backed by customer reviews, which state that they felt little or no sensitivity.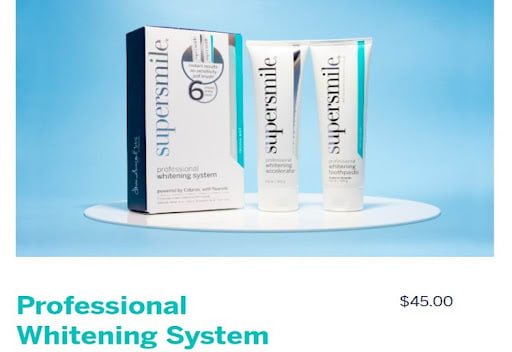 Does Supersmile Work?
According to most of the customer feedback we found on sites like Amazon, the Supersmile Professional Teeth Whitening System works. While some people reported a visible difference in color within a week, others said they used it for over a month before seeing results, suggesting that it may not work quickly.
On the other hand, one reviewer mentioned that they had used the product on stained veneers, and it had worked to restore them to their original color. This may be good news for some, as many whitening products cannot be used on artificial teeth.
Unlike some of its competitors, the company doesn't offer any kind of money-back guarantee. However, all evidence points to the fact your results should last as long as you continue to use Supersmile Professional Whitening Toothpaste.
Supersmile Pricing
How Much Does Supersmile Cost?
Supersmile products range from $25 for a Professional Whitening Toothpaste tube to $191 for its Awake, Relax, + Accelerator Set. Currently Supersmile does not offer free or international shipping.
Supersmile Whitening Sets and Systems
Supersmile Professional Whitening Toothpaste
Supersmile Extra Whitening Toothpaste
Supersmile Awake Whitening Toothpaste with Caffeine
Supersmile Toothpaste + Accelerator
Supersmile Rinse/Mouthwash
Supersmile Whitening Bolt
If you're planning to purchase a few products, it's worth checking out the bundles, as you can save money buying them together. You can save even more money when you sign up for a subscription. Supersmile products can be purchased on subscription on 1, 2 and 3 monthly intervals and cover a variety of products including toothpaste, mouthwashes, on-the-go whitening etc.
Supersmile accepts payment with major debit and credit cards, gift cards, and Amazon Pay.
The products are relatively pricey compared with other brands in the industry, but discount codes are occasionally offered.
Supersmile Alternatives
How Does Supersmile Compare to Other Whitening Kits?
LED Light + whitening pens + whitening strips
Whitening gel with custom mouth trays
Two times daily for up to 30 days
15 minutes a day for 24 days
15 minutes a day for two weeks
Ongoing with regular touch-ups
Can last up to six months
Can last up to three months
30-day money-back guarantee provided packaging is unopened
45-day money-back guarantee for US customers; 50-day money-back guarantee for users outside the US
Supersmile vs Zimba
The key differences between these two brands are the price and the whitening process. Supersmile offers a less-expensive, quicker gradual whitening with toothpaste and an accelerating paste. Zimba achieves faster results with a comprehensive kit that contains whitening strips, gel, and a LED mouthpiece to accelerate the results.
Supersmile vs Smile Brilliant
Whereas Supersmile's professional whitening treatment is essentially just toothpaste and can be used continually, Smile Brilliant adopts a more personal approach, with customized whitening trays that offer a snug fit for even whitening. It can take up to 14 days of treatment with Smile Brilliant's whitening gel to reach the desired effect, but results can last up to a year.
Supersmile vs Dr. Brite
Dr. Brite's advanced teeth whitening system utilizes LED light technology and is peroxide-free, lowering the risk of gum irritation or sensitivity. According to customer reviews, some people noticed results within one or two sessions. Supersmile's whitening toothpaste is also kind to tooth enamel and takes less time per day, but results could be slower and may take months to achieve.

SuperSmile Visit Site
Bottom Line
Supersmile can help you achieve a whiter smile with practice as simple as brushing your teeth twice daily. While the results are gradual, there's no need to set time aside for whitening, no need to deal with messy mouth trays, and a low likelihood of sensitivity or damage given the dentist-developed, enamel-safe, calcium-peroxide-based formula. Some customers even report that it can help keep veneers whiter.
So, for those seeking ultimate simplicity, Supersmile will be worth it, even if the prices can be higher than some competitors.