In a Nutshell
Supersmile is an easy to use teeth whitening system that doesn't involve the complicated gear or appointments other treatment options require. Supersmile's clinically-proven toothpaste and accelerator is made with proprietary ingredients created by Dr. Irvin Smigel, a renowned dentist and founder of the American Society for Dental Aesthetics. Supersmile uses science-backed ingredients to offer safe and gentle teeth-whitening treatments.
pros
Clean, safe proprietary ingredients
Developed by veteran dentist Dr. Smigel
Cool products that strengthen teeth and whiten
cons
No guarantee or return on opened goods
Have to pay for return shipping

SuperSmile Visit Site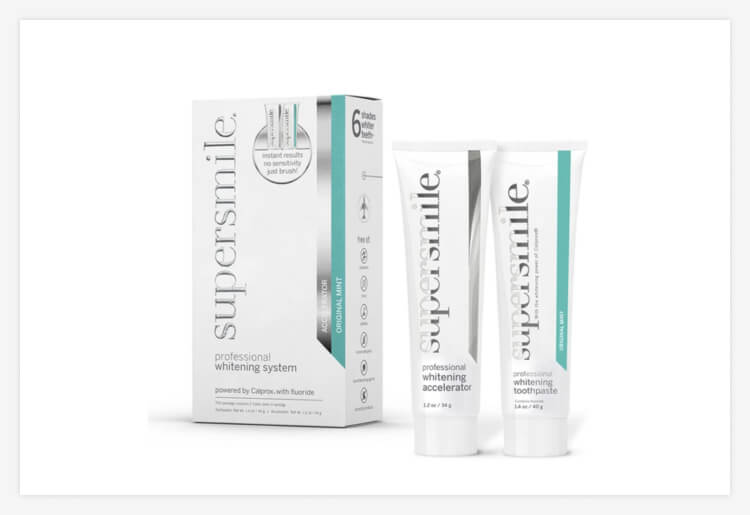 Supersmile at a Glance
Starting price: From $23 a tube
Treatment duration: 2 minutes twice a day
Estimated length of results: Typically within 30 days
LED technology: None
Money back guaranteee: 30 day returns
Best For
Supersmile is designed to protect and clean teeth from all types of stains, including those made by food, drinks, and aging.
Food, tobacco, and wine stains

General teeth yellowing and discoloration
How Does it Work?
Supersmile has several whitening products you can use to get those pearly whites, well, pearly white. The treatment is scientifically-designed and its main component boils down to Calprox, a proprietary ingredient designed by the late Dr. Smigel. It's a safe whitening agent that is also gentle on the teeth, a plus for those with sensitivities. Some of the whitening options include:
Professional whitening system
This dynamic duo has professional whitening toothpaste along with a whitening accelerator to whiten teeth up to six shades within 30 days. It also fights plaque and remineralizes your teeth.
You can also use the basic whitening toothpaste. It comes in 8 different flavors and claims to whiten teeth in less than a week.
This is a whitening pen that you can use before you eat or drink something that's likely to stain, e.g., tea, coffee, wine, and fruit. The pen is supposed to coat your teeth with a protective barrier that lasts six hours.
Both the accelerator and the whitening toothpaste come in standard or extra versions. Whichever option you use, Supersmile recommends brushing with the product for two minutes, twice a day. Supersmile even has a whitening gum if you enjoy chewing on something throughout the day.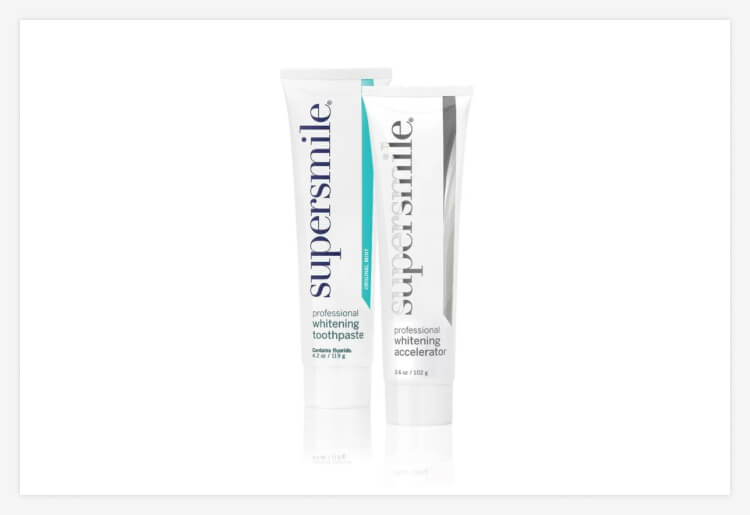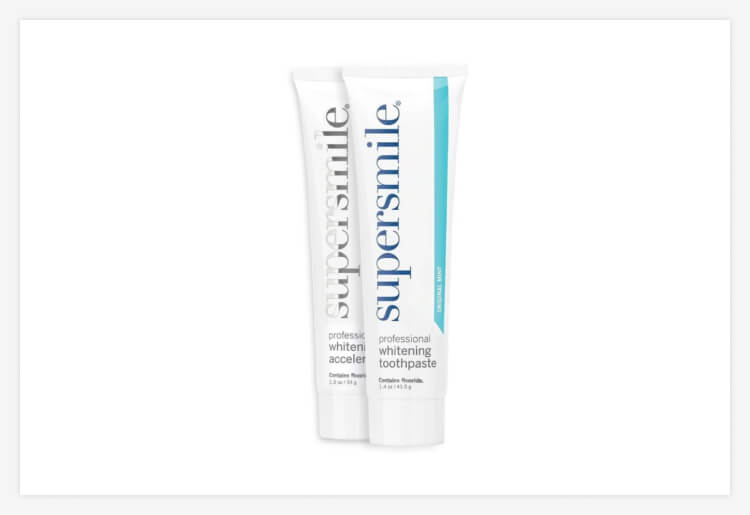 What Sets Supersmile Apart?
There are a lot of teeth whitening brands out there, so why go with Supersmile? Here are a few things we thought made this service stand out:
Professionally-designed and backed
A lot of systems claim to be scientifically-based, but Supersmile actually has the dentists to prove it. In fact, the company was started by Dr. Irwin Smigel, known as the Father of Aesthetic Dentistry. He developed the treatment to help people get whiter smiles without hurting the teeth. It also helps that Supersmile keeps the prices down. Watch the video of Dr. Smigel, and see if you don't fall in love!
Supersmile was designed to be effective without causing more harm to your teeth. According to clinical studies, Supersmile is 75% less abrasive than the standard teeth whitening treatments are allowed to be, according to the ADA. The toothpaste remineralizes your teeth, so it actually strengthens teeth rather than ruining the enamel. Finally, you can't beat the ingredients. Supersmile has fluoride, calcium, and phosphates in the formula. The products are vegan-friendly, kosher, cruelty-free, and BPA-free. There are no sulfates, parabens, silica, charcoal, animal by-products, or other toxic ingredients whatsoever.
And best of all, it's the easiest system out there. There's no going into a clinic to have the whitening treatment done. And you don't even have to deal with complicated mouth gear. You just brush your teeth every day like you always do, and get whiter teeth as a result.
Pricing
One of the best parts of Supersmile is the price. You're not paying for pricey whitening treatments. It's just a few tubes of toothpaste.
Professional Whitening System

$21.85 per month (2-4 months)
4.2 oz professional whitening toothpaste
Toothpaste and accelerator
You can also buy products separately. Here are a few prices:
Extra whitening accelerator
Zina45 deluxe sonic pulse toothbrush
Relax whitening toothpaste hemp
Awake whitening toothpaste caffeine
And a lot more. It's worth sifting through the site to see all Supersmile has to offer. But if you plan on buying a few products, it's worthwhile to look at the bundles since you'll save more by ordering them together. You'll also save more by signing up for a subscription plan. Plus, you'll get the added convenience of not having to remember to buy when your stock runs low.
Supersmile has free shipping on orders above $50. Otherwise, you'll pay $6 for shipping.
What You Get
Supersmile is as basic as they come. You just get toothpaste for your troubles. Most people can handle that. You can also check out some of the cool gear like sonic pulse toothbrushes and whitening floss if you're real committed.
Guarantee
Supersmile says it will whiten your smile up to six shades within thirty days and it has clinical studies to back up those claims. What's more, Supersmile has a 30-day no-questions-asked refund policy. You can return unused or unopened items for a full refund. But it doesn't cover used items. So you can't really test out the product and then decide you're not happy with it. That's a little strange. Plus, Supersmile makes you pay for return shipping fees.
Customer Service
Supersmile has customer service available via email and a toll-free phone number. You can also use the handy store locator to find a location nearest to you.
1-800-784-7645
customerservice@supersmile.com

SuperSmile Visit Site
Testimonials
"Love the Cinnamon Toothpaste
Review by Michele T. on 13 Mar 2021. "Love your products. Please keep the Cinnamon Whitening toothpaste, I love it. It makes your mouth feel cleaner than other flavors." - Michele T
"Loyal user is back
Review by Heather W. on 6 Mar 2021 "I have used Supersmile for years. I always sold it at my business. In recent years I stopped selling it and so I stopped using it when I ran out. I've felt like my teeth are not a white and that the other toothpastes just don't do the job. I just bought it again and I am so happy to be using it again. My teeth are already looking whiter again." - Heather W
"Supersmile Jasmine Green Tea whitening toothpaste
Review by Diane J. on 6 Jan 2021 "I bought this thinking it probably won't work. After two days I could see a difference. I was amazed. My old toothpaste said it was a whitening toothpaste but it did nothing for my teeth. But Supersmile really does work. And I love the Jasmine Green Tea flavor. So glad I purchased it." - Diane J
Bottom Line
Supersmile is a simple, safe, and effective option for whitening your teeth. It's easy to use and requires none of the complicated equipment that at-home whitening treatments usually require. Products are affordable and come with discounts in various ways. Plus, you can get autoship, so you never run out. Supersmile ingredients are safe and easy on your teeth, so you don't have to worry about sensitivities either.