In a Nutshell
Unlike professional teeth whitening, which can cost hundreds of dollars, BURST's coconut teeth whitening strips only cost $19.99 for a seven-day treatment. The company claims to get results that last up to 12 weeks with only 15 minutes of use per day for a week. Subscribe, and the cost goes down to $14.99 per treatment, making BURST's whitening strips an affordable and quick way to get a whiter smile.
pros
Hydrogen-peroxide-based whitening formula that works fast
You only need to wear the strips for 15 minutes per day
Money-back guarantee
cons
A single purchase costs more than a subscription.
May cause burning if the gel gets on your gums

BURST Visit Site
Best For: Quickly whitening your smile with natural ingredients.
Starting Price: $19.99 ($14.99 with subscription).
Treatment Duration: 15 minutes a day for one week
Estimated Length of Results: Approximately 12 weeks.
LED Technology: No
Money-Back Guarantee: Yes
What Is BURST?
BURST is a US-based provider of toothpaste and other oral care products co-founded in 2017 by Hamish Khayat and Brittany Stewart. The entrepreneurial pair aim to "transform oral care as we know it." They started with electric toothbrushes before expanding to whitening strips, water flossers, traditional floss, toothpaste, and more.
To develop its product range, the company works with BURST ambassadors (licensed dentists, dental hygienists, and dental assistants) who provide feedback and advice on patients' needs.
Burst's toothpastes, flosses and whitening strips are competitively priced using all-natural ingredients where possible. Their ethos is sustainability, whether that's recyclable packaging or ethical manufacturing process, they appeal to the eco-conscious consumer. If you are dipping your toes in the world of teeth whitening, Burst's whitening strips may be worth the investment because the company guarantees results or your money back.
How Much Does BURST Cost?
BURST has an affordable range of oral care and oral wellness products ranging from $6.99 for kids' toothpaste to $119.98 for the brand's highest-tier sonic toothbrush when bundled with whitening strips. The company currently ships to the US, Canada and the UK with free shipping and no minimum order throughout the US.
BURST Coconut Teeth Whitening Strips
$19.99 ($14.99 with subscription)
BURST Sonic Toothbrush for Kids
BURST Refillable Floss Set
BURST whitening strips are among the most affordable on the market. Other brands can cost anywhere between $10 and $50 per packet. At $19.99 for seven days' worth of strips, teeth whitening from BURST costs just $2.85 per session. You can also order on subscription where you get a replacement pack every 12 weeks. Then you pay $14.99 plus tax and you can cancel at any time.
What Comes in the BURST Whitening Strips Package?
This review will focus on BURST'S popular coconut teeth whitening strips. We'll discuss the ingredients, how they work, and whether they're safe.
What's in the box?
When you purchase BURST whitening strips, you receive a box containing seven foil packets, enough for a week of whitening. Each pouch contains two strips, one for the lower teeth and one for the upper.
BURST Coconut Teeth Whitening Strips Ingredients
BURST coconut whitening strips' main ingredients are hydrogen peroxide and coconut oil. Other ingredients include the following.
Aqua

Cellulose gum

Menthol

Citric acid
How Do BURST Coconut Teeth Whitening Strips Work?
BURST whitening strips are coated with a hydrogen peroxide gel that penetrates the porous surface of teeth, breaking down larger stain molecules into smaller ones to make teeth appear whiter.
Meanwhile, coconut oil helps remove bacteria, acting like a mouthwash. This process is known as coconut oil pulling.
The American Dental Association (ADA) says there isn't enough evidence to prove that oil pulling is beneficial to oral health. But the Journal of Clinical and Diagnostic Research states that oil pulling proved to be as effective as chlorhexidine treatment for eradicating bad breath and has been practiced for over 3000 years.
How To Use BURST Coconut Teeth Whitening Strips
BURST Coconut Teeth Whitening Strips are very easy to use.
Floss your teeth before applying the strips for optimal results. It's also best to wash and dry your hands before touching the strips.

There is one longer strip for your upper teeth and a short strip with a tab for the lower teeth.

Gently peel off the backing strip. The sticky side will go against your teeth. Place the top edge of the strip at the gumline and apply even pressure with your fingers. Wrap the other half of the strip (the bit hanging over) around the edges of your teeth toward the inside of your mouth.

Repeat this process with the strip for the lower teeth.

Set a timer for 15 minutes, during which the whitening strips will get to work.

When the time has elapsed, remove the strips and discard them.

Gently brush your teeth to remove any gel.
You'll need to perform this entire process for seven consecutive days. Care should be taken not to let the gel come into contact with the gums otherwise it could cause irritation or burning.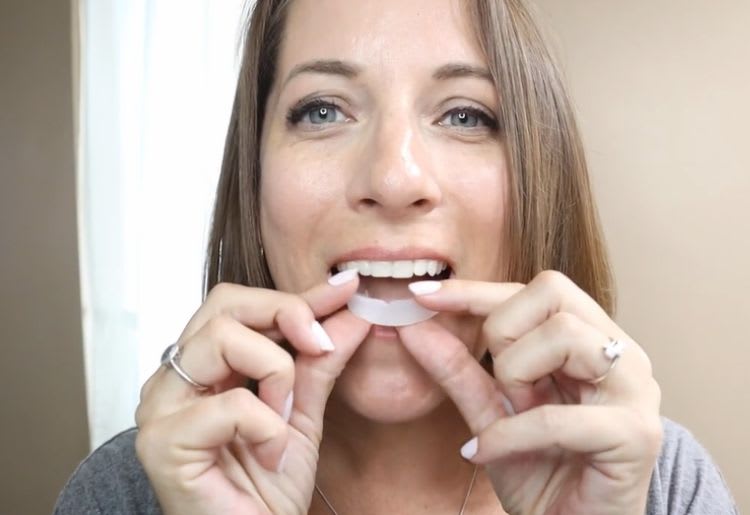 Is BURST safe?
Yes, BURST tooth whitening strips are safe for teeth and gums. The strips are formulated as naturally as possible and undergo rigorous testing for safety and efficacy. There is little to no sensitivity, and they're also safe for people who have weak tooth enamel. That said, care should be taken not to let the gums come into contact with the whitening agent otherwise it may cause irritation or burning,
BURST advises that you limit the use of strips to no more than four times a year or every 12 weeks. Whitening strips are unsuitable for kids and teens below 15 years of age. Plus, note that BURST's strips only work on natural teeth, not dentures.
Does BURST Actually Work?
Yes, BURST coconut teeth whitening strips can help whiten your teeth, and, unlike several other whitening strip brands, you'll only need to wear them for 15 minutes each day.
Based on customer feedback, many users are satisfied with their purchases and the results. Typical comments highlight the convenience of only wearing the strips for a few minutes and say they cause zero sensitivity issues.
The company stands by its strips with a 90-day money-back guarantee. BURST is confident their product will whiten your natural teeth, and if not, they'll refund your money in full.
Typically the results last for 12 weeks, after which time you can start another seven-day course if you'd like.
How Does BURST Compare To Other Whitening Kits?
LED device + Whitening Toothpaste + toothbrush
LED teeth whitening device + whitening gel + lip care
Seven-day course, can be repeated four times a year
10 minutes per day for 10 days
Fifteen to twenty minutes a day for seven days
Three consecutive whitening applications each day for seven or more days
90-day money-back guarantee
30-day money-back guarantee
60-day guarantee with partial or full refund
30-day money-back guarantee
BURST Vs. Co by Colgate
Co by Colgate doesn't offer whitening strips, but it does have several whitening products, including an overnight teeth whitening wand. Apply the click-and-brush-on teeth-whitening serum to your teeth every night. While Burst typically whitens teeth in seven days, Colagte claims that the wand can whiten three shades in two weeks.
BURST Vs. SmileDirectClub
SmileDirectClub's whitening strips cost $10 more than those offered by Burst. Another key difference is they dissolve in the mouth after about 15-20 minutes, making the process of whitening as easy as possible. Both BURST and Smile Direct strips work in seven days.
BURST Vs Glo Science
Glo Science doesn't sell teeth-whitening strips. However, it does market whitening devices that combine patented heat and light technology with a whitening gel. There's an optional Bluetooth connectivity to the GLO Whitening App, which may whiten up to five shades in seven days.
Other BURST Products
Black Sonic Toothbrush
Effective but gentle sonic cleaning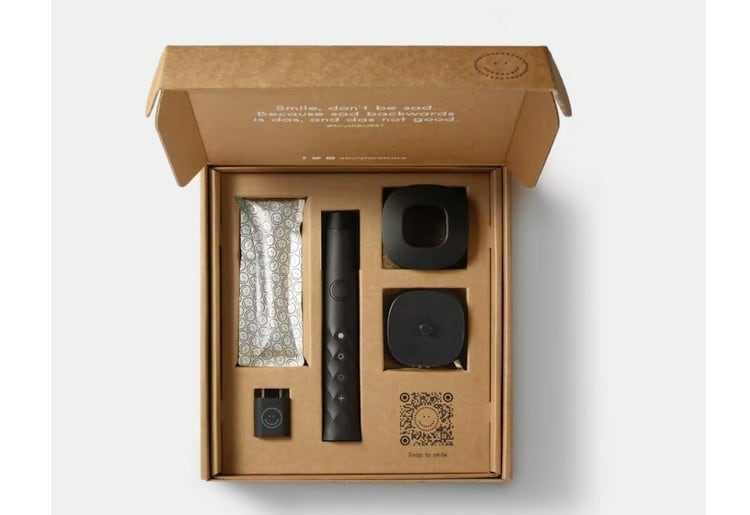 Starting price - $69.99 (includes coconut whitening strips).
Treatment duration - Use daily for best results.
Results - BURST claims the sonic brush removes 10x more plaque than a manual toothbrush.
The BURST Sonic Toothbrush is one of several similar BURST devices. This sleek electric toothbrush has an elegant design and provides a secure grip to make brushing easy.
The toothbrush has three brushing modes—whitening, sensitive, and massage. The soft bristles on the brush head are infused with charcoal to help remove stains. Other handy features include a quad interval and a two-minute timer, which helps ensure you give your teeth the attention they need.
Pros
Convenient two-minute timer

Sleek design

A single charge lasts four weeks
Cons
Only one type of brush head available

Carry case is a little flimsy
BURST Water Flosser
Flossing made easier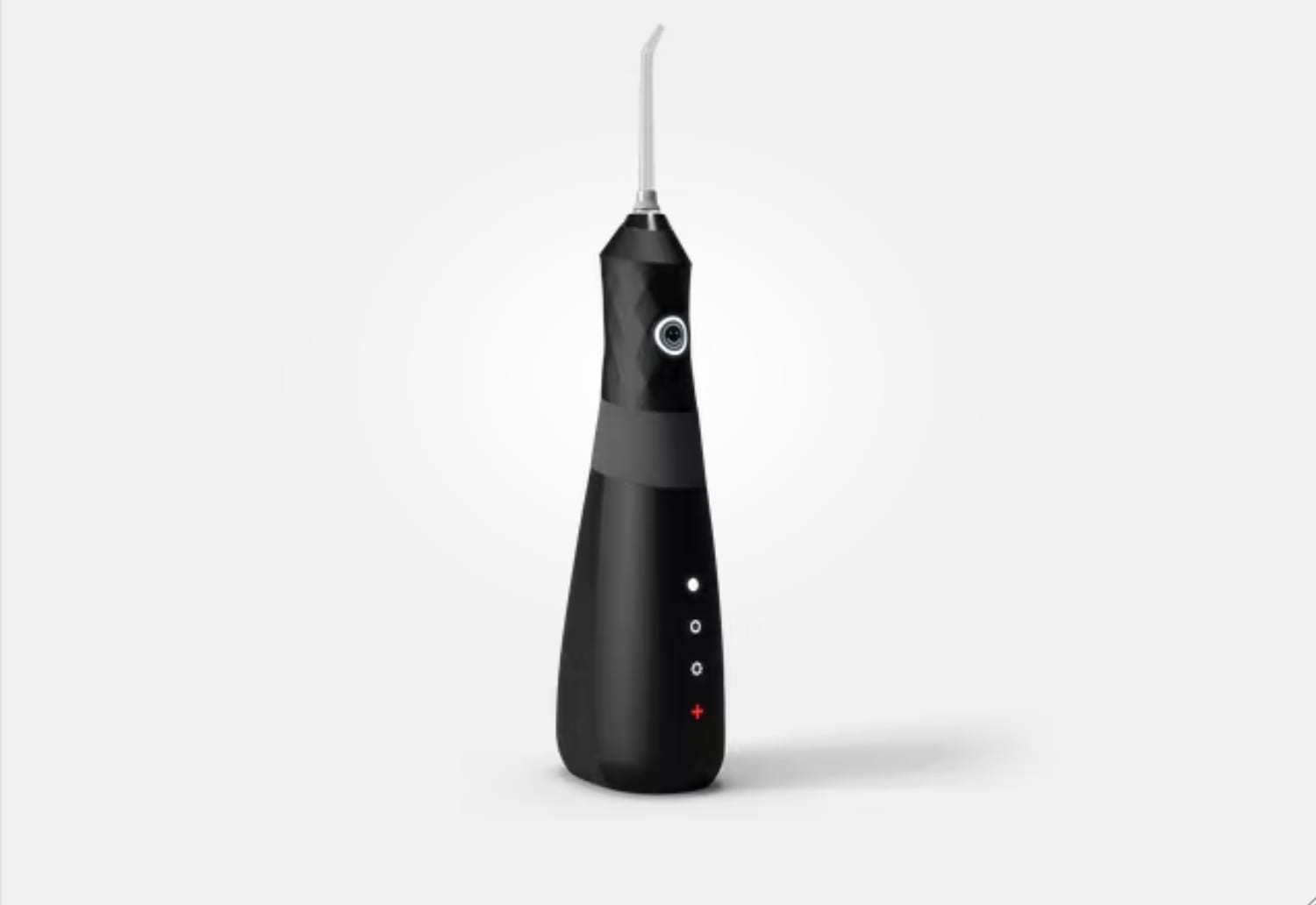 Starting price - $69.99 (includes coconut whitening strips).
Treatment duration: Use daily for best results.
Results: Gently cleans between teeth and massages gums for a healthier, debris-free smile.
The BURST Water Flosser is a handy alternative to traditional string flossing. BURST's flosser directs a stream of water between your teeth and gums to remove plaque, bacteria, and food debris.
The device is available in several color options and has three different modes (turbo, standard, and pulse). The tip rotates 360°, enabling you to reach every part of your mouth.
Other highlights include a long battery life (up to 80 days), and water resistance so you can even floss in the shower.
Pros
Ideal if you find conventional flossing challenging

Three settings—standard, turbo, and pulse

Eighty-day battery life
Cons
You may have to refill the tank during use

Can be messy
Are BURST's Teeth Whitening Strips Worth It?
At $19.99 for a seven-day course, BURST's whitening strips offer good value for money, and they only need to be used for a few minutes a day to achieve results. The treatment is safe, provided instructions are followed. Failure to do so may result in gum irritation or burning. Results are said to last for around 12 weeks. If you want a quick-acting, low-cost and relatively easy tooth-whitening experience, BURST could offer great value.