In a Nutshell
Burst is offering people a healthier way to whiten their teeth. Using all-natural ingredients like peppermint and coconut oils, Burst gives your teeth a natural shine while still maintaining its vegan, gluten-free stance. Use the whitening toothpaste or opt for the powerful whitening strips to get the job done. Burst offers a 90-day money-back guarantee. So you really don't have much to lose.
pros
All-natural, recyclable, and sensitive on teeth
Gluten-free and vegan-friendly
90-day money-back guarantee
cons
Not a lot of support options
No LED light therapy option
Burst Visit Site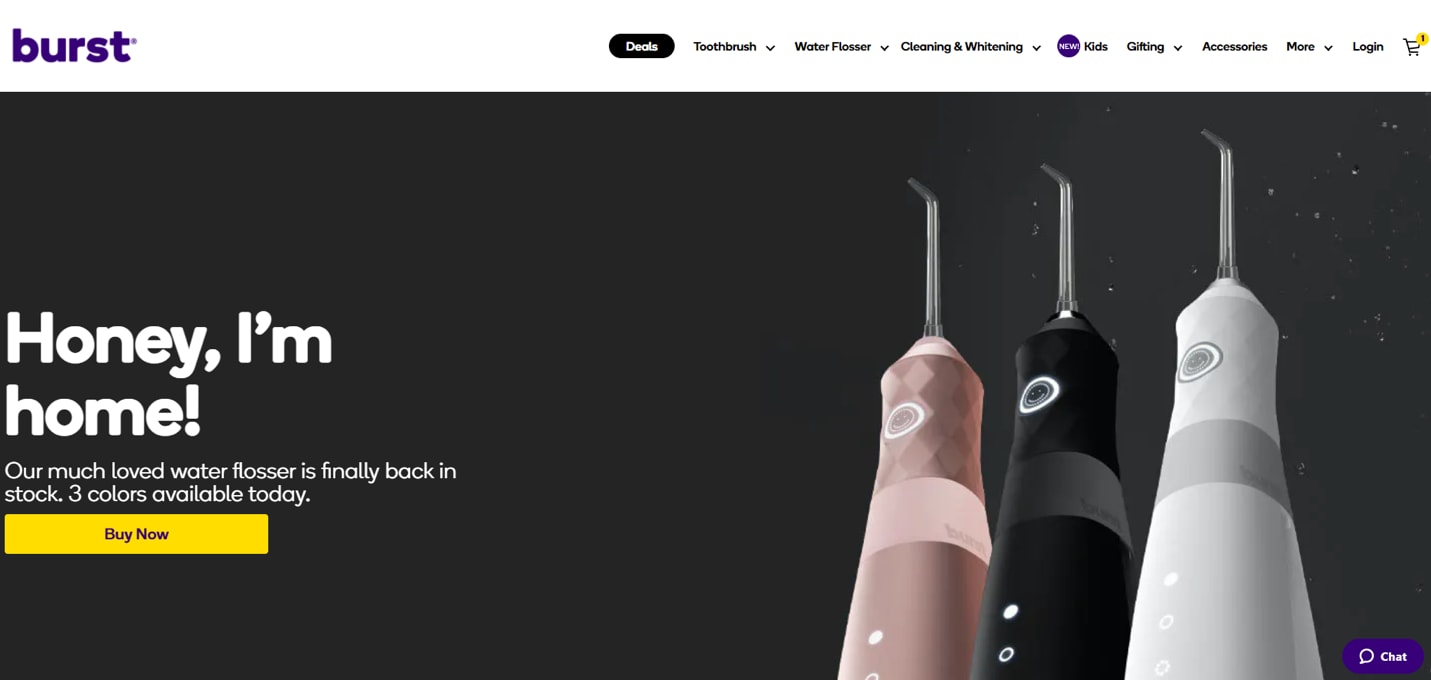 Burst at a Glance
Starting price: From $6.99 for toothpaste and $14.99 for strips
Treatment duration: 15 minutes per day for 14 days
Estimate length of results: N/A
LED technology: None
Money-back guarantee: 90 days
Best For
Burst whitening strips are good for deep stains on the teeth that usually come from continuous use of staining substances like cigarettes, wine, and coffee. Whitening toothpaste is a good option if you want to get whiter teeth and then maintain those results on a daily basis.
How Does it Work?
Burst allows you to make a one-time purchase or to sign up for a subscription. You'll save on all products if you subscribe. Go to the site, add the items you want to your cart, and check out. Enter your payment and delivery info, and you're done. Burst ships in 3-5 days and shipping is always free. Alternatively, you can pay for expedited shipping if you need your whitening products ASAP.
Burst has two whitening treatments. Here's how they work:
Whitening strips
Don't brush before using the strips. Instead, you can floss if you want to clean your teeth.
Peel back the protective strip from the whitening strip
Place the gel side on your teeth, lining it up with your gum line, and press it tight against your teeth
Leave strips on your teeth for 15 minutes
Take off the strip and throw it away
Rinse your mouth and brush your teeth, preferably with the Burst sonic toothbrush
Burst whitening strips use all-natural ingredients that are gluten-free and vegan-friendly. They're also designed to be more sensitive to your teeth. Use the whitening strips for 15 minutes a day for two weeks straight to get results. The whitening strips use hydrogen peroxide and coconut oil to get beyond the surface of the teeth to really clear away deep stains.
Toothpaste
Squeeze a small amount onto your toothbrush
Brush teeth in circular motions for a full two minutes
Rinse and repeat two to three times a day
The toothpaste comes in three formulas, including fluoride-based paste in a wild mint flavor, a natural paste that's fluoride-free (also comes in wild mint flavor), and a charcoal paste with fluoride that's got a coconut salt flavor.
And FYI, if cool tooth gear is your thing, then you're going to love Burst's sonic toothbrushes, which are available in white, black, and special edition rose gold. The toothbrush comes with a lifetime guarantee, too. A built-in two-minute timer helps you keep tabs on how long you've been brushing, so you always maintain a healthy dental hygiene regimen. There are also water flossers for the truly teeth-elite.
What Sets Burst Apart?
Burst is a great teeth whitening brand that focuses on two important differentiating factors: natural ingredients and powerful but sensitive ingredients. The products are formulated to work really well on stains but are gentle on your teeth's enamel. Burst is also seriously into the quality of its products. The whitening toothpaste and strips are made of all-natural, gluten-free, and vegan ingredients. That includes things like peppermint oil, stevia, and coconut oil. Even the tubes are 100% recyclable BPA-free plastic!
Pricing
Subscription every 12 weeks
At $7 a pop for a tube of toothpaste, Burst has reasonable pricing on its products. And you can save more by signing up for a subscription plan. Burst also has toothbrushes and water flossers ($69.99-$79.99). Burst also has great bundles that give you all the products for a heavily discounted price.
What You Get
When you order a whitening product from Burst, you'll get toothpaste or whitening strips, depending on your purchase. You can also get bundles that include a refillable floss container, whitening strips, fluoride toothpaste, and a sonic toothbrush.
Guarantee
Burst is serious about its results. So much so that the whitening strips and toothpaste come with a 90-day money-back guarantee. That's three times as long as many competitors. The toothbrushes even have a lifetime guarantee.
Customer Service
Burst kinda falls short in the customer service department. Not because they're not helpful. There just aren't a lot of options for reaching out. The live chat is only around during business hours, and the email form can take up to 24 hours to receive an answer. But Burst does make up for it with its fabulous blog. There's an impressive amount of information, including important topics like common eating disorders and how they present themselves, the mouth-body connection, and anti-inflammatory foods for your health.
Email Support:
hello@burstoralcare.com
Burst Visit Site
Testimonials
"I feel like I'm actually cleaning my teeth instead of scrubbing away through my mouth. The 30 second intervals and 2 minute timer also makes me feel like I'm really getting a good brush in each time, while not overdoing it." Luke
"I had heard about this brush for a while, so I finally ordered it to treat myself during the rush of the holiday season. It does a fabulous job brushing. I LOVE that it stops to tell me to switch quadrants. My teeth feel so squeaky clean and i feel more confident with my smile!! Thanks for giving me a product to refresh my inner self!!!" - April
"Simply amazing. I got the rose colored toothbrush kit. Toothpaste is so great that came with it as well as the floss. Who doesn't like a smiley face when they open the box? The toothbrush works great and I like how long the charge lasts. Also the timed brushing really helps keep you consistent. My teeth feel great, and my issue with yellow and build up is now history!" - Charity H.
Bottom Line
Burst is making waves in the best possible way with its line of teeth whitening products. From the strips to the toothpaste, Burst uses all-natural ingredients that are sensitive to your teeth while still being hard on stains. The company also stands behind its products with a 90-day guarantee.