In a Nutshell
GLO is an easy-to-use at-home teeth whitening treatment. Its innovative technology combines blue LED light and heat to amplify whitening inside a mouthpiece, protecting the gums and other soft tissue. Ideal for sensitive teeth, each Glo treatment lasts for eight minutes and produces noticeably whiter teeth with each session, but retouching is required once a month. The GLO product range includes teeth whitening devices and whitening pens.
pros
Fast, easy at-home treatments
Causes no sensitivity
Vegan-friendly, safe, cruelty-free products
cons
Using the mouthpiece device with braces is not recommended
Requires retouching once a month

GLO Science Visit Site
GLO at a Glance
Best For: A vegan-friendly way to achieve a brighter, more confident smile.
Starting Price: Prices start from $149 (single payment) or $37.25 per month.
Treatment Duration: Eight minutes per session, three times a day for 5-7 days.
Estimated Length of Results: Results last for around six months.
LED Technology: Yes
Money-Back Guarantee: Yes
What is GLO Science?
GLO Science is an award-winning, patented LED teeth whitening brand. It was created in 2011 by Dr. Jonathan B Levine, a renowned dentist and oral health expert. Based in New York City, the company offers three different at-home whitening kits and sells other oral care products and professional teeth whitening kits for dentists.
GLO Whitening Kits:
Original GLO Brilliant is the brand's signature teeth whitening device. It's clinically proven to whiten teeth by up to five shades in five days, and offers longer-term whitening stability.
GLO Brilliant White Smile brightens teeth up to 12 shades using illuminating heat technology to whiten teeth 25% faster.
GLO Lit also whitens teeth by five shades lighter, but without any sensitivity. With fast-charge capability, optional Bluetooth connectivity, and two ways to go hands-free, it enables you to whiten anytime, anywhere.
GLO stands apart from its competitors for many reasons:
It utilizes a patented technology – Guided Light Optics – built into the mouthpiece, to accelerate the whitening process.

It's FDA-approved.

The company donates 10% of its proceeds to charity.

All products are gluten-free, vegan-friendly, cruelty-free, and made in the USA.
How Much Does GLO Cost?
You can purchase a complete kit starting at $149. Subsequently, you only need to buy packs of the whitening gel for subsequent treatments. Prices range from $7.99 to $199 and include free standard shipping, or you can upgrade at an additional cost.
GLO Brilliant White Smile – Teeth Whitening Device with Illuminating Heat Technology
Original GLO Brilliant Teeth Whitening Device
GLO Lit Teeth Whitening Device Tech Kit with Bluetooth
GLO-to-Go Teeth Whitening Pen
Mint Teeth Whitening GLO Vials
Teeth Whitening GLO Vials (5 Pack) – Cinnamint flavor
Eco Balance Deep Clean & Gum Restoration Oral Health Booster
GLO Science accepts credit cards, debit cards, Amazon Pay, Apple Pay, or PayPal payment. Alternatively, you can spread the cost with Afterpay. Purchases can be split into four interest-free payments, payable every two weeks.
While GLO is one of the more expensive home whitening kits, most reviewers believe the price is worth it.
GLO Science: Original GLO Brilliant Whitening Device Review
The Original GLO Brilliant Whitening Device claims to whiten teeth up to five shades in five days. In this review, we look at what's included in the kit, the ingredients, how it works, how you use it, and more importantly whether it's safe and effective.
So, what's in the kit?
GLO Brilliant Heat & LED Whitening Mouthpiece

Mouthpiece storage case

Rechargeable GLO Control with extended battery life and hands-free lanyard

10 Teeth Whitening Gel Glo Vials (10x 2.95ml – 60 applications)

GLO Lip Care (8ml)

GLO Universal power cord and USB adapter

Zippered travel storage case

Shade guide and user manual
What Are the Ingredients?
TEETH WHITENING GLO VIAL INGREDIENTS: Distilled Water, Polyethylene Glycol, Hydrogen Peroxide (6%), Potassium Nitrate, Glycerin, Edetate Disodium, Sodium Saccharin, Sodium Fluoride, Sodium Hydroxide, Flavor.
GLO LIP CARE INGREDIENTS: Ricinus Communis (Castor) Seed Oil, Beeswax, Mentha Piperita (Peppermint) Leaf, Stearalkonium Hectorite, Butyrospermum Parkii (Shea) Butter, Vanilla Planifolia Fruit Extract, Menthol, Alcohol, Aloe Barbadensis Leaf Juice, Copernicia Cerifera (Carnauba) Wax, Tocopherol, Ammonium Glycyrrhizate, Ubiquinone. *Organic
How Does GLO Brilliant work?
The science behind the brand's innovation is the patented GLO mouthpiece. This incorporates a safe LED light and gentle heat that warms the specially formulated whitening gel, activating and accelerating the whitening process for speedy results.
The patented GLO gel is thick and glue-like, helping it remain in place throughout the whitening process. A precision brush helps prevent the serum from touching the gums, minimizing sensitivity and dryness.
GLO Science takes pride in its teeth whitening and oral care technologies and formulas based on Jonathan B Levine's decades of experience in clinical dentistry.
Among many clinical studies, one compared GLO Science with Crest 3D Whitestrips Advanced Vivid to evaluate their safety on tooth enamel and the level of whiteness achieved. GLO came out ahead, with no sensitivity and superior whitening.
How to Use the GLO Whitening Kit
To whiten your teeth with GLO's kit, follow these steps:
Apply a thin layer of GLO Lip Care to the inside and outside of your lips. If you're extra-sensitive, apply it to the gums too.

Squeeze a pea-sized amount of gel from the vial onto the applicator tip.

Brush a thin layer of the gel onto the front of your top and bottom teeth.

Place the mouthpiece inside your mouth and press the GLO button on the remote control. It will light up blue to show it's working.

There's no need to bite down hard. Just relax your jaw and try to swallow as normal. The thick glue-like gel will remain in place.

After eight minutes, the mouthpiece blinks and turns off automatically.

For best results, remove the mouthpiece, reapply the gel and do it over again for a total of four back-to-back sessions.

Do this every day for five days, or until you're happy with the results (up to 10 consecutive days).

To maintain your whiteness, retouch once a month.
Is GLO Brilliant safe?
GLO Science whitening systems are the only at-home devices designed by a dentist that use the ideal combination of heat, light, and hydrogen peroxide to whiten your teeth safely, quickly, and effectively. The devices warm up the mouthpiece to an optimum temperature, speeding up whitening without damaging tooth enamel. The built-in timer helps ensure a safe application every time.
Does GLO Actually Work?
Most comments were positive based on customer feedback found on sites like Amazon and Trustpilot. Reviewers said the whitening devices were easy to use, had impressive results, and no sensitivity was experienced in most cases.
How long does it take to see results?
It requires a complete treatment (four consecutive eight-minute sessions) to achieve up to five shades whiter. Naturally, this depends on the color of your teeth when you begin the process.
How long do the results last?
GLO teeth whitening lasts between four and six months. The color gradually fades once you stop using the whitening gel, so retouching once a month is recommended.
Money-back guarantee
GLO Science offers a 100% money-back guarantee on any product purchased from the company. If for whatever reason you're not satisfied with your product, you can request a refund within 30 days of purchase, and the company will also cover your return shipping.
How Does Original GLO Brilliant Teeth Whitening Compare to Other Whitening Kits?
Gel/LED light combination with mouthpiece
Gel/LED light combination with mouthpiece
Gel/LED light combination with mouthpiece
PAP + LED teeth whitening kit
Four eight-minute sessions per day for 5-7 days
30 minutes per day for 7-14 days
9 minutes per day for 21 days
10 minutes a day for six days
GLO vs. Auraglow
Both treatments are sensitivity-free. GLO costs considerably more than Auraglow, $199 rather than $80. The main difference is that GLO uses gentle heat and light to activate the hydrogen peroxide, while Auraglow uses carbamide peroxide and light only. Treatment takes around the same time, but GLO produces significantly faster results – 5-7 days compared to 7-14 days.
GLO vs. Snow
Both treatments have a similar price point. However, while treatment time with GLO takes 32 minutes compared to Snow's nine minutes, GLO achieves results in 5-7 days instead of 21 days with Snow.
GLO vs. Hismile
GLO uses hydrogen peroxide to get results, while Hismile's at-home whitening kit is peroxide-free. Hismile's kit contains Phthalimidoperoxycaproic acid (PAP) as its primary whitening agent, to reduce sensitivity.
Other GLO Science Products
GLO-to-Go Teeth Whitening Pen
Convenient mess-free teeth whitening on the go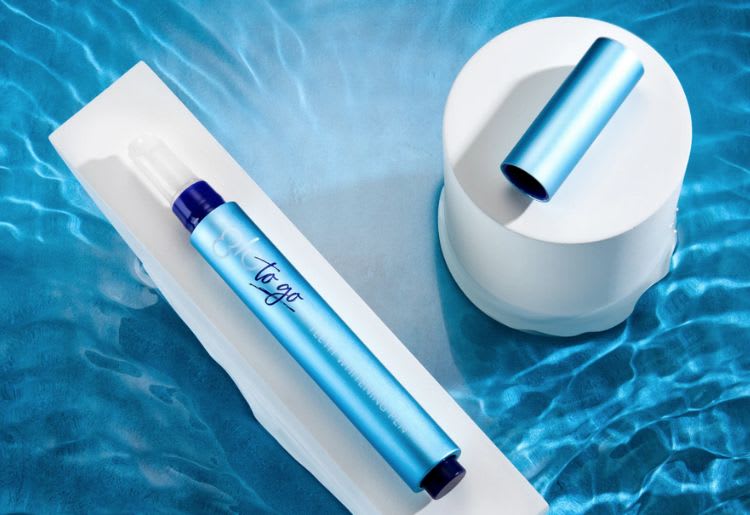 Starting price: $25 for one 2.8ml whitening pen with a silicone tip.
Treatment duration: Use any time to rejuvenate dull-looking teeth.
Results: Proven transformative results, not just a touch-up!
The GLO-to-Go Teeth Whitening Pen can be used to brighten dull teeth and touch up whiteness. The mess-free pen design makes it an ideal product to carry around in your pocket, and fits around the busiest schedule. It's powerful, portable, and safe for crowns, bridges, and veneers.
The pen features hygienic, soft silicone bristles angled to ensure a quick and even application. Simply brush it on and smile for 30 seconds while it whitens and dries. After use, it's best to wait for 30 minutes before eating or drinking. With no rinsing needed, it's ideal for whitening on the go.
Pros
Portable and convenient

Sensitivity-free

Recyclable packaging
Cons
Hard to judge how much gel has reached the tip

The tip easily clogs
Is the GLO Teeth Whitening Kit Worth It?
GLO Brilliant is the only at-home whitening brand that uses heat to speed up the process. Teeth can be whitened by up to five shades lighter in 5-7 days, though results vary depending on the starting color of your teeth.
On the downside, removing the mouthpiece and reapplying the whitening gel four times for a complete treatment can be messy.
While the price tag is high, the results are promising. Consequently, most reviewers felt it was worth the money to use an effective, safe, and FDA-approved product.