In a Nutshell
SmileDirectClub is well-known for its clear braces aligners, an at-home process that's faster, more effective, and considerably more affordable than traditional braces. SmileDirectClub has extended its services to include teeth whitening kits using its patented serum and LED light treatment. The system takes just one week and lasts 3-6 months, making it a fast and effective alternative.
pros
Get up to nine shades whiter
1-week treatment lasts up to 6 months
Considerably cheaper than many alternatives
cons
Can't eat or drink for 20 minutes after treatment
Shipping is only free from $50
No written guarantee

SmileDirectClub Visit Site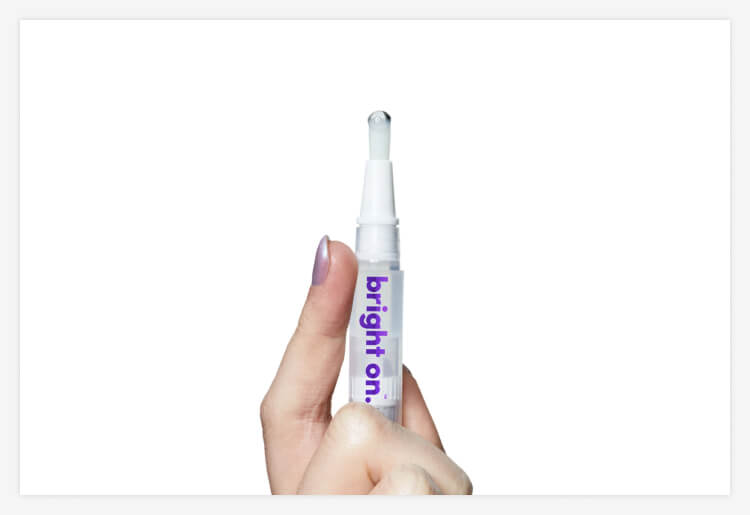 SmileDirectClub at a Glance
Starting price: From $40
Treatment duration: 5-10 minutes per day, for 7 days
Estimate length of results: Typically 3-6 months
LED technology: Yes
Money-back guarantee: None
Best For
SmileDirectClub doesn't specify which types of stains and yellowing the whitening kit is best for. Instead, it assures customers that the system can fight even the toughest teeth stains, including:
Coffee
Tea
Wine
Sauces
Berries
How Does it Work?
SmileDirectClub uses its patented Bright On whitening serum and treatment to transform teeth to up to nine shades whiter than they were before. The program was created and prescribed by a licensed dentist.
You'll use the whitening serum twice a day for a full week.
Depending on which product, directions will be slightly different. But here's a basic guide:
Start by brushing your teeth regularly. If using the ProActivate accelerator, brush your teeth with this toothpaste to prep your teeth.
Spit out the excess foam after a few minutes, but don't rinse.
Next, use the ProBrighten whitening gel. Rub the gel over your teeth and let it foam up.
If you're using the accelerator light, then you'll keep the serum and LED light mouthpiece on for 5-10 minutes
Lastly, you can use the ProLong gel by rubbing this on the surface of your teeth as well. Replace the mouthpiece and breathe regularly for 10 minutes.
Finish up by spitting out any foam that remains in your mouth after the treatment is completed.
Don't forget to rinse off the accelerator
One thing you have to note is that it's a good idea not to eat or drink for at least 20 minutes after the treatment.
What Sets SmileDirectClub Apart?
SmileDirectClub has a boatload of positive reviews on the internet, which speaks to the quality and efficacy of the product. Additionally, I found a few things that made SmileDirectClub stand out from the competition:
Many teeth whitening treatments offer one of the two common methods for whitening your chompers: whitening serum or LED light treatment. SmileDirectClub uses both, making it doubly effective. One of SmileDirectClub's dentists created the whitening serum with a hydrogen peroxide blend designed to whiten teeth. The mouthpiece uses 20 LED lights to activate the whitening serum and make it work extra well.
SmileDirectClub's teeth whitening treatment works in just one week. This is incredibly fast, considering the results you get. Speaking of which…
Not only are SmileDirectClub results fast, but they last a long time as well. With a single week of treatment, your teeth will remain white for 3-6 months. So you only have to use this treatment for one week, 2-4 times a year, to get a full year of white smiles.
Finally, something that I found very impressive about SmileDirectClub is the quality and efficacy of the treatment. SmileDirectClub uses a whitening serum that is used by professional cosmetic dentists. So you're getting top-quality treatment for a fraction of the price.
Pricing
Another thing I really like about SmileDirectClub is how affordable it is. As mentioned, you're getting premium-quality treatments. But you're paying up to 60% less than you would in-clinic. Here is a basic pricing guide:
This is laughable pricing compared to in-clinic treatments and even compared to other at-home kits. You can also buy a replacement LED mouthpiece for $22. Smile also has several other products for sale, including oral hygiene basics like toothpaste and mints. There are also the aligner accessories, including a trackable retainer case.
One drawback is that you'll only get free shipping on orders over $50. Of course, a year's whitening kit costs more than that anyway. So if you're just starting out, this definitely isn't a problem.
What You Get
What you get from SmileDirectClub depends on which kit you purchase. If you buy the full year kit, you'll receive 8 pen applicators for the whitening serum (that's enough for a year of application). If you order the full 6-month kit, you'll receive 4 pens.
Regardless of which kit you get, you'll also receive a smartphone-powered LED light accelerator tool. This hands-free gadget lets you use the SmileDirectClub whitening kit while on the move. You can also buy refills of just the whitening serum if you already have the LED light.
Guarantee
One drawback is that SmileDirectClub does not offer any money-back guarantee. The service does have a tremendously positive online reputation though. So this is a good indicator of its efficacy.

SmileDirectClub Visit Site
Customer Service
SmileDirectClub can be reached via phone at the toll-free number below or by filling out the online contact form. There is also a brief FAQ section on the website itself.
Phone Support
800-957-3409
Bottom Line
SmileDirectClub is a well-reputed teeth whitening kit that gets your teeth up to 9 shades whiter in just a week. You'll enjoy that smile for up to 6 months too. Best of all, SmileDirectClub is a professional-grade product at rock-bottom pricing. And all from the convenience of your own home.