In a Nutshell
SmileDirectClub is best known for its at-home clear aligners. However, it has expanded its services to include at-home teeth whitening kits using a patented serum and LED light treatment. The whitening treatment takes a week and lasts for six months, making it a speedy and effective alternative to professional whitening from the dentist.
pros
Whiten teeth up to nine shades lighter
One treatment lasts up to six months
More affordable than many competitors
cons
Cannot eat or drink for 20 minutes after treatment
International orders can take up to four weeks to ship

SmileDirectClub Visit Site
SmileDirectClub At A Glance
Best For: An ultra-convenient all-in-one teeth whitening experience.
Coffee

Tea

Soda

Red wine

Berries
Starting Price: $27
Treatment Duration: Five to 10 minutes per day for seven days
Estimated Length of Results: Three to six months
LED Technology: Yes
Money-Back Guarantee: No
What Is SmileDirectClub?
SmileDirectClub (SDC) was founded in 2014. Its award-winning telehealth orthodontic platform has helped more than 1.5 million people transform their smiles.
This international company has more than 1,000 partner network dental office locations and works with certified orthodontists and dentists. Off the back of their success with clear aligners, the company launched various oral care products, including electric toothbrushes, water flossers, premium toothpaste, and teeth whitening systems utilizing LED light and wireless technology.
The SDC website states that whitening treatments work in just one week and can last up to six months. Smile Direct also claims to use a patented whitening serum, similar to that used by professional cosmetic dentists at significantly lower prices.
How Much Does SmileDirectClub Teeth Whitening Cost?
SmileDirectClub offers various teeth-whitening products ranging in cost from $5 to $90.
SmileDirect Bright On Teeth Whitening Kit
SmileDirect Pro Whitening System Plus
SmileDirect Fast Dissolving Teeth Whitening Strips
SmileDirect Teeth Whitening LED Accelerator Light
SmileDirect Teeth Whitening Touch-Up Pen
SmileDirect Stain Barrier—Daily Teeth Staining Preventer
SmileDirect Pro Whitening Boost Whitening Bundle
SmileDirect Premium Fluoride Toothpaste—Whitening
SmileDirectClub accepts payment with Visa, MasterCard, American Express, Discover, Apple Pay, Google Pay, and PayPal. They also offer free shipping on orders of whitening products over $50. If you reside outside the US, then costs may apply.
Their prices for whitening products are lower than many of their competitors and offer good value for money.
SmileDirectClub Whitening Kit Review
In this portion of the review we'll be focusing on the Pro Whitening System Plus, the newest addition to SmileDirectClub's line of whitening kits.
We'll explore how the product works, what you get for your money, safety, and what customers had to say about SmileDirectClub.
What Comes in the SmileDirectClub Whitening Kit
The kit includes the following.
One tube of proactive accelerator toothpaste

Two large whitening gel pens, each with sufficient gel for a complete treatment

Two whitening extender gel pens

A rechargeable, reusable, wireless LED whitening light

A charging case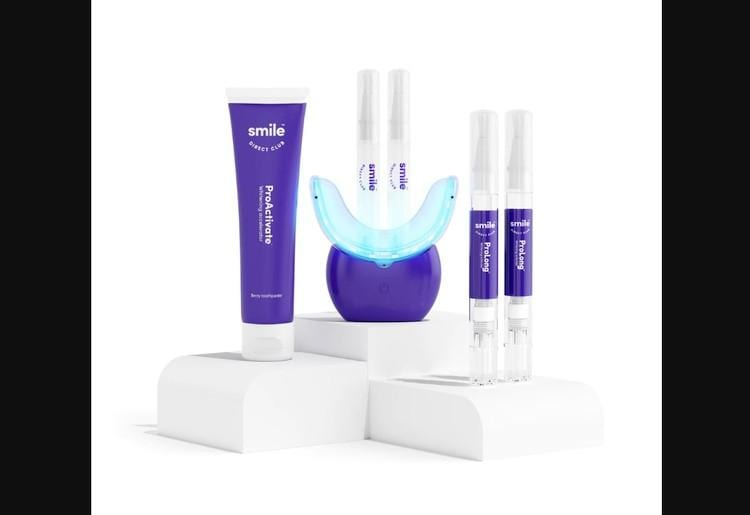 SmileDirectClub Whitening Kit Ingredients
The Pro Whitening System uses enamel-safe ingredients, including the following.
Hydrated silica

Sodium hexametaphosphate

Polyethylene glycol

Hydrogen peroxide

Peppermint oil

Hydroxyapatite

Potassium nitrate
How Does SmileDirectClub's Whitening Kit Work?
The Pro Whitening System Plus utilizes three products to prepare the teeth, whiten them, and help protect and prolong results.
The ProActivate™ Whitening Accelerator prepares the teeth for whitening by opening up the pores of the teeth to enable the whitening to absorb better. The enamel and dentine-safe formula causes little if any sensitivity and works to give a deep clean.
The ProBrighten Premium Teeth Whitening Gel is a hydrogen peroxide-based gel that works to break down complex stain molecules. While 20-light LED technology doesn't whiten teeth, it is used to accelerate the whitening gel so that it gets to work faster.
The hydroxyapatite contained in the ProLong Whitening Extender Gel helps to close the pores of the teeth, prevent staining beverages and foods from adhering and restaining. It also slows down plaque formation.
How To Use SmileDirectClub's Whitening Kit
Using the Pro Whitening System Plus has a few more steps than some at-home whitening procedures, but the steps are quite simple.
Apply accelerator toothpaste to a toothbrush and brush your teeth. Spit out any excess foam, but don't rinse your mouth.

Apply teeth whitening gel to your toothbrush.

Brush teeth until gel foams.

Turn on the wireless whitening light and insert it into your mouth and bite down gently.

Remove the light after five minutes.

Spit out excess gel, but do not rinse your mouth.

Rinse and dry the mouth tray.

Brush your teeth with a tiny droplet of ProLong Whitening Extender to extend the whitening process.
It's best to whiten the teeth once in the morning and once at night, but make sure not to eat or drink for 20 minutes after whitening. When the kit is used twice a day for seven days, SDC states that your teeth may become up to nine shades lighter.
Most reviews stated that sensitivity was minimal with this product, while other reviews stated that they did notice sensitivity issues particularly in the first few hours after treatment.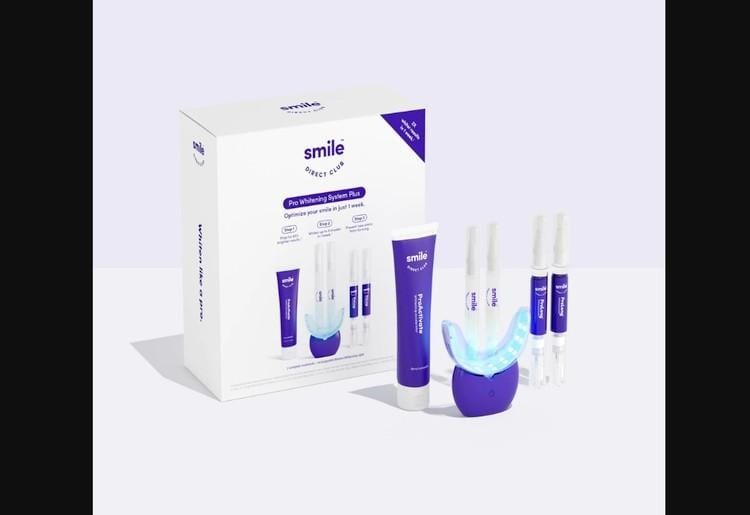 Is SmileDirectClub Safe or Will it Damage Your Teeth?
Smile Direct teeth whitening kits and products are safe and comply with all FDA regulations. However, Smile Direct advises against women who are pregnant or breastfeeding using teeth-whitening products. Also keep in mind that people with thin enamel cannot whiten their teeth, and restorations do not respond to teeth whitening.
If you are concerned about how whitening will affect your dental health, it's always best to talk to your dentist before starting treatment.
Does SmileDirectClub Actually Work?
Yes, without a doubt. According to customer reviews found on sites like Amazon, most people noticed a difference in the color of their teeth—some right away. That said, there were some complaints about sensitivity and sore gums.
SmileDirectClub states that people only need two to four 1-week-long treatments to maintain a whiter smile for a year. Of course, this varies according to smoking habits, dietary intake, and age.
The company also offers a 60-day guarantee and a product return policy that offers a full or partial refund depending on circumstances.
How Does SmileDirectClub Compare To Other Whitening Kits?
LED + personalized whitening gel
Five minutes twice a day for seven days
Ten minutes a day for six days + weekly application to maintain results
Five to 30 minutes a day for a total of six days
Two to three days a week for a month
Can last up to six months
Can last up to three months
Can last one to three months
SmileDirectClub vs Hismile
Both brands offer LED teeth whitening kits, but Hismile's kit is peroxide-free, meaning there may be fewer issues surrounding teeth sensitivity. That said, Smile Direct's whitening kit is less than $100.Throw into the mix the potential for longer lasting results and on paper, SDC's kit represents good value for money.
SmileDirectCub vs Laughland
Laughland is currently offering a one-time-only price for their wireless teeth whitening kit at an unbeatable low price of just $9.00. While Laughland claims to produce optimal results in six days, reviews suggest that its whitening treatment takes longer to achieve optimal results and only lasts up to three months compared to Smile Direct's six months.
SmileDirectClub vs NewSmile
SmileDirectClub uses LED light technology and provides sufficient whitening gel in its kit for two whitening treatments lasting up to a year. NewSmile only offers a teeth-whitening foam that replaces a regular toothpaste. NewSmile's results are said to last for up to a month, meaning that Smile Direct has longer-lasting results and more bang for your buck.
More Smile Direct Products
Fast-Dissolving Teeth Whitening Strips
Subtitle - Fast whitening without the mess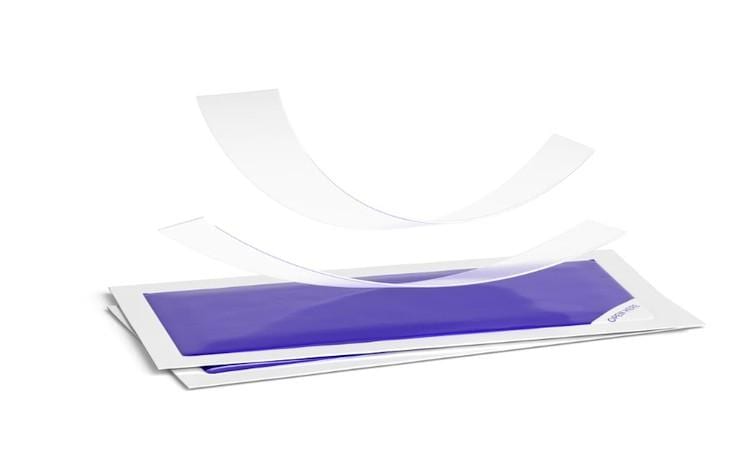 Starting price - $30
Duration – Once a day for seven days
Results – Typically last up to three months
Fast-dissolving teeth-whitening strips are ideal for people with sensitive teeth wanting quick results without the mess. These strips are easy and convenient to use, and because they dissolve, they can even be worn when you're sleeping.
Smile Direct dissolvable whitening strips need only be worn for 15-20 minutes, about half the time of most other leading brands. When worn for seven consecutive days, the company say that teeth can whiten up to nine shades. However, this is dependent upon the starting shade.
Pros
Fast dissolving

Less sensitivity

May whiten up to nine shades after seven-day treatment
Cons
Need to prevent tongue from coming into contact with whitening gel

Shouldn't eat or drink for 15-20 minutes after treatment
Bright On Teeth Whitening Pens
Subtitle – Instant whitening without the fuss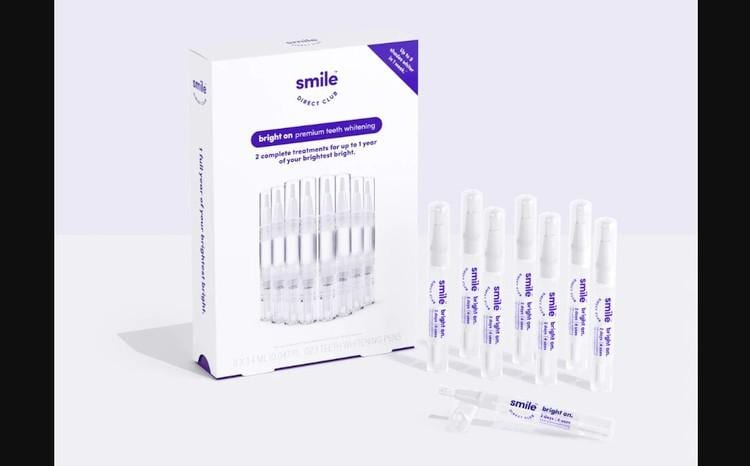 Starting price - $45
Duration - Use twice a day for one week
Results – Can last up to six months
Containing the same enamel-safe bleaching agent used by dentists, these pens provide whitening effects with a much simpler process than the SDC whitening kit. The easy-to-use pen design enables application of the whitening gel directly onto the teeth for zero mess.
Use in the morning and the evening for a week to remove stains and discoloration and benefit from a brighter smile for up to six months. Treatments should be repeated every six months, and the eight pens provide a full year of whitening.
Pros
Up to nine shades whiter in a week

Little to no sensitivity

Cool mint flavor
Cons
The gel can be tricky to dispense

No rinsing, eating, or drinking for 20 minutes after whitening
Is SmileDirectClub's Teeth Whitening Kit Worth It?
Absolutely! According to many reviews, people trust SmileDirectClub, like the product, and would happily recommend it to their friends. Although some report sensitivity, the product is generally safe when used as recommended.
While applying the treatment has a lot of steps, the extra pre-treatment and tooth protection gels can help ensure an effective treatment. Overall treatment only lasts for a week of twice-daily applications. Given that the cost of SmileDirectClub's LED whitening system is on the lower end of the spectrum for at-home tooth-whitening products and the kit provides whitening ingredients for up to a year, it provides good value for money and solid results.