In a Nutshell
NewSmile offers a range of teeth straightening, teeth whitening, and other oral healthcare products to customers within the United States and internationally. Its teeth whitening foam is one of the most innovative whitening products we've seen, and it's quite affordable as well. Plus, it can be used when you brush your teeth, which means that additional effort shouldn't be required.
pros
Quick and easy to use as part of your existing routine
Sensitivity-free and enamel-safe
Convenient, no need for special devices
cons
No money-back guarantee
Not as potent as other whitening products

NewSmile Visit Site
NewSmile At A Glance
Best For: Busy people who don't enjoy time-consuming products with LED devices.
Starting price: Free with NewSmile aligners ($39 bought separately)
Treatment duration: A few minutes per day for three days to a month
Estimated Length of Results: Unknown
LED Technology: No
Money-Back Guarantee: No
What Is NewSmile?
NewSmile is a US-based company specializing in clear aligners. Additionally, it offers a small range of simple oral health care and teeth-whitening products if you live in the US or other select countries.
This whitening foam is a rather unique whitening product among those we've seen. Since it works as a toothpaste substitute, no additional effort or extra devices are needed to achieve whiter teeth and a brighter smile. It's affordable and features enamel-safe and anti-sensitivity ingredients that make it safe for teeth and gums.
How Much Does NewSmile Cost?
NewSmile's whitening foam is $39. Shipping fees remain free across the US unless you opt for express shipping. International shipping may be available for a few countries outside the US, but it can be expensive.
When you choose NewSmile's clear aligner treatment, you will get the whitening foam for free. This is a great all-in-one package representing outstanding value for money if you want to straighten your teeth and whiten your smile.
NewSmile Clear Aligner Package (includes retainers and free whitening foam)
NewSmile does offer flexible payment alternatives to accommodate your budget. And if you have health insurance, it's worth checking whether your premiums cover the aligner package, with which you can get the whitening foam for free.
The whitening foam is in the mid-to-low range of prices for at-home teeth whitening products.
What Comes in the NewSmile Box
In this whitening kit review, we'll learn about NewSmile Whitening Foam, its ingredients, how it works, how it is used, and everything else you need to know before you make your purchase.
With your purchase, you'll receive one 50ml bottle of whitening foam. It can be bought as a standalone product if you only want to whiten your teeth.
If you are buying the complete smile package that can address both teeth alignment and whitening, the NewSmile clear aligner kit contains the following.
Impression kit

Treatment preview

Invisible aligners

Retainers

Whitening foam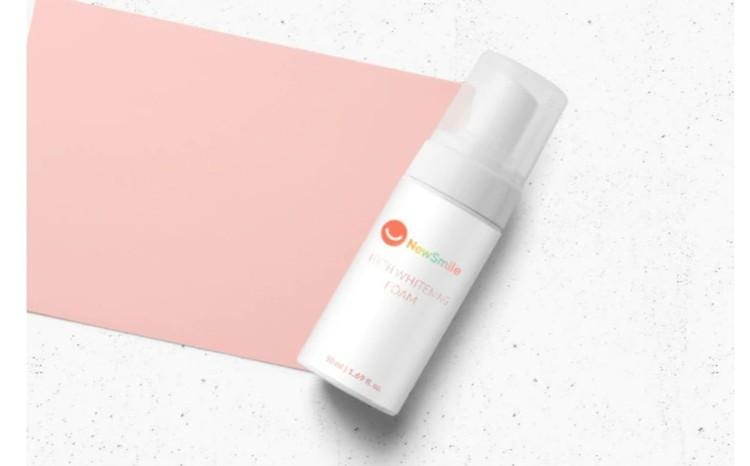 NewSmile Whitening Ingredients
Most teeth-whitening products contain peroxide, a bleaching ingredient that erases stains to achieve an overall whiter smile. Other brands formulate their whitener without peroxide to reduce tooth sensitivity and gum irritation.
NewSmile's website doesn't provide any information detailing the ingredients, but what we do know is that it was developed with teeth sensitivity in mind. This mirrors customer reviews suggesting that the whitener offers a pleasant and gentle experience with no sensitivity or discomfort.
How Does NewSmile's Whitening Foam Work?
NewSmile's whitening foam is easy and simple to use without a lot of gizmos and gadgetry. Instead, the product does what it says on the tin: "whitens teeth gently, simply, and effectively so you can live your life uninterrupted."
The foam gently whitens teeth, while anti-sensitivity ingredients help to support enamel health.
How To Use The NewSmile Whitening Foam
The NewSmile whitening foam is used as a toothpaste substitute. You don't even need to break with your everyday routine. Just brush it on your teeth as you would toothpaste and repeat whenever you need to.
The company website suggests that you may see some improvements in as little as three days, but most customer reviews say that it took around one month before they noticed a whiter, brighter smile.
Is NewSmile Teeth Whitening Foam Safe?
NewSmile Whitening foam is gentle on teeth and gums. Customer reviews support the conclusion that it does not cause sensitivity or pain. While the company's website doesn't list any specific allergens or disclaimers, pregnant or breastfeeding women may want to seek advice from their doctor before using.
Does NewSmile Actually Work?
Yes, reviews suggest it does.
While the whitening foam isn't likely to remove heavy or ingrained teeth staining, it does appear to be effective at removing light staining or keeping teeth white. NewSmile doesn't offer a money-back guarantee, nor do they indicate how long you should expect results to last.
However, the whitening foam has over 90 five-star ratings and an overall rating of 4.7. Most reviewers applauded how easy the foam was to use. Coffee drinkers also swore by the product, and there were several comments about how painless the process was—no stinging or sensitivity issues during and after use.
While the process of using the foam is quick, customer feedback coined the phrase "slow and effective" for the actual whitening results, suggesting that for most users, a significant difference can be seen in one month.
How Does NewSmile Compare to Other Whitening Kits?
A few minutes for three days to one month
Five to ten minutes per day for seven days
Sixteen minutes per day, four to six days a week for four weeks
Can last three to six months
Can be ongoing with touch-ups two to three times a week
Can last one to three months
NewSmile vs SmileDirectClub
While NewSmile only offers teeth-whitening foam, the SmileDirectClub kit includes an LED device, whitening gel, and touch-up pens. NewSmile foam takes only a few minutes of brushing to use, making it a quick and easy treatment. Conversely, SDC whitening involves applying the gel to the teeth and using an LED light, which can be time-consuming.
NewSmile vs. Primal Life Organics
NewSmile whitening foam is more convenient and easy to use than Primal Life Organic's whitening kit. NewSmile whitening foam doesn't require any extra devices to work. Meanwhile, Primal Life Organic needs a very expensive, specialized LED mouth tray to activate and accelerate the bleaching effect of its gel whitener.
NewSmile vs. Laughland
NewSmile teeth whitening foam is a low-cost, one-product-fits-all whitener, while Laughland prefers to go down the all-natural route. Like Laughland, NewSmile aims for effective, sensitive-free treatment. However, Laughland targets certain dental conditions and tooth staining, and you can choose to have a specific gel included in your package for a more personalized experience.
Is NewSmile Whitening Foam Worth It?
Most users were pleasantly surprised by how efficient the NewSmile teeth whitening foam is at removing stains and whitening their teeth. Customers have reported having a positive experience, with no discomfort, pain, or irritation.
However, several reviews say that the process can be slow and takes a month to see meaningful effects. Still, at $39, it remains good value for its price, and since it can be used instead of toothpaste, the time and effort required for whitening is minimal. Plus, if you're considering clear dental aligners, you can get the foam for free along with them.