In a Nutshell
Primal Life makes broad claims about the speed, efficacy, and strength of its teeth whitening treatment. The LED light-based treatment actively works to simultaneously both clean teeth and strengthen them, giving better results. Primal Life says you can see a major difference after the first treatment. However, strong upselling and annoying infomercial tactics make it hard to trust this brand.
pros
16-minute portable treatments
All-natural solution
Works incredibly fast with results of up to 6 shades whiter
cons
Very spammy site
Have to scroll down forever to actually get to the whitening kit
Primal Life Visit Site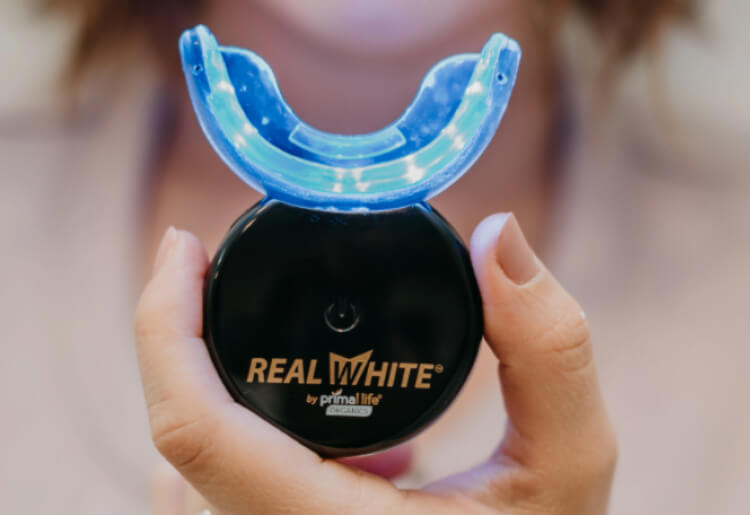 Primal Life at a Glance
Starting price: $199.97
Treatment duration: 16 minutes per day, 4-6 days a week (for 4 weeks)
Estimate length of results: Forever, with touch-ups 2-3 times a week
LED technology: Yes
Money-back guarantee: 30 days
Best For
Primal Life lauds itself as being the cure-all for all types of tooth discoloration issues. It claims to solve everything from food and drink stains to smoking and even aging stains.
Coffee stains
Wine stains
Soda stains
Smoking stains
Berries stains
How Does it Work?
Primal Life teeth whitening system works with LED lights and whitening gel. The LED light tray is inserted into your mouth. You can use it with or without the whitening gel. But you'll get better results if you use them together.
Here's how the LED light system works:
There are two systems at work here. The 16 red lights work to heal your gums and teeth from years of damage. The red light treatment even heals the dentin layer of your teeth and eliminates harmful bacteria that causes yellowing. Then the blue light treatment removes plaque to whiten your teeth.
Here's how to administer treatment:
Step One: Apply 0.5 ml of the Real White Gel on your teeth. You can also put the gel directly on the mouthpiece. However, if you do this, apply 0.25 ml to the top and 0.25 ml to the bottom.
Step Two: Press the button on the device to turn it on, and insert it into your mouth. Don't bite down.
Step Three: Leave the LED whitener in your mouth for 16 minutes. The device has a timer, so it will automatically turn itself off when the treatment is done.
Step Four: Clean your mouthpiece under a warm water stream and rinse your mouth.
Primal Life recommends using the LED light treatment 4-5 times a week initially. Once you've whitened your teeth to the degree you are happy with, you can reduce that time to 2 to 3 times a week to keep your pearly whites white.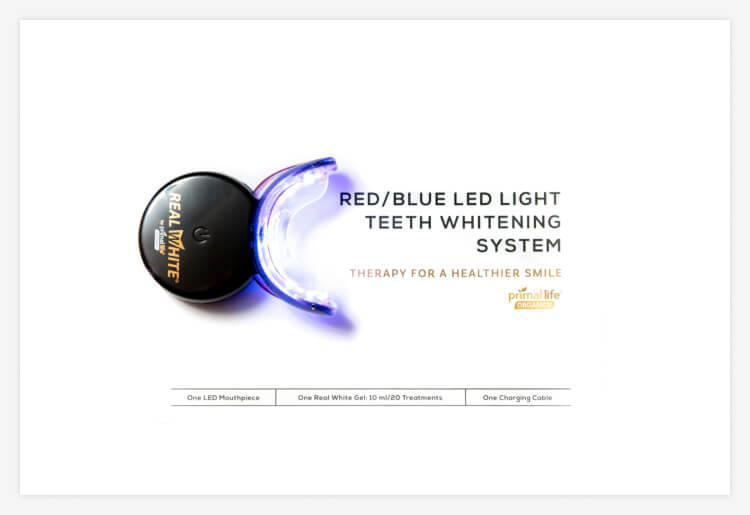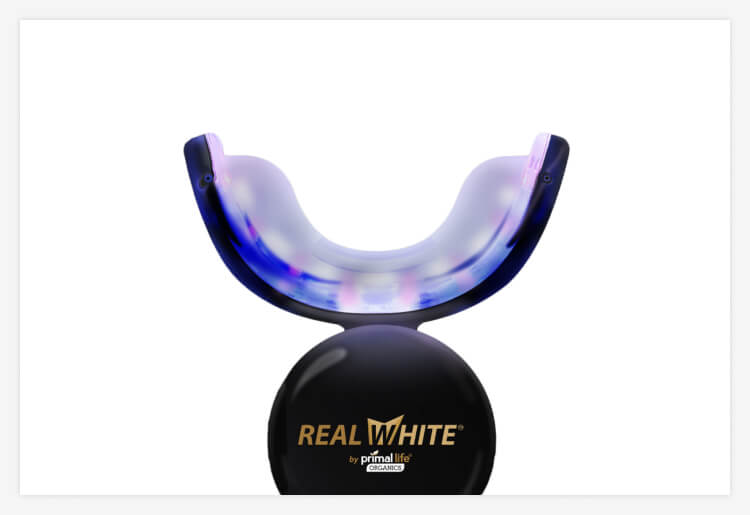 What Sets Primal Life Apart?
Primal Life is cutting into a pretty competitive industry. You can find several brands doing this. So what makes Primal Life stand out? Here are a few things I think make a difference:
Primal Life works with both the red and blue light treatments. As explained above, this dual treatment works twice as well, working on both defensive and offensive modes for healing, rebuilding, and cleansing.
Another thing I like is that Primal Life ingredients are all-natural. You aren't getting any chemicals, toxins, or additives put into your mouth. Yuck. Instead, Primal Life gel is made of things like extra virgin olive oil, diatomaceous earth clay, aluminum-free sodium bicarbonate, wintergreen leaf oil, peppermint oil, spearmint oil, tea tree oil, lemon oil, cinnamon leaf oil, eucalyptus oil, lavender oil, and chamomile oil.
Finally, I love that Primal Life works so fast. After the first treatment, you should already be able to see a noticeable difference. The whole treatment should take no more than a month. And that's just 16 minutes a day a few times a week. That's fast.
It's also nice that the LED whitener doesn't run on batteries. You can charge it by plugging it into your phone or laptop (with the wire provided in the kit).
Pricing
You can find Primal Life whitening kit online for $499 which is astronomical for this type of at-home treatment. On the website, though, you'll just pay $199.97. That's a big difference.
When you pay for the device, you'll get the Real White Activated Teeth Whitening Gel included in your purchase. You can also purchase a limited 5-year warranty or a full 5-year warranty. There's also an expedited shipping option for $19.97.
What You Get
When you order your Primal Life whitening kit, you'll receive:
One LED whitening mouth tray
The LED whitener includes 32 bulbs, 16 red lights, and 16 blue lights. The LED light bulbs aren't like regular fluorescent ones. If treated properly, they should last 50,000 hours. That's enough to use your LED whitener every day for 16 minutes a day for 10 years straight. Not bad.
One magnetic charging cable
Real White Gel
The 10 ml syringe comes with enough Real White Gel to last you twenty treatments.
Guarantee
Primal Life says you should see results after the first treatment. And then you should be able to achieve optimal teeth whiteness within a month. If you aren't happy with your new smile within 30 days, you can send your device back for a full refund. That's an impressive offer.
Customer Service
Primal Life has email customer support and an FAQ section on the site.
support@primallifeorganics.com
Primal Life Visit Site
Testimonials
"I am completely addicted to this teeth whitening system. It feels like I'm doing a detox cleanse for my mouth… and it's almost like taking probiotics for my gums. I love it so much that I bought some to give away as holiday presents! If you want to have healthy gums and white teeth— here's the answer. You've got to try this stuff!" - J.J.Virgin, Celebrity Nutrition & Fitness Expert, 4x New York Times Best-Selling Author of The Virgin Diet
"My dentist tried to sell me on a $1200 whitening system that even he confessed would cause damage to my teeth in the long run. So I decided to try this whitening treatment instead… And after using it several times for just 15-minutes I've noticed a really dramatic increase in how white my teeth are!" - Dr. Sarah Ballantyne, My Paleo Mom
"Since becoming a functional nutritionist, I've been looking for a natural teeth whitening solution for myself and for my clients. I can say for the first time — we now have a natural solution to whiten our teeth. This is such a simple, life-changing solution." - Shelley Gawith, Functional Nutritionist
"I teach health on tv around the world, and the one thing that I have to be congruent to the fact that I can do something to make my teeth look white and give me a little bit more confidence. It actually has absolutely no chemicals. It's the way to go. So I absolutely love it and I just thank you guys for making it."
Dr. Chris Zaino, Chiropractic
Bottom Line
Primal Life teeth whitening is an all-natural solution. So you aren't risking your health while treating your teeth. It's also an at-home treatment, making it more convenient too. Primal Life works efficiently, getting teeth up to 16 shades whiter, something most other whiteners won't claim. And the treatment is just 16 minutes a day. So results are fast as well.