In a Nutshell
Primal Life Organics' signature teeth-whitening system is a high-end piece of equipment with a high-end price tag. However, the company claims to take the pain out of teeth whitening by omitting harmful chemicals, peroxide, and bleaching agents in favor of all-natural ingredients used in tandem with its red/blue light LED whitening device. So if you're looking for an eco-friendly product without worry about safety, it could be a good choice.
pros
Connects to your phone for portable whitening
Treatment takes just 16 minutes a day
Certified organic and vegan friendly
cons
Gradual whitening process
High price compared to similar products

Primal Life Visit Site
Primal Life Organics At A Glance
Best For: Natural whitening products that don't expose tooth enamel to chemicals.
Starting Price: $439.20 on sale on Primal Life website (deals may be found with other retailers)
Treatment Duration: Sixteen minutes a day, five times a week for four weeks
Estimated Length of Results: Ongoing (when used three times a week)
LED Technology: Yes
Money-Back Guarantee: Yes
What Is Primal Life Organics?
Primal-Life Organics was founded in 2012 by registered nurse Trina Felber. The company's mission is to provide non-toxic, chemical-free, immune-friendly personal care products for the family. It offers tooth care as well as bath and beauty products and even supplements.
Primal Life's V3 Real White Teeth Whitening System utilizes red and blue LED lights and provides three treatment modes, a unique feature among LED tooth-whitening products. The whitening gel used alongside the LED light is chemical-free and made purely from natural ingredients. Besides whitening teeth, Primal Life claims its whitening gel acts as a vitamin paste, improving tooth and gum health.
The company sources its ingredients from many worldwide vendors and has an online presence as well as several stores scattered through America.
How Much Does Primal Life Teeth Whitening Cost?
Primal-Life's V3 Real White Teeth Whitening System is currently on sale at $439.20, saving $109.80. Before checking out, you can also purchase a limited, 5-year, or full 5-year warranty. Shipping is free for US orders over $99.
Primal Life Organics Product
Primal Life V3 Real White Teeth Whitening System
Primal Life Teeth Whitening Gel Pods – 10 treatments
Primal Life Teeth Whitening Gel – Lifetime Supply
Primal Life Toothpaste Package
Primal Life Real White Sonic Toothbrush
Primal Life Bamboo Replacement Brush Heads For Sonic Toothbrush
Primal Life Charcoal Toothbrush
Some products are on sale for 20%, so you can get them for even cheaper prices than the ones shown in the table above.
You can save money on Primal Life whitening gel with a lifetime supply of Real White Gel pods. You'll receive five packs (50 treatments) every year for life. Simply email the company when you need your gel packs shipped and pay for the shipping cost.
Primal Life accepts most major debit and credit cards as well as Paypal, ApplePay, and Venmo. While the prices are some of the highest in the industry, most reviews are extremely positive.
What Comes in the Primal Life Organics Whitening Kit
Primal-Life claims to take teeth whitening to the next level by pairing its natural whitening gel with innovative red and blue LED lights. Here, we'll delve into the nuts and bolts of their V3 Real White Teeth Whitening System, detailing the ingredients, how the device works, and how to use it. We also cover safety and, most importantly, whether the product does what it says on the tin.
What's in the box?
When buying the V3 Real White Teeth Whitening System, you'll receive the following.
One cordless LED whitener mouth tray

A 10ml syringe

Ten Real White Gel Pods—enough for 20 treatments

One magnetic USB charging cable

Instruction leaflet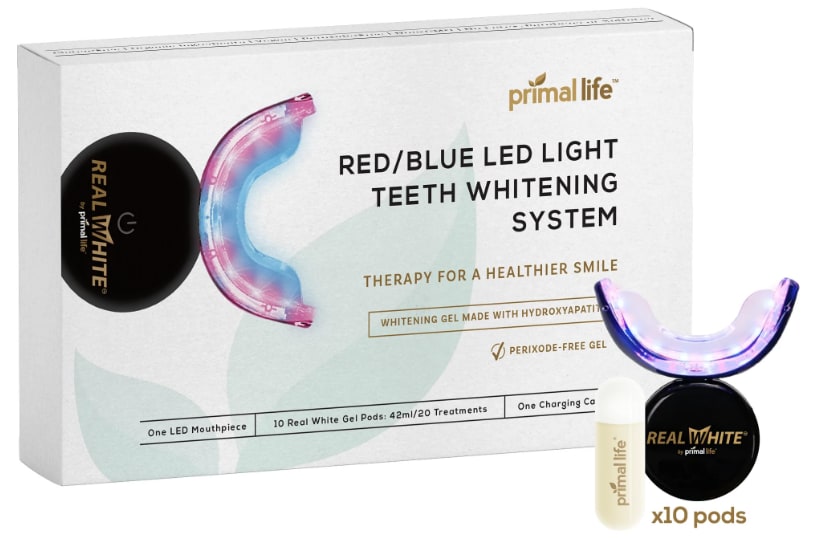 Primal Life Whitening Kit Ingredients
The Real White Gel contains a smorgasbord of all-natural ingredients, including extra-virgin oils, fifteen essential oils, three different clays, and charcoal to intensify the smile's brightness. Ingredients include the following.
Olea Europaea (Extra Virgin Olive) Fruit Oil*, Solum Diatomeae (Diatomaceous Earth) Clay*,

Bentonite, Phthalimidoperoxycaproic Acid (PAP),

Mentha Piperita (Peppermint) Oil*, Hydroxyapatite, White Activated Charcoal, Methyl Salicylate (Wintergreen) Oil*, Mentha Viridis (Spearmint) Leaf Oil*,

Melaleuca Alternifolia (Tea Tree) Leaf Oil*,

Eugenia Caryophyllata (Clove) Bud) Oil*,

Citrus Medica Limonum (Lemon) Peel Oil*,

Cinnamomum Zeylanicum (Cinnamon) Leaf Oil*,

Commiphora Myrrha (Myrrh) Oil*,

Lavandula Angustifolia (Lavender) Oil*,

Eucalyptus Globulus (Eucalyptus) Leaf Oil*,

Cupressus Sempervirens (Cypress) Leaf Oil*,

Anthemis Nobilis (Chamomile) Flower Oil*,
*Certified Organic
How does The V3 Real White Teeth Whitening System Work?
The Primal-Life teeth whitening system utilizes red and blue LED light therapy to activate the non-peroxide gel containing hydroxyapatite (HAp) and phthalimidoperoxycaproic acid (PAP).
HAp helps to restore mineral density and translucency, while PAP is the bleaching agent. When PAP is activated by the light, it accelerates the process by whitening the discolored stain molecules that collect within the teeth.
There are three modes of treatment: red light, blue light, and red/blue lights.
The 16 red lights work to improve gum health, while 16 blue lights whiten the appearance of the teeth. When used together, the red and blue lights provide a whitening and gum care treatment, all in one.
One significant benefit of the V3 teeth whitening system is its portability. Your teeth can be whitened in the office, in the car, or anywhere you take your phone, fitting perfectly with today's busy lifestyle.
How to use the kit
Before administering the treatment, Primal-Life recommends brushing your teeth with their Dirty Mouth Toothpowder.
Then, follow these directions.
Wipe your teeth dry with paper or cloth to help the whitening gel adhere.

Apply half of a gel pod (0.5 ml) directly to your teeth. Or, place 0.25ml of the whitening gel onto both the top and bottom of the mouthpiece. You can save the other half of the gel pod for your subsequent treatment.

Press the button on the LED device to turn it on. It will turn blue to show it's working. Insert it into your mouth. Do not bite down.

Leave the device in your mouth for 16 minutes. The device has a timer and automatically turns off once the treatment is complete.

Remove the mouthpiece and rinse it under warm running water. Rinse your mouth.
Primal Care recommends using the treatment five times a week for the first four weeks or until you're happy with the degree of whiteness. Then, reduce usage to three times a week for life to keep your smile sparkling white.
The company states that they have 'taken the pain out of teeth whitening' and reviews appear to agree, suggesting that sensitivity is minimal, if anything at all. Because the product contains no harsh peroxide gels, there is little to no stinging gums or sensitive teeth.
Is Primal Life Safe or Will it Damage Your Teeth?
The Primal Life V3 teeth whitening kit is safe for all adults with good oral hygiene but is not recommended for false teeth. The teeth whitening kit is also unsuitable for teeth discolored by medication or lesions, severely decayed teeth, defective enamel, exerted dentin, and damaged teeth. For these reasons, it's best to check with a dental professional before whitening with the V3 kit.
Does Primal Life Actually Work?
According to reviews, yes. Most customer reviews were positive, with people stating they were pleased with the results and felt more confident and happy using the device, knowing that only natural ingredients were contained in the whitening gel.
Most people stated that their teeth looked whiter after just one treatment, but this will depend on how stained your teeth initially are. Treatment lasts one month, using the device for just 16 minutes a day, with maximum whiteness being achieved in thirty days.
Having completed a month-long treatment, reduce usage to two or three times a week to maintain your newly whitened smile. It's good to see that Primal Life guarantees that if you are not satisfied with the product within 30 days the device can be sent back for a 100% refund.
How Does Primal Life Compare to Other Whitening Kits?
Currently on sale at $439.20 (was $549)
LED light + whitening strips/gel
Whitening toothpaste + accelerator
Sixteen-minute sessions, five times a week for four weeks.
Nine minutes per day for 21 days
Ten minutes a day for seven days
2 minutes twice a day - day and night
Can last one to three months
Can last up to six months
Use daily to maintain results
Primal Life vs SNOW
Both Primal Life and SNOW treatments utilize LED light therapy and whitening gel to whiten teeth, but of the two, Primal Life is more expensive. However, Primal Life achieves faster results while using natural ingredients to help improve gum and teeth health.
Primal Life vs Zimba
Primal Life and Zimba both contain all-natural ingredients. However, Zimba's Supreme teeth whitening kit offers an abundance of add-ons. That said, the V3 from Primal Life is one of the only products to deal with gum health and teeth whitening simultaneously.
Primal Life vs Supersmile
Reviewers have stated that Primal Life's V3 whitening kit shows a significant difference in as little as one to two sessions, whereas Supersmile's whitening toothpaste produces more gradual results over time. However, Supersmile's toothpaste may be easier to use regularly.
Other Primal Life Products
Primal Life Dirty Mouth Toothpowder
Feels like a dental cleaning every day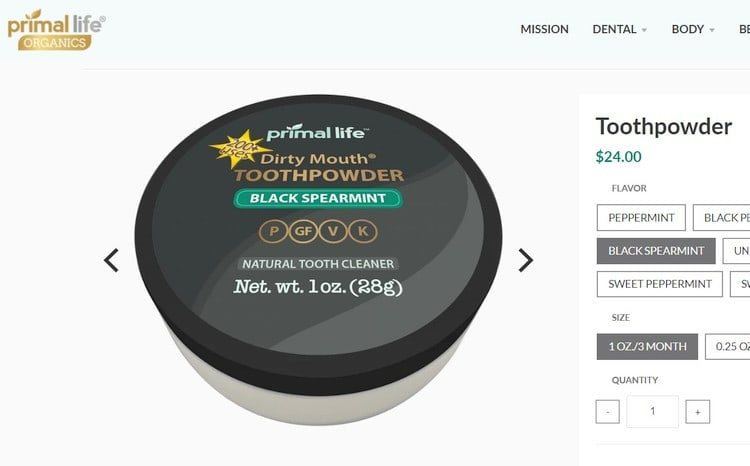 Starting price – $24 (order ahead for a 10% discount)
Treatment duration – Brush twice daily for two minutes
Results – According to reviews, teeth looked brighter after just one use.
Dirty Mouth Toothpowder uses hydroxyapatite to help protect and rebuild tooth enamel and prevent demineralization. It contains fresh ingredients and flavored essential oils, and users say it makes the mouth feel great. According to reviews, adults and kids alike love it.
With all-natural ingredients, your smile looks and feels healthier, and since the product is concentrated, a little goes a long way.
Pros:
Tastes nice

Removes tooth discoloration and stains

Ideal for sensitive teeth
Cons:
The charcoal toothpowder can be a bit messy

Tendency to overload toothbrush
Is Primal Life's Whitening Kit Worth It?
The majority of customer reviews state that buyers would happily recommend Primal Life's teeth whitening kit to family and friends. They liked that the product simultaneously provided different treatments for both gum health and teeth and whitening.
If you're looking for a product that contains 100% natural ingredients, is quick and easy to use, and does what it says on the tin, Primal Life's LED teeth-whitening kit is likely to be worth the money for you.