Zimba Visit Site
Overview
Zimba at a Glance
Best For: People who want effective teeth whitening at bargain prices
Starting Price: $30.00
Treatment Duration: Typically 15 minutes per day for two weeks
Estimated Length of Results: Three to six months
LED Technology: Yes
Money-Back Guarantee: Yes
What Is Zimba?
The Zimba product line, owned by TDS Management and based out of Boca Raton, Florida, debuted in 2018. The company's ethos is that "everyone should be able to treat themselves to a healthier smile," and Zimba has backed this up by offering some of the most competitive teeth-whitening products on the market.
Zimba has also recently partnered with Tooth Fairy, a company that provides dental care to those who otherwise wouldn't be able to afford it. As a result, a percentage of every sale is donated to a good cause.
Over the past couple of years, Zimba has listened to its customer base and expanded its product range from whitening strips to complete whitening kits. It's the Zimba Supreme Whitening Kit that we'll be talking about here. So if you want to know what it is, what it consists of, and how it works, read on.
What's In The Box?
The Zimba Supreme Whitening Kit comes with the following.
An LED mouthpiece complete with 32 lights and a non-slip grip

A USB cable for your mouthpiece

Three whitening gel pens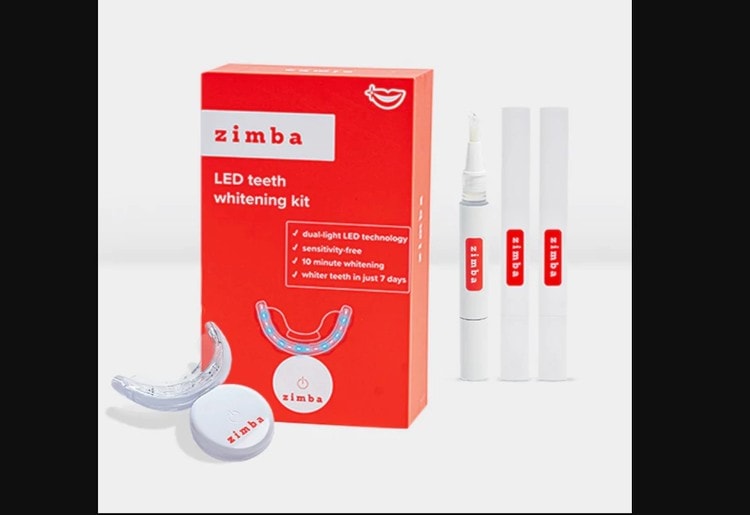 Zimba Whitening Kit Ingredients
According to its website, all ingredients contained within the products are all-natural and sensitivity-free. Here's a breakdown.
Zimba Whitening strips
Hydrogen peroxide (whitening agent)

Cellulose

Water

Menthol

Other natural ingredients
Whitening pens
Hydroxypropyl cellulose

Hydrogen peroxide (whitening agent)

Glycerine

Water

Hydrated silica

Menthol
Other Zimba Products
Zimba Whitening Strips (Pack of Three)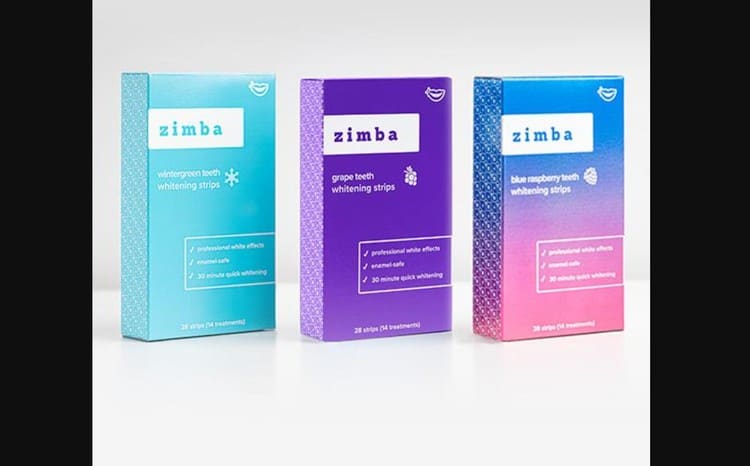 Whiten teeth your way!
Starting Price - $55
Treatment Duration – Daily for 14 days
Results – Six + months
Purchase this variety pack of Zimba whitening strips and choose from ten different flavors, including grape, watermelon, peach, coconut, mint, and more.
To use:
Apply the sticky side against your top or bottom teeth, avoiding contact with your gums

Wear for 30 minutes

Remove the strip and rinse your mouth

Repeat the process once a day for 14 days
Pros
Plenty of flavor choices

Mix and match your packs

Easy to use
Cons
Not advisable to wear overnight

Can irritate sensitive teeth and gums
Zimba Day And Night Whitening Powder
Combining charcoal and mint for a brighter, whiter smile!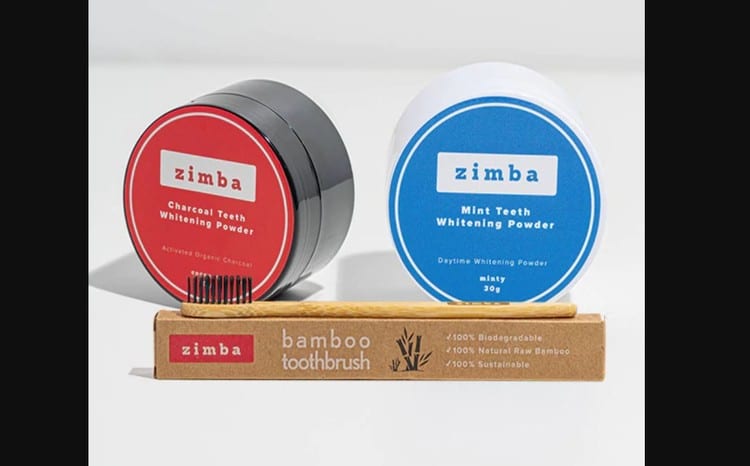 Starting Price - $40
Treatment Duration – Daily as and when needed
Results – Removes surface staining from coffee, tea, etc
Two different powders, two different times—use in place of your regular toothpaste in the morning and at night. Minty morning powder helps to freshen breath while removing surface staining. At night, soothing coconut charcoal powder helps scrub away daily staining.
Pros
Essential oils help eliminate germs and freshen breath

Bundle and get two for the price of one

Hassle-free whitening without extra devices
Cons
Can be abrasive to teeth

Cannot remove ingrained staining
Cool Blue Desensitizing Pen
Ease sensitivity with this serum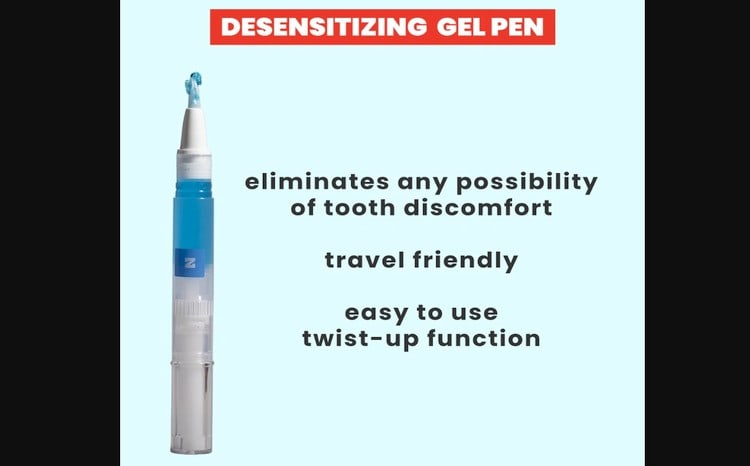 Starting Price - $15
Treatment Duration – Daily as and when needed
Results – Eases tooth sensitivity after whitening treatment
Zimba has all the bases covered with this desensitizing pen. Apply to your teeth anytime to quickly eradicate sensitivity from teeth whitening, wherever you are.
Pros
Eases sensitivity from whitening

Discreet travel-friendly design

Easy twist-grip applicator
Cons
Difficult to use when near empty

Taste may take a little getting used to
Is Zimba Safe and Reliable?
Zimba whitening kits are safe to use. Sensitivity or discomfort occurs when people overuse or misuse them because they want whiter teeth extra fast. Stick to the indicated whitening times, and you'll be fine.
That said, pregnant or breastfeeding women may want to talk to their doctor first before use. The Zimba website also provides no disclaimers about whether their whitening kits are safe for children to use, so we would suggest that you err on the side of caution.
How Zimba Works
Zimba offers several LED whitening kits, each with different instructions depending upon the contents within. In essence, though, they follow the same science.
When LED light is applied to the bleaching agent contained within the product—in Zimba's case, hydrogen or carbamide peroxide —it accelerates the chemical reaction process, causing the active stain-busting ingredient to work faster.
The science behind LED activation is backed by several clinical studies, including a 2004 study by Luke et al. and a 2011 study by Dominguez et al.
How to Use Zimba's Supreme Whitening Kit
Using the Zimba Supreme Whitening Kit is simple.
Rinse and gently brush your teeth to remove any food debris or plaque deposits.

Twist the bottom of the whitening pen until the gel flows onto the applicator brush and carefully apply the whitening gel evenly over your teeth.

Connect the mouthpiece to the USB and connect the USB cable to a power source (typically a phone, laptop, or tablet).

Power on and choose your setting (the blue light setting accelerates the whitening gel, while the red and blue setting accelerates the whitening gel and promotes gum health).

Wear the device for 15 minutes until the automatic timer sounds.

After the timer sounds, remove the mouthpiece and rinse under cold water.
Zimba recommends that the LED whitening device be used for 14 consecutive days to get the best results. Typically, whitening can last for up to six months, depending on your diet and lifestyle habits like smoking.
Strips can also be purchased and used alongside the LED kit to top up any faded whitening. As with most peroxide-based products, some reviews pinpointed slight sensitivity issues with the kit, while others said they felt no discomfort at all.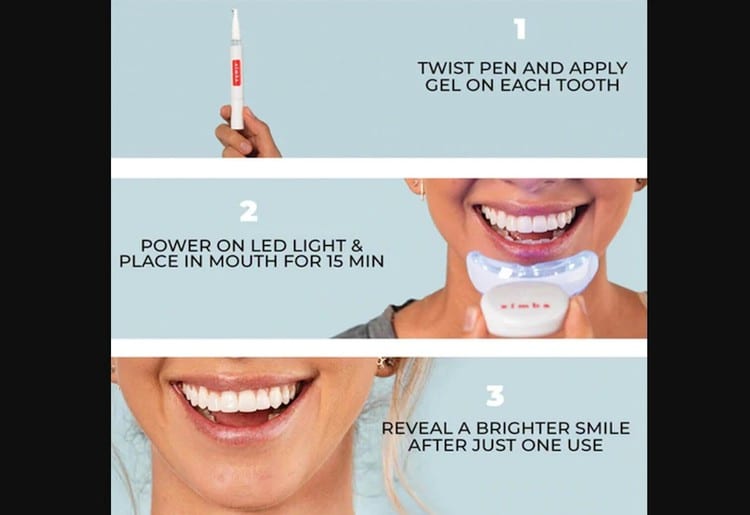 Zimba Pricing
How Much Does Zimba Cost?
Prices start from $9 for a sustainable bamboo toothbrush to around $85 for Zimba's top-of-the-range whitening bundles. Whitening kits start at $30.00.
You can save 20% when you take up a regular subscription on products like whitening strips. Plus, you'll receive 10% off your first order. You can choose your frequency (anything from every two weeks to three months) and you can cancel at any time.
There are several ways to pay for your Zimba whitening products, including credit cards and PayPal. The company offers free shipping on any order over $50 in the US. They also ship internationally, but standard shipping and customs fees may apply.
Zimba whitening prices are quite favorable compared to the industry average, so if you are trying out cosmetic teeth whitening for the first time, this may be a good choice.
Zimba Alternatives
How Does Zimba Compare to Other Whitening Kits?
LED + whitening gel and whitening strips
LED + accelerator and whitening serum
Whitening gel with custom trays
15 minutes per day for 14 days
Nine minutes per day for 21 days
Ten minutes per day for six days
Can last up to six months
30-day money-back guarantee if packaging is unopened
30-day no-quibble guarantee
30-day money-back guarantee if packaging is unopened
45-day money-back guarantee for US customers; 50-day money-back guarantee if you live outside the US
Zimba vs SNOW
Zimba's LED whitening kit is considerably more affordable than SNOW's, yet both incorporate blue and red light technology. The primary difference is that SNOW's kit has a smart, customizable, and fully rechargeable base unit where the mouthpiece sits when not in use. It also incorporates storage for your pens. Alternatively, Zimba's mouthpiece is more simple in design.
Zimba vs Hismile
While Zimba whitening kits use hydrogen peroxide to whiten teeth, Hismile uses PAP. Higher concentrations of PAP are proven to be as effective as lower doses of hydrogen peroxide. In other words, it really all depends on which you prefer.
Zimba vs. Smile Brilliant
While Smile Brilliant uses custom gel-filled trays to whiten teeth, Zimba's whitening gel is applied directly to teeth and activated using an LED device for fast whitening. While you may have to wait some time to use Smile Brilliant's products because of the custom design, with Zimba you can buy it considerably cheaper, get it delivered, and use it the same day.

Zimba Visit Site
Bottom Line
Reviews suggest that it does. In fact, Zimba scores an impressive 4.5 out of 5 stars across 1478 reviews. Many customers back the claim that the effects of the Zimba whitening were speedy. Naturally, this depends on the degree of whitening you are looking for, but by day four of treatment, most customers saw a definitive change.
The whitening strips, too, scored 4.35 out of 5 on Amazon across 3030 reviews. People often reported that they didn't expect the results to be so good for the money they paid.
Research suggests that whitening effects from LED-activated whitening lasts up to six months, whereas teeth whitening strips typically last around four months. Naturally, this depends upon your diet and lifestyle habits like smoking.
Zimba stand by their products and offer a 100% money-back guarantee if your teeth aren't at least two shades whiter after following their recommended guidelines. The only caveat is that you must supply before and after pictures with any claim.