Medical alert buttons are becoming more popular among seniors for a variety of reasons. For one, these alert systems offer the elderly greater independence, allowing them to leave the house with the assurance that emergency assistance is just a push of a button away at any time. Emergency buttons are an excellent choice for any seniors who are living alone, aren't checked on by relatives, friends, or neighbors regularly, have stairs within their homes, own pets, or are active and like to get out of the house.
Because medical alert systems are dealing with medical health and emergencies, it is important to purchase one that is of top quality. There are lots of different brands on the market, but not all function as well, will offer the same benefits and functionality you are looking for, or will be as user-friendly as others.

Here are our top 5 picks for the best medical alert buttons on the market today.
The 5 Best Medical Alert Buttons For Seniors
The best emergency buttons for seniors offer a combination of fast response, low monthly costs (and no additional hidden fees), and great mobility. We chose these 5 products because they fit these all-important criteria. Take a look.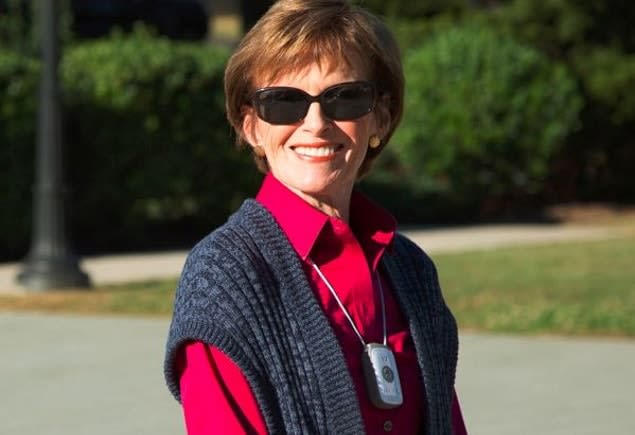 Why we like Active Guardian:
WiFi and GPS location technologies built in
Longest battery life of any available mobile medical alert button
Lightweight
Active Guardian by Medical Guardian makes getting out and being on-the-go a breeze for seniors who don't want to be stuck in the house all day. To begin with, the location tracking technology that is built into these devices ensures that you can get assistance sent to your exact location wherever you are and at any time of night or day. The technology is WiFi-enabled, so you don't have to worry about losing your signal or not getting in touch when you need to.
The Active Guardian button has excellent 2-way communication, so you can speak to and hear the call center directly from your device. It is also convenient for its long battery life. It only needs to be charged once every 5 days, and it takes just 3 hours to fully charge and be ready to go. The Active Guardian button has plans starting at $49.95/month. You can also include your Active Guardian alert button in the Family Guardian package, so you save more.

Medical Guardian Visit Site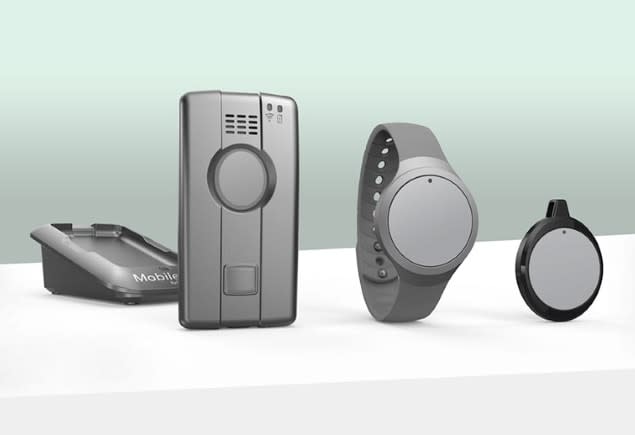 Why we like MobileElite:
Interchangeable, sleek modern design neck and wrist wearing options
USB port enabled
Mobile app available for caregivers and voice message feature
The Medical Alert MobileElite System offers on-the-go protection along with the same GPS technology mentioned above. The button comes in a sleek, steel gray color, so you feel more like you're wearing an accessory than a medical requirement. The Medical Alert MobileElite button can detect falls automatically for faster response and in the event that you cannot press your button for some reason.
The MobileElite system is not waterproof, however, it comes with a pendant that is. The waterproof mobile pendant can be worn up to 1,000 feet from the base device. The service is available for as little as $32.04 a month (for the annual plan), and if you sign up for a year, you get a free month too. You can also sign up per month ($37.95) or semi-annually ($34.95/month). All plans come with a neat carrying case, and the semi and annual plans offer free shipping as well. MobileElite even offers convenient voice messaging, so you can receive messages directly through your device.

Medical Alert Visit Site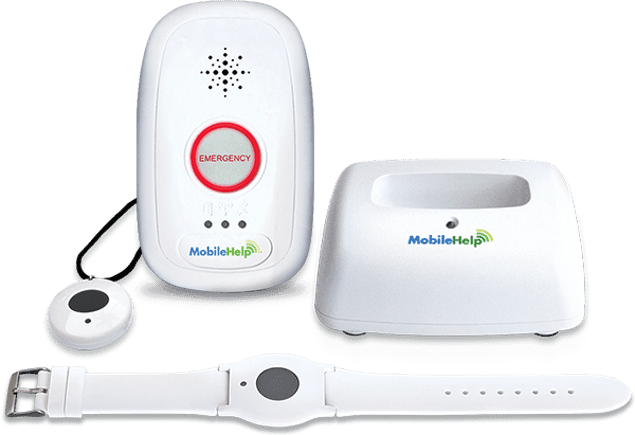 Why we like MobileHelp Solo:
Best call center quality according to independent tests
Fastest response time (just over 20 seconds)
Online mapping for 24/7 location awareness
The MobileHelp Solo is another excellent option. Hovering around the same price range as the MobileElite, the Solo offers some superior features. For example, the MobileHelp Connect app allows your loved ones to see your location at all times. This is helpful if family members want to know where you are even if it's not an emergency (and so the GPS tracking is not activated).
What's more, MobileHelp Solo has the fastest response time on the market. That's because they work together with Rapid Response, an independent monitoring center with an impeccable reputation for quality service and speed. Solo offers additional services such as medication reminders and smartwatch options.

MobileHelp Visit Site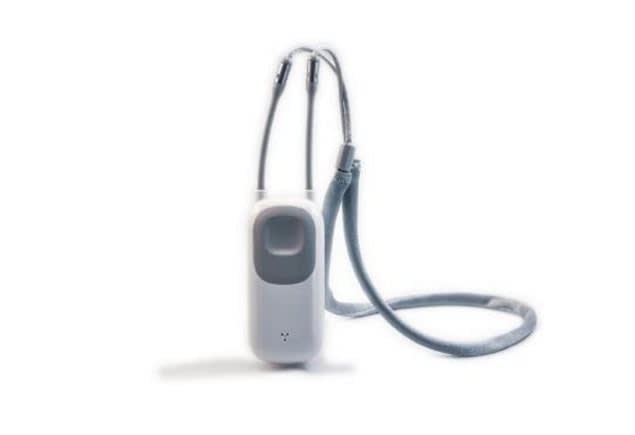 Why we like Philip's GoSafe 2:
Rated #1 medical alert device
More than 40 years in the industry with 7.5+ million users
Fall detection included in the price
At $44.95 plus a one-time activation fee, Philip's GoSafe is on the more expensive end of the spectrum. But that's only until you understand what you're getting for the price. The GoSafe 2 isn't just a mobile device; it is an entire home monitoring system as well. So, you're getting 2 monitoring systems for the price of one. That's a much better deal once you understand what the package includes! Additionally, the price comes with auto alert fall detection already built into the price. This is a feature that you'd normally have to pay extra for. All in all, GoSafe 2 quickly becomes one of the more affordable medical alert buttons out there.
The GoSafe 2 offers unparalleled location detection, using 5 different types of technology. The A-GPS (assisted GPS) uses a network of satellites to identify your location, one of the fastest methods available. GoSafe 2 also uses intelligent location breadcrumbs that kind of take a snapshot of your regular activity for easy location. Finally, the audio beacon feature can be activated to send out a signal from your pendant to easily track and find you. Add to that a constant WiFi connection, and you are the safest you'll ever be no matter where you go.

Lifeline Visit Site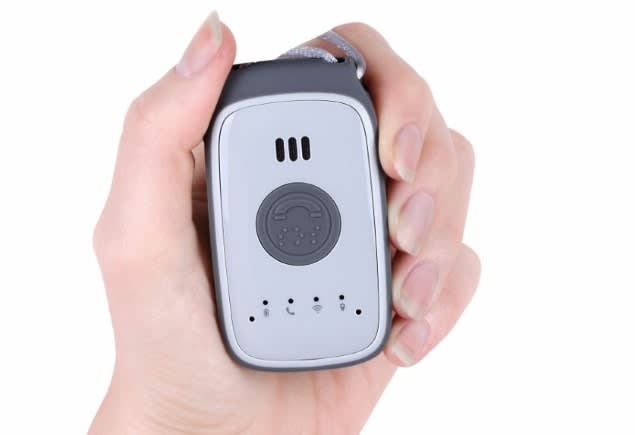 Why we like LifeStation Mobile:
Cheapest plan around
UL Listed and CSAA 5 Diamond monitoring center
20-second response time
LifeStation is a well-known name in the medical alert system industry, and all of the accreditations speak highly toward LifeStation's quality service as a whole. With the introduction of its mobile system+GPS, LifeStation can now allow its users to go anywhere they want with the comfort of having emergency responders and contacts right by their side whenever they need it.
In addition to having up to the minute GPS tech, a compact, discreet design, and super-fast response time, this mobile medical alert button offers some of the lowest prices around. In fact, LifeStation often runs deals for as little as $25.95 (plus free shipping!). If you're really on a tight budget, LifeStation is the best choice for you. Plus, you can get additional alert devices for only $3.99/month.

LifeStation Visit Site
How Do Medical Alert Buttons Work?
Medical alert buttons are the perfect solution for seniors who want their independence but still appreciate having someone to reach out to in case of an emergency. The technology itself is simple to use and understand. Here's what you need to do:
Hook up your medical alert system. When you purchase a system, the company will send a technician to come to your home and connect the hardware, make sure everything is working properly, and explain how to use it.
Wear your personal emergency response system on your person. The button can come in different forms, such as a medical alert necklace to be worn around the neck, others around the wrist (like a watch or bracelet).
If you're ever in need of assistance, all you do is press the medical alert button.
The button will send a message to your home alert system, which will in turn send a message to the emergency surveillance staff. If it is a mobile device, the message will go directly to the monitoring center.
A responder will speak to you directly through the system or button and be in touch with emergency responders and a medical response team depending on the severity of the situation.
And, that's it!
On-The-Go Safety Tips
You're ready to get out and go! Whenever you do, be sure to keep these on-the-go safety tips in mind:
Wear protective footgear with traction bottoms
Keep outdoor areas (yard, paths, stairways) clear and in good condition
Avoid ice and wet patches on the ground
Always have your medical alert button on you and prominently displayed for others to see
Avoid poorly lit areas and places where there aren't a lot of people
If you're often out and about, explore mobile medical alert systems
For Safety's Sake:Emergency Buttons for Seniors
Close to 3 million seniors are treated for fall injuries each year, more than 95% of hip fractures are caused by falls, and 1 out of every 4 seniors will fall this year. With numbers like these, having a medical alert button on your person shouldn't even be a question. We hope it'll never happen, but it's better to be prepared in case of an emergency than to be left without anyone to help you when you need it.