Medical alert systems are becoming increasingly popular among seniors for a variety of reasons. These medical alert buttons for elderly people offer greater independence, allowing seniors to leave the house with peace of mind, knowing that emergency assistance is just a push of a button away at all times.
Emergency buttons are an excellent choice for seniors who are living alone, aren't checked on by relatives or caregivers regularly, have stairs in their homes, or are active and like to get out of the house.
Because medical alert systems deal with medical health and emergencies, it is important to purchase one that is of top quality. There are many safety buttons for seniors on the market, but not all of them are equal. Some work better, are more user-friendly, or come with better monitoring services than others.
Here are our top 10 picks for the best medical alert buttons on the market today, to help you decide which one is best for you.
The 10 Best Medical Alert Buttons
The best emergency buttons for seniors offer a combination of fast response times, low monthly costs (with no hidden fees), and great mobility. We chose these 10 products because they fit these all-important criteria, so let's take a look.
1. Mini Guardian by Medical Guardian

Light and petite, the Mini goes where you go.
Mini Guardian by Medical Guardian makes getting out and being on the go a breeze for older adults who don't want to be stuck in the house all day. The GPS tracking technology built into these devices ensures that you can get assistance sent to your exact location, wherever you are, at any time of the day or night. The device is also WiFi-enabled, so you don't have to worry about losing your signal or not being able to get in touch when you need to.
The Mini Guardian button has excellent two-way communication, so you can speak to and hear operators in the call center directly from your device. The device is also noteworthy because of its long battery life. You only need to charge it once every 5 days, and it takes only 3 hours to fully charge and be ready to go.
Mini Guardian plans start at $39.95/month. You can also include your Mini Guardian alert button in other Medical Guardian packages, so you save more.
Pros
WiFi and GPS location technologies built-in

Longest battery life of any available mobile medical alert button

Lightweight and half the width of standard devices
Cons
Mobile app not as user-friendly as some others

Some services require add-on purchases

Medical Guardian Visit Site
2. MobileElite System by Medical Alert

Great protection with no long-term commitment
The Medical Alert MobileElite System offers on-the-go protection along with GPS tracking technology. The Medical Alert MobileElite button can detect falls automatically for faster response if you cannot press your button for some reason. The button comes in a sleek steel-gray color, so you feel more like you're wearing an accessory than a medical alert button for the elderly.
The MobileElite system is not waterproof, but it comes with a pendant or wrist-worn help button. The mobile help buttons can be worn up to 1,000 feet from the base device. The service is available for as little as $32.04 a month (for the annual plan), and if you sign up for a year, you get a free month. You can also sign up per month ($37.95/month) or semi-annually ($34.95/month).
All plans come with a nice carrying case, and the semi-annual and annual plans offer free shipping as well. MobileElite even offers convenient voice messaging so you can receive messages directly through your device.
Pros
Sleek modern design with neck & wrist options

USB port enabled

Mobile app available for caregivers
Cons
Mobile app costs extra

The base device is not waterproof

Medical Alert Visit Site
3. MobileHelp Solo
Cellular-based system for home and on the go
The Solo is another excellent option from MobileHelp for older adults. Hovering around the same price as the MobileElite, the Solo offers some superior features. For example, the MobileHelp Connect app allows your loved ones to see your location at all times. This is helpful if family members want to know where you are even if it's not an emergency.
What's more, MobileHelp Solo has the fastest response time on the market. That's because they work together with Rapid Response, an independent monitoring center with an impeccable reputation for quality service and speed. Solo also offers additional services such as medication reminders and smartwatch options.
Pros
Best call-center quality according to independent tests

Fastest response time (just over 20 seconds)

Online mapping for 24/7 location awareness
Cons
Monitoring costs are not guaranteed and could increase

Battery must be recharged nightly

MobileHelp Visit Site
4. Philips Lifeline On the Go

All-in-one solution for fast access to help 24/7
At $49.95 per month plus a one-time activation fee of $99.95, Philips Lifeline On the Go is on the more expensive end of the spectrum, but that's only until you understand what you're getting for the price. The On the Go system isn't just a mobile device; it is an entire home monitoring system as well. So, you're getting two monitoring systems for the price of one.
Also, the system comes with auto-alert fall detection, a feature that you would have to pay extra for from many vendors, already built into the price. All in all, Lifeline On the Go quickly becomes one of the more affordable medical alert devices out there.
The On the Go device offers unparalleled location detection using five different types of technology. A-GPS (assisted GPS) uses a network of satellites to identify your location and is one of the fastest methods available. The device also uses intelligent location to take snapshots of your regular activity for easy location.
Finally, the audio beacon feature can be activated to send out a signal from your pendant to more easily track and find you. Add to that a constant WiFi connection, and the Philips Lifeline On the Go provides powerful protection.
Pros
Rated #1 medical alert device

More than 40 years in the industry with 7.5+ million users

Fall detection included in the price
Cons
More expensive than some other systems

No tracking portal or mobile app

Lifeline Visit Site
5. LifeStation's Mobile with GPS

Industry-leading response time for a great price
LifeStation is a well-known name in the medical alert system industry and all of the accreditations it has received demonstrate its quality service. With the introduction of its Mobile LTE Medical Alert +GPS, LifeStation can now allow its users to go anywhere they want with the comfort and peace of mind of having emergency responders and contacts right by their side whenever they need it.
In addition to having up-to-the-minute GPS tracking technology, a compact, discreet design, and super-fast response time, this mobile medical alert button offers some of the lowest prices around. In fact, LifeStation often runs deals for as little as $25.95/month (plus free shipping!). If you're really on a tight budget, LifeStation may be a good choice for you. Plus, you can get extra pendant or wrist help buttons for only $3.99/month.
Pros
Very affordable Standard plan

UL Listed and CSAA 5 Diamond monitoring center

Unique "Find My Loved One" feature
Cons
Fall detection costs extra with some plans

No activity monitoring or medication reminders

LifeStation Visit Site
6. One Call Alert

Protect two people for the price of one
Over 20 years of providing simple, reliable medical alert systems has earned One Call Alert a solid reputation in the industry and hundreds of thousands of satisfied users. Their Mobile On-the-Go system is a self-contained mobile medical device that can be used at home or on the go. It provides GPS tracking and clear, two-way voice communication through the pendant's built-in speaker, and comes with a separate, wearable help button. Automatic fall detection is available as an option.
The best news? One Call Alert offers a service that no other company we've reviewed provides. For only $7.00 more per month than a single Mobile On-the-Go device, you can get two and share the peace of mind of 24/7/365 protection with your partner or roommate. This package offers wireless in-home protection and GPS-enabled, on-the-go protection for a very reasonable monthly cost.
They even throw in a free lockbox so you can store an extra key in case yours gets misplaced.
Pros
Water-resistant

No long-term contracts or activation fees

Significant savings on two devices
Cons
No smartwatch option or mobile app

Connection only uses the AT&T cellular network

One Call Alert Visit Site
7. Aloe Care Health
For seniors who want to age in place
Aloe Care is newer to the medical alert system industry than some of its competitors, but the experience of its staff—70% of whom are caregivers themselves—more than speaks for itself. Their experience as caregivers gives them unique insight into what such systems have been lacking in the past and how to fill those gaps.
Aloe Care's Mobile Companion wearable device connects directly via cellular service when you press the help button. And even if you can't press the button, just saying the word "Emergency" activates two-way voice communication.
The system comes with a mobile app that updates you on everything you need to know. It also keeps you connected to your personal Family App portal, so your family and caregivers can be updated with your location and collaborate with you on your well-being.
One of the system's most unique optional features is a Smart Fall Sensor, which detects falls in the home without the need for a wearable device. It creates a 3D map of the room it is installed in and can tell whether you are sitting, standing, or lying down. If you remain lying down for more than 1-2 minutes, a call is made to the monitoring center, just as if you had pressed the help button.
Pros
30-day money-back guarantee

24/7, TMA 5 Diamond-certified monitoring

Voice-activated two-way communications
Cons
Higher-than-usual initial equipment costs

No senior or advance payment discounts

Aloe Care Health Visit Site
8. Life Alert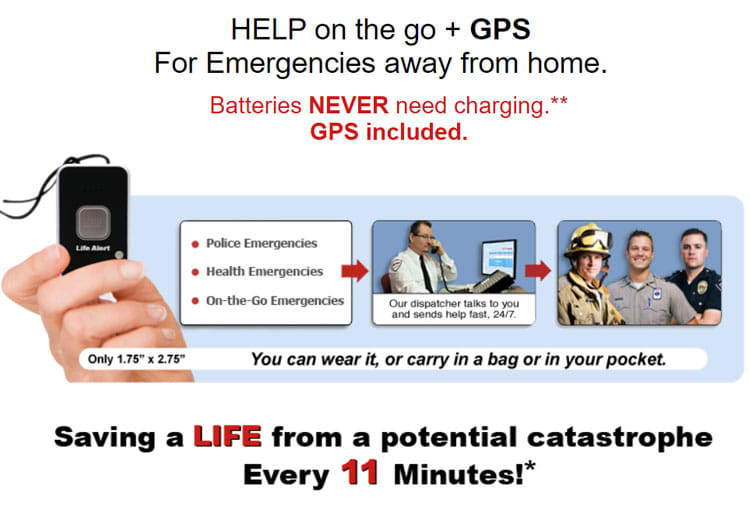 Protection at home and on the go
In 1987, Life Alert became one of the first companies to market medical alert systems. In the time since, they have served millions of customers and have expanded their product offerings to include a mobile alert button, the Help on the Go + GPS device, which can be bundled with its master unit and pendant help button to create a complete in-home and on-the-go system.
The device is small, so you can use it in many ways—worn as a pendant, on the wrist, or carried in a handbag or purse. The built-in GPS tracking technology enables Life Alert operators to help emergency services get to your precise location as quickly as possible.
The cost of the Master Unit + Help on the Go + GPS system is $89.95/month, with a one-time $198 activation fee. You cannot use the mobile device to talk via two-way communication the way you can with the in-home system, but it does allow you to call for help from anywhere. However, if you have a smartphone, Life Alert can assign you a telephone number that you can program to speed-dial the monitoring center for you.
Pros
24/7 two-way voice communication

Mobile batteries last up to 10 years

Five Diamond-certified operators
Cons
Must have the In-Home system to get mobile device

Three-year contract required

Higher prices and activation fees than usual

Life Alert Visit Site
9. GetSafe

No need to wear a button unless you want to
GetSafe started as a home security company, and their approach is still home-centered, with options for one- to five-bedroom houses. Within the home, its products are billed as a medical alert system that you don't have to wear. The system is voice-activated, so there are no lanyards, pendants, or wristbands—just push a wall-mounted help button, pull a cord, or call out "Call 911." System prices start at $24.95/month.
That said, for older adults who prefer a system that works anywhere, for an extra $30/month, GetSafe does offer on-the-go, GPS-enabled coverage with its Mobile Help Button, which uses AT&T's nationwide 4G LTE network. The mobile alert button is waterproof, and its battery lasts up to 120 hours without a recharge.
For an additional $10/month, this mobile unit can be equipped with automatic fall detection, and for $5/month more it can connect to a caregiver tracking app that allows your family and caregivers to stay in touch with you so they can participate in keeping you healthy and safe.
Pros
30-day trial period

US-based TMA 5-Diamond-Certified monitoring

Smartphone app available
Cons
Fall detection costs extra

Home system requires you to speak in an emergency

GetSafe Visit Site
10. UnaliWear Kanega Watch
Smartwatch and mobile alert in one
The UnaliWear Kanega Watch is a complete medical alert system that may appeal to older adults who don't want to look as if they're wearing a medical alert system. It looks like a high-tech, fashionable smartwatch because that's what it is, and it supports useful apps beyond medical alerts, such as medication reminders.
The watch contains state-of-the-art two-way voice communication capabilities, GPS tracking, and automatic fall detection. You can use it to connect to trained response operators 24/7 by either speaking or pressing a button. It comes pre-configured with WiFi and cellular connectivity, so there is no setup required.
The Kanega Watch is water-resistant and has a unique swappable battery system, so you don't have to take it off at night to recharge it. The initial cost is rather high, but that's because the plans include the cost of the watch ($199 + $59.95/month if you opt for 12 months of service). There are no long-term contracts required, so you can cancel at any time, and if you do, you'll still own the watch.
Bottom line, the UnaliWear Kanega Watch provides the smallest full-featured alert button device on this list.
Pros
Tasteful and fashionable design

AI-based smartwatch technology and fall detection

Available in three colors and finishes
Cons
No base units or in-home help buttons available

System only works within the US

UnaliWear Visit Site
How Do Medical Alert Buttons Work?
Medical alert buttons are the perfect solution for seniors who want their independence but still appreciate having someone to reach out to in case of an emergency. The technology itself is simple to use and understand. Here's what you need to do.
Set up your medical alert system. When you purchase a system, most companies will send a technician to your home to connect the hardware, make sure everything is working properly, and explain how to use it.

Wear your personal emergency response system on your person. The button can come in different forms, such as a medical alert necklace worn around the neck, a bracelet or watch worn around the wrist, or a button clipped to a belt or purse.

If you ever need assistance, you can get it instantly by pressing the help button.

The button will send a message to your home alert system (if it has a base unit), or directly to the company's call center via cellular connectivity. There, the call will be answered by the company's emergency care staff.

For devices with two-way communication, a trained responder will speak to you directly through the system or button. They will stay in touch with you until help has arrived, and, if necessary, contact emergency responders and send them to your location to resolve the situation.
On-The-Go Safety Tips
You're ready to get out and go! Whenever you do, be sure to keep these on-the-go safety tips in mind.
Wear protective footgear with traction bottoms.

Keep outdoor areas (yard, paths, stairways) clear and in good condition.

Avoid ice and wet patches on the ground.

Always have your medical alert device on you.

Avoid poorly lit areas and places where there aren't a lot of people.
For Safety's Sake: Emergency Buttons for Seniors
Some startling facts:
Close to three million seniors are treated for fall injuries each year.

More than 95% of hip fractures are caused by falls.

One out of every four seniors will fall this year.
With numbers like these, whether to have a medical alert button with you at all times shouldn't even be a question. We hope that situations such as these will never happen, but it's better to be prepared in case of an emergency than to be left without help when you need it.