In a Nutshell
Medical Alert offers emergency alert systems to suit a variety of lifestyles at home and on the go. The company has been in the business of making medical devices for more than 18 years, giving back independence to seniors across the nation. Features like waterproof buttons, GPS tracking, and 24/7 monitoring can give you peace of mind.
pros
24/7 continuous monitoring 365 days a year
Convenient home and mobile systems
No landline requiredin industry
cons
Fall detection costs an additional $10 per month
No daily check-in services
Mobile system requires adequate AT&T cell phone coverage

Medical Alert Visit Site
How Much Does Medical Alert Cost?
Medical Alert offers monthly, semi-annual, and annual plans that vary from $19.95 to $42.95 per month. There are no additional charges for equipment, but fall detection is optional for an additional $10 per month.
Medical Alert Plans – Packages & Pricing
Medical Alert Features – Products & Equipment
Medical Alert offers two products, a home system and a mobile system, along with some optional features and accessories.
Home System
The home system works with either a landline or cellular connection. It has a range of 800 feet so you aren't confined indoors. If you need help, just press the help button on the unit, pendant, or bracelet.
Get access to a response coordinator with the expertise to determine what type of help you need. Medical Alert will contact a first responder, a family member, or a neighbor depending on your situation and your wishes.
Medical Alert has waterproof help buttons in case you fall in the shower or tub. If you opt for the fall detection add-on, you are protected against falls wherever you go. If you can't talk, Medical Alert still responds.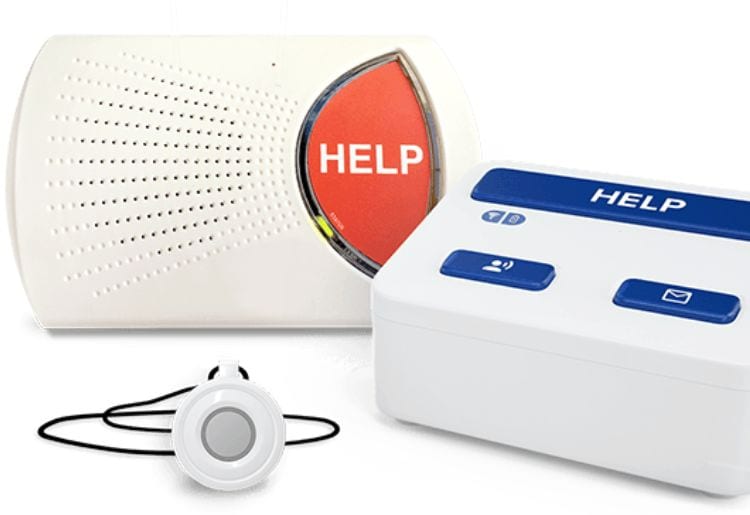 Mobile System
The mobile system has life-saving features that protect you wherever you go. With the push of a button, you will be instantly connected with a trained specialist and can receive help 24/7.
The option for helping when there isn't a medical emergency makes the mobile system even more helpful. For example, Medical Alert can contact a neighbor or friend if you get locked out of your house or car.
The mobile system has a powerful two-way speaker so you can communicate directly with the emergency response operator. If you can't speak, the operator will automatically dispatch help to your location. GPS location tracking technology gets help to you anytime, anywhere.
With the mobile system, you also get access to the Medical Alert Connect mobile app. The app offers a fast and easy way to test your system, contact support, manage your contact list, and more. The button pendant and bracelet are lightweight and discreet so they don't get in your way.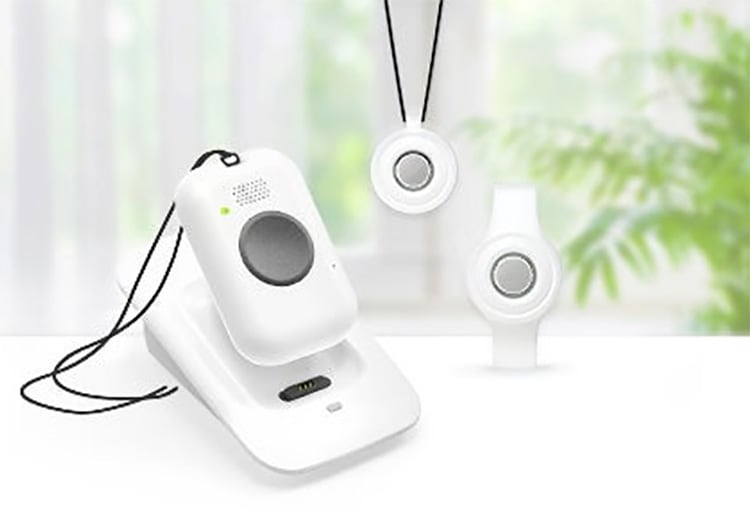 Medical Alert Optional Features & Accessories
Medical Alert offers a variety of features and accessories as add-ons. Most notably, the fall detection add-on automatically senses a fall and issues an alert. The feature costs an additional $10 per month. It is available with both the home and mobile services.
Medical Alert's weatherproof lockbox gives EMTs access to your house key whenever you call for help. They can gain fast entry into your home while doing less damage and getting to you in less time. The lockbox is only available with an annual subscription.
System, wrist, or neck button replacement
Free with an annual subscription
Provides EMTS access to a key
Medical Alert Installation & Setup
The installation and setup of your Medical Alert system varies based on which type of system you choose.
Home Systems
The home system is very easy to set up, starting with finding a good location for the base unit. You should place it near the main telephone jack to your landline and an electrical outlet.
Unplug the existing phone cord from the landline jack and plug it into the "Line In" socket on the back of your base unit. Plug one end of the phone cord that came with your alert system into the phone jack and the other end into the "To Phone" socket on the back of the base station.
Plug the power cord into a power outlet and turn on the power switch. If any lights are flashing on the system, wait for them to stop.
If you don't have a landline and opted for the cellular connection, refer to the step-by-step set-up instructions that come with the unit.
Mobile Systems
Mobile systems require very little setup. The help button is on a handheld device that you can wear as a pendant or a bracelet. Use the charging cradle and power cord included with the system to charge the battery. Once fully charged, press the emergency button to test the connection to Medical Alert's monitoring system.
Medical Alert Monitoring Services
Medical Alert provides 24/7 monitoring services to help keep seniors independent at home and in their communities. The company is based out of Philadelphia, Pennsylvania, where they provide dependable and fast nationwide service.
Medical Alert has industry-leading response times for emergency and non-emergency situations. You will get an immediate response anytime, anywhere, with the push of a button.
A highly trained response coordinator will assess your situation and call the emergency contact best suited to help you. That might be a friend, family member, neighbor, or first responder.
You or your caregiver can use the Medical Alert mobile app to contact support, test your system, and update your contact list. When you need help, the contact information is readily available.
The mobile system with GPS will help pinpoint your location. It saves valuable time whenever you have an emergency away from home.
Medical Alert has several Five Diamond, Underwriter Laboratories (UL) certified, interlinked monitoring centers, all fully backed up, to provide round-the-clock service. Each emergency center is staffed by Security Industry Association (SIA)-Certified multilingual operators.
Medical Alert is a member of the Medical Alert Monitoring Association (MAMA) and has an A+ ranking with the Better Business Bureau.
Is There a Medical Alert App?
Medical Alert provides a complimentary mobile app called Medical Alert Connects with the mobile system. It enables you to connect with support using your smartphone. The app includes advanced GPS location technology to help find you in an emergency.
The Medical Alert app is easy to use. Just log in to manage your emergency contacts, check the battery status, and more.
You can also benefit from the app if you're a caregiver. It enables you to check and monitor multiple users when you connect them to your account. GPS location technology lets you check on the location of all the mobile system subscribers in your care.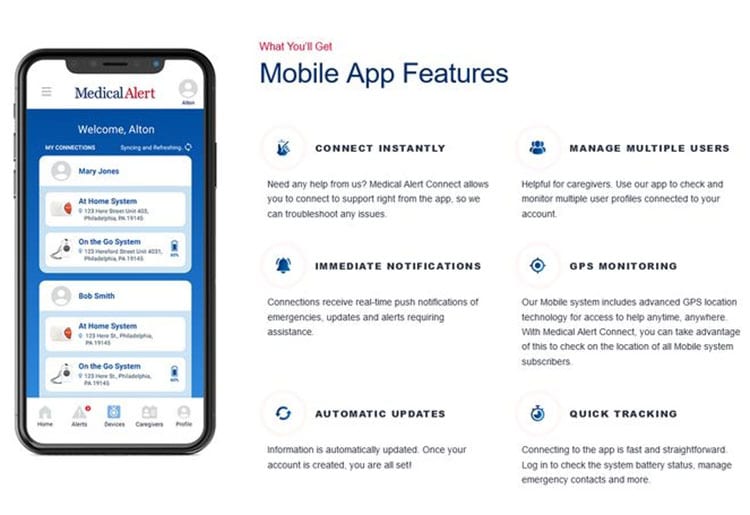 Medical Alert Contracts - Warranty & Insurance
Medical Alert offers an equipment protection plan for $5 per month. Have peace of mind that you can get your unit or button repaired if they are damaged or lost. The plan does not cover damage due to misuse or for commercial use.
The plan allows a one-time replacement of the main system and up to two help buttons. The coverage doesn't extend to fall protection pendants.
Medical Alert has no hidden fees or long-term contracts. You only pay for the monthly monitoring service of your choice. Any time you no longer want or need the monitoring service, you are free to cancel.
The company offers discounts on semi-annual and annual subscriptions. It also offers a 30-day risk-free trial for either the home or mobile system. If you aren't satisfied, return it at no cost to you.
Medical Alert Customer Service - Help & Support
Medical Alert offers customer support 24/7, 365 days a year, at home and on the go. Speaking with Medical Alert is as simple as pushing the button on your home device or on your bracelet or necklace with the mobile device.
The device works as a strong, two-way speaker that enables you to speak quickly with a highly trained response coordinator. If you have the mobile system and app, you can also use your smartphone to contact support directly.
Medical Alert has extensive resources on its website. The company answers many frequently asked questions such as what to look for in a medical alert system and who can benefit from their use. The blog also contains a wealth of important information.
How Medical Alert Compares to Other Medical Alerts
Cost of Upfront Equipment
Landline, Cellular, Wi-Fi
Fall detection pendants, lockbox (with annual subscription)
Alert 911, buttons, fall detection pendant
Medical Alert Vs Medical Guardian
Medical Guardian offers a wider range of devices than Medical Alert, all with 24/7 monitoring. Both offer cellular and landline connections, while Medical Guardian also offers Wi-Fi.
Both companies offer optional fall detection for $10 a month. The most significant difference between the two products is that Medical Alert offers a lower base price plan.
Medical Alert Vs Life Alert
Life Alert offers the same 24/7 monitoring as Medical Alert, but at a much higher cost. Life Alert charges high installation fees whereas Medical Alert offers free installation.
Life Alert also offers the choice between a landline and cellular system, but without the option for fall detection. You will get a better value from Medical Alert than from Life Alert.
Medical Alert Vs Lifeline
Lifeline offers a range of valuable features like GPS, fall detection, two-way communication with the monitoring center, and easy-to-use help buttons with a speakerphone. Medical Alert offers the same features but without the high activation fees charged by Lifeline.
Both medical alert companies charge similar monthly fees, but Medical Alert offers lower rates on semi-annual and annual subscriptions.
The Bottom Line
Medical Alert offers medical alert devices for use at home or on the go using a landline or mobile connection. Each device offers optional fall detection that alerts Medical Alert even if you can't talk.
In contrast to some competitors, Medical Alert offers service without a contract and with no activation fee. Monthly costs are lower than most others, especially with the base plan. It also offers a 30-day free trial to determine if the system is right for you.
Overall, Medical Alert reviews indicate that this device is a good value for anyone looking for a medical alert system.