Medical Guardian Visit Site
Overview
Medical Guardian Products & Equipment
Medical Guardian sells devices for use at home and on the go. On-the-go devices work anywhere. For home use, it offers the Classic Guardian and the Home 2.0. For on-the-go use, it offers the MGMove, MGMini, and MGMini Lite.
Classic Guardian
The Classic Guardian requires a landline connection and is best suited to homes without high-speed internet or strong cell phone reception. Truthfully, this medical alert system can go anywhere and has a range of more than roughly three football fields, and its backup battery can work for up to 32 hours if the power goes out. You also get access to the MyGuardian portal and app that can help connect you directly to a caregiver.
The Classic Guardian comes with a base unit, silicone wristband, neck pendant, and wall charger and adapter.
Using the Classic Guardian is easy. Simply push the Help button on the pendant or wristband to speak to an emergency Medical Guardian representative.
The optional fall-detection add-on, if activated, can also call the help center in case of a fall. Medical Guardian's emergency monitors can dispatch the fire department, police, mental health services, and EMTs and also get in touch with one of your emergency contacts (from your Medical Guardian Care Circle).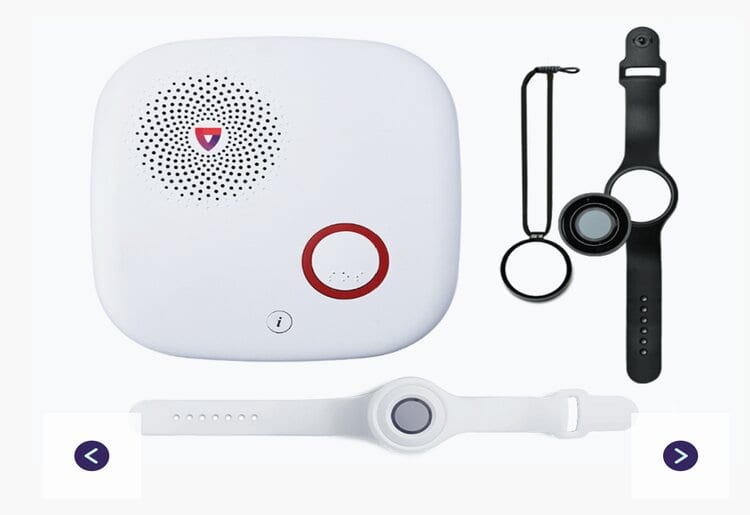 Home 2.0
The Home 2.0 connects to a 4G cellular network or your home's WiFi network, making it suitable for any home that has good cellular coverage or broadband. It includes a single mobile emergency button that can be placed into an included pendant or wristband.
The range for the Home 2.0 is limitless. It has a backup battery that enables it to continue working for up to 32 hours if the power goes out.
To activate the Home 2.0, just push the emergency button on the device itself or on the pendant or wristband. It includes a two-way speaker so you can talk directly with responders at Medical Guardian's monitoring center during an emergency. It also includes access to the MyGuardian portal and app to manage the emergency contacts in your Care Circle.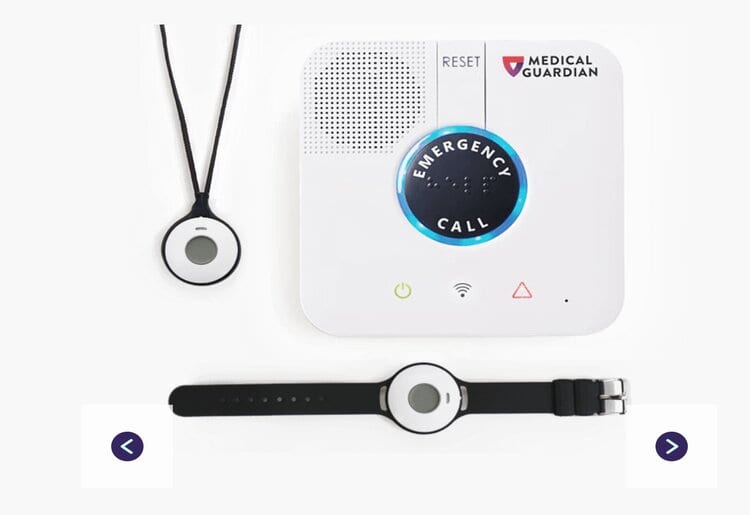 MGMove
The MGMove is an on-the-go medical alert device that offers many of the features of a smartwatch. It is designed to fit on your wrist and has an on-screen emergency button as well as a small physical emergency button on the watch frame.
The MGMove can track your steps and remind you of upcoming calendar events. It doesn't integrate with a smartphone to make calls and send texts, but it enables you to check the weather and messages from the MyGuardian portal.
This device connects to 4G cellular networks as well as WiFi to ensure you're connected to Medical Guardian's monitoring center. It also includes GPS tracking to make your location available to responders during an emergency. The MGMove's battery lasts for up to 24 hours.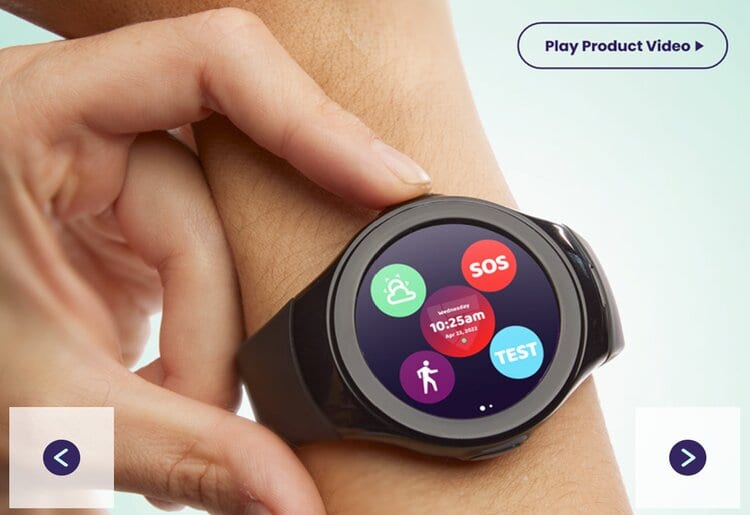 MGMini
The MGMini is the smallest and lightest mobile emergency response device available, standing about 2 inches high, 1 inch across, and weighing 1.3 ounces.
Developed from direct customer feedback, it combines the most desired features from other devices while maintaining simplicity. It offers a one-touch button to reach monitoring centers and boasts a battery life of up to 5 days from a 4-hour charge.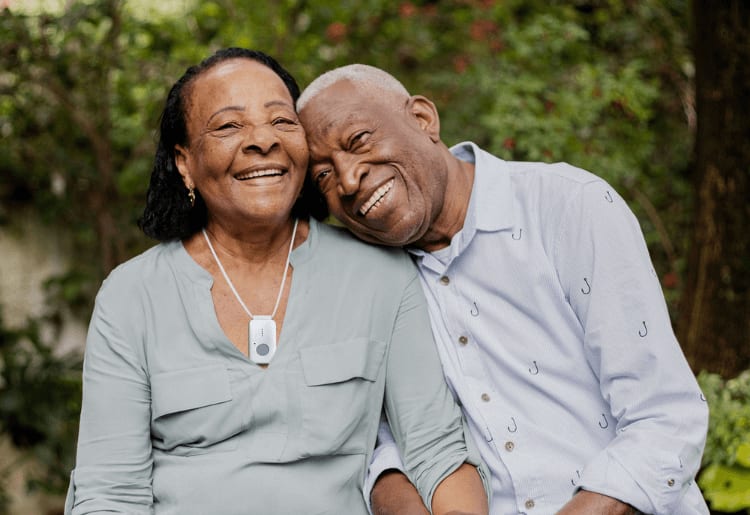 The device operates on the AT&T 4G LTE network, providing continuous GPS location updates with Wi-Fi backup. It also integrates with the MG Portal and app for hourly GPS updates.
The MGMini offers advanced 6-axis fall detection technology as an optional add-on, with a built-in alarm cancellation feature.
It's water-resistant, making it safe for shower use, and can be worn around the neck or attached to a belt clip. Additional features include step counting, activity tracking, and various color options like pearl, silver, black, and rose gold. The device also supports multiple ways of wearing it, with interchangeable neck and wrist kits, wall buttons, and more.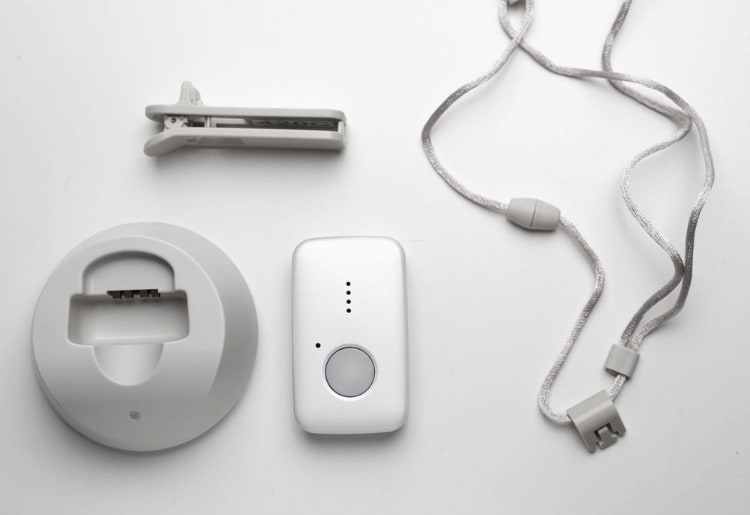 MGMini Lite
The MGMini Lite is a sleek, lightweight personal emergency response system designed for discreet and distraction-free protection. Weighing about as much as a pencil, it offers features like fall detection, step counting, GPS location tracking, and reminders.
The device operates on the Verizon network, providing unlimited 4G LTE coverage and continuous GPS location updates. It can provide the wearer's location to first responders in emergencies using GPS or Wi-Fi signals. Add-on features include enhanced emergency notifications, a secure house key lockbox, and a protection plan covering various damages.
The water-resistant device makes it safe for shower use and has an easy-to-use magnetic charging cradle. It also offers a customer portal and app for loved ones to track the wearer's location. The MGMini Lite has a simple wristband design, eliminating the complexities of a typical smartwatch, and includes additional features like calendar reminders. No cell phone is required for its operation.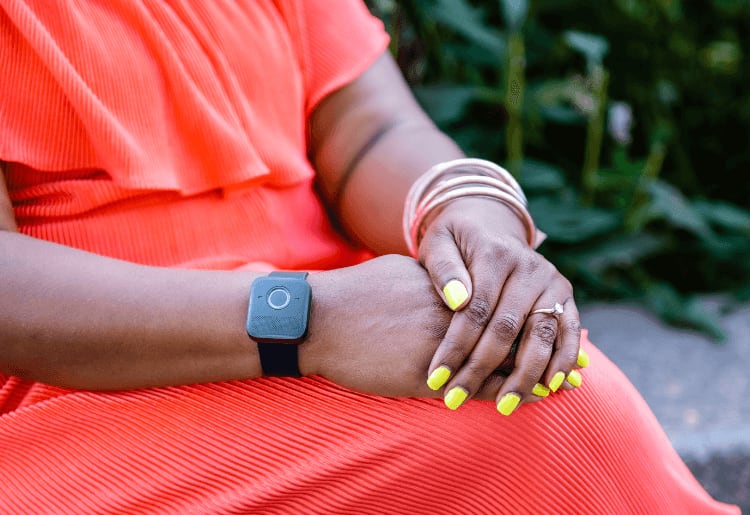 Medical Guardian Optional Features & Accessories
Medical Guardian offers several accessory devices that you can connect to your medical alert system. The most notable of these is the fall detection pendant, which can automatically issue an alert if you experience a fall. This costs $10 per month and can be connected to any at-home or on-the-go system.
In addition, the company offers an Alert 911 device that enables you to communicate directly with a 911 dispatcher at the press of a button. Medical Guardian also offers voice-activated and wireless alert buttons that you can place on a counter or stick to a wall. You can purchase an equipment protection plan for $6.99 per month.
Direct communication with 911 dispatcher
Voice-activated emergency alert
Medical Guardian Installation & Setup
The setup process varies based on which Medical Guardian device you choose.
Home Systems
For home systems, you first need to decide where to place your device. Both the Classic Guardian and Home 2.0 require a wall outlet, and the Classic Guardian must be plugged into a landline. Once your device is connected, press the emergency button to test your connection to the monitoring center.
To connect a wearable pendant or wristband, press and hold the red emergency button on the bottom of the charging cradle. Then press the emergency button on your pendant or wristband.
On-the-Go Systems
On-the-go systems require very little setup. Just charge your device and then press the emergency button to test your connection to Medical Guardian's monitoring center.
Medical Guardian Monitoring Services
Medical Guardian provides 24/7 nationwide coverage with every subscription. The company's monitoring center is based in the US and offers help during both emergency and non-emergency situations.
When you press the emergency button on your device, Medical Guardian will respond immediately. The company first attempts to speak with you to determine the nature of your emergency, then will dispatch local emergency responders. Medical Guardian can use GPS tracking to determine your location if your alert is issued with an on-the-go device.
Medical Guardian can also get in touch with your emergency contacts, whom you can designate using the Medical Guardian app.
Medical Guardian's monitoring service is certified as a Five Diamond Monitoring Center by The Monitoring Association.
Medical Guardian App
Medical Guardian offers a web portal and free mobile apps for iOS and Android. The apps enable you to designate emergency contacts and view your billing details. Emergency contacts can also use the app to find your location if you have a GPS-enabled alert device.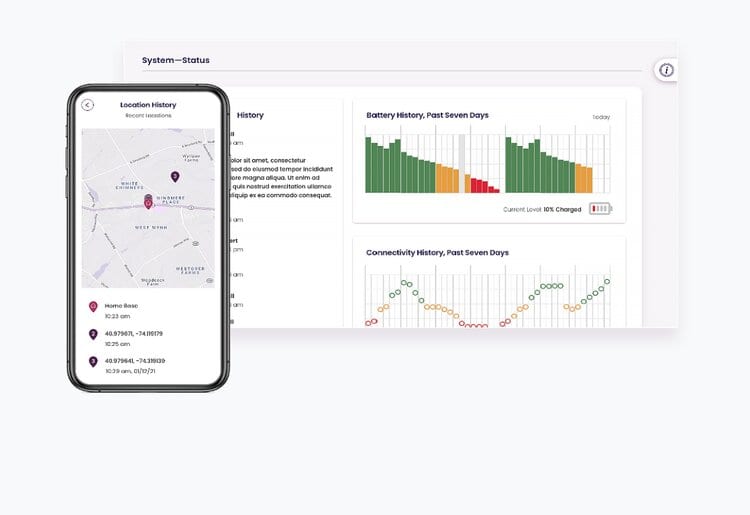 The Medical Guardian app has a 1.8-star rating on the Apple App Store and a 1.6-star rating on Google Play. The app displays alert timestamps in Eastern Time rather than the user's local time. In addition, location data is updated only once per hour rather than on demand.
Medical Guardian Warranty
All Medical Guardian products come with a one-year warranty against manufacturing defects. If you make a warranty claim, Medical Guardian will repair, replace, or refund your device.
Medical Guardian also offers an equipment protection plan for $6.99 per month. This protects against lost or broken devices, including devices broken by normal wear and tear or accidental damage. The protection plan also includes unlimited battery replacement. Protection is limited to one base device or two buttons during any 12-month period.
Medical Guardian Support & Customer Service
Medical Guardian offers customer support by phone, email, and live chat. Phone and live chat support are available from 9am-8pm ET Monday-Friday and 9am-5pm ET on Saturday. We got in touch by live chat and were connected with a representative within seconds.
Medical Guardian's website also has a detailed online knowledge base. You'll find step-by-step instructions for how to set up your devices, although there are no tutorial videos. Medical Guardian also has a blog and a wizard tool to help you choose the alert system that's right for you.
Pricing
Medical Guardian offers monthly, quarterly, or annual subscription plans that cost $30-$40 per month and include the cost of your equipment. Services such as fall detection require add-on subscriptions.
Medical Guardian Medical Alert Alternatives
Still don't know what medical alert system is best for you? Here's a quick comparison chart that sets Medical Guardian against its competitors.
Cost of Upfront Equipment
Alert 911, buttons, fall detection pendant
Lockbox, carrying case, pendant
Medical Guardian Vs LifeFone
Medical Guardian and LifeFone both offer subscription-based plans with no equipment fees or activation costs. LifeFone devices don't offer GPS tracking or WiFi connectivity. However, the company's on-the-go device has a battery that lasts 30 days compared to five days for Medical Guardian's Mini Guardian device.
LifeFone may be suitable if you prioritize battery life over location tracking.
Medical Guardian Vs Life Alert
Life Alert has a long history in the medical alert industry, but it charges far more for 24/7 monitoring than Medical Guardian and doesn't offer a wide range of devices. The company also has relatively few accessories and doesn't support fall detection. For most users, Medical Guardian offers a similar service at a better value.
Medical Guardian Vs Lifeline
Philips Lifeline offers modern medical alert systems with top-tier features like GPS, fall detection, and two-way communication with the monitoring center.
However, Medical Guardian also offers these features and doesn't charge pricey activation fees to set up your alert system like Lifeline does. Monthly subscription fees are comparable between Medical Guardian and Lifeline since the latter includes fall detection at no extra cost.

Medical Guardian Visit Site
Bottom Line
Medical Guardian offers a wide range of medical alert devices for use at home or on the go. Every device includes 24/7 monitoring, although you have to pay extra for automatic fall detection.
Relative to competitors, Medical Guardian offers attractive pricing and more options for activating emergency alerts. The company also stands out for including GPS tracking in all of its on-the-go devices. The most significant drawback to Medical Guardian is that its free mobile app is difficult to use.
Overall, Medical Guardian reviews suggest that it offers good value for anyone looking for a medical alert system.