In a Nutshell
Medical Guardian gives you the ability to keep track of important medical information and contacts in case of a medical emergency, making it a great medical alert solution for those with a disability or condition which can strike without warning. Medical Guardian also includes temperature monitoring, fall detection, and on-the-go mobile GPS options, giving users greater independence while keeping them safe.
pros
New fall detection technology
7 day mobile battery life with Active Guardian
Protection plan available for $6.99 per month
cons
Fee for lost or damaged equipment without protection plan
No smoke/fire/carbon monoxide (CO) detection
Medical Guardian Visit Site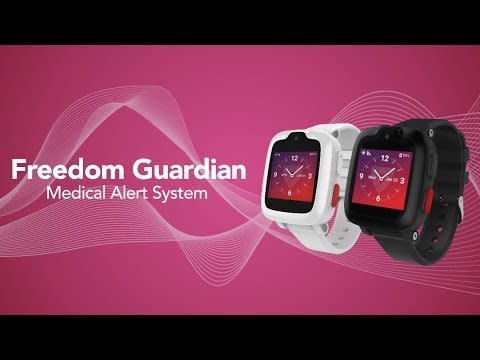 Monitoring Services
Medical Guardian is proud to offer emergency and non-emergency support, so that whether you need emergency services, a neighbors help or simply someone to get in touch with a family member for you, there are friendly and helpful representatives on the other end of the line. Its medical monitoring center is certified by UL, CSAA Five diamond, FM and the Dept of Defense. In particular, the UL certification means the company is subject to rigorous testing to ensure that it responds speedily and efficiently to get you the help you need. The CSAA Five Diamond certification recognizes a degree of excellence in customer service and training.
Staff members are available 24/7/365 and are able to dispatch emergency services and contact designated family members and friends. With US based support, you won't have any trouble with language barriers.
Product Features
Medical Guardian has both at home and on the go options, depending on what you need. One great extra is its Risk Assessment which you can complete on the website, and gives you a better idea of what kind of system will work for you—especially if you have a specific illness or disability. You can also choose to keep your profile updated with important medical information and emergency contacts so Medical Guardian's trained support personnel can access to medical information and the right contacts to get in touch with if needed.
Stand out features of the home systems include temperature display and a 30+ hour backup battery life, and GPS techonology on mobile solutions for unlimited location detection range. Extras such as a lockbox, smoke and fire detection, daily check ins or CO monitoring can also be included as an add-ons for a monthly fee. All solutions come with a lifetime warranty and are completely waterproof.
Installation Process
Installation is as simple as plugging in your phone or any electrical item. The landline Classic Guardian will need to be plugged into a phone socket as well as a wall outlet, while the Home Guardian only needs an electrical outlet. Once you've done this, simply press the help button to test the device. The Mobile Guardian will come set up, and with wristbands or necklaces already synced. You can also wear the help button on a belt if you prefer. When you press the button, you will be immediately connected to a trained operative through a two-way radio.
The pendant or wristband is entirely waterproof and portable, so you can access help whenever you need. You can also request extra pendants for more family members at $2.99 per month per pendant.
Plans & Pricing
*Last updated May, 2018
Medical Guardian has a few options for medical alert systems, and markets them all based on what you're looking for. The low cost option is the Classic Guardian, which is a land-line based system. It costs $29.95 per month, and comes with a 32hour backup battery and an incredible 1,300 foot range, making it suitable for large properties and gardens.
Home Guardian is the most popular solution at $34.95 per month, and it does not rely on a landline connection. It has a shorter range, but still big enough for most houses and gardens at 600 feet, and features a temperature display—a useful great extra if you are concerned about your loved ones being unable to stay on top of regulating their thermostat.
Both Mobile Guardian and Mini Guardian are wearable devices that run on Verizon 4G helping you stay connected in case of emergencies. It's important to keep in mind that unless you purchase a protection plan for $6.99 per month, you will be charged fees for for lost or damaged equipment.
Medical Guardian Visit Site
Help & Support
Self-setup is hassle free with Medical Guardian. Your equipment can be shipped either standard in 10 working days, or quicker on request (for an additional fee) and comes with simple instructions for set up. There are plenty of video tutorials on the website about every step of the installation and setup, as well as an FAQ section where you can find answers to your more general questions. Live chat is available on the website, as well as direct phone numbers and email to get in touch.
Bottom Line
While it does not have a lot of the extras you would expect for senior citizens such as smoke and fire monitoring or fall detection as standard, Medical Guardian is a safe solution if you're nervous about you or a loved one getting caught alone in a medical emergency. Industry leading support along with great risk assessment make Medical Guardian the likely solution for your needs.