In a Nutshell
MobileHelp is an industry leader in providing truly mobile systems to allow seniors to live their best life—without worrying about what to do if a health issue arises. The system uses GPS and cellular technology to provide coverage for subscribers when they're out and about, and doesn't require a cellular or landline plan. The service can also remind users when it's time to take their medication, so nothing falls through the cracks.
pros
Mobile device with cellular/GPS tracking
No cellular or landline contract required
cons
Automatic fall detection costs extra
Fee for lost or damaged equipment
MobileHelp Visit Site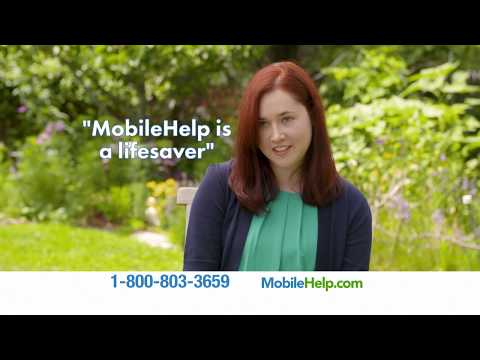 Monitoring Services
MobileHelp monitoring service comes with a nationwide wireless voice, data, and GPS technology which can monitor you in real time and track your location in all 50 states. You can also trigger the system at any time through the use of the help button which will instantly trigger an alarm at a 24-hour emergency call center. The operators will be able to pull up your medical history and emergency contacts and know how and what type of assistance to provide you—and which loved ones to call.
Another feature of MobileHelp is the "fall buttons," which automatically detect a fall and will send help even if you are unable to call for help yourself. The company does state on its website that the fall button does not detect 100% of falls and is not meant to replace a caretaker.
There are different ways to activate the system, including through a neck-worn pendant or a portable button you carry with you. When either is activated, a US-based emergency operator will contact you and establish a 2-way communication, while also contacting a loved one or contact of your choice.
The system comes in 3 main configurations - DUO, solo, and classic. The classic system only provides coverage at home, while the duo and solo provide you with protection away from the home as well.
The system is connected to the nationwide AT&T cellular network and can work anywhere in the country.
In addition, if you prefer, you can set up MobileHelp to provide loved ones access to a portal they can log into in order to locate your device. This can give them some peace of mind to know you can be located in a time of need, and comes with a map that lets them know exactly where you are when you press the help button.
Product Features
The company refers to the Duo as "the most complete emergency medical system available today." It provides coverage both in and outside the house, through a mobile help button and a home base station.
You can enable the Duo to provide automatic fall detection as well, for an additional $10 per month. It can also be set up to notify loved ones in the event of an emergency.
The mobile help classic is a more basic system, providing you with in home assistance. It can still enable the automatic fall detection button, and comes with a 30-day free trial.
The solo system is another platform by MobileHelp that allows you to call for help at home and away from home.
24/7 emergency monitoring
MobileHelp connect access for you and
Waterproof wrist button or neck pendant
Free customer service and support
Installation Process
MobileHelp keeps things pretty simple when it comes to installation. With the cellular base station no phone lines are required—you just set the base station on a table, countertop, or other flat surface, plug in the electric cord and that's it.
After you plug the base in—making sure it isn't hooked into an outlet that's controlled by a light switch—you should test the system. Just press and hold the test button on the base station until it turns green. The system will then ask you to press the emergency button or pendant and the station will announce "test call sent to emergency response center."
Your mobile device will also beep several times, if you have the mobile device with your plan.
If all goes right, the base station will say "thank you for testing your device," through the base and the mobile device.
If it didn't work for some reason, you will get an announcement form the base station.
Make sure to repeat this test once a month, just to make sure everything is setup right. Just make sure to notify the operators that you are performing a test, otherwise they will send emergency help to assist you.
Plans & Pricing
*With every plan, adding the fall button costs an extra $10/month. Last updated May, 2018
The monthly rate that first appears on the homepage for MobileHelp is just for the first introductory month, and all promotional rates only apply to the specific period of time stated in the deal.
If you sign up for more than one month, the price per month goes down. For instance with the Duo system, a single month is $41.95, while 3 months is $99.85, a savings of over $25.
When signing up for a plan you don't actually purchase any of the equipment; the company loans it to you for the duration of the contract and if you don't return it you will be charged up to $350.
Your monthly deal includes monitoring and notification services 7 days per week, 24 hours per day, including receipt, analysis, and response to alarms signals, but does not include protection against burglars or fires.
If you make an emergency call and the responders are not able to enter through the door, it is your responsibility to pay for any potential damage to your house or anything inside.
The emergency assistance that MobileHelp sends is provided by a third-party contractor, and not through the company itself.
MobileHelpis not responsible for testing the system and making sure everything is working as need be.
The company also reserves the right to to suspend or cancel your service if it determines that too many false alarms have taken place and you will be responsible for any fines that may occur. The company also doesn't take any responsibility for the adequacy of the service provided by first responders.
Help & Support
MobileHelp operates a toll free 1-877 number that you can call in order to get answers to your questions about the service. In addition, there is an online form you can fill out to contact the company with an inquiry.
The MobileHelp website also has an extensive knowledge base where you can gain answers to a significant number of questions you may have. In addition, you can access user and how to guides for the overall system, as well as the fall button, and other more particular parts of the system.
You can also see a setup video that can help you get things up and running.
Bottom Line
MobileHelp was one of the first companies in the medical alert business and it has experience and the know-how to provide you with a reliable and affordable service.
MobileHelp gives you the freedom to pick either a purely home-based system or one that also comes with a mobile device so you can get out and about worry-free. With additions like the fall detector and the medical reminder, you can make sure to cover all your bases.
If you sign up for a year-long plan then for only around $30-40 (depending on if you want the fall detector) you can get a comprehensive in-home and cellular service that can truly give you—and your family—some piece of mind.
MobileHelp Visit Site
About MobileHelp
MobileHelp refers to itself as "America's leading provider of mobile personal emergency response system technology." The Florida-based company services clients in all 50 states through the use of sophisticated medic-alert systems that use wireless voice and data and GPS technology to give users real-time assistance wherever they may be.
The company's mission statement is to "empower our customers to be their own hero by providing products and services to help them stay healthy," and to deliver "legendary service."
The company is registered with the Food and Drug Administration, the Federal Communications Commission, and has vcertification from the PTCRB, UL-1635, UYL-1637, and is allowed to operate on the AT&T network.
Contact
Phone. 561.347.6255
Fax. 561.347.6288