MobileHelp Visit Site
Overview
How MobileHelp Works
MobileHelp Features
MobileHelp offers a wide range of products with features that include two-way speakers, waterproof buttons, and GPS.
MobileHelp Classic
This basic at-home system includes a base unit with a two-way speaker and one waterproof, wearable help button to summon help from wherever you are in the house. Prices start at $19.95 per month, which makes it one of the lowest-cost systems we have reviewed.
This low price is even more surprising when you consider that the system is cellular and doesn't need a landline. Most competitors charge much more for their at-home cellular systems. The MobileHelp system has an impressive 1400-foot range and supports the MobileHelp Fall Button, which costs $10 per month.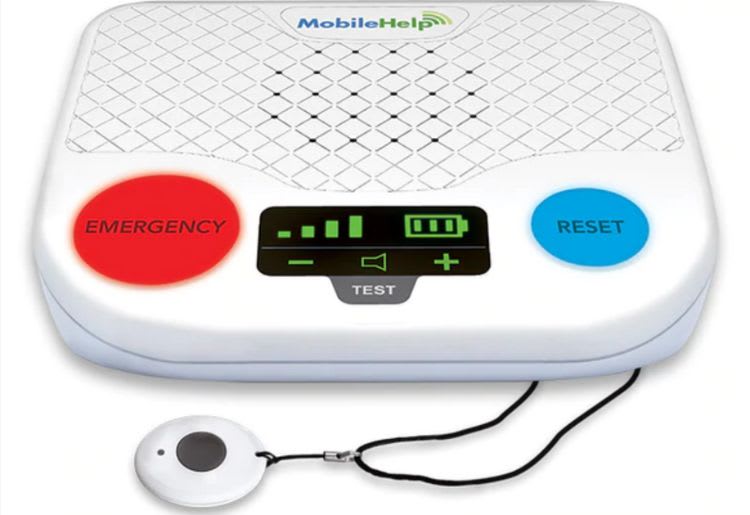 MobileHelp Wired Home
MobileHelp Wired Home is an affordable landline-based system with good coverage. Starting at $24.95 per month, it operates like MobileHelp Classic, except that it needs to be connected to a phone jack and has a 600-foot range.
The base unit supports two-way voice communication and comes with a waterproof help button that you can wear as a neck pendant. Like all MobileHelp systems, it comes with a 24/7 monitoring service and a free lockbox.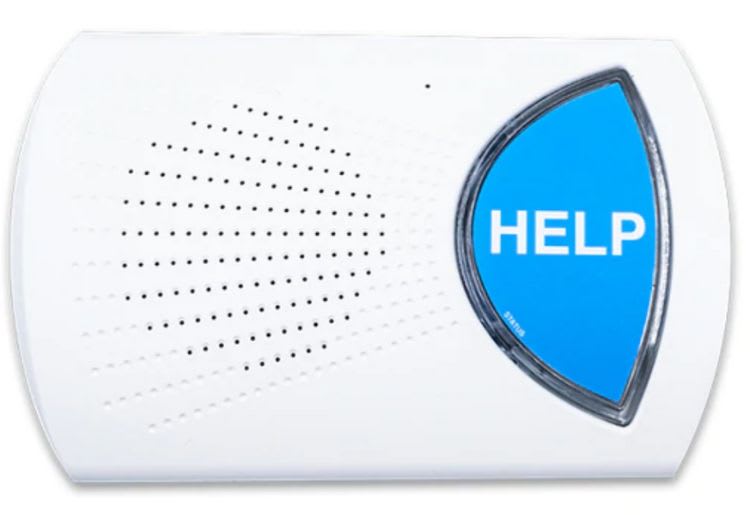 MobileHelp Touch Classic
This easy-to-use MobileHelp touchscreen solution embodies the best-in-class features of the company's at-home emergency response systems, offered in a sleek tablet.
Its plug-and-play design allows for easy installation and even easier day-to-day use. But the touchscreen format also supports a number of advanced health and safety features, such as the option to add Activity Tracking and Medication Reminders.
Because of these advanced features, the MobileHelp Touch Classic is one of the most expensive products at $54.95 per month. But for many users, the high-tech interface justifies the additional cost.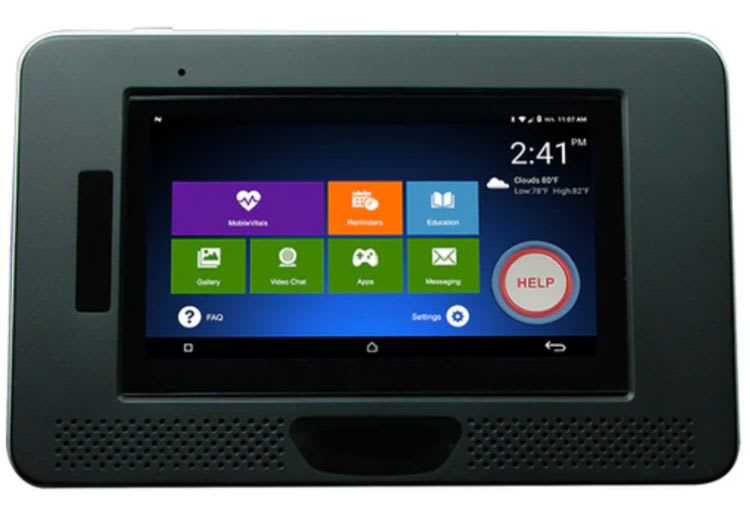 MobileHelp Solo
This is a small, all-in-one system consisting of a mobile unit and a wearable pendant for use in both the home and on the go.
Starting at $37.95/month, MobileHelp's most affordable mobile option comes with its own charger and features a two-way speaker, a help button, and a built-in self-test button.
The mobile unit is very light, and you can carry it in a pocket or purse while wearing the waterproof pendant or wrist strap to easily call for help when you need it.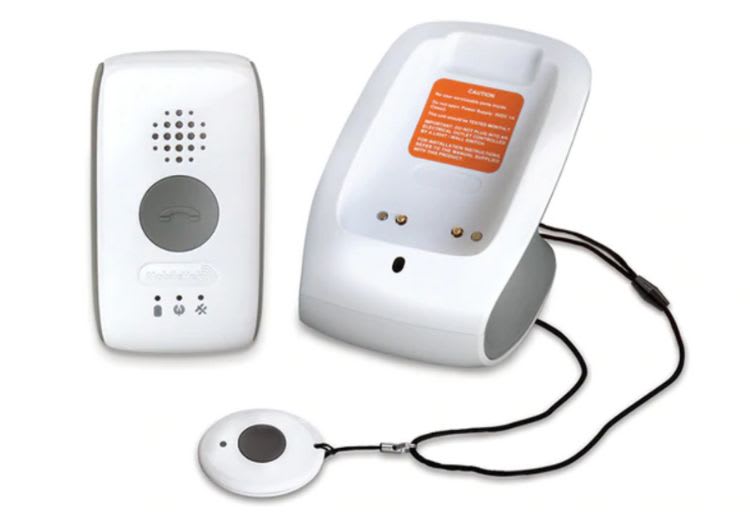 MobileHelp Micro
This is the smallest and lightest version of MobileHelp's mobile devices. The design features sleek housing with a modern and stylish color. It also weighs only 51 grams (1.8 ounces), so you can wear it on its accompanying lanyard.
Its high-quality speaker and cellular connection enable you to communicate with MobileHelp's monitoring center. It also supports GPS location, so emergency services can find you no matter where you are. Starting at $33.95 per month, this is one of the most affordable mobile systems we've seen.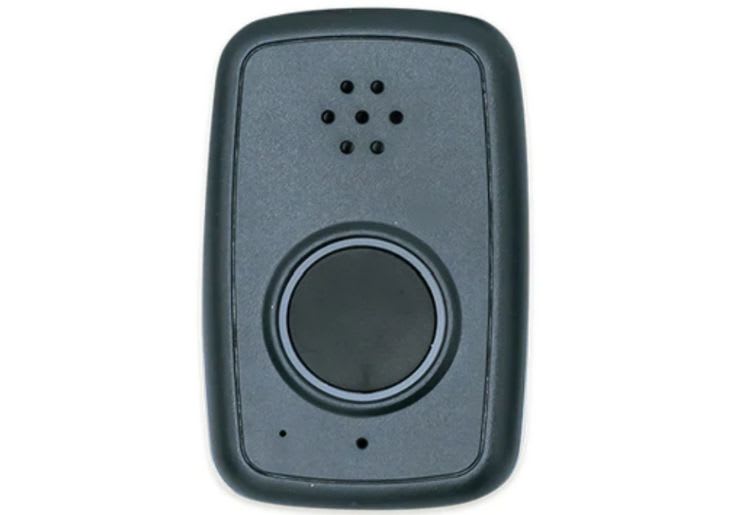 MobileHelp Duo
The MobileHelp Duo, which costs $41.95 per month, is a hybrid system with the same base station and help pendant as the MobileHelp Classic. It also comes with a MobileHelp Solo unit that works when you're away from home.
If purchased separately, these two systems would cost $63 per month. Both the base station and the Solo unit feature full, two-way voice communication with MobileHelp's monitoring center.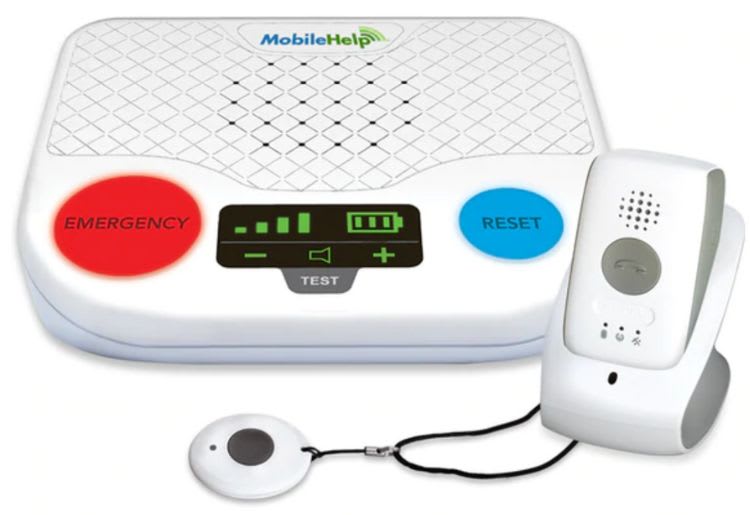 MobileHelp Touch Duo
Similar to the MobileHelp Duo, this hybrid system bundles the touchscreen from the MobileHelp Touch Classic with the MobileHelp Solo unit that works when you're away from home. It offers the on-the-go convenience of a mobile solution with the high-tech features and options of a touchscreen when you're at home.
Starting at $54.95 per month, it costs more than some other MobileHelp systems, but it also offers the most advanced features. You can use the in-home touchscreen system to set medication reminders, track activity, or locate remote users via GPS. It's even Bluetooth and WiFi enabled.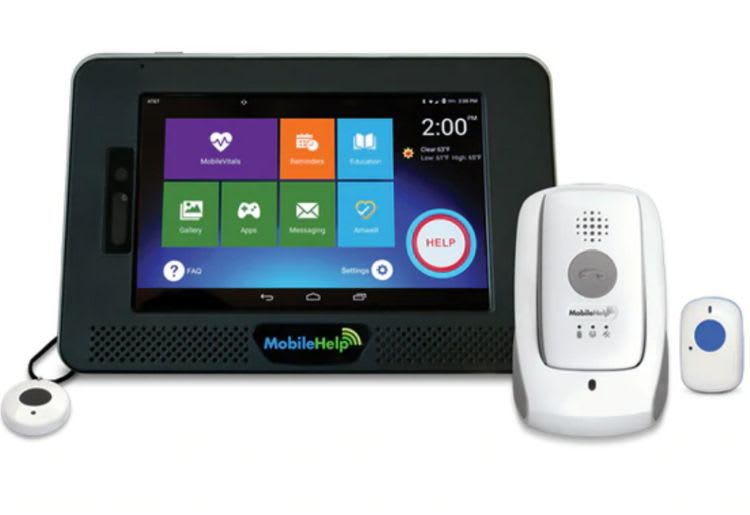 Mobile Duo
The Mobile Duo is the industry's only two-for-the-price-of-one GPS medical alert system. It's ideal for couples, who are often forced by other vendors to buy two systems even though they live in the same house.
At $44.95 per month, the Mobile Duo is only $7 per month more than the MobileHelp Solo. But it comes with two mobile devices, each with its own pendant or wrist strap help button to provide maximum flexibility. This comes to only slightly more than $22 per month per person, which is a great deal.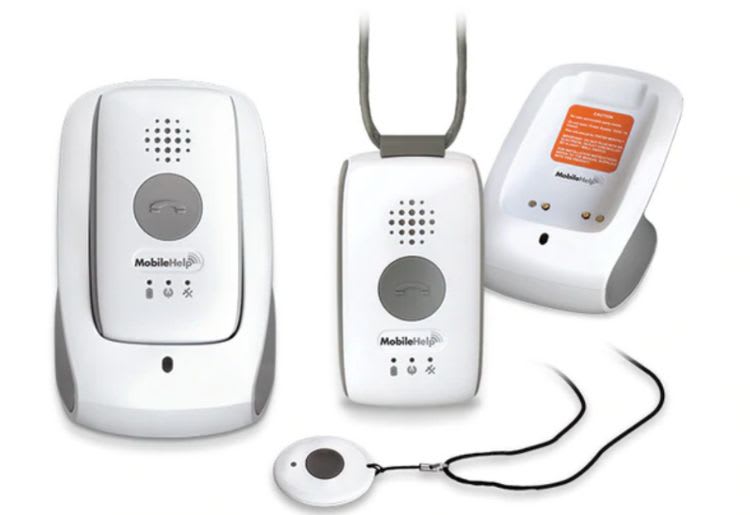 MobileHelp Optional Features & Accessories
Of all the systems we've reviewed, MobileHelp offers the most options, many of them unique and not offered by any of its competitors.
Includes free Help Button, two-year price lock guarantee, equipment replacement (with some deductibles), and discounts on other services.
Worn as a pendant or wrist device, automatically detects falls and summons help. Compatible with all MobileHelp systems.
Enables users to schedule reminders to take their meds via the MobileHelp Connect portal.
Requires fall detection. Monitors and charts your activity via the MobileHelp Connect portal and can mail updates to caregivers.
Adds biometric monitoring, including a digital weight scale, blood pressure monitor, and pulse oximeter.
Uses GPS and cellular data to locate the wearer via their mobile device.
Add extra pendants, wrist devices, or wall buttons
MDLive (Telehealth Service)
Connect to a doctor using your landline phone, computer, or smart device (tablet or cell phone). Does not require insurance or a co-pay.
MobileHelp Installation & Setup
MobileHelp's installation and setup process is simple.
The base stations of most plans are cellular and set up in advance, so there is no connection to phone lines and no need to sign up with a cell phone provider. You simply set the base station on a flat surface and plug the electric cord into an outlet that is not controlled by a light switch.
Testing the system via the base stations or the help buttons is equally simple. Press and hold the test button. The base station will instruct you to press the emergency button or pendant and announce that a test call was sent. If the test was not successful, the base station will ask you to contact technical support.
MobileHelp Monitoring Services
MobileHelp provides 24/7/365, Underwriter Laboratories (UL)-certified monitoring and support in all 50 states through its network of US-based call centers.
Pressing the help button connects you immediately to the monitoring center, where an operator will respond to your call. Many operators speak Spanish, and they have access to an interpreting service called LanguageLine that can translate more than 240 languages.
The operators who answer your call have access to your personal information, including your list of caregivers to notify and in which order. If you are unable to speak, the operators will assume you need emergency services.
In addition, MobileHelp's MobileVitals option uses biometric monitoring to check on your health. Tests include monitoring blood pressure and blood oxygen levels.
If you fall while wearing the MobileHelp fall button, it can call the monitoring center automatically even if you are unable to press the help button. It then uses built-in GPS technology to provide your location to emergency services.
MobileHelp Mobile
MobileHelp App
The MobileHelp Alert app–available for iOS, Android, tablets, and PCs–enables you to control a range of options using devices you are already familiar with.
There are free and paid versions of the app. The free app provides you with access to help via text messaging. When you press the app's help button, an automated text message is sent to your pre-programmed list of recipients using GPS to pinpoint your exact location.
The paid version of the app is available on a subscription basis, which provides you with 24/7 access to monitoring center operators. It comes with an optional Bluetooth-enabled pendant that can activate the app's help button if your phone is out of reach.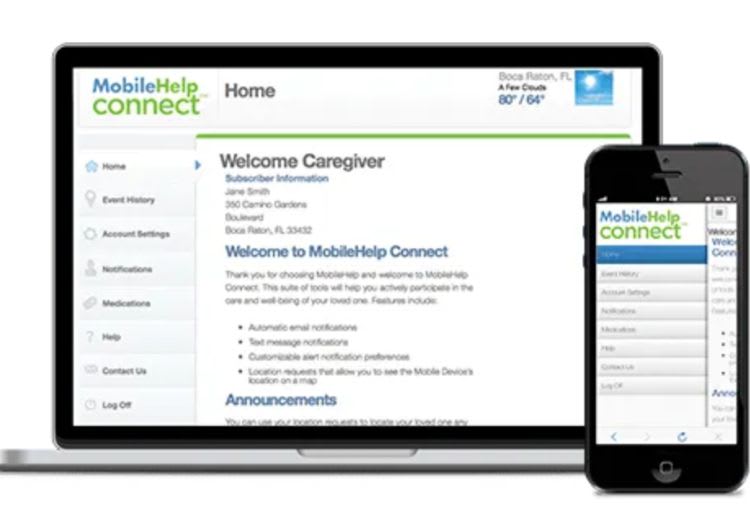 MobileHelp Warranty
MobileHelp does not provide an equipment warranty, but for an additional $5 per month you can subscribe to Connect Premium. This program offers many benefits, including a two-year price guarantee, equipment replacement (either free or with a small deductible), and discounts such as:
A free second help button
25% off MobileVitals service and all accessories
50% off Activity Tracking and Medical Reminders
30 pings per month for Location Detection (a value of $60 per year)
MobileHelp Support & Customer Service
If you have questions about MobileHelp's devices or its services, the company offers 24/7 operator support for emergency situations.
Non-emergency customer service is available via phone at 1-877-827-6207 or online chat. When we contacted MobileHelp via the online chat, we received an email confirmation that our ticket had been received within 10 minutes and a response to our query within 12 hours.
Non-emergency customer service hours are 8am-8pm ET, Monday through Friday, and 9am- 6pm ET on Saturday.
In addition, MobileHelp provides a number of user manuals and quick start guides. It even has a web page full of instructional videos demonstrating how to install and test each of its systems.
MobileHelp Medical Alert Services Pricing
MobileHelp offers a wide variety of subscription plans at $19.95-$54.95 per month, including the cost of your equipment. Some services such as automatic fall detection and GPS tracking require add-on subscriptions.
Cellular, WiFi, Bluetooth
Mobile Duo
(2 Help Buttons)
*Monthly base price, although add-ons increase it. Also, MobileHelp offers discounts and waives the activation fee if you subscribe to quarterly, semi-annual, or annual plans.
MobileHelp Medical Alert Alternatives
How Does MobileHelp Compare to Other Medical Alerts?
Still don't know what medical alert system is best for you? Here's a quick comparison chart that sets MobileHelp against its competitors.
Cost of Upfront Equipment
$19.95 (self-installation fee)
$99 (optional technician installation)
Help Button and Help on the Go + GPS bundles are available
Yes (included in price of HomeSafe with AutoAlert and On the Go system)
Connect Premium,
MobileHelp Fall Button,
Medication Reminders,
Activity Tracking,
MobileVitals,
Location Request Pings,
Extra help buttons,
MDLive telehealth service
Fall detection pendant,
voice-activated wall button,
PIN-protected lockbox,
extra medical alert buttons,
Limitless Icons jewelry-style medical alert pendants,
equipment protection
Extra medical alert buttons
Key lockbox,
medication dispenser,
voice extension communicator
*MobileHelp's activation fees are $49.95 for Classic, $99.95 for Touch Classic and Touch Duo, and $0 for all other systems.
MobileHelp vs. Medical Guardian
These are our two top-rated systems, and both are excellent. They have similar pricing, although MobileHelp offers lower rates for entry-level systems. MobileHelp is also a better choice if you are searching for a system to share with your spouse or roommate. Either system provides excellent service and a good value for your money.
MobileHelp vs. Life Alert
These two companies provide similar products and services, but MobileHelp's prices and equipment are better and are free of the high-pressure sales approach and lack of pricing transparency employed by Life Alert.
It is difficult to even find out which products Life Alert sells and their prices, whereas MobileHelp's product line and prices are clearly spelled out. Given a choice between these two brands, the clear winner is MobileHelp.
MobileHelp vs. Lifeline
Philips Lifeline and MobileHelp offer similar features at similar month-to-month prices. That said, MobileHelp's entry-level system costs much less than Lifeline's. Lifeline's most expensive bundle costs more than MobileHelp's most expensive system.
MobileHelp's devices are more high-tech and sophisticated, supporting options that Lifeline's cannot. Based on the price and value received, we think MobileHelp is a better choice.

MobileHelp Visit Site
The Bottom Line
MobileHelp is one of the most trustworthy providers of medical alert systems. Its product line integrates nationwide wireless voice, data, and GPS into a seamless system that provides 24/7 monitoring, location tracking, and effective emergency assistance.
With its well-thought-out product bundles, competitive pricing, and the option of adding a second person for free with certain systems, MobileHelp seems to offer all the right services at the right price. It's an excellent value.
What Customers Say About MobileHelp Medical Alerts