LifeFone Visit Site
Overview
LifeFone Features – Products & Equipment
LifeFone's five different hardware options offer a good range of choices depending on your needs. The biggest choice to make is whether you want a solution that only works in one location (At-Home) or one that works anywhere you are in the country (On-The-Go), though most plans have slightly different device specifications as well.
At-Home Landline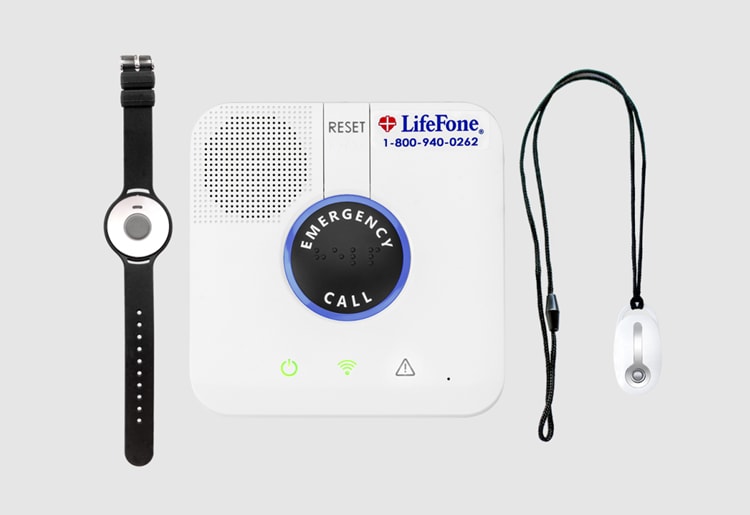 The At-Home Landline is LifeFone's most affordable option at $24.95/month. It connects to your home landline and includes a wearable pendant and an alert watch. It has a range of up to 1,300 feet from the base station, and an alarm can be sent if the room temperature goes above or below your chosen thresholds. Wearables have a battery life of 32 hours, and fall detection can be added on by purchasing a separate pendant.
The At-Home Landline requires a traditional landline to function. It's best for seniors who don't leave the home often, as the alert system only works on a limited range.

At-Home Cellular
The At-Home Cellular system is virtually identical to its landline sister version, but it doesn't require the use of a landline. It does cost an additional $5/month, though.
Like the At-Home Landline, you can add fall detection by purchasing a separate pendant. A signal-strength indicator on the front of the device makes it easier to find the optimal position for the base station within your home.

At-Home & On-The-Go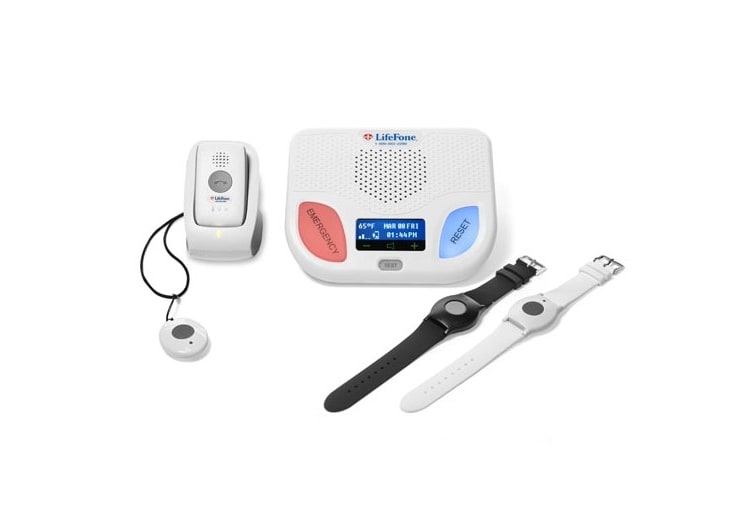 The At-Home & On-The-Go system is similar to the At-Home Cellular, with a base station and a pendant, but adds a wrist-mounted mobile device with a 30-hour battery life and a 600-foot range. An optional fall detection necklace costs $10/month and works up to 1,400 feet from the base unit and 600 feet from the mobile unit.
This package is a stepping stone to a complete on-the-go system. However, there are more devices involved, most of which you need to remember to keep charged. Overall, we recommend that if you need a mobile system outside the home, skip this option and choose the VIP Active® or VIPX.
At-Home & On-The-Go VIP Active®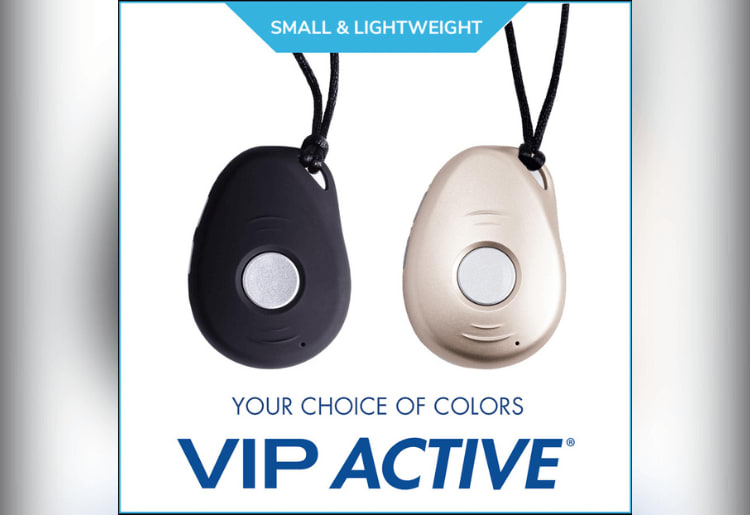 The VIP Active® (Voice in Pendant) option is a significant upgrade in convenience over the standard At-Home & On-The-Go system. It's a lightweight pendant that can be worn around the neck or on a belt clip. It works nationwide, and the battery lasts for up to 30 days.
The pendant has a microphone and speaker, so you can have two-way communication with the LifeFone Care Team Operators. It's waterproof, has a temperature sensor, and can identify your location based on cellular and Wi-Fi technology, making emergency responses all the swifter. However, the VIP Active® is the only LifeFone medical alert product to which optional fall detection cannot be added on.
At-Home & On-The-Go VIPX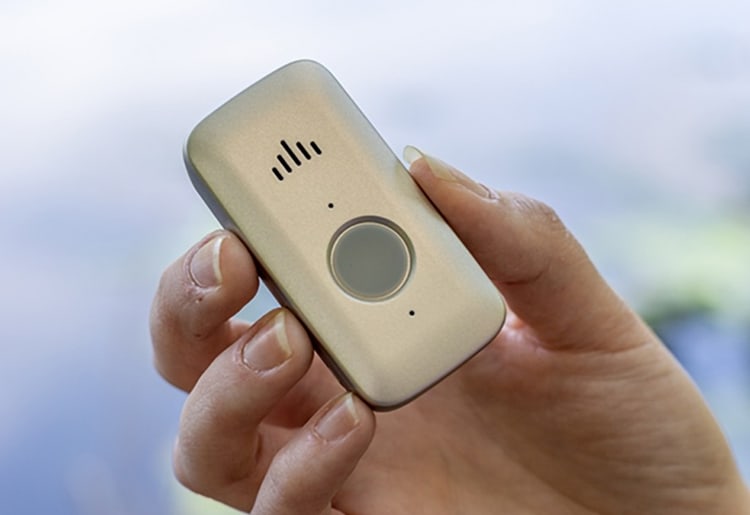 Finally, the VIPX is a further upgrade to the VIP Active®. It comes in a choice of three colors (gold, white, and black) and can include fall detection for an additional $5/month.
The other big addition for the VIPX is support for the LifeFone XIPX Caregiver Mobile App. If you're a caregiver, this mobile app allows you to see the current location of the person wearing the pendant, check their first motion of the day, and even track your loved one's daily steps.
The VIPX device does have a shorter battery life than the other higher-end devices, at 16 days, and it doesn't have a temperature sensor.
Safe Watch Active®
The LifeFone Safe Watch Active® is a medical alert watch that offers GPS-based assistance in case of emergency. The watch is equipped with a range of features including advanced location technology that quickly and accurately identifies the user's location using a combination of GPS and WiFi technology.
The Smartwatch has 2-way communication, enabling users to speak to an emergency care agent using a built-in microphone and speaker. The watch comes with a compact charging cradle.The watch also includes a full sensor suite and weather monitoring feature that tracks daily step count, heart rate, and provides weather updates.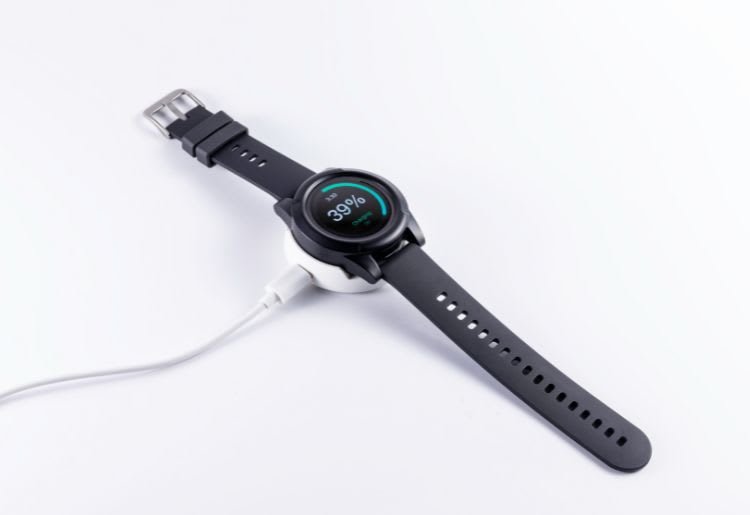 The watch has an all-day battery life and offers optional caregiver services, including location requests and CareAlert notifications that connect caregivers with instant notifications and group chats.
LifeFone Optional Features & Accessories
On top of the standard features outlined above, you can choose from a few optional accessories to make your use of LifeFone even easier. These accessories are sold as a one-time purchase and can only be returned within the first 30 days.
Additional monitoring pendant.

Doesn't support fall detection.
Facilitates emergency access to the home.

Hanging.
Wall Mount Master Lock Box
Facilitates emergency access to the home.

Wall-mounted.
LifeFone Hanging Lock Box
Facilitates emergency access to the home.

Hangs around the doorknob.
Mobile Device Charging Cradle
Extra charging cradle for on-the-go devices.
Protective leather case for mobile devices.
Velcro-mounted help button for activating the LifeFone emergency response system.
LifeFone Installation & Setup
At-Home Landline
Plug in the base unit to the power socket.
Connect the base unit to your telephone wall jack via the jack labeled LINE.
(Optional) Connect your existing landline telephone to the base unit via the jack labeled PHONE.
Turn on the base unit. The front panel light should turn green.
Test your system by pressing the pendant button.
When the operator speaks to you through the base unit, state, "This is a test."
At-Home Cellular
Plug in the base unit to the power socket.
Turn on the base unit. The front panel light should turn green.
Test your system by pressing the pendant button.
When the operator speaks to you through the base unit, state, "This is a test."
On-The-Go Units
Plug the power cord of the mobile device charger into a standard wall outlet.
Place the mobile device into the cradle. While it's charging, the light on the front of the cradle will illuminate.
The mobile device will turn on automatically and connect to the cellular network within 60 seconds.
It will take approximately 3 hours for the device to be fully charged. It is recommended to charge the mobile device each night.
With the mobile device in its cradle, test your system by pressing the help button.
When the operator speaks to you through the base unit, state, "This is a test."
LifeFone Monitoring Services
You can summon help from LifeFone by pressing the personal help button on your wristband, pendant, or wall-mounted button. On-The-Go devices are connected via nationwide 4G LTE cellular and include GPS, so the company will know exactly where you are for immediate assistance.
It's also a good idea to preemptively update your emergency care profile through the LifeFone account portal. This gives LifeFone information such as your address, caregiver, health information, emergency contacts, and physician.
Your emergency care instructions are relayed to the LifeFone Care Agent, who will contact EMS or a loved one you've designated, depending on your situation and preferences. They will keep monitoring you until your medical emergency is over.
Should you choose the optional fall detection service, this help will be automatically dispatched to you in the case of a fall.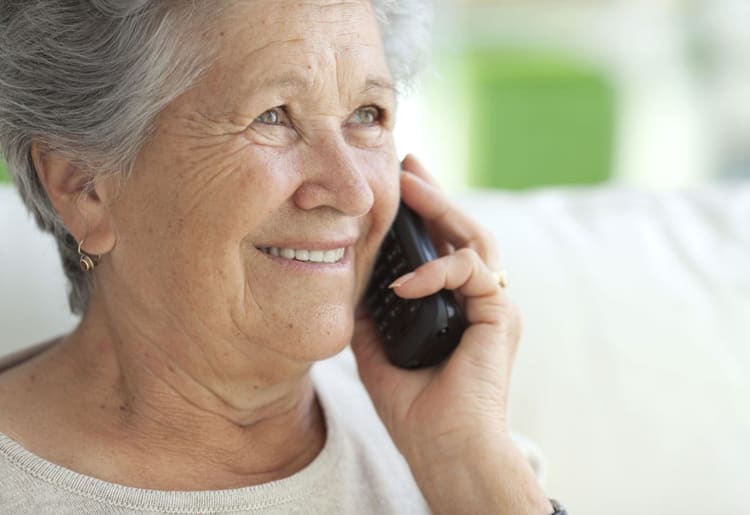 Another interesting optional extra is the LifeFone Daily Check-in Call. For an additional $19/month, a customer care agent will call you each day at a prescribed time to check in on you, give you a medication reminder, or give you a daily reminder.
LifeFone Contracts – Warranty & Insurance
LifeFone equipment has a 30-day money-back guarantee that begins three days after your equipment is shipped. You may cancel your service at any time for a prorated refund, but any purchased accessories are not returnable for a refund.
All LifeFone systems have a lifetime warranty for manufacturer defects, and for an additional $5 per month, you can get insurance for equipment replacement for damage beyond manufacturer defects, theft, or loss.
LifeFone App
LifeFone offers a mobile app for use with the VIPX voice-in-pendant alert. The app is available for Android and iOS mobile devices and costs an additional $8/month on top of the monthly monitoring price.
With the app, if you're a caregiver, you can see your loved one's first motion of the day, track the location of the device, check battery levels, and even set daily step goal targets.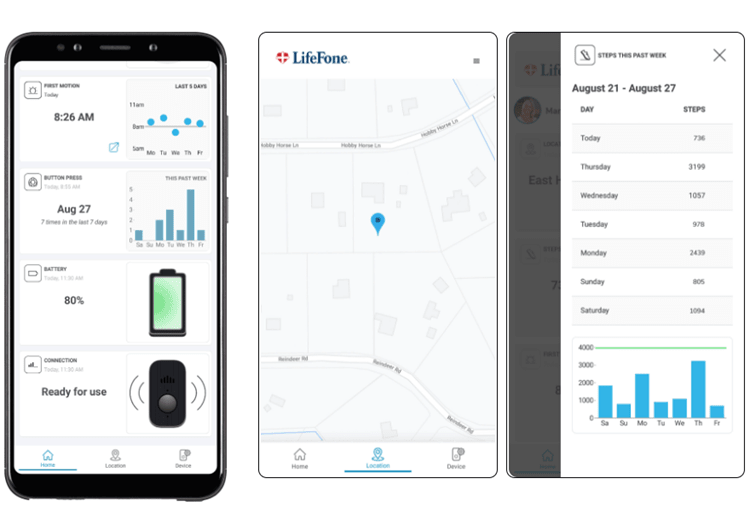 LifeFone Customer Support
LifeFone's website offers useful product information, a blog aimed at seniors, and a basic FAQ. There's no extensive knowledge base here, but you can peruse PDF versions of the user manuals. These are relatively short but offer straightforward information on the functions of all the buttons and what the various lights on the alert systems signify.
LifeFone offers 24/7 support via phone and email. We received replies to our test emails within three hours, and our calls to the support line (800-882-2280) were answered immediately by courteous, knowledgeable agents.
Pricing & Special Offers
LifeFone medical alert plans include two at-home plans and three on-the-go plans ranging between $29.95/month and $41.95/month. You can pay monthly, quarterly, or annually, with a discount of 25% for paying each year in advance. Other than pricing, LifeFone plans differ mostly on the hardware they offer.
Fall detection is available on all plans for an additional cost of $5-$10/month, depending on the plan.
At-Home & On-The-Go VIP Active®
How LifeFone Compares to Other Medical Alert Companies
Cost of Upfront Equipment
Lockbox, carrying case, pendant
Alert 911, buttons, fall detection pendant
Belt, button, lockbox, panic button
LifeFone vs Medical Guardian
LifeFone and Medical Guardian offer similar products, but Medical Guardian's equipment pricing is higher. Medical Guardian arguably has a better suite of caregiver monitoring tools than LifeFone, though LifeFone isn't too far behind. LifeFone's On-The-Go products have longer battery lives than Medical Guardian's products, however.
LifeFone vs Life Alert
LifeFone and Life Alert offer comparable products and are both respected companies in the industry. We recommend LifeFone for larger homes, as LifeFone's At-Home products have a wider range. The cellular service from LifeFone supports both AT&T and Verizon, whereas Life Alert only supports AT&T.
LifeFone vs LifeStation
LifeStation and LifeFone both excel as medical alert systems. LifeStation has a smartwatch option but doesn't offer the wall-mounted help buttons and lockboxes that LifeFone does. If you just want.

LifeFone Visit Site
Bottom Line
LifeFone should be on your list of potential medical alert providers no matter if you need a simple at-home device or an on-the-go device with caregiver remote monitoring. LifeFone's hardware works well and is easy to use, and while it's not the cheapest option on the market, the few extra dollars per month are worth it for the quality of the product and peace of mind this offers you.