One Call Alert Visit Site
How One Call Alert Works
One Call Alert Features - Products & Equipment
One Call Alert has five products, each designed to meet a slightly different set of needs.
In-Home Landline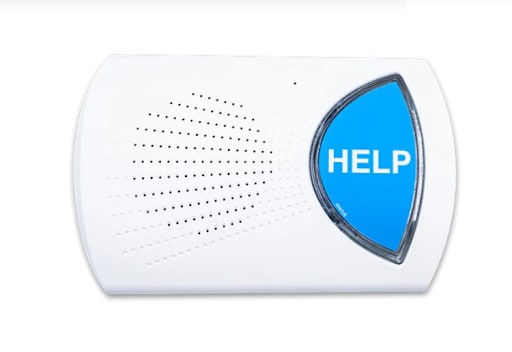 The In-home landline package is One Call's most affordable option for a single user. For $24.95/month, you get a wired base that connects to your existing landline telephone and a wearable, waterproof emergency button that functions anywhere within 600ft of the base. The base also has a built-in speaker that lets you communicate with the emergency center. Simply push the emergency button or hit the big blue Help button on the base for immediate assistance.
There are no extra fees beyond the subscription, and shipping is free. You can also try it risk-free for 30 days.
While this plan is the most affordable option, it does have some drawbacks. It requires an existing landline telephone plan to function and lacks advanced features like GPS tracking and automatic fall detection. Also, it is not practical to use it outside of your home.
Mobile On-The-Go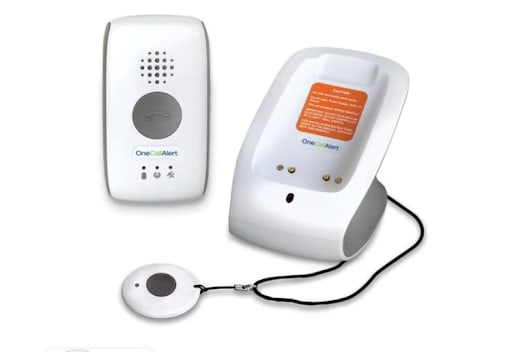 In our opinion, this plan is One Call's best option for an individual living alone. It costs just a few dollars more than the At-Home Landline each month, and you get access to a portable base that you can bring along while buying groceries or visiting friends and family.
The entire system works anywhere there is AT&T cell coverage, which means it will function almost anywhere in the United States. For an additional fee, you can add automatic fall detection. This advanced feature will alert One Call immediately if it detects a fall, even if you cannot push the emergency button.
It also comes with a GPS tracker so that the emergency center can locate you or your loved one immediately in the event of an issue. The Mobile On-The-Go plan is your best option if you want an affordable, portable alert device that does not skip any critical safety features.
In-home Wireless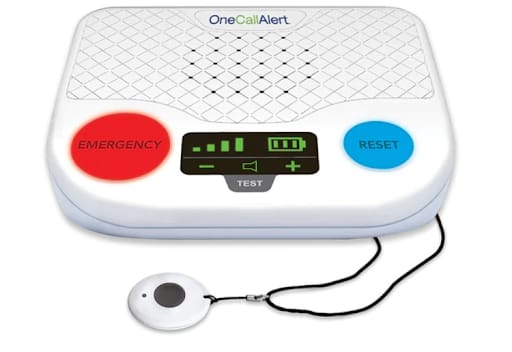 If you don't care about portability and just want all the safety features, the In-home Wireless plan is for you. It comes with a wearable button, a base station, and a speaker, just like the In-Home Landline plan.
Unlike the landline plan's base station, the wireless base station runs off the AT&T mobile network and does not require an existing landline phone plan. Just make sure your home is within AT&T's coverage zone, or your alert device will not work. You can also add automatic fall detection at an additional cost.
Pricing for the In-Home Wireless plan is unusual in that it is significantly cheaper to pay monthly than annually. There is a one-time fee of $49.95 on setup, which is waived if you pay annually, but the monthly subscription fee is so low that it is still a better deal as long as you keep the device for more than five months.
Complete Protection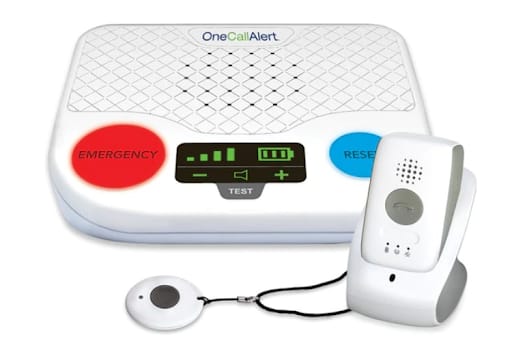 The complete protection plan essentially combines the Mobile On-The-Go package and the In-Home Wireless package at just a fraction of the cost. If you want both an in-home and portable wireless hub and access to all the add-on options, this is the plan for you.
While it is slightly more expensive, you get access to One Call's entire feature set, including GPS tracking, options for automatic fall detection and medication reminders, portability, and speakers to communicate with the 24/7 emergency support center through either the portable or in-home hub.
Mobile Double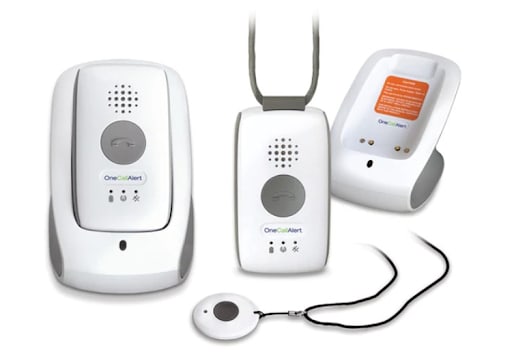 Although technically the most expensive One Call plan, the Mobile Double offers amazing value for money. For $44.95/month, you get two fully functional mobile hubs, a wearable button, and access to GPS tracking technology. Fall detection, as usual, is an extra add-on that you can enable for a fee.
If you want to protect two people, the Mobile Double is your absolute best option, offering two fully functional, portable alert systems for a little over the price of one. Each system is a mobile hub, the same one from the Mobile On-The-Go plan, and comes with the same benefits and features. To put the savings into perspective, two On-The-Go plans would cost you $75.90/month, over $30 more each month than a Mobile Double subscription.
One Call Alert Optional Features & Accessories
There are several add-ons and accessories available for One Call's products. Every plan comes with a free lockbox. The emergency center has the combination to the box, and you can store a spare key in there so medical personnel can access your home if necessary.
You can add an automatic fall detection bracelet to your plan for an extra $10 monthly. If you fall while wearing the fall detection bracelet, this system will automatically contact the emergency center. Always try to push the button manually, just in case, but this system will alert emergency responders even if you cannot.
Comes with any plan
Gives emergency responders a way into your home
Automatic Fall Detection Bracelet
Automatically detects falls, and contacts the emergency center.
Works as a backup if you fall and are unable to push the alert button
One Call Alert Installation & Setup
One Call's equipment was designed with ease of setup in mind.
Step 1: Plug in your Base Station
If you have an In-home kit, find a spot that's easy to reach if you need to press the button or speak with an emergency responder through the device speaker. For the landline model, however, you will need to plug it into a telephone jack.
If you are using a portable kit, any plug will do. You'll need to plug the base in to charge the portable device, but once it's charged, the kit is wireless and can be moved to another outlet.
Step 2: Push the Help button on your base station
Normally, you should only do this in the event of an actual emergency, but for first-time setup, you will need to push the help button to test your device. Push it now, speak to the representative, and confirm that everything is in working order.
Step 3: That's it!
Congratulations, your One Call Medical Alert device is ready to go! Don't forget to bring any alert buttons with you and keep any portable hubs plugged in to charge when you're not using the devices outside the home.
One Call Alert Monitoring Services
One Call Alert does not publicize the locations and number of call centers they operate in order to respond to distress calls. However, we established that they have multiple call center locations with coverage throughout the United States.
You can upload emergency contacts with them by calling the customer service line; an automated assistant will guide you through the process of adding and storing emergency contacts.
One Call Alert Contracts - Warranty & Insurance
One Call Alert does not charge anything upfront for equipment, effectively leasing your gear to you. You are responsible for maintaining the equipment in good working order and returning it to One Call at your own expense if you choose to cancel your contract with them. You can return everything free of charge and get a refund on your first payment if you cancel your plan within the first 30 days.
One call can charge you up to $650 per device for any damaged or lost equipment. To protect yourself in the event of damage, you can purchase the Connect Premium protection plan for an additional $5 monthly. You will not be charged for damage to equipment under warranty, barring a small deductible.
If your equipment fails, One Call may hold you liable unless you have purchased Connect Premium.
One Call Alert App
One Call Alert does not have an app.
One Call Alert Customer Support
You can reach One Call Alert's customer service team by phone, email, or web form. The service email address is cs@onecallalert.com. You can contact customer service at 1-800-913-9098. Hours of operation for the customer service number are from 8 am to 8 pm EST Monday to Friday and 9 am to 6 pm EST on Saturday. When we called the line, we got a response immediately.
The emergency line, which you can contact at 1-800-916-0138 or by pressing the medical alert button on any One Call device, is available 24/7. One Call Alert also has some FAQs on their website, though not too many, and a blog focused on senior health topics.
One Call Alert Pricing
Pricing & Special Offers
One Call Alert offers medical alert packages ranging from $24.95 to $44.95/month. You can choose to pay monthly, quarterly, semi-annually, or annually. There is a discount if you pay annually.
One Call Alert Plans - Packages & Pricing
$24.95/
$22.95 with annual subscription
Landline telephone, wired connection
$37.95/
$32.95 with annual subscription
Cellular, provided by AT&T*, wireless connection
$41.95/
$36.95 with annual subscription
Cellular, provided by AT&T*
$19.95/
$29.95 with annual subscription
Cellular, provided by AT&T*, wireless connection
$49.95 one-time fee (waived for annual subscribers)
$44.95/
$39.95 with annual subscription
Cellular, provided by AT&T*, wireless connection
*You do not have to have a cellular plan with AT&T to use One Call equipment.
One Call Alert Alternatives
How One Call Alert Compares to Other Medical Alert Companies
Cost of Upfront Equipment
Automatic fall detection bracelet
Alert 911, buttons, fall detection pendant
One Call Alert vs Medical Guardian
Medical Guardian is very similar to One Call. However, it is TMA five diamond certified and has a UL safety certification. These credentials mean that Medical Guardian's contact centers are committed to a high standard of quality that's verified through annual audits by an independent reviewer. One Call does not yet have these certifications, but offers better prices than Guardian on some plans.
One Call Alert vs Life Alert
Life Alert is more expensive than One Call, and the devices come with associated activation fees. However, Life Alert is older and more established, with over 500,000 lives saved since 2008. Its monitoring center is TMA five diamond certified and UL certified for safety. One Call Alert does not have this certification, although it is rated 4.6/5 on BestCompany.com from over 700 customer reviews.
One Call Alert vs Medical Alert
Medical Alert offers similar products to One Call at a comparable price level. Its main advantage is that fall detection is bundled into the price and comes installed on all devices by default. With One Call, fall detection is an extra feature that costs $10/month. However, One Call's Mobile Double plan offers significantly better value than buying two devices from Medical Alert.

One Call Alert Visit Site
Bottom Line
One call alert offers a range of medical alert products that will suit most buyers. It has a particularly attractive deal if you want to buy two portable alert devices—essentially two for the price of one.
One area where One Call is lacking is certifications. We would have liked to see a TMA five diamond certification and a UL safety certificate, as these are common industrywide. That said, One Call alert reviews give it a rating of 4.6/5 on BestCompany, and its prices are hard to beat.