Life Alert Visit Site
Overview
How Life Alert Works
Life Alert Features - Products & Equipment
Like most other medical alert companies, Life Alert provides devices for in-home and on-the-go use. The Help on the Go + GPS device is a lightweight mobile unit that works to summon help from anywhere with cellular coverage.
Master Unit
The Life Alert Master Unit is a tabletop base station for the system. It has its own help button and two-way voice communication that connects you with Life Alert operators. A smaller Cancel button enables you to cancel if it's a false alarm or if the situation has been resolved.
The Master Unit supports both landline and cellular connections and provides up to 72 hours of battery backup.
The base unit, which is mandatory even if you opt for the mobile Help on the Go bundle, comes with a remote help button that you can wear as either a pendant or on a wrist strap. You can summon help from within 800 feet of the Master Unit.
The remote help button is waterproof, so you can wear it in the shower. The pendant's batteries last for up to 10 years and don't need recharging. Note, however, that these wearable devices do not support automatic fall detection.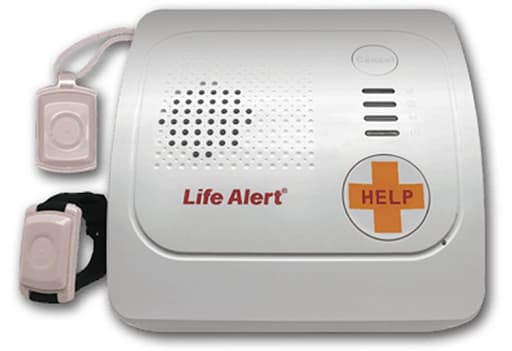 Master Unit + Help Button
This plan offers the Master Unit bundled with one of Life Alert's most popular options, a wall-mounted Help Button.
Most users place this button in the bathroom because it is waterproof and can be installed in the shower or near the tub. But you can also place it in other areas of the house where falls or emergencies are likely to happen, such as near stairs or in the kitchen.
Like the standard pendants, it supports two-way communication and its battery lasts for 10 years.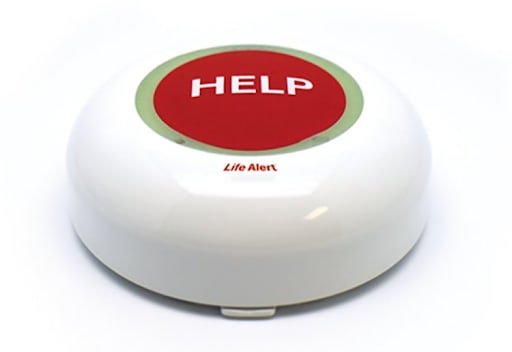 Master Unit + Help on the Go + GPS device
For customers who are active outside the house, Life Alert offers the Help on the Go + GPS device. This plan bundles the Master Unit and Help Button with a wearable device that works anywhere, enabling two-way communication with Life Alert operators from anywhere covered by cellular service.
Because it is small, you can wear it as a pendant, on the wrist, or carry it in a handbag or pocket.
More importantly, the Help on the Go device is GPS-enabled so that it can pinpoint your exact location. This enables emergency services to get to you quickly. Unlike some competitors' mobile solutions, it only connects you with Life Alert operators and doesn't offer direct voice communication with caregivers or EMS.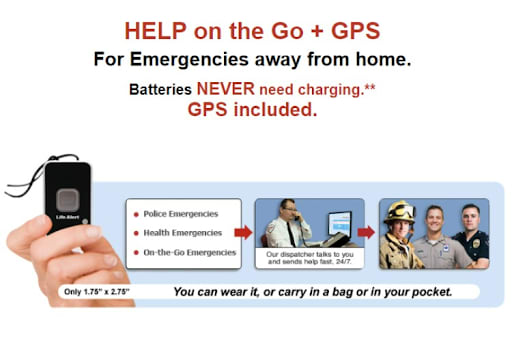 Life Alert Optional Features & Accessories
Life Alert systems are pretty self-contained, so there are almost no add-ons or accessories available for them.
Extra wall-mounted Help Button
$20.00 per month per button
Add to additional bathrooms or areas away from the Master Unit.
Life Alert Installation & Setup
You can use the Master Unit with either a landline or wireless phone service. DIY installation is possible, but Life Alert does offer professional installation. This option could be less stressful for you or your caregivers and is included as part of the activation fee.
To set up a Life Alert base station on a landline, plug it into a power outlet and a phone jack. Press the HELP button, tell the operator you're making a test call, and test the two-way talk capabilities. After determining that the Master Unit is working, you can test the wearable or wall-mounted help buttons the same way.
Setting up the Help on the Go + GPS device is even simpler. There are no complicated activation or registration procedures because Life Alert handles them. You just press the button on the pendant device, and you're connected to the monitoring center.
Similarly, setting up the Help Button is easy, because all you have to do is remove the covering over its adhesive strip and place it in a convenient place in or near your shower (or wherever you feel is the best place to put it). Then just press the HELP button to test it.
Life Alert Monitoring Services
Life Alert owns and operates its own network of Five Diamond certified monitoring centers located throughout the US. They are staffed 24/7 by operators who have spent up to a year being trained about medical conditions, personal safety, and Life Alert equipment.
The company says that it has three times more dispatchers than the traditional security company and that their job is to manage a crisis from beginning to end while always staying in touch with the customer.
Life Alert also enables you to provide the monitoring centers with your medical history, which you can enter in the mobile app. The dispatchers can then respond appropriately when you call.
If you opt for the Help on the Go + GPS bundle, that wearable device also provides the dispatchers (and thus emergency services) with your precise location, wherever you are.
Life Alert Contracts - Warranty & Insurance
Life Alert requires a three-year contract. The contract comes with no trial period, but it can be cancelled and refunded if you or your loved one goes into nursing home or other 24-hour care facility, or passes on. All of the Life Alert equipment comes with a warranty, the cost of which is included in the activation fees.
Life Alert App
If you have a cell phone, you can download a free Life Alert app from either the Apple Store or Google Play, depending on your phone's operating system.
If you are in an emergency, you can contact the monitoring center from your phone, even if you aren't near your Master Unit or have forgotten your remote button. The Life Alert app uses the same one-button interface as the other devices, with a big red help button.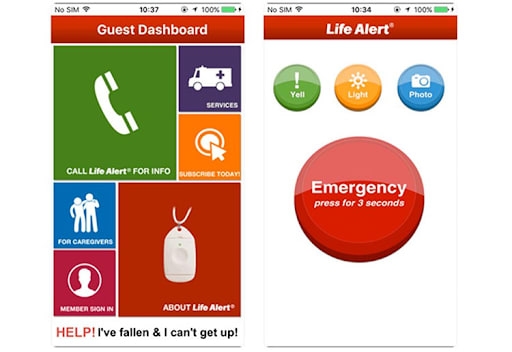 Life Alert Customer Support
While Life Alert's call monitoring centers are well-reviewed for their promptness and professionalism, reviews are often less positive for their customer service. If you're still shopping around, you may find it difficult to navigate the website or locate an 800 number that connects you with someone who doesn't work in the sales department. And the support phone number for existing customers can't even be found on the website. (It's 1-800-338-9090.)
Life Alert Pricing
Pricing & Special Offers
Life Alert differs from most other vendors we've reviewed in that it does not sell the system components separately.
You are required to order the Master Unit ($49.95 per month), but you can also order it bundled with a wall-mounted Help Button for bathroom use for $69.90 per month, or with the Help Button and a mobile Help on the Go + GPS device for $89.95 per month. You also have to pay large ($96-$198) installation, programming, processing, and shipping fees.
One thing to be aware of is that Life Alert often quotes installation/activation fees that are higher than advertised. It's important to know what they are so you can point that out to the sales representative.
Life Alert Plans - Packages & Pricing
In-Home System (Master Unit + pendant)
$49.95/month* + $96 one-time activation fee
In-Home System (Master Unit + pendant and Help Button)
$69.90/month* + $96 one-time activation fee
On-the-go System (Master Unit + pendant, Help Button, and Help on the Go + GPS device)
$89.95/month* + $196 one-time activation fee
*Life Alert offers a discount for those who can pay for a year's service in advance.
Life Alert Alternatives
How Life Alert Compares to Other Medical Alert Companies
Cost of Upfront Equipment
$19.95 (self-installation fee)
$99 (optional technician installation)
Help Button and Help on the Go + GPS bundles are available
Yes (+5/month device protection plan)
Yes (included in price of HomeSafe with AutoAlert and On the Go system)
Extra medical alert buttons
Fall detection pendant,
voice-activated wall button,
PIN-protected lockbox,
extra medical alert buttons,
Limitless Icons jewelry-style medical alert pendants,
equipment protection
Key lockbox,
medication dispenser,
voice extension communicator
Fall detection pendants,
lockbox (with annual subscription)
Life Alert vs. Medical Guardian
Although Life Alert offers trustworthy equipment and monitoring, it doesn't have as many features as Medical Guardian, our #1 rated system.
Medical Guardian offers more high-tech solutions, such as a smartwatch and two-way communication with non-emergency caregivers. It also offers fall detection and useful add-ons and accessories.
Life Alert vs. Philips Lifeline
Lifeline's simple, no-contract, month-to-month pricing scheme and a wider range of important features such as fall detection make it a better choice than Life Alert for most seniors.
In particular, Lifeline's optional medication dispenser can help you manage your medicine intake, and its Key Lockbox option can provide emergency services with easy access to your house if you cannot come to the door.
Life Alert vs. Medical Alert
Medical Alert offers similar features to Life Alert, at lower month-to-month prices. Both systems offer reduced rates for longer subscriptions, but if you know you want a mobile system, both companies require you to buy the home (base station) version as well.

Life Alert Visit Site
Bottom Line
Life Alert is one of the oldest providers of medical alert systems. Both its equipment and its monitoring services are well-reviewed. As a system, it's trustworthy.
However, many of the other systems we have reviewed offer better quality for lower prices. Also, Life Alert has a history of lack of transparency and aggressive sales tactics.
Overall, we recommend looking into some of the other medical alert systems before deciding on Life Alert. They may offer you a better value without the long and difficult-to-cancel contracts.