In a Nutshell
Philips Lifeline fosters dynamic support systems that bring seniors, family caregivers, and doctors together in a holistic framework of physical and emotional security. Included with the Lifeline service, the Philips Cares app is a personal and digital care experience that helps people give each other the time, attention, and care they need at every stage of the aging journey.
pros
Customizable response plan
North America-based response available 24/7
FDA registered protection
cons
No customer support email address
Cellular requires AT&T phone signal
Lifeline Visit Site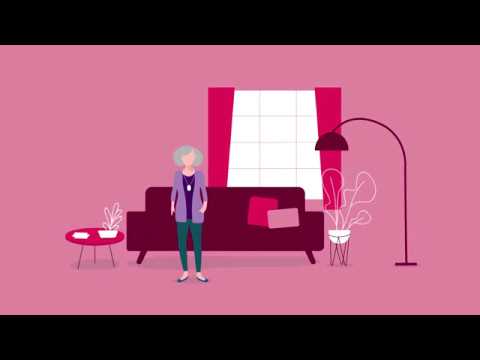 Best For
Seniors with health challenges who want to live independently
Children who want peace-of-mind when it comes to their parents
Caregivers who need to monitor patients 24/7
Monitoring Services
All of Philips Lifeline's medical devices offer its users reliable help at the push of a button. One of the best parts about the service is that you're able to customize your care plan according to your needs, health, and independence. This lets spouses, children, and caregivers, remain in control by choosing how the medical device wearer will get help when the button is pressed. You can choose a neighbor, family member, caregiver, or Philips Lifeline's emergency service. The alert service is fast and reliable, and puts the wearer in touch with a trained associate in less than 12 seconds. The response center is North America-based, offers multilingual support, and is available to assist 24/7. The response center can be used for anything, whether it's a house fire, medical emergency, or the wearer is locked out of their house.
Philips Lifeline monitoring service includes the following features:
Customized care plan
Trained associates
North America-based care
Multilingual support
24/7 care
Product Features
Features vary depending on the product. To find the right product, you will first need to decide if you want a home-based or on-the-go device.
HomeSafe is meant for at-home use. It comes with a wearable pendant or wristband and provides wearers with a feeling of security in and around their home. It gives them more confidence doing daily tasks like stepping out of the shower or walking up and down stairs
It has a wide range so it can send alerts from anywhere within the house, and has two-way voice communication so you can speak directly with a response associate. The pendant is sleek and modern looking, waterproof, lightweight, and comes with a long-lasting battery. The HomeSafe with AutoAlert product has all of the features of the standard HomeSafe product, plus AutoAlert fall detection.
GoSafe is meant for outdoor and on-the-go use. It provides the same monitoring capabilities as HomeSafe, but is GPS enabled so you don't have to stay within range of the base station. GoSafe is light-weight so it's never uncomfortable to wear, and can be worn at all hours of the day. It offers fall detection, like HomeSafe with AutoAlert. It also has 6 locating technologies to allow the response center or medical personnel to quickly identify your location and send help. GoSafe 2 is an all-in-one pendant device, which is waterproof, comes with a rechargeable battery that lasts up to 7 days on a single charge, and has airplane mode for when traveling.
Installation Process
Setting up Philips Lifeline's medical alert products is fast and easy. Both HomeSafe and GoSafe can be used with a standard phone service or wireless service, and the setup is the same. To set up HomeSafe or GoSafe through your home phone line, all that's needed is a power outlet and a phone jack. You will then need to:
Choose a location for the device
Plug in the power cord
Plug the phone cord into a wall jack
Connect your phone to the communicator
Run a test call, and you're done
To set up the device using a cellular network, you'll have to order the Lifeline wireless communicator, which is powered by AT&T. All you do is plug your communicator's power cord into a wall outlet, and you're good to go.
Plans & Pricing
Cost (landline connection)
Cost (cellular connection)
Philips Lifeline's GoSafe 2 costs $44.95 per month, plus a one-time fee of $99.95 for the device itself. There's also a one-time fee of $149. Its most basic home-based device, HomeSafe Standard, costs $29.95 per month for a landline connection and $41.95 per month for a cellular connection, and like the other product, has a one-time activation fee of $50. Lastly, HomeSafe with AutoAlert costs $44.95 per month with a landline connection and $56.95 per month with a cellular connection, and has a one-time activation fee of $50.
There is also a $19.95 shipping cost for all products, as well as an option to pay $99.00 for a Philips technician installation. As far as returns, if your order has already shipped, you will have to pay a $50 cancellation fee. If you've received the product, you can return it within 30 days of the original date of purchase.
Customer Service
If you have any questions regarding Philips Lifelines products or services, you can visit the support page on the website. You will find guides with illustrations and detailed instructions on setup, operation, and device troubleshooting. There are also specific pages for billing support and shipping and returns. Philips Lifeline also has several informative blogs, downloadable tips and guides, and informative videos. If the guides don't answer your questions, you can reach out to the customer support team by phone or live chat. You can also fill in an online form and a representative will respond within 1-2 business days.
Bottom Line
With millions of customers, tons of positive reviews, and the support of Royal Philips Electronics, Philips Lifeline is a trustworthy and reliable medical device company. Not only are its devices sleek and modern looking, they're technologically advanced and durable. The company values its customers and aims to assist them as much as possible. It does this through its quality customer support team and multilingual, 24/7 response center.
Lifeline Visit Site
About Philips Lifeline
Philips Lifeline was founded in 1972 when gerontologist, Andrew Dibner, Ph.D., came up with the idea for an emergency response system. After the company joined forces with Royal Philips Electronics in 2006, it grew to become a global and industry leading medical device provider. It emphasizes a customer-first mentality and constant innovation.
Contact
Phone: 855-681-5351