Lifeline Visit Site
Overview
How Philips Lifeline Works
Philips Lifeline Features - Products & Equipment
Philips Lifeline sells two basic types of device depending on where they will be used. For home use, it's the HomeSafe system, and the alternative is the GPS-enabled On the Go system.
HomeSafe
HomeSafe is a product designed for at-home use. A base station provides two-way communication with Philips's Lifeline monitoring center. It comes with a help button that can be worn around your neck as a pendant or on your wrist as a bracelet. The wearable devices give the system a wide range, so you can send alerts from anywhere in the house, not just near the base communicator. The help buttons are also waterproof, so you can wear them in the shower.
HomeSafe comes in several configurations. The base communicator can support landline and cellular connections (at different prices depending on your choice). You can also choose between the HomeSafe Standard system, which doesn't have fall detection, or the HomeSafe with AutoAlert system, which adds Lifeline's three-axis fall detection technology. With AutoAlert, if you fall and can't press the help button yourself, the system will automatically summon help.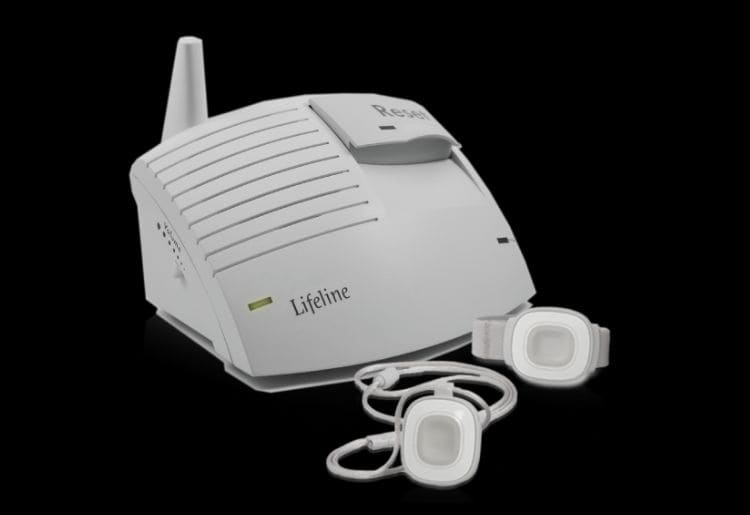 On the Go
Lifeline's On the Go system is for home and on-the-go use. It comprises a charging station and all-in-one help button and communicator, which you wear around your neck. If you press the button, you're connected to the Lifeline monitoring center and can speak directly to a trained care specialist.
The wearable device comes with AutoAlert fall detection, and the pendant is waterproof, so you can summon help from your shower. It features five locating technologies, including Advanced GPS, so you can get help wherever you are.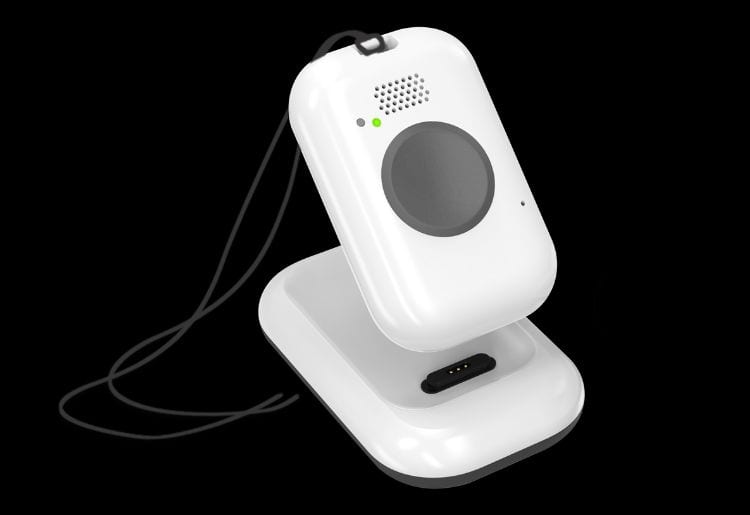 Philips Lifeline Optional Features & Accessories
Each Philips Lifeline system is self-contained and doesn't need add-ons, but the company does offer three accessories you can connect to your medical alert system.
$29.95 per box, one-time fee
Pressing the help button sends your lockbox combination to emergency medical services (EMS), so they can access your home.
Connected to an app, it releases your medication doses at a preset time.
Voice Extension Communicator
An additional two-way-talk base station, to extend signal range in large homes.
Philips Lifeline Installation & Setup
Installing Lifeline's medical alert systems is quick and easy. Each system arrives in a box containing all necessary components, with instruction guides right on top. Instruction videos are also available on the company website. The setup process varies depending on which Lifeline device you selected.
Home Systems
HomeSafe devices can be used with a standard (landline) phone service or with a cellular (wireless) service. To set up HomeSafe Landline through your home phone line, all you need is a power outlet and a phone jack. You should then:
Choose a location for the base communicator.
Plug in the power cord and slide the communicator's power switch to ON.
Plug the phone cord into the wall jack.
Connect your phone to the communicator.
Press the emergency button and run a test call.
Cellular Systems
On the Go devices (and HomeSafe Cellular systems) are even easier to set up. To activate, press the emergency button on the device. After that, simply plug the mobile device into the charger when the battery runs low.
Professional Installation Offered
The above instructions are simple enough, but if you don't feel confident doing it yourself, Lifeline will send a Lifeline technician to install your system for a one-time fee of $99.
Philips Lifeline Monitoring Services
Lifeline has monitoring centers throughout the US and Canada, staffed 24/7 by nearly 200 care specialists whose job is to answer your calls within an average of 12 seconds. Philips Lifeline operators comply with Health Insurance Portability and Accountability Act standards, each receiving training in geriatrics, safety, and stress management.
The Lifeline Cares app that comes with each system enables you to create personalized care plans based on your needs, health, and independence. These specify who will respond when you press the button. You can designate family members, neighbors, caregivers, or Lifeline's emergency service. Trained response center operators can handle various situations, whether it's a medical emergency, a house fire, or being locked out of the house.
Philips Lifeline Contracts - Warranty & Insurance
All Lifeline devices and services are based on a monthly payment. They don't require a contract and can be canceled at any time.
On the Go pendants are guaranteed to be free from defects in materials and workmanship for a period of one year from the date of installation. No other warranties or protection plans are offered.
Philips Lifeline App
Lifeline Cares offers a web portal and free mobile apps for Android and iOS. As a user or a caregiver, the app enables you to manage account and billing details, view device status, designate emergency contacts, and create personalized care plans.
As a caregiver, Lifeline Cares enables you to manage your availability to respond to a loved one's care plan. It includes Caregiver Resources, such as guidance for managing stress and providing better care for loved ones. Emergency contacts can also use the app to find your location if you have the On the Go system.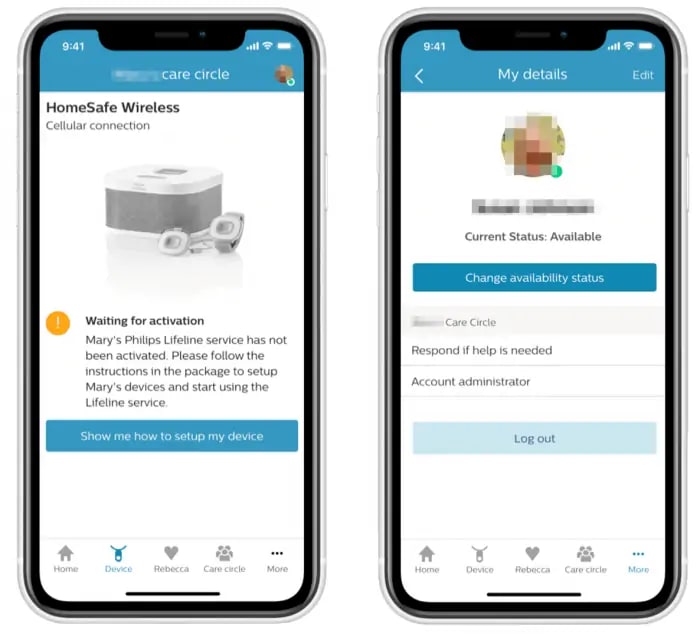 Philips Lifeline Customer Support
If you have questions about Lifeline's devices or services, the Customer Support page on the company website has instructions for setup, troubleshooting, billing support, shipping, and returns, as well as extensive FAQ pages. You can also complete a form to be contacted by a representative within 1-2 days, or contact the Customer Support team at 800-635-6156 8am-8:30pm EST, and Saturday 10am-4pm EST. Response time is usually immediate during those hours. The Lifeline Blog is also a useful and updated resource for education, support, and health tips for seniors.
Philips Lifeline Plans - Packages & Pricing
HomeSafe systems (for at-home use) cost $29.95 to $58.95 per month, depending on features, plus a $19.95 shipping cost and a $50 one-time activation fee. On the Go systems (to protect you at home and when you're away) cost $49.95 per month, plus a one-time device fee of $99.95.
$29.95/month +
$50 one-time activation fee
HomeSafe Standard Cellular *
$43.95/month +
$50 one-time activation fee
$44.95/month +
$50 one-time activation fee
HomeSafe with AutoAlert Cellular
$58.95/month +
$50 one-time activation fee
$49.95/month
$99.95 one-time device fee
Cellular, GPS (On the Go)
* Purchasers of HomeSafe Standard systems can upgrade to include AutoAlert fall detection at a later time, for an additional $15/month.
Philips Lifeline Alternatives
How Philips Lifeline Compares to Other Medical Alert Companies
Cost of Upfront Equipment
$19.95 (self-installation fee)
$99 (optional technician installation)
$95-$98 one-time fee per device
$49
(+$19/month for Bathroom device)
(+$19/month for On-the-Go device)
Included in one-time fee
(+$1 setup/programming fee for Bathroom or On-the-Go devices)
Yes (+5/month device protection plan)
Yes (included in price of HomeSafe with AutoAlert and On the Go system)
Key Lockbox,
Medication Dispenser,
Voice Extension Communicator
Fall detection pendant,
voice-activated wall button,
PIN-protected lockbox,
extra medical alert buttons,
Limitless Icons jewelry-style medical alert pendants,
equipment protection
Extra medical alert buttons
Fall detection pendants,
lockbox (with annual subscription)
Philips Lifeline vs Medical Guardian
Lifeline stacks up nicely against Medical Guardian, our #1 rated system. Both have similar pricing and features, and provide 24/7 monitoring. Medical Guardian offers more high-tech solutions, such as a smartwatch and two-way communication with nonemergency caregivers. Medical Guardian also offers discounts for long contracts, but Lifeline is ideal if you want a basic, month-to-month system.
Philips Lifeline vs Life Alert
The simple pricing scheme and range of features of Lifeline could make it a better choice for most people. In particular, Lifeline's optional medication dispenser can help you manage your medicine intake. Life Alert scores well on its in-home range, but in general, we prefer Lifeline for its simple, month-to-month billing and the availability of fall detection.
Philips Lifeline vs Medical Alert
Lifeline and Medical Alert offer similar features and month-to-month prices, but Lifeline requires activation fees. Medical Alert offers lower rates for semi-annual and annual subscriptions. Also, if you want a mobile solution, Lifeline doesn't require that you buy the home version as well, while Medical Alert does.

Lifeline Visit Site
Bottom Line
Philips Lifeline is one of the oldest and most trustworthy providers of medical alert systems. Its devices are sturdy and durable, and the availability of fall detection and simple month-to-month pricing makes it a good choice for you and your caregivers.
The company values the wearers of its devices, but it also provides resources for caregivers, which few other medical alert systems do. The North America-based monitoring services are reliable and first-class, and the ability to respond in multiple languages is a bonus. All in all, we consider it excellent value for anyone looking for a medical alert system.