In a Nutshell
The UnaliWear Kanega watch is a wearable medical alert device that is designed to be fashionable, sleek, and lightweight. Beyond that, this smartwatch has all the features you could ask for, including fall detection, voice control, and medication alerts. Plus the UnaliWear is AI-based. So it's always learning more about you and how to work better for you.
pros
Automatic fall detection
US-based TMA 5- Diamond and UL Certified monitoring center
24/7 access to emergency response agents
cons
Doesn't work outside of the United States
Watch is only leased and must be returned when contract ends
Best For
Those with medical conditions
Independent, active seniors or high-risk
Medication reminders
Monitoring Services
The UnaliWear watch is always connected to an emergency response team. They're always listening and on-call. So if anything happens, they can respond immediately. If you need assistance, you can just call out. This is a real game-changer because the biggest problem with many medical alert systems is that the client can't reach the system in order to call for help when they need it the most. Your Kanega watch will respond to your voice commands and send help accordingly. When you first set up the watch, you'll be asked to tell it its "name." Then you'll be asked to repeat this twice more to train the system to recognize your voiceprint.
Product Features
The Kanega medical alert watch is definitely one of the most advanced of its kind. It is loaded up with cool features that are as neat to program as they are safe to have. Some of the noteworthy ones include:
The Kanega has built-in fall detection. If the watch thinks you've fallen, it will begin with a small alert sound and an emergency message on the display. If there is no response from you, you will automatically be connected to an emergency response operator with whom you can speak directly through your Kanega watch.
This is one of the most important features for seniors and anyone who requires medical assistance. Voice-control means you don't have to press buttons or get to a receiver to contact medical staff. This is vital in an emergency situation, considering the fact that you may not be mobile enough to get to a base station or to press a button.
Speak to an emergency medical operator directly through the watch. If you need assistance, the operator will send emergency services or get in touch with your friends and family to help you out.
Medication alerts can be programmed into this watch, delivering text or voice reminders
Loved ones can always keep track of where you are. So you're never lost, even if you're disoriented.
Quick-swap battery system
The system provides you with a backup battery and a built-in reminder. So you never need to take off your watch and risk forgetting to put it back on or being out of range while it's charging.
The Kanega watch is waterproof, an important feature considering the fact that so many accidents happen while in the shower while playing sports, or in the rain.
UnaliWear also has an amazing "Guide me home" assistance feature coming soon. This will help guide someone home in the event that they've become disoriented.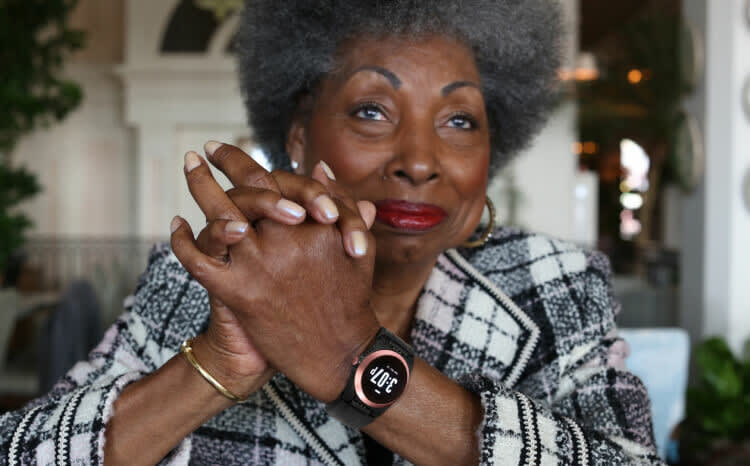 Installation Process
The Kanega is a wearable medical alert in the form of a stylish watch. This is music to most people's ears because it means you won't have to deal with any complicated installations. Just strap the watch on like any other accessory, and your medical alert system is good to go. It'll go with you wherever you go and keep you connected to an emergency medical response team at all times.
Contract & Fees
$59.95/mo (paid up-front)

$69.95/mo (paid up-front)

The UnaliWear watch comes with either a quarterly or annual monitoring plan. If you get the annual plan, you receive a significant discount on the one-time set-up cost and the monthly cost of the monitoring service. Either way, whichever plan you choose, included in that price is:
The Kanega watch
A battery charger with 4 batteries
Accented bezel and crown button
Comfort-mesh stainless steel adjustable band
You'll also get TMA 5-Diamond, and UL Certified monitoring center emergency monitoring services covered via a 4G network. Both plans come with a 30-day risk-free trial.
Customer Service
UnaliWear has non-emergency customer support available via email and phone. Of course, if you have a medical emergency, there are medical alert operators standing by at all times of the day and night 24/7/365. They can be reached directly through the Kanega watch. (see contact information below).
UnaliWear also has a detailed FAQ section that provides you with a lot of useful information about the watch and its monitoring services. Even more useful are the handy How-to videos. UnaliWear's site is loaded up with tons of these useful videos that deliver all the relevant information in a clear and friendly manner. It covers important topics like how to change the battery and getting started using your Kanega watch for the first time.
Bottom Line
The UnaliWear Kanega watch is a ground-breaking innovation that is helping transform the Golden Years for many seniors out there. Craving their independence, seniors of today don't want to be tied down to a single location or activity. The watch offers a solution that can keep them safe and monitored while still remaining active. The Kanega is feature-rich, including fall detection, voice-controls, and even artificial intelligence. Add to that the medication reminders and a sleek design, and the Kanega watch is an obvious choice for any senior looking to feel secure and independent in their day-to-day life.
About UnaliWear
The name UnaliWear comes from the Cherokee word Unalii, which means friend. The watch title, Kanega, means speak. Ultimately, UnaliWear is a company that is trying to tell its customers they're friends that want to speak to you. Launched by Jean Anne Booth out of concern and love for her own elderly mother, UnaliWear watches were born to overcome the challenges of aging safely in today's more active and independent senior society. The idea of including artificial intelligence into a medical alert system was revolutionary, and UnaliWear utilizes the technology proficiently. The Kanega watch can monitor a wearer's behavior, learn from the various movements, and understand motion patterns. Then the system can actually provide predictive support for any changes in the regular motion, speech, or activity level patterns it's learned.
Contact
Phone Support:
+1-888-343-1513, ext. 1
Email Support:
community@unaliwear.com