In a Nutshell
UnaliWear offers a single medical alert device called the Kanega Watch. This smartwatch-like device provides 24/7 monitoring, fall detection, medication reminders, and GPS tracking. It also connects via cellular and WiFi networks. The Kanega Watch is pricey compared to other medical alert devices, but is stylish and functional.
pros
Integrated fall detection
Rechargeable battery is easily swapped
Stylish and unobtrusive
cons
Expensive monthly subscription
Doesn't connect to your smartphone
How Much Does UnaliWear Cost?
If you pay for the Kanega Watch annually, it costs $59.95 per month plus a one-time setup fee of $199. If you pay monthly, it costs $69.95 per month plus a one-time setup fee of $299.
UnaliWear Plans - Packages & Pricing
UnaliWear Features - Products & Equipment
UnaliWear currently offers only a single medical alert device, the Kanega Watch, a smartwatch-like device that's worn on your wrist. It uses cellular networks and WiFi to connect to the UnaliWear monitoring center, and includes GPS tracking, so medical responders can determine your location during an emergency.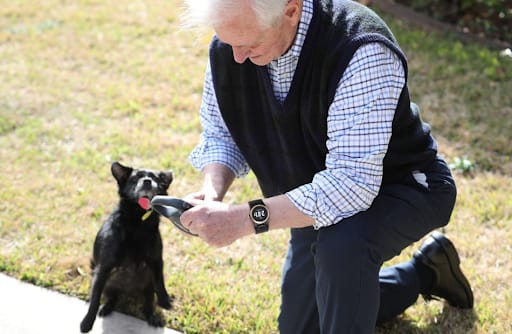 You can activate an emergency response function using a button on the watch or by using a voice command. The watch also includes fall detection. During an emergency, you can communicate with the UnaliWear monitoring center through a two-way speaker on the Kanega Watch.
The Kanega Watch can be worn 24/7 and doesn't need to be taken off for charging. Instead, it includes four rechargeable batteries that you can easily swap out. UnaliWear recommends you swap the batteries out for recharging once every day. The watch also has a built-in battery backup that provides 15 minutes of use in case the rechargeable battery dislodges during a fall.
The Kanega Watch doesn't connect to a smartphone, so it can't be used to read messages or place calls other than to the UnaliWear monitoring center. However, it does provide medication reminders.
UnaliWear Optional Features & Accessories
UnaliWear offers a replacement watch band and additional lithium-ion batteries for the Kanega Watch. The watch band is available in four sizes (small to extra large) and three colors (gold, black, and rose gold). You can also purchase a replacement battery charger, which offers charging for up to three Kanega Watch batteries simultaneously.
Available in four sizes and three colors
Can be easily swapped on and off Kanega Watch
Charges up to three batteries at once
UnaliWear Installation & Setup
The Kanega Watch is ready to use straight out of the box, with little-to-no setup required. You should charge the watch battery before using the watch, which takes a few hours. After that, simply insert the battery into the watch to turn it on.
The first time the watch turns on, it will invite you to activate a voice tutorial. Simply press the emergency button on the watch crown to activate the tutorial.
The watch responds to voice commands from the get-go, and you set your voiceprint by saying "Fred Astaire" three times when prompted. You can initiate an emergency call by addressing the watch and then saying "Get help", or by holding the button on the crown for three seconds. UnaliWear recommends you make a test call when you first receive the watch, and once a month thereafter.
UnaliWear Monitoring Services
UnaliWear provides a single monitoring center in the United States and offers nationwide coverage. Note that the Kanega Watch is configured to work on US cellular networks only, with no coverage outside of the US.
After you initiate an emergency call, dispatchers use the GPS function on your Kanega Watch to determine your location. Your location is known only to those inside the monitoring center, and the GPS only activates when you place an emergency call.
UnaliWear provides the option to file a record of your emergency contacts. You cannot use the Kanega Watch to contact your emergency contacts directly, but dispatchers may reach out to them during an emergency.
Note that UnaliWear's monitoring center is only available for emergencies. The response team is unable to assist with non-emergency requests, such as questions about an illness or medications.
Is There a UnaliWear App?
UnaliWear hasn't created a mobile app for the Kanega Watch, but there is an online portal where you can manage your medication reminders and WiFi networks, and sync them to your watch. The portal enables you to add up to seven WiFi networks for your watch to connect to, and up to five daily medication reminder times.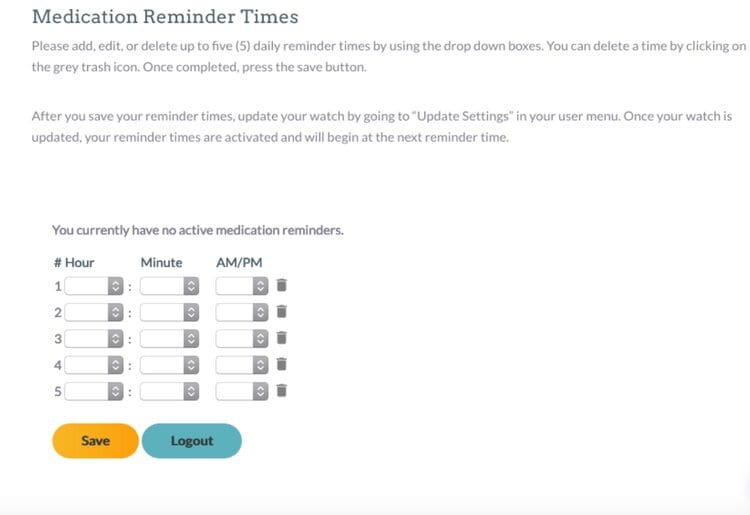 UnaliWear Contracts - Warranty & Insurance
UnaliWear offers monthly and annual billing options. If you wish to cancel your service, you must return the watch, batteries, and charger. UnaliWear does not offer prorated refunds if you cancel your service before the end of your billing period.
The Kanega Watch comes with a one-year warranty against manufacturing defects. Under this warranty, UnaliWear will repair, replace, or refund your device at the company's discretion.
If your watch is lost or damaged, UnaliWear will ask you for a $650 replacement fee. The company doesn't offer a protection plan.
UnaliWear Customer Service - Help & Support
UnaliWear provides customer support by phone, email, and live chat between 8am-8pm Monday to Friday (CT). We got in touch by live chat and were connected to a representative within five minutes.
The UnaliWear website includes a quickstart guide and user manual for the Kanega Watch, as well as six short videos that show you how to use your watch, replace the battery, and adjust the watch band for a perfect fit.
How UnaliWear Compares to Other Medical Alerts
Cost of Upfront Equipment
Watch band, multi-charger, extra batteries
UnaliWear vs Apple Watch
The UnaliWear Kanega Watch bears some resemblance to the Apple Watch, and both provide fall detection. While the Apple Watch doesn't include a 24/7 monitoring service, it will initiate a direct call to 911 when it detects a fall. The Apple Watch also doesn't have an emergency button, and the watch must be completely removed for charging.
Overall, the Apple Watch can work as a medical alert device, but it's designed to be many things rather than a dedicated medical device. This means it isn't a direct replacement for a dedicated device like the Kanega Watch.
UnaliWear vs Lifeline
Philips Lifeline offers at-home and on-the-go medical alert devices. The monthly fee for the company's at-home monitoring device is $29.95, making it significantly less expensive than the UnaliWear Kanega Watch.
However, the Lifeline on-the-go device is a button that's meant to be worn around your neck. It's less stylish and more easily seen than the Kanega Watch. It offers fall detection, but doesn't have features like medication reminders.
UnaliWear vs One Call Alert
One Call Alert offers at-home and on-the-go devices at significantly lower monthly rates than the UnaliWear Kanega Watch. There are also no activation fees, though you'll pay $10 per month extra for a fall detection device.
One Call Alert's on-the-go devices aren't as stylish or well hidden as the Kanega Watch, and they don't offer medication reminders. However, they do offer two-way communication with the monitoring center, and GPS tracking during an emergency.
The Bottom Line
The Kanega Watch from UnaliWear is one of only a few medical alert devices designed to blend in rather than stand out. It looks and functions like a smartwatch, while offering two-way communication with a 24/7 monitoring center. The swappable battery design is also unique, enabling you to keep the device on your wrist 24/7.
While there's a lot to like about the Kanega Watch, it's pricier than comparable medical alert devices. Whether it's worth the cost comes down to whether you value having a medical alert device that doesn't call attention to itself.