When buying a medical alert system, you're investing in your safety, security, and independence. A study focusing on elderly patients in emergency departments highlights the value of medical alert systems, showing that improved safety measures like these can notably decrease hospital stays and enhance the quality of life.
There are many different options for choosing the right system for you or your loved one, each with different features and prices.
Although Life Alert should be on your list of choices, other options may better suit your needs. So, let me walk you through these Life Alert alternatives and help you choose the best medical alert system for your needs.
» Worried about your or a loved one's safety? Discover 10 benefits of medical alert systems for seniors.
Our 5 Best Life Alert Alternatives in 2023:
A Closer Look at the Best Life Alert Alternatives in 2023
1. Medical Guardian
Versatile alert systems with advanced features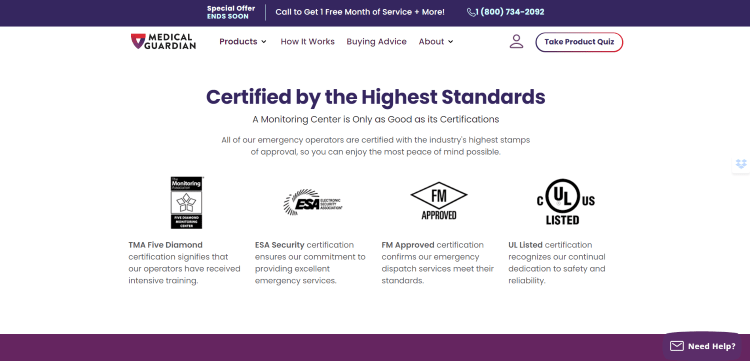 Best for - A variety of devices to suit any lifestyle
Starting price - $29.95-$44.95/month
Fall detection - Yes
Trial period - No
Monitoring center location - US
Field range - 1,400 feet
Medical Guardian is my top Life Alert alternative because it offers high-quality systems tailored for various needs, including in-home, mobile, and even smartwatch options. So there's a suitable choice for you whether you mostly stay home, are always on the go, or prioritize an active lifestyle.
Its systems come with GPS location tracking, automatic fall detection, and biometric sensors for health monitoring. Since falls are especially common among seniors, you get top-notch protection and peace of mind with these advanced features.
What Makes Medical Guardian a Good Alternative to Life Alert?
Life Alert provides in-home and on-the-go solutions to keep you safe but doesn't have an automatic fall-detection feature. If I were to fall, I'd need to press the emergency button myself. With Medical Guardian, I feel more secure knowing it automatically detects falls within 1,400 feet of its base unit and immediately notifies its monitoring center.
Pros
Reliable monitoring
Customizable plans
No activation cost
Cons
Some equipment may come with additional costs
No free trial
Read full Medical Guardian review

Medical Guardian Visit site
» Want more control? Learn about unmonitored medical alert systems today.
2. ADT Health
24/7 US-based monitoring by trained professionals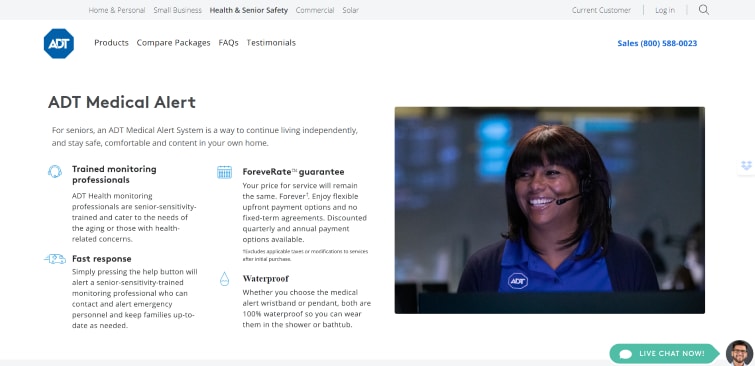 Best for - Quick response times in emergencies
Starting price - $29.99-$39.99/month
Fall detection - Yes
Trial period - No
Monitoring center location - US
Field range - 600 feet
ADT Health stands out with its ForeveRate™ Guarantee, which guarantees that your monthly cost will always stay the same. Its monitoring centers operate 24/7 and are specifically trained to understand and address the unique needs of seniors and individuals with health issues.
While not the cheapest, ADT provides flexible payment plans without long-term contracts, plus free equipment and shipping. It also includes a free warranty to cover your ADT Health devices and accessories. But you must add fall detection for an additional $11/month.
What Makes ADT Health a Good Alternative to Life Alert?
Life Alert ties you to a long-term contract of three years, whereas with ADT, you can choose a monthly, quarterly, or yearly plan. While Life Alert's pendants have batteries that can last up to seven years, ADT's devices run on non-rechargeable batteries, which can be replaced for free.
Pros
Monthly add-ons, such as wall mount buttons and lock boxes
No hidden fees
Two-way communication with emergency personnel
Cons
Restrictions on free replacements for accidental damage
Short device range of 300-600 feet

ADT Health Visit site
» See how a medical alert system can help if you struggle with allergies.
3. MobileHelp
Emergency assistance at home and on the go, even without a landline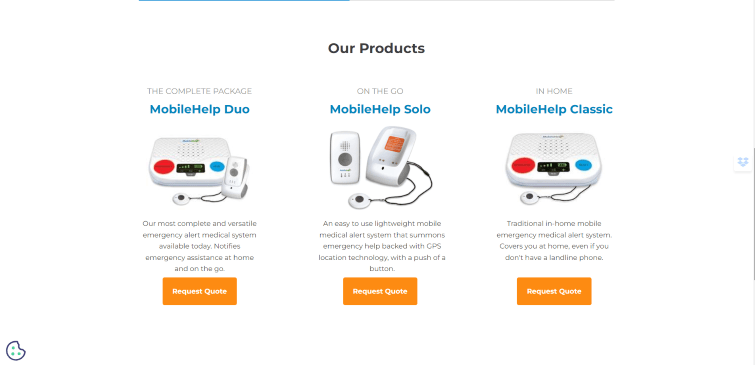 Best for - Upgradeable medical alert systems
Starting price - $19.95-$54.95/month
Fall detection - Yes
Trial period - 30 days
Monitoring center location - US
Field range - 1,400 ft
MobileHelp offers eight different systems catering to diverse needs and preferences. You can lease most of these systems and equipment to stay safe without the upfront cost of buying a device. You can also return them anytime since they're on short-term contracts.
MobileHelp can ensure their safety indoors and outdoors with a coverage range of up to 1,400 feet from the base unit, surpassing Life Alert's 800-foot range.
What Makes Mobile Help a Good Alternative to Life Alert?
I appreciate that MobileHelp doesn't have an activation fee, especially after learning that Life Alert charges between $95 and $198. Also, MobileHelp's $10/month fall-detection plan—which Life Alert doesn't offer—would give me extra peace of mind.
Pros
Provides access to telehealth features
Doesn't require a landline
Free shipping
Cons
Equipment warranties cost an extra $5/month
You must wear a second device for fall protection

MobileHelp Visit site
4. One Call Alert
Water-resistant mobile devices with GPS tracking and two-way communication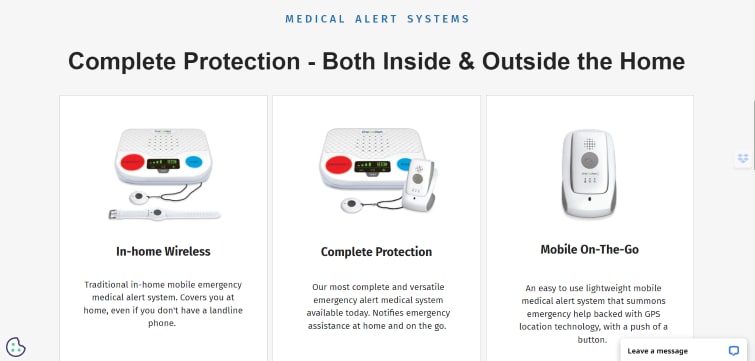 Best for - Budget-conscious individuals
Starting price - $19.95-$44.95/month
Fall detection - Yes
Trial period - 30 days
Monitoring center location - US
Field range - 1,400 ft
One Call Alert has a standout bundle deal, providing two all-in-one, water-resistant devices at $44.95/month—typically costing upwards of $80/month. This is an exceptionally cost-effective option for two seniors living in the same home.
One Call Alert's In-Home Wireless system also supports a 1,400-foot service range, ensuring you're covered even in larger homes or yards. Plus, with GPS-enabled tracking, your exact location is pinpointed during emergencies, so you get found and assisted as quickly as possible.
What Makes One Call Alert a Good Alternative to Life Alert?
Life Alert provides a mobile app to reach their emergency call center. However, I feel more secure knowing that One Call Alert's two-way voice feature lets me instantly connect with trained professionals whenever I need them. Additionally, I like One Call Alert's diverse range of systems, including in-home, mobile, or fall detection options.
Pros
No long-term contracts
Water-resistant devices
Free lockbox
Cons
Fall detection costs extra
Some devices use non-rechargeable batteries
Read full One Call Alert review

One Call Alert Visit site
5. LifeFone
A cost-effective medical alert solution offering daily check-ins and medication reminders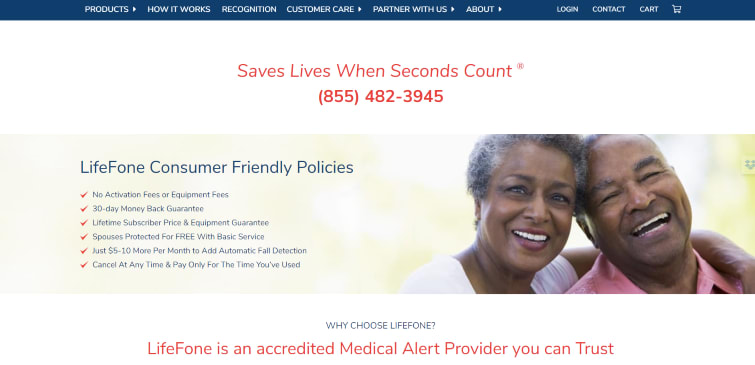 Best for - Caregivers wanting to stay informed about their loved ones' well-being
Starting price - $29.95-$49.95/month
Fall detection - Yes
Trial period - No
Monitoring center location - US
Field range - 1,400 feet
LifeFone provides landline and cellular options, with supplementary features like daily check-ins, medication reminders, and lock boxes. You can also add fall detection for $5/month, which works wherever Verizon or AT&T cellular services are available.
With LifeFone, you get GPS tracking and direct two-way communication. Plus, its voice-activated operates hands-free, and by linking it with LifeFone's Caregiver App, your caregivers can always stay in the loop and connected to you.
What Makes LifeFone a Good Alternative to Life Alert?
I appreciated LifeFone's transparency: their website listed all the prices for systems, add-ons, and accessories. On the other hand, Life Alert's website didn't provide clear pricing details. While LifeFone activated my system for free, I discovered Life Alert would've charged me a $198 installation fee.
Pros
No activation fee
Care agents are based in the US and available 24/7
30-day money-back guarantee
Cons
Accessories can be pricey
Fall detection isn't included in the base price

LifeFone Visit site
Best Life Alert Alternatives: Make the Right Choice
Finding a device that aligns best with you requires careful consideration, as everyone's needs differ. For instance, GPS tracking may be ideal if you're seeking a system for someone with memory problems. Or, if you've experienced a fall before, a device with robust fall detection should be a priority.
Thanks to modern technology, you can safely live alone in your home and even enjoy outdoor activities, knowing your medical alert system has your back.
» Get protection on the go with one of the best medical alert buttons for active seniors.