Medical alert systems for seniors promote independence and safety at home, offering caretakers peace of mind when away from their elderly loved ones.
These devices are more accessible than ever to install and use, making it as simple as pushing a button or pulling a string to call for help.
You can access features like fall detection, wearable devices, and medication reminders on medical alert systems. All medical alert systems offer 24/7 monitoring and can quickly dispatch family or first responders as needed, even if medical treatment isn't required.
Keep reading to learn more about the ten key benefits medical alert systems provide seniors.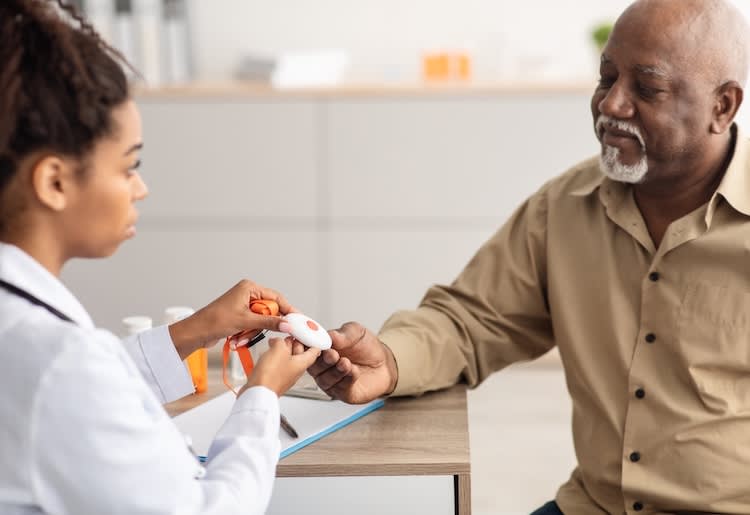 1. Ease of Use
Medical alert systems are easy to use and install. You can connect them to a landline or cellular network and use a phone or wear a necklace or wristband with a button to push for assistance. The base unit connects to a dispatcher who can talk to you or call for help.
In 2020, over three million emergency room visits resulted from senior falls, with over 36,000 deaths reported. Some medical alert systems provide fall monitoring and detection devices that alert dispatch centers with signals indicating loss of balance and can send help quickly in an emergency.
» Looking for small, light alert buttons? Check out these medical alert buttons for active seniors.
2. Affordable
Promotional discounts are often available from companies. There are plans out there for as low as $19.95 per month and may include no contract fees, lifetime warranties, and fall detection options.
Medical alert systems enhance safety and can reduce the need for costly doctor appointments, emergency room visits, and inpatient hospital stays.
3. Assistance in Multiple Languages
As multicultural and multilingual communities continue to grow across the United States, it can be challenging to communicate in an emergency if you or your elderly loved one is not fluent in English. Fortunately, many medical alert systems have multilingual dispatchers to provide quick assistance.
Several studies highlight communication challenges in multilingual settings, which can pose safety risks. The extra assurance that you can effectively communicate your needs is essential to your safety.
4. Diverse Model Options
Today's systems include options for active seniors, such as on-the-go models with GPS tracking, fall detection, waterproof devices for swimming, and smartwatches with health monitoring.
According to AARP, adults over 50 travel more than ever. A medical alert system provides added assurance and safety for loved ones who are always on the move.
5. Speedy Assistance in an Emergency
Accidents happen even if you're careful, but a medical alert system can help with the push of a button. With fast response times, a dispatcher can contact you for details on your emergency or call emergency services and your family for help.
According to the National Institute on Aging, seniors prefer to live at home instead of moving to assisted living facilities. To make your home safer, consider installing grab bars or a ramp. A medical alert system can provide quick access to emergency personnel.
» Elevate your health with a smartwatch.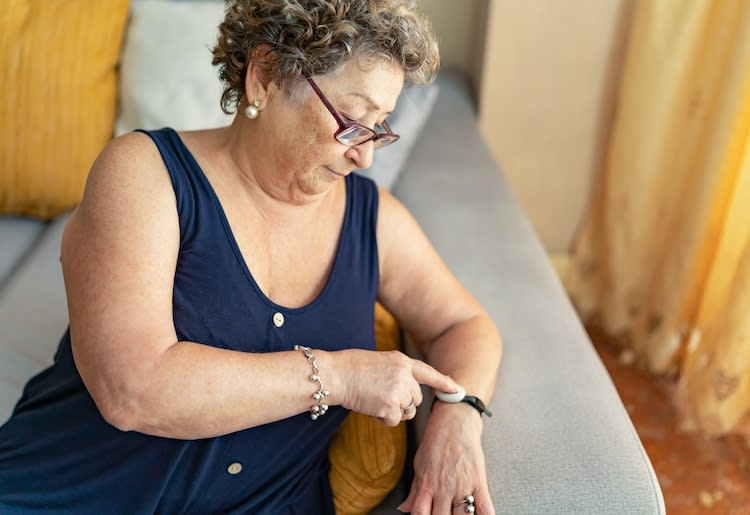 6. 24-Hour Monitoring
Medical alert systems have dispatch available 24/7, so you can activate your device early in the morning or at night, an especially beneficial factor for patients with chronic conditions like diabetes.
With 24/7 medical monitoring, medical professionals can continuously monitor and analyze seniors' blood sugar levels, allowing for early detection and intervention of any abnormalities in blood sugar levels.
7. Fall Detection
Falls can happen no matter how careful you are. Still, fall detection devices can prevent or lessen injuries and often stop the worst outcomes from becoming a reality. Wearable fall detection devices have sensors that track sudden position changes. They alert the monitoring service and contact emergency services.
8. Peace of Mind for Family Members
Mobile apps and online tools make it easy to stay connected and informed with system alerts, activity tracking, and location tracking.
With 20% of Americans 60 and older living alone, family members often worry about their safety and wellness. Medical alert systems can help alleviate these concerns by providing a sense of security.
9. Discreet Devices
Many active seniors prefer discreet, smartwatch-like devices over traditional medical alert bracelets. Some companies even make sturdy jewelry-style pendants that match everyday wear. These will help you feel more confident while you're out and about on your own.
10. Increased Independence
Medical alert systems help seniors stay independent and age comfortably at home. Features like fall detection, waterproof devices, and medication reminders make these systems even more appealing.
Medical alert systems offer seniors independence and the security that they have help available whenever and wherever they need it.
» Experience the benefits of technology and take control of your golden years.
Choosing the Right Medical Alert System
Aging can make living alone feel unsafe due to factors like heart problems, memory issues, or medication side effects. In the past, these issues would force seniors to move in with family or assisted living, but advanced technology has made medical alert systems more accessible and user-friendly.
Medical alert systems offer customizable options. Medical Guardian has at-home and on-the-go systems with 24/7 monitoring and fall detection. MobileHelp offers affordable plans, starting at $19.95, with no contracts and can cover two people. With so many systems and options, finding a perfect fit for your lifestyle is easier than ever.