Blue Apron is a meal delivery service that offers a wide range of delicious and easy-to-use meal kits for any dietary preference and restriction. Most of the meal prep is done for you, giving you more time to do the things you enjoy.
Here are 10 of the best-rated dishes on the Blue Apron menu, along with the recipe card instructions for preparing them with the given ingredients. Even though all their chef-created recipes are amazing, these dishes are the top favorites among their regular customers.
» Want to check out more options? Here are our top picks for the best meal delivery services.
1. Barbeque Cornish Game Hen With Coleslaw and Sautéed Corn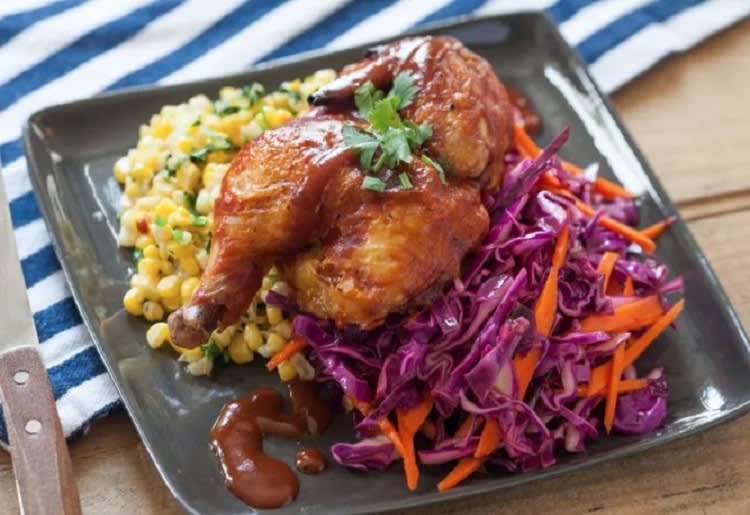 This traditional North American dish is an all-time favorite. The meal works great for a low-carb, moderate protein diet, and red cabbage and carrot in the slaw are a powerhouse of vitamins and minerals (1).
The ingredients include a split Cornish game hen, barbeque sauce, sesame oil, carrot, red cabbage, corn, lemon, butter, cilantro, and garlic.
Recipe Card Instructions
Drizzle the Cornish hen with olive oil after seasoning it well with salt and pepper, and roast in the oven at 450 degrees for 20-25 minutes.
To make the coleslaw, combine red cabbage, carrots, sesame oil, lemon juice, and olive oil in a bowl. Sauté the corn with butter and garlic and stir in some chopped cilantro.
Brush the Cornish hen with barbeque sauce as soon as it comes out of the oven. Plate the different components together and enjoy.
2. Maple & Ginger Glazed Salmon With Watercress, Orange, and Parsnip Salad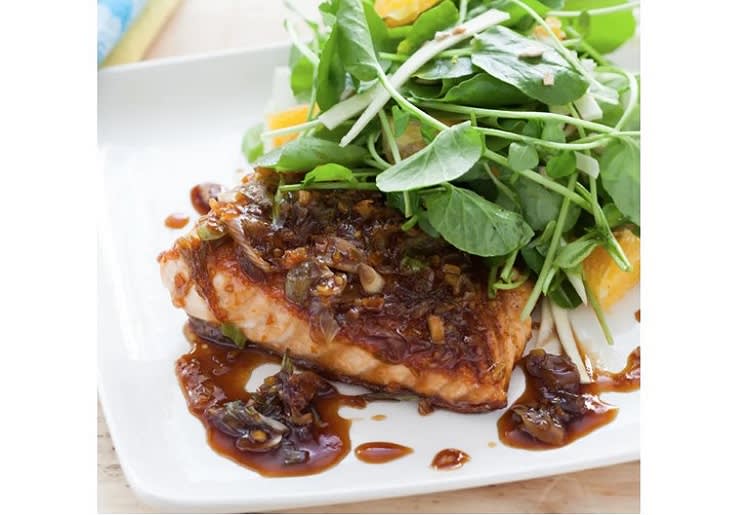 This dish will take you to Europe and give you a glimpse of their cuisine. Salmon is rich in heart-healthy omega-3 fatty acids, and watercress and parsnip contain many essential nutrients.
Ingredients include salmon fillets, scallions, garlic, watercress, parsnip, maple syrup, sesame oil, ginger, orange, sunflower seeds, and soy sauce.
Recipe Card Instructions
Start by toasting the sunflower seeds and making the vinaigrette with orange juice, scallions, salt, pepper, and olive oil.
Cook the salmon fillet skin-side down in a hot skillet coated in olive oil. In the same pan, make the glaze with garlic, ginger, scallions, maple syrup, orange zest, soy sauce, sesame oil, and water. Next, glaze the cooked salmon by adding it back to the pan and coating it in the sauce until thickened.
In a large bowl, combine the watercress, chopped orange, parsnip, and toasted sunflower seed. Season with salt and pepper, and add the vinaigrette. Serve with glazed salmon.
3. Thai Shrimp Soup With Coconut, Lemon grass, and Red Curry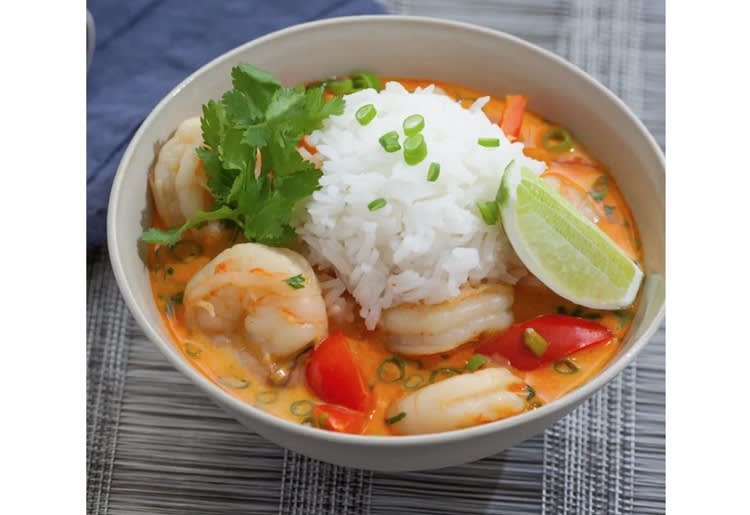 This delicious shrimp soup is infused with aromatics and takes you straight to Southeast Asia. Shrimp has a great nutrition profile and gives high doses of selenium, iron, zinc, and magnesium (2).
Ingredients include shrimp, coconut milk, lemongrass, scallion, red curry paste, ginger, garlic, lime, cilantro, jasmine rice, red bell pepper, and coconut palm sugar.
Recipe Card Instructions
Cook the rice. In a medium pot, cook the garlic, ginger, minced lemongrass cores, scallions, and red bell pepper. Add in the red curry paste, coconut milk, coconut palm sugar, lime zest, remaining lemongrass stalks, and a cup of water.
Add seasoned shrimp to the soup and cook until they are opaque. Once done, discard the lemongrass stalks, garnish with cilantro and lime wedges, and serve over rice.
» More: 10 Fat-Burning, High-Protein Meals Pescatarians Love
4. Chicken & Sage Biscuit Pot Pie With Cremini Mushrooms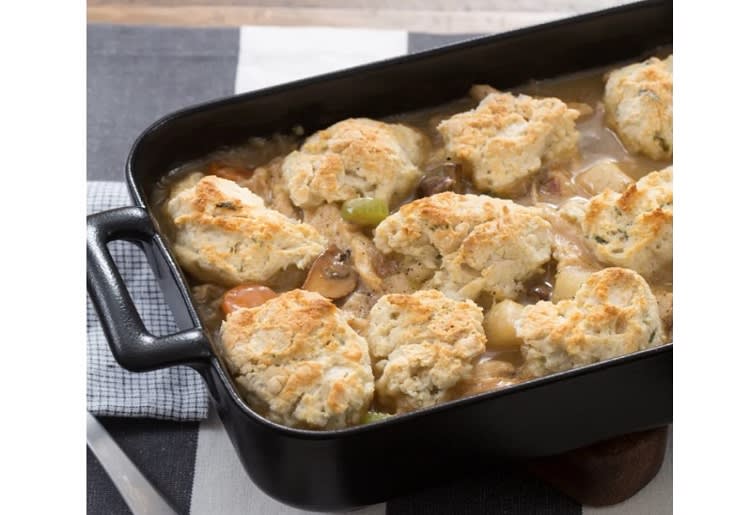 Chicken pot pie is a classic staple in most households. The flaky sage-infused biscuits are layered over rich chicken stew and vegetables, making for the perfect comfort food.
Ingredients include boneless chicken breasts, all-purpose flour, chicken demi-glace, crème fraîche, cremini mushrooms, celery, sage, buttermilk biscuit mix, carrot, and purple top turnip.
Recipe Card Instructions
Cook and shred the chicken. Cook the mushrooms, carrots, celery, and turnip, and season with salt and pepper.
Add flour and cook until golden. Then, add the crème fraîche, demi-glace, sage, water, and other seasonings. Once the liquid has thickened, stir in the shredded chicken.
In a bowl, combine the biscuit mix with sage, and season with salt and pepper. Slowly stir in cold water. With a spoon, top the filling with biscuit batter and bake for 12-14 minutes at 450 degrees.
Remove from the oven and enjoy!
5. Crispy Skin Salmon & Orzo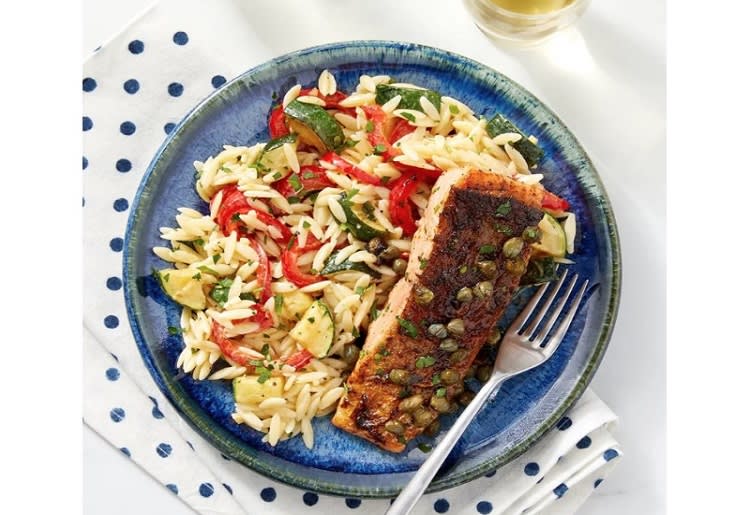 This dish is served with a rich, tangy lemon-caper sauce made of butter, lemon, and salty capers. Salmon is very nutritious, and lemons and capers are also rich in antioxidants.
Ingredients include salmon fillets, orzo pasta, garlic, lemon, zucchini, bell pepper, capers, salted butter, and Weeknight Hero Spice Blend.
Recipe Card Instructions
Start by cooking the pasta. In a medium pan, cook the zucchini, bell pepper, and garlic. In the same pan, cook the salmon seasoned with the spice blend until brown and crispy.
For the sauce, add butter, chopped capers, and lemon juice to the pan. Add the sauce and veggies to the pasta and stir. Top with crispy skin salmon and garnish with lemon wedges.
» In the mood for something sweet? Try out these 10 healthy desserts for weight loss.
6. Shiitake Mushroom Burgers With Miso Mayonnaise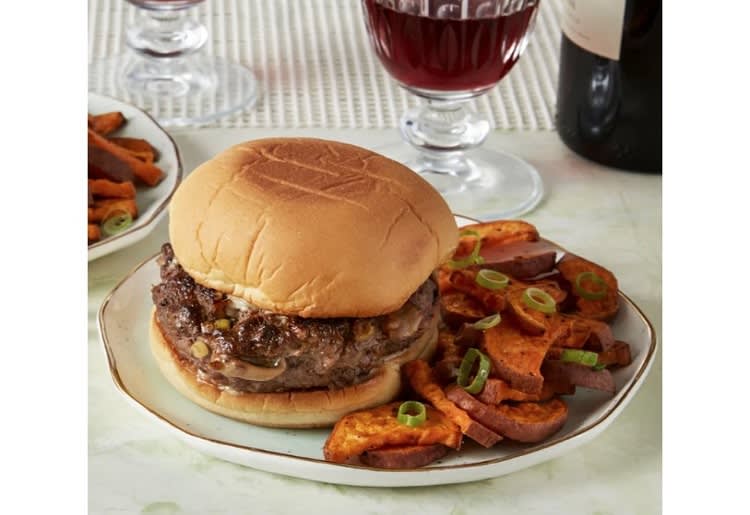 This delicious burger is made even better with amazing sides. It's sheer umami in every bite, and miso contains a high amount of vitamin K, manganese, zinc, protein, and calcium—healthy and delicious!
Ingredients include ground beef, sweet potatoes, miso paste, garlic, scallion, mayonnaise, dried shiitake mushrooms, potato buns, hoisin sauce, and sweet white miso paste.
Recipe Card Instructions
Make the miso mayonnaise by simply combining miso paste and mayonnaise. Roast the sweet potatoes in a 450-degree oven with olive oil, salt, and pepper for 16-18 minutes.
Form the patty by combining ground beef, garlic, hoisin sauce, scallion, and finely chopped mushrooms. Cook them in a hot pan to the doneness you prefer. Next, toast the buns in the oven.
Spread the toasted buns with miso mayonnaise and add your patty. Serve with roasted sweet potato topped with scallions.
7. Spicy Chicken Stir-Fry With Carrots and Green Beans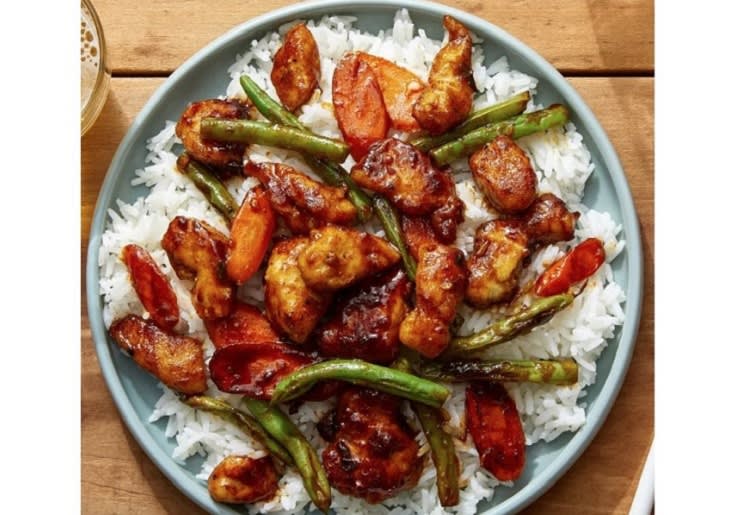 This meal is served on a bed of jasmine rice and has a 5-star rating. The chicken provides lots of lean protein, while carrots and beans add essential nutrients. There is no going wrong with this one!
Ingredients include chopped chicken breast, jasmine rice, carrots, green beans, sesame oil, rice flour, Asian-style sautéed aromatics, soy glaze, apple cider vinegar, and black bean-chile sauce.
Recipe Card Instructions
To make the sauce, combine soy glaze, sesame oil, vinegar, and black bean-chile sauce. Cook the rice until tender and fluff with a fork.
In a large pan, add the sautéed aromatics, green beans, and carrots, and cook until softened. Remove from the pan. In the same pan, cook chicken coated in flour until browned. Next, add the vegetables and sauce and cook for another 1-2 minutes.
Plate the rice and top with chicken and vegetables beautifully glazed with the sauce.
8. Cod Sandwich with Caper Aioli and Endive Salad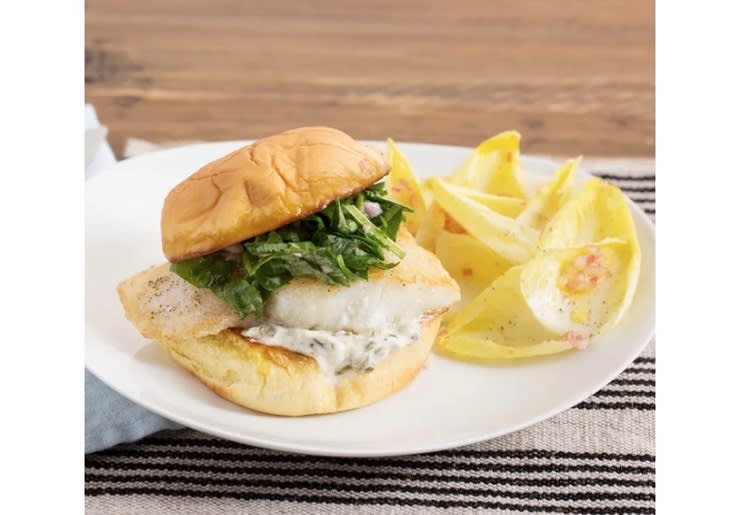 With its Mediterranean seaside flavors, this meal is an instant hit for everyone. Plus, cod is a great low-fat protein source loaded with vitamins and minerals.
Ingredients include cod fillets, garlic, white endive, shallots, mayonnaise, apple cider vinegar, potato buns, baby kale, and capers.
Recipe Card Instructions
Make the caper aioli by combining mayonnaise, capers, garlic, salt, and pepper. Marinate the shallots in apple cider vinegar, garlic, and olive oil for 10 minutes.
Cook cod fillet seasoned with salt and pepper in a hot pan for a few minutes on each side. To make the endive salad, combine the endive and most of the marinated shallot. Mix the remaining marinated shallot with baby kale. Toast the buns and assemble your cod sandwich. Delicious!
» Looking for more low-fat meals? Check out our top picks for the best weight loss meal delivery programs, plans, and kits.
9. Hot Honey Chicken With Rosemary and Cipolline Onion Panzanella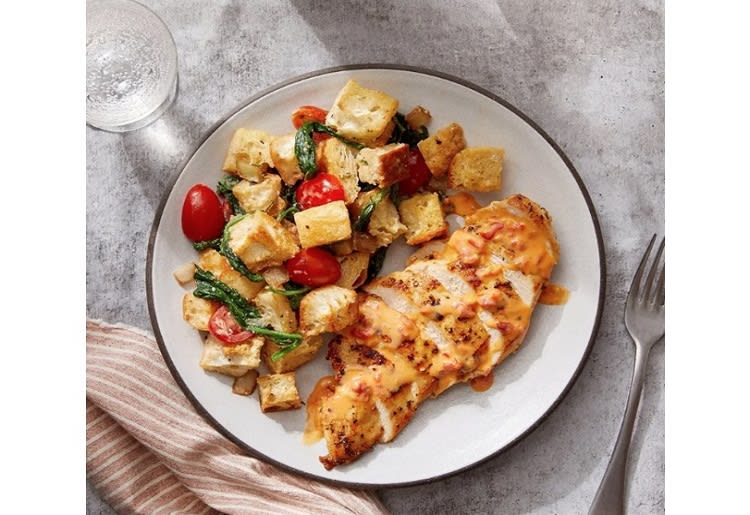 This delicious meal features Blue Apron's take on the more traditional panzanella (Italian bread salad). Crispy golden brown croutons tossed with tomatoes, spinach, and marinated cipolline onions make for an exceptional flavor combination.
Ingredients include chicken breasts, sandwich rolls, garlic, rosemary, grape tomatoes, baby spinach, grated parmesan, honey, mayonnaise, red wine vinegar, crème fraîche, Balsamic-marinated cipolline onions, crushed red pepper flakes, and Weeknight Hero Spice Blend.
Recipe Card Instructions
To make the sauce, combine honey, crème fraîche, and red pepper flakes. Cook the chicken after seasoning it with the spice blend, salt, and pepper. Once cooked through, let it cool down and slice it crosswise.
To make the croutons, mix diced rolls, rosemary, parmesan, olive oil, salt, and pepper, and toast in the oven at 450 degrees for 5-7 minutes. Cook the spinach in olive oil for 1-2 minutes until wilted.
In a bowl, add mayonnaise, vinegar, olive oil, and garlic and mix well. Next, add the tomatoes, croutons, spinach, onions, and parmesan. Season with salt and pepper. Top sliced chicken with your hot honey sauce and serve with the panzanella.
10. Biscuit Apple Cobbler With Quatre Épices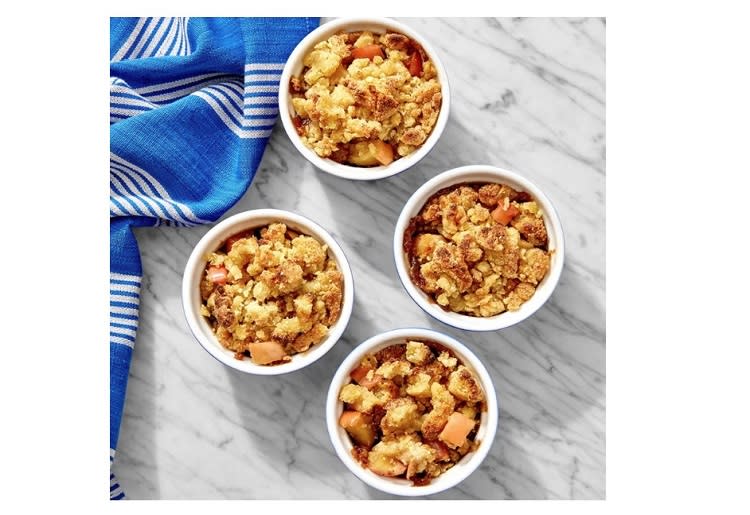 This comforting biscuit apple cobbler is beautifully spiced with quatre èpices (nutmeg, ginger, white pepper, and cloves). This quick dessert is guaranteed to impress and super easy to make. Plus, apples are rich in fiber and antioxidants. What's not to love?
Ingredients include apples, quatre èpices, butter, granulated sugar, biscuit mix, cornstarch, and light brown sugar.
Recipe Card Instructions
To make the filling, cook diced apples and brown sugar in butter until soft. Then, add the quatre èpices and cornstarch and stir until slightly thickened.
For the topping, combine biscuit mix, granulated sugar, and water. Use your hands to crumble the mixture.
Spoon the filling into four separate ramekins, and top with biscuit crumble. Drizzle with olive oil and bake for 15-20 minutes at 375 degrees until golden.
Take Away
Meal delivery services are a winner for those of us who don't have a lot of time to spare, and Blue Apron is no different. The convenience, price, variety, and quality of ingredients are unmatched. Try these 10 Blue Apron recipes to experience it for yourself.
» Want more customizability? Check out Home Chef.
References