In a Nutshell
Sunbasket is a healthy cooking service that delivers organic ingredients and simple-to-make recipes right to your door with heat and eat meals available as well. Sunbasket's award-winning chef creates international recipes, from curried vegetables to mu shu pork. All recipes use seasonal ingredients that are dietitian-approved. Sunbasket gives you wholesome food, while strongly emphasizing environmentally-conscious company values.
pros
Organic and fresh produce
Dietitian-approved recipes developed by chefs
Paleo, gluten-free, vegan, vegetarian and diabetes-friendly meals
cons
Delivery costs extra
Not all states are serviced

Sunbasket View Plan
Sunbasket Video Review - Healthy Meal Delivery for the Entire Family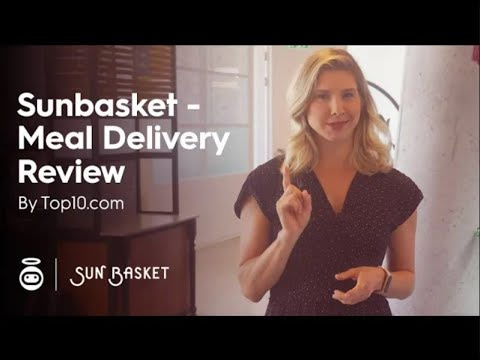 What is Sunbasket Best For?
Quicky and tasty heat-and-eat family meals.
Organic, hormone- and antibiotic-free ingredients.
Sunbasket Meal Plans
Sunbasket offers ten different meal plans that come portioned for singles, couples or a family of four. Whether its breakfast, lunch, or dinner, Sunsbasket meal plan kits can be ordered for 2 to 4 people, and you can select 2 to 5 meals per week.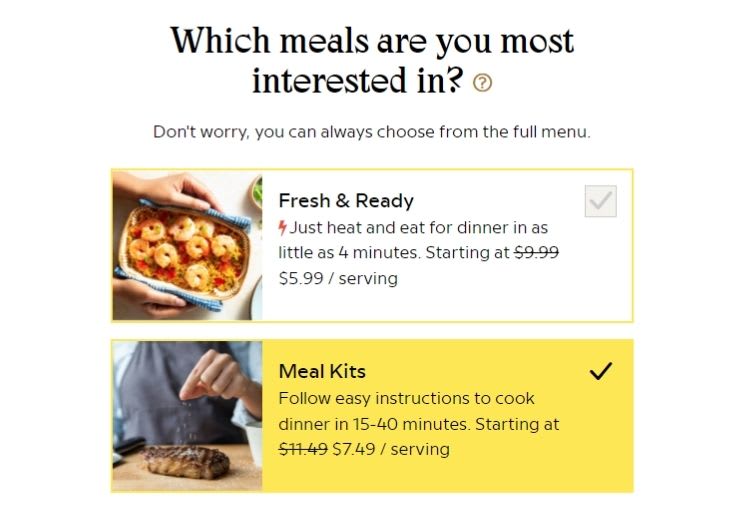 Sunbasket Dietary Options and Programs
Sunbasket Fresh and Ready pre-prepared meals can be reheated in under four minutes. Carb-conscious meals from Sunbasket meals have 400-800 calories with 25-35g net carbs or fewer per serving with plenty of protein.
Chef's Choice options from Sunbasket feature hand-picked, seasonal recipes, whereas menu items from Sunbasket Mediterranean plans focus on whole grains, good fats, wild-caught seafood, and responsibly sourced meats
Sunbasket's Diabetes-Friendly recipes approved by the American Diabetes Association include dishes like Vietnamese Chicken Salad Bowls. But if you're on a gluten-free diet, while Sunbasket's gluten-free meal kits exclude wheat, rye, and barley, they shouldn't be ordered if you're suffering from celiac disease since they're processed in a facility where other foods that contain gluten.
Other meal options and plans from Sunbasket include:
Sunbasket Vegetarian: No animal proteins with the exception of dairy and eggs will be in these meals.
Sunbaksket Lean and Clean: Whole foods with less than 600 calories per serving.
Sunbasket Pescatarian: Mostly vegetarian but you also includes fish or seafood, eggs, and dairy.
Sunbasket Paleo: Meals with a focus on protein, vegetables, and minimal grains or other carbohydrates.
Our Favorite Sunbasket Meals:
From the Lean and Clean Sunbasket meal kit we pitted the Southwestern Simmered Sole with Cilantro-Lime Slaw against the Hearty White Bean Minestrone with Chicken Meatballs. The tangy slaw paired excellently with the fresh light fish, easily making the sole our favorite in this category.
As for gluten-free dishes, our top pick went ot Mediterranean Turkey Meatballs with Charred and Red Pepper Cashew. This one definitely brought back memories of the Middle East.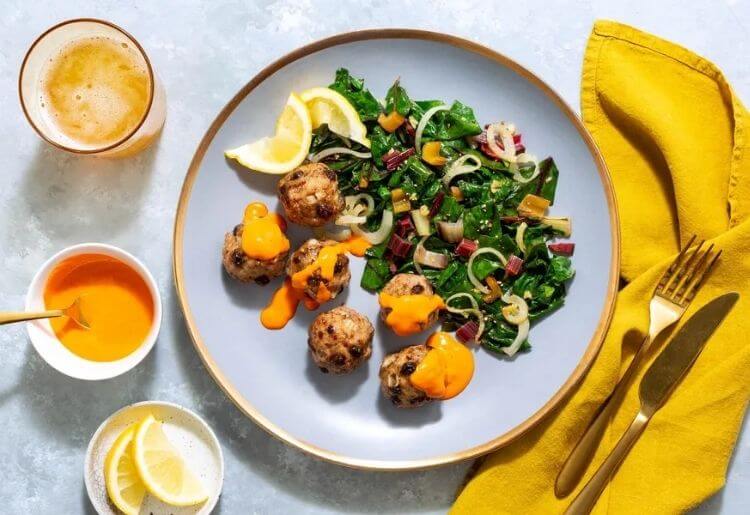 How much does Sunbasket cost?
Single meals start at $9.99 to $11.99 per meal. Compared to other delivery services, their prices are competitive considering all the options available. There is no membership cost for Sunbasket.
Like other meal delivery services, prices vary depending on dietary choices and the number of meals ordered per week.
How Does Sunbasket Work?
Sunbasket offers breakfast, lunch, and dinner options as well as proteins and snacks. Meal plan kits can be ordered for 2 to 4 people and you can select 2 to 5 meals per week. Once you've received your Sunbasket kit, you'll need to unpack and store the ingredients. When you're ready to prepare a meal, just take out the ingredients, which are listed on the recipe card, and follow the instructions. Note that you will need to provide salt and pepper, oil, basic utensils and pots and pans for cooking.
How to Place an Order with Sunbasket
Using Sunbasket is simple. First decide if you prefer Fresh and Ready meals, which are heat and eat, or Meal kits, which you cook yourself. You'll then choose if you'd like a specific diet. Sunbasket offers ten different choices for each diet type.
Each meal has dietary restrictions clearly labeled, like "soy-free, vegetarian", "gluten-free friendly, or protein plus". Fresh and Ready meals for every option means the meals are single-serving heat-and-eat meals.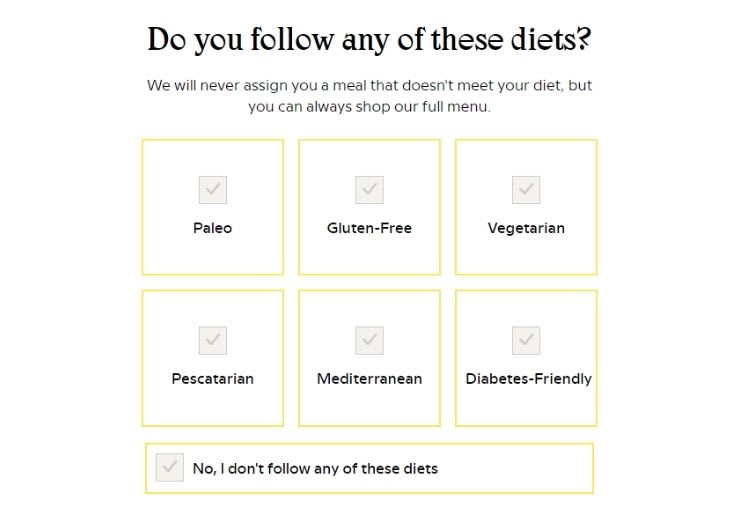 How to Choose Meals with Sunbasket
Global flavors spanning American, Asian, Latin American, Mediterranean, and Middle Eastern-inspired cuisine can be found in Sunbasket's meal plan options. All recipes are approved by Sunbasket's in-house dietitian, and there definitely seems to be something for everyone.
Breakfast options are "heat and eat" and may include items like egg bite with spinach and feta or cornmeal crust hand pie, huevos rancheros. Grab and go bars, juice, and smoothies are also available.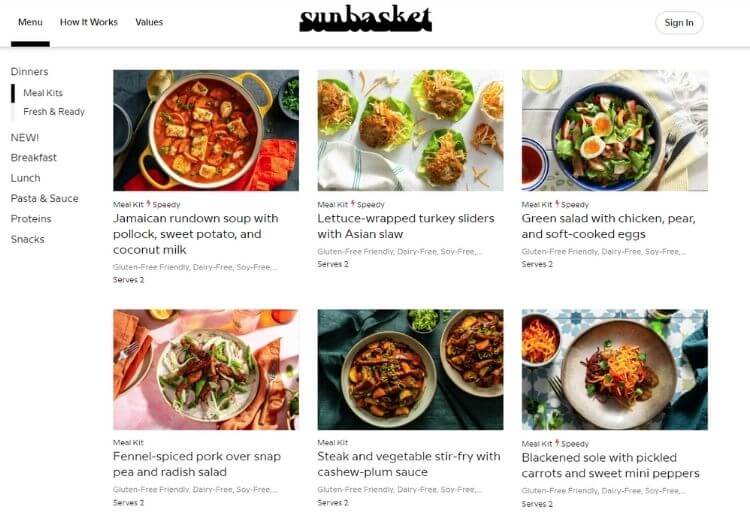 Does Sunbasket Come With Cooking Instructions?
Fresh and ready heat and eat meals have reheating instructions while Sunbasket meal kits have exact directions to follow. Images of each meal are available on the website with dietary restrictions listed under each image.
What Makes Sunbasket Unique?
Sunbasket offers seasonal or party items like organic salted caramel truffles and Iberico ham. It also offers lamb as one of its protein choices, which is unusual. You can also order wild-caught salmon, shrimp, and sea scallops. Tofu is available for vegan and vegetarian meals.
Is There A Sunbasket App?
Use Sunbasket's app to manage your subscription anytime, anywhere. The app will allow you to do many of the tasks you can do on the website. You can schedule weekly deliveries, customize your menu, and discover quick and easy recipes.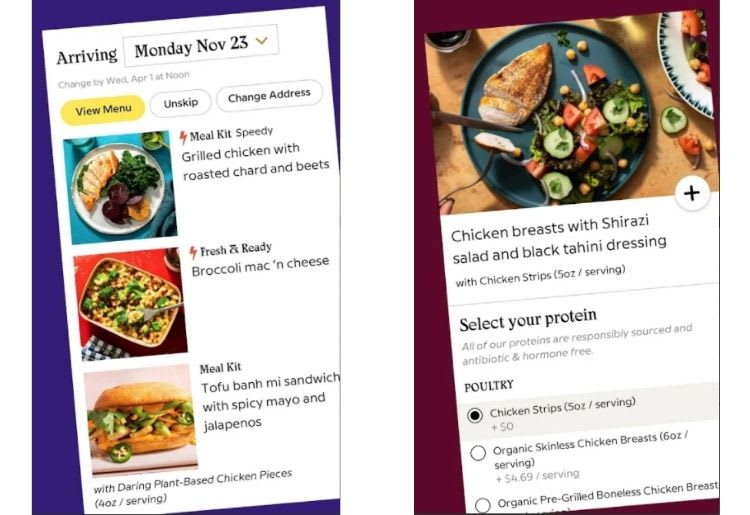 Sunbasket Customer Service
Sunbasket customer service hours of operation are Monday-Friday from 5am-9am, and Saturdays and Sundays from 6am-8pm PST. You can ontact customer support by filling out an online form, texting 208-960-6505 or calling support at 866-786-2758.
Refunds are easy, just contact customer service. Sunbasket offers a 100% money-back guarantee. There is also no commitment, skip or cancel any time.
How to Cancel or Pause Sunbasket
Sunbasket has a very straightforward cancellation system. You can pause or cancel meals from your account, without exchanging a single word with anyone. Click the Manage My Subscription link on your account settings page and follow the simple steps. Include why you want to cancel.
How Sunbasket Compares to Other Meal Delivery Services
Carb-conscious, Paleo, Gluten-free, Pescatarian, Mediterranean, Vegetarian, Diabetes-friendly
Calorie-conscious, Carb-conscious
Vegetarian, Pescatarian, Low carb
Signature, Wellness, Vegetarian
Compostable trays, recyclable cardboard and containers
Partially recycled cardboard
Partially recycled cardboard
Sunbasket vs Home Chef
If you're looking for a more affordable option. Home Chef is a little less expensive. Meals start at $8.99 and top off at $9.95. Sunbasket's meals start at roughly the same price but can go as high as $14.49 per serving. Sunbasket offers 10 dietary choices while Home Chef has three.
Sunbasket does offer more variety, with up to 18 meals to choose from per week compared to 15 from Home Chef. Both offer a nice variety of specialty diets such as vegetarian and gluten-free meals, though Sunbasket's meals tend to be a little more sophisticated in flavor, combining recipes and culinary styles from around the globe
Sunbasket vs Hello Fresh
Sunbasket and HelloFresh have both made a splash in the industry in recent years by combining top-shelf produce and proteins with artfully-crafted recipes. Sunbasket offers ten dietary options while Hello Fresh offers six.
The per-serving price difference isn't that significant, but with shipping included, HelloFresh becomes a little more affordable than Sunbasket. Sunbasket easily takes the lead with meal variety, offering a weekly menu of up to 24 meals compared to HelloFresh's eight meals
Sunbasket vs Blue Apron
Sunbasket and Blue Apron both charge about $9.99 per meal, so a savvy shopper will have to look at other factors when comparing the two. If you're looking for variety, Sunbasket easily comes out on top: while Sunbasket customers can choose from up to 24 recipes per week, Blue Apron's menu tops out at around eight. Sunbasket also offers more specialty diets than Blue Apron, notably with a more diverse vegetarian option that makes it a clear winner for those who avoid most animal protein.

Sunbasket Visit Site
Is Sunbasket Worth It?
Sunbasket offers meal plans for singles, couples, roommates, or families who are looking for ways to save time it normally takes to plan, shop, and prep meals. While many of its chef-developed recipes are high-end, it has many meals that appeal to kids. This premium service is a bit higher priced, but if you're looking for interesting, easy-to-make meals with sustainable, organic ingredients, Sunbasket is for you.