Did you know vegetarians are 50% less likely to develop type 2 diabetes? Or that among vegetarians, certain cancer rates are 12% lower? With stats like these, it's no wonder the world is going plant-based. Most, if not all, restaurants, meal delivery services, and schools now offer plant-based options.
To be successful on a meat-free diet, you need to keep a few flavorful meat alternatives on rotation. Luckily, the vegetarian market has come a long way over the years, and tons of meat alternatives are available now. Among the various options, the following are my personal favorites.
» Discover the groundbreaking world of lab-grown meat and its future in food.
1. Chickpeas
Chickpeas are one of the most inexpensive and nutritious sources of plant protein available. One cup typically contains 210 calories, 11 grams of protein, 35 grams of carbs, and 4 grams of fat.
They're also incredibly versatile; you can make them into "meatballs," dips, or even desserts. Just look for BPA-free cans when buying your chickpeas (or any beans/legumes, for that matter), and always rinse them before cooking.
I like using chickpeas because they're a whole food source of plant protein. Regularly eating chickpeas has been shown to help with weight management as they're high in fiber and can help you feel full for longer.
2. Broccoli
Broccoli is a delicious protein-rich veggie. One cup contains 30 calories, 3 grams of protein, 6 grams of carbs, and 0.3 grams of fat.
I like to season and pop it into the air fryer, but you can also steam or roast it for a different flavor profile. Steaming broccoli helps retain its natural crunchiness and vibrant green color, while roasting brings a delicious caramelized sweetness.
I personally love broccoli because you can add it to almost any savory dish, and like all cruciferous vegetables, it's incredibly beneficial for balancing hormones.
3. Tofu
Most people overlook tofu as bland or mushy, but it's all about figuring out how to prepare it. For instance, if you want more of a meaty texture, you need to press your tofu before cooking.
Alternatively, you can freeze it, let it thaw, and then gently squeeze it between two cutting boards over your sink to remove excess moisture. Once that's done, prepare according to package instructions and enjoy. One cup of tofu typically contains 200 calories, 19 grams of protein, 12 grams of fat, and 5 grams of carbohydrates.
I highly recommend tofu as one of the best plant-based protein sources and an essential staple for any plant-based diet. It's also full of isoflavones with potent antioxidant and inflammation-reducing properties.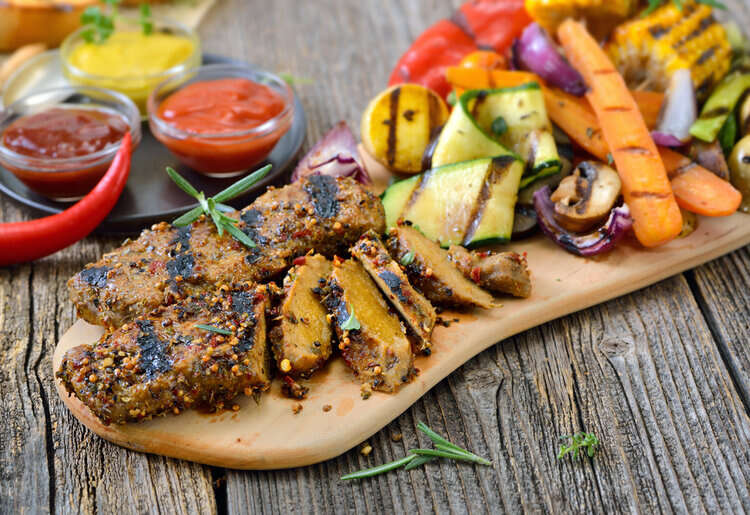 » Want to build muscle on a plant-based diet? Check out these helpful tips.
4. Jackfruit
Jackfruit's texture resembles shredded chicken or pulled pork. You can enhance that meaty texture by pulling it apart with a fork or chicken shredder. Because of its mild flavor, jackfruit is highly versatile, and you can incorporate it into almost any meal with the right combination of seasonings.
One cup of jackfruit contains 155 calories, 2 grams of protein, less than 1 gram of fat, and 40 grams of carbohydrates.
My favorite thing about jackfruit is that it's incredibly high in fiber and antioxidants. Fiber helps promote satiety by keeping you full, and antioxidants may protect against free radicals that cause cancer and heart disease.
5. Seitan
Seitan is a vegan meat alternative made from wheat. In my opinion, it can be pretty bland on its own, but its absorbency makes it one of the best meat substitutes out there, especially if you like things like bacon and chicken nuggets. One cup of seitan contains 104 calories, 21 grams of protein, less than 1 gram of fat, and 4 grams of carbohydrates.
You can significantly bump up its flavor profile with different marinades. You'll want to marinate it for at least 30 minutes to about 2 hours, and make sure to steam it before cooking. This will infuse it with moisture, prevent dryness, and ensure it doesn't get rubbery.
Seitan can be a game-changer for plant-based eaters hankering for meat, as it has a very convincing texture and will help you meet your protein needs.
6. White Beans
White beans are another favorite of mine because they're so versatile. You can throw them in soups, turn them into dips, or use them to make delicious salads. One cup of white beans has 240 calories, 18 grams of protein, 44 grams of carbs, and less than 1 gram of fat.
White beans (and beans in general) are full of fiber and great at keeping you full and aiding digestion. They're also packed with many essential vitamins and minerals, including generous amounts of copper, folate, and iron.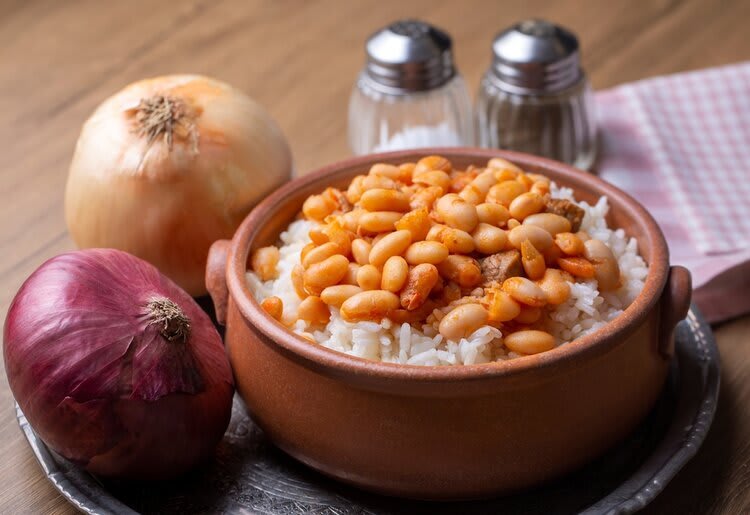 7. Grilling Cheese
Grilling cheeses like halloumi, feta, and paneer don't melt under high heat. You can char it for a delicious smoky flavor or cube it and let it soak in thick herby sauces. No matter how you prepare it, grilling cheese does not disappoint.
One cup of grilling cheese contains 340 calories, 25 grams of protein, 25 grams of fat, and 2.5 grams of carbohydrates. Grilling cheeses are also a great source of protein and calcium, promoting bone strength and density.
» Want stronger bones and joints? Give these Mediterranean recipes a try.
8. Tempeh
Tempeh is a soy protein that crumbles easily, giving it a similar feel and taste to ground chicken. It also easily absorbs marinades, so marinating it before cooking is a great way to up its flavor profile. One cup of tempeh contains 320 calories, 30 grams of protein, 18 grams of fat, and 16 grams of carbohydrates.
Tempeh contains probiotics crucial to a healthy gut microbiome, which aids digestion, improves mood, and boosts the immune system. That's why avoiding high heat when cooking tempeh is so important to preserve all those precious probiotics and maximize their health benefits.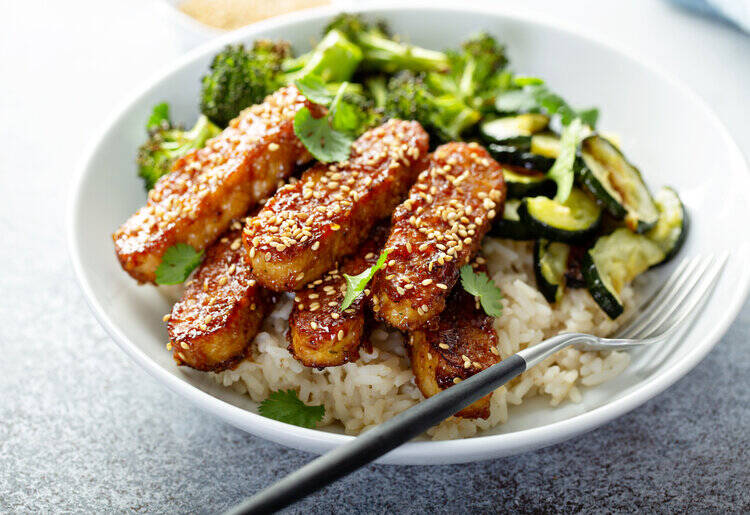 9. Lentils
Few meals are as comforting as an aromatic bowl of curry. While many curries are made with meat, almost all those recipes are easily replaced with lentils. Just make sure to soak the lentils for 2 hours before cooking them for maximum nutrient absorption and health benefits.
One cup of lentils contains 230 calories, 20 grams of protein, 40 grams of carbohydrates, and less than 1 gram of fat.
I enjoy at least one serving of my favorite coconut-curried lentil bowl a week to increase my fiber and mineral intake. Lentils also aid blood sugar regulation and support the digestive system.
10. Black Beans
Black beans are an excellent meat substitute in many dishes, such as burritos, burgers, and even brownies. Always rinse them thoroughly and opt for canned black beans with no added sodium. One cup of black beans contains 230 calories, 16 grams of protein, 40 grams of carbs, and less than 1 gram of fat.
Black beans have been shown to help with high cholesterol and high blood pressure. They're also loaded with iron and vitamins A and C.
Vegetarianism Might Be The Key
The key to environmental sustainability and overall health and wellness, that is. With these meat alternatives, it's easier than ever to do your part for the environment while improving your health—without sacrificing flavor.
The best vegetarian meal delivery services, like HelloFresh and Home Chef, offer meals like these every week. I love using meal delivery services for those hectic months when spending hours in the grocery store or figuring out weekly meal plans isn't an option. Plus, I get to try a ton of vegetarian recipes I would've never thought of on my own.
» Check out this vegan meal delivery service guide for even more options.