Adding protein to your diet can transform your fitness journey. But if cooking isn't your thing, many meal delivery services offer protein-packed options to support your goals.
Protein helps build and repair muscles and keeps you full, curbing those nagging cravings for unhealthy snacks. Additionally, protein makes your body work harder to digest meals, helping you burn more calories—which is known as the thermic effect of food (TEF). It's a secret weapon for weight loss.
Here are my 10 favorite Home Chef recipes that pack the protein punch essential for muscle growth and maintenance.
» Check out our best prepared meal delivery services for oven-ready, fresh, and frozen meals.
1. Korean Pork Medallions With Slaw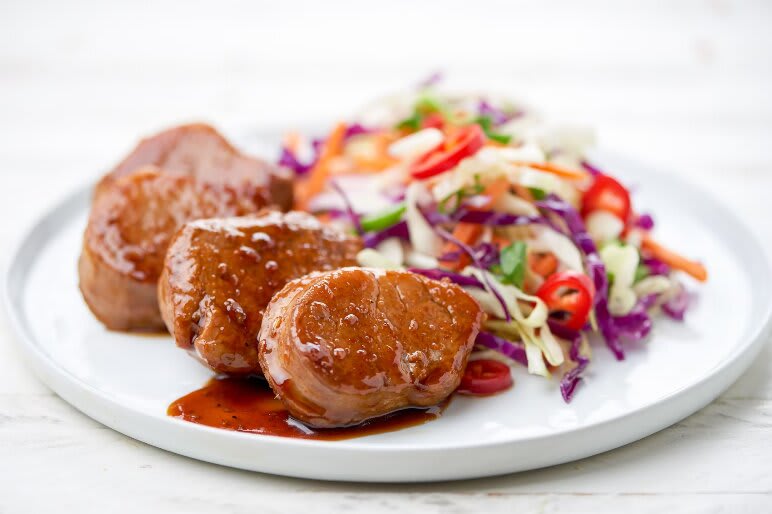 Ingredients: Pork tenderloin, slaw mix, seasoned rice vinegar, Fresno chile, sriracha, green onions, minced garlic, light brown sugar, tamari soy sauce, toasted sesame oil, garlic cloves
This lean pork tenderloin provides high-quality protein, crucial for muscle growth. The slaw is packed with vibrant vegetables, offering vital vitamins, minerals, and dietary fiber.
This recipe uses minimal cooking oil and incorporates heart-healthy sesame oil in the slaw dressing. Ingredients like ginger, garlic, and sriracha bring out bold flavors, eliminating the need for excessive salt or unhealthy seasonings. This ensures a dish that's both tasty and well-balanced.
Method:
Mince the garlic, green onions, and Fresno chile. Slice the pork into medallions.
Mix rice vinegar, tamari soy sauce, sugar, sriracha, ginger, and garlic in a bowl. Marinate the pork in this mixture for 10 minutes.
In another bowl, blend the remaining rice vinegar, sesame oil, green onions, salt, and pepper. Dress the slaw with this mixture.
Heat olive oil in a pan. Cook the pork until it reaches 145°F, roughly 3-4 minutes per side. Add the reserved marinade to the pan to create a glaze.
Plate the dish and garnish the slaw with the leftover green onions and Fresno chile.
2. Steak Wellington With Roasted Carrots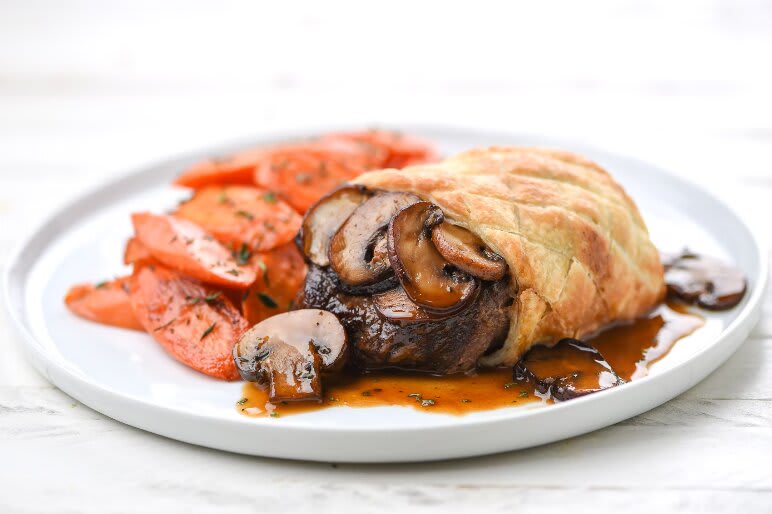 Ingredients: Carrots, sirloin steaks, Cremini mushrooms, puff pastry dough, butter, beef flavor demi-glace concentrate, thyme sprigs
This version of the classic beef Wellington features a tender steak topped with mushrooms, wrapped in puff pastry, and baked to flaky, golden perfection. It's an excellent high-protein and healthy option.
Steak is a prime source of quality protein, essential for muscle maintenance and satiety. Using roasted carrots adds essential vitamins and minerals to the meal, providing a balanced and nutritious element.
Method:
Peel the carrot and chop the thyme. In an oven-safe pan on medium heat, add olive oil and carrots. Cook until browned (3-5 minutes), then roast until golden (15-17 minutes)—season with thyme, salt, and pepper.
Dry and season steaks. In a non-stick pan on medium-high, sear steaks in 2 tsp olive oil until browned (2-3 minutes).
In the same pan, sauté sliced mushrooms in 2 tsp olive oil until golden (4-6 minutes). Season.
Prep puff pastry with diagonal lines and chill.
Place steaks on a baking sheet, top with mushrooms, and cover with pastry. Roast until golden (8-12 minutes).
For the sauce, mix demi-glace and water in the pan with the remaining mushrooms. Boil (1-3 minutes), then stir in butter and thyme. Drizzle over steak.
3. Garlic and Lemon-Crusted Salmon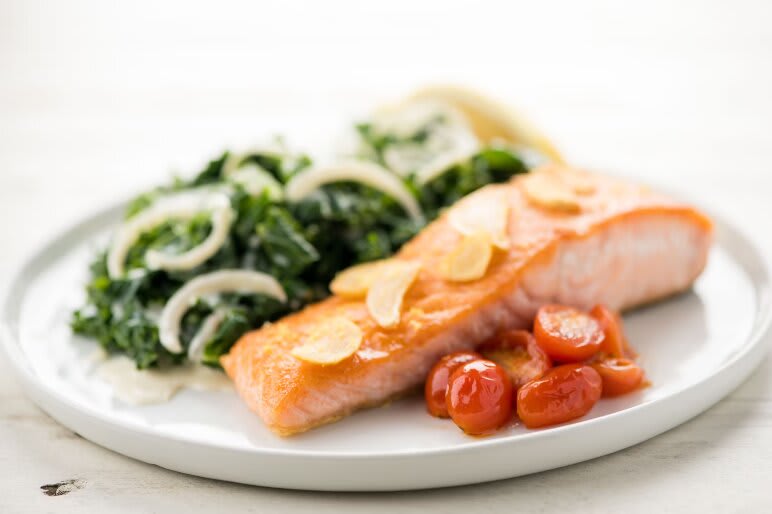 Ingredients: Salmon fillets, kale, lemon, grape tomatoes, shallot, garlic cloves
Salmon is a top-notch protein source that provides essential amino acids for muscle maintenance and overall health. It's also rich in heart-healthy omega-3 fatty acids, known for their anti-inflammatory properties and contributions to cardiovascular well-being.
Kale, a recognized superfood, adds essential vitamins, minerals, and fiber for a balanced diet. The roasted tomatoes in the dish bring in more vitamins, antioxidants, and fiber, enhancing the meal's nutrient profile.
Method:
Cook the sliced garlic in 2 tsp olive oil for 10-15 minutes. Move to a paper towel-lined plate.
Zest the lemon, slice the shallot, chop the kale, halve the tomatoes, and season the salmon fillets.
Fry the salmon in 1 tsp olive oil on medium heat until golden brown (4-6 minutes per side). Add 1/2 tsp lemon zest and garlic slices on top.
Sauté the shallot, mix in cream, water, and kale, and cook until the kale wilts (4-5 minutes). Adjust seasoning as needed.
Sauté tomatoes until they're slightly charred (2-3 minutes). Season with salt and pepper.
To serve, drizzle lemon over the salmon.
4. Coq Au Vin With Bone-in Chicken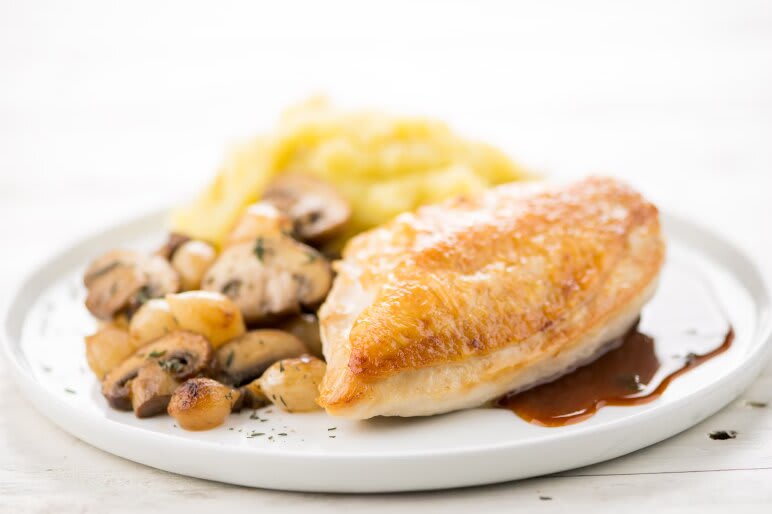 Ingredients: Bone-in skin-on chicken breasts, Yukon potatoes, Cremini mushrooms, red cooking wine, pearl onions, butter, chicken demi-glace concentrate, thyme sprigs
Bone-in chicken offers lean protein, which is essential for muscle growth and overall well-being. Coq au vin's traditional slow-cooking method deepens its flavors and preserves the chicken's protein content.
This dish also features a mix of vegetables, herbs, and spices, boosting its flavor and adding vital nutrients to complement the protein.
Method:
Chunk the potatoes and boil in salted water for 16-20 minutes.
Reserve 1/4 cup of potato water, then drain and mash the potatoes with butter, salt, and pepper.
Season chicken breasts with salt and pepper, then sear in a hot pan with olive oil for 2-3 minutes on each side.
Move the seared chicken to the oven, roast for 20 minutes, then let it rest.
In the same pan, sauté vegetables like mushrooms and pearl onions in olive oil until browned (3-4 minutes).
Finish by roasting the veggies in the oven for 4-6 minutes until they deepen in color.
5. Pan-Seared Steak and Potatoes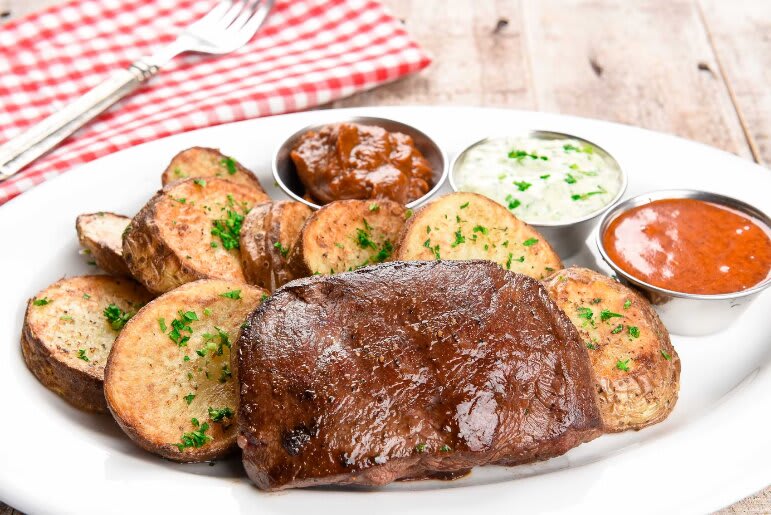 Ingredients: Russet potatoes, parsley, mayonnaise, ketchup, horseradish sauce, sriracha, sugar, curry powder, smoked paprika, steak
Pan-seared steak and potatoes offer numerous health benefits. The steak gives you high-quality protein, which helps build and repair muscles and supports a strong immune system.
Meanwhile, potatoes supply vital vitamins and minerals, like vitamin C and potassium, to boost your overall health and energy. This meal's perfect mix of protein and carbs can help regulate blood sugar levels and keep you full. It's a delicious way to stay strong and energized.
Method:
Slice potatoes, drizzle with olive oil, season with salt, and bake until golden brown.
For a spicy kick, mix ketchup, curry powder, and smoked paprika.
To make the Yum Yum Sauce, blend mayo, sriracha, sugar, and smoked paprika.
Combine mayo, horseradish, parsley, salt, and pepper to make a horseradish-parsley mayonnaise.
Season the steak, sear it in a pan with olive oil until browned, and cook to an internal temperature of 145°F. Let it rest before serving.
6. Crispy Skin-on Chicken With Steakhouse Mushrooms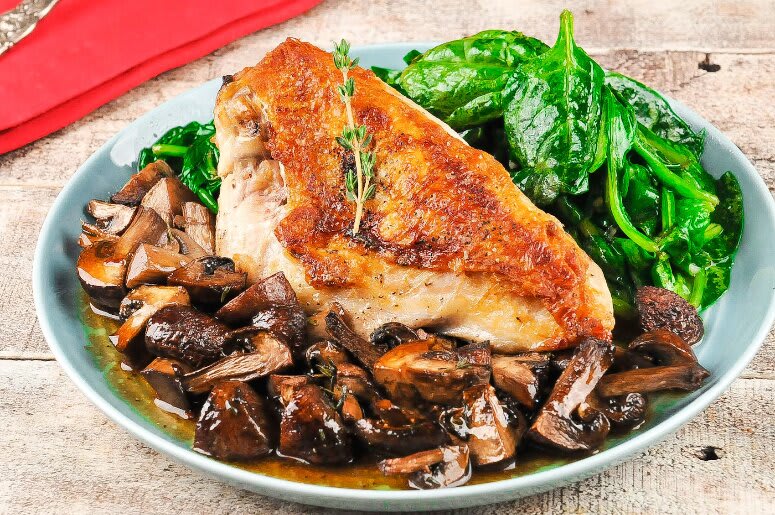 Ingredients: Bone-in skin-on chicken breasts, Cremini mushrooms, spinach, thyme sprigs, veal demi-glace, garlic
"Crispy Skin-on Chicken With Steakhouse Mushrooms" is a flavorful, wholesome meal you can whip up easily. The crispy chicken provides a lean, top-quality protein for muscle strength, tissue repair, and overall vitality.
Steakhouse mushrooms contain protein and essential nutrients like vitamin D, selenium, and various B vitamins. The garlicky spinach is a powerhouse of vitamins A, C, and K and minerals like iron, calcium, and potassium. Plus, its antioxidants work to keep your body healthy and protect it from harm.
Method:
Chop garlic, thyme, and mushrooms. Mix them with olive oil and salt, then roast for 8 minutes.
Season the chicken and pan-fry in olive oil until the skin crisps up. Transfer the chicken to a baking sheet with mushrooms and roast until it hits 165°F.
In the same pan, reduce demi-glace and water until you get a thick sauce. Set aside.
In a separate pan, sauté garlic and spinach until it softens. Season to taste.
To serve, lay the sauce on a plate, top with chicken, mushrooms, and spinach, and sprinkle with thyme.
7. Pulled BBQ Chicken Sliders With Coleslaw and Chips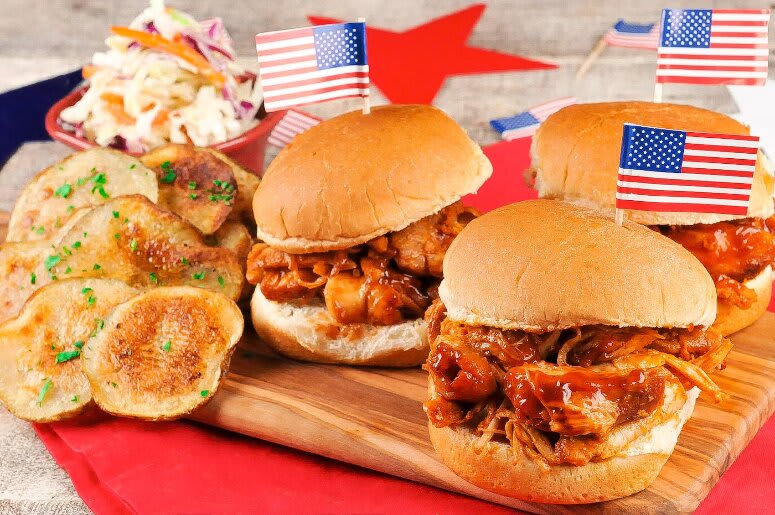 Ingredients: Boneless skinless chicken thighs, russet potatoes, slider buns, slaw mix, parsley sprigs, white balsamic vinegar, mayonnaise, BBQ sauce, BBQ spice rub, sugar
What better way to honor America's freedom than with a delicious BBQ? Try these chicken sliders for a quick and tasty treat.
They feature succulent chicken on mini buns smothered in a sweet, tangy BBQ sauce. These sliders are also paired with homemade chips and smooth coleslaw. This meal satisfies your hunger and frees up time for firework festivities.
Method:
Bake thinly sliced potatoes with olive oil, salt, and pepper for 20 minutes, turning halfway.
Combine parsley, slaw mix, sugar, half the vinegar, mayonnaise, salt, and pepper. Let the mixture chill.
Sear BBQ-seasoned chicken thighs in olive oil until golden, then bake with potatoes for 10 minutes or until chicken hits 165°F.
Brush potatoes with remaining vinegar; bake until crisp (5-7 minutes).
Shred chicken, mix with BBQ sauce, and place on slider buns. Serve with slaw and garnished chips.
» Dive into these 10 high-protein meals with chicken.
8. Tilapia Florentine With Green Beans and Toasted Almonds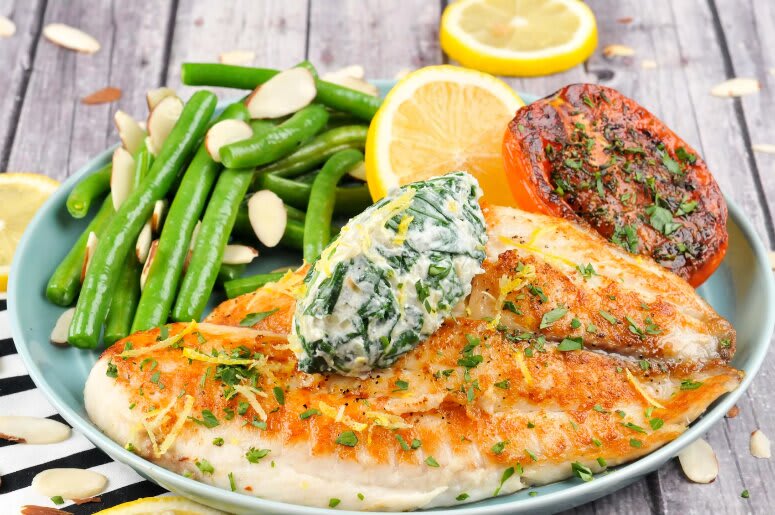 Ingredients: Tilapia fillets, green beans, lemon, thyme sprigs, parsley sprigs, spinach, ricotta cheese, shallot, sliced almonds, Roma tomato
This meal contains lean fish, nutrient-loaded veggies, almonds, and green beans, making it a smart choice for anyone aiming to increase their protein intake and maintain a balanced, nutritious diet.
Method:
Clean all produce. Chop the shallot, halve the tomato, and prepare thyme, parsley, and lemon zest.
Sauté shallot in a pan until translucent; add spinach until wilted. Mix with ricotta and lemon zest, season, and chill.
Sear tomatoes with thyme until softened.
Brown tilapia in olive oil until it reaches 145°F. Steam green beans, then mix with almonds.
Plate green beans and tomatoes, add tilapia, top with spinach-ricotta, and garnish with lemon zest and parsley.
9. Brown Butter Shrimp With Smoked Gouda Grits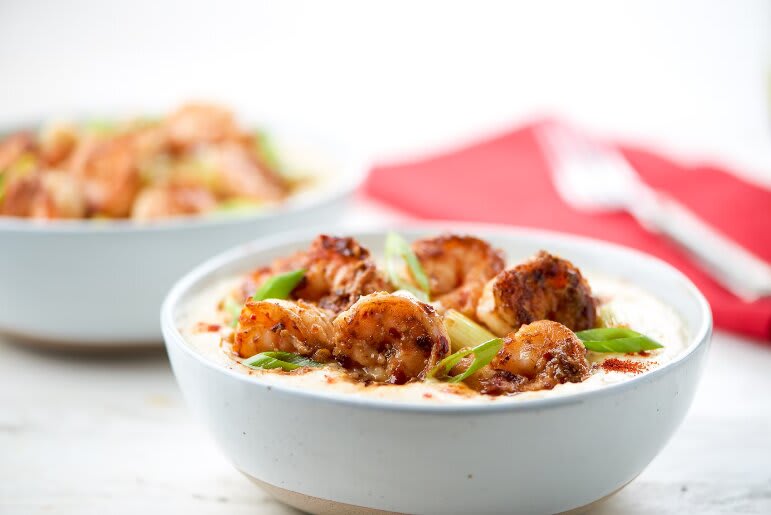 Ingredients: Shrimp, lemon, smoked gouda slices, instant grits, green onions, butter, grained Dijon mustard, red pepper flakes, smoked paprika
The Brown Butter Shrimp packs a nutritional punch. Shrimp gives you lean protein and essential minerals like selenium and iodine. It also features creamy grits loaded with smoked Gouda to provide energy-boosting carbohydrates and bone-strengthening calcium.
Brown butter and grainy mustard add flavor without piling on calories, making this dish a tasty yet calorie-conscious choice.
Method:
Zest and juice the lemon. Slice green onions and season dry shrimp with salt and pepper.
Boil grits for 10-12 minutes, then keep warm.
Sear shrimp in olive oil for 2 minutes; set aside.
In the same pan, brown the butter. Add lemon juice, green onion, mustard, zest, red pepper flakes, salt, and pepper.
Return shrimp to pan and cook until done.
Warm grits, adding water if needed. Stir in smoked Gouda, season, and serve. Garnish with paprika and green onion slices.
10. Steelhead Trout Niçoise With Potato and Spinach Salad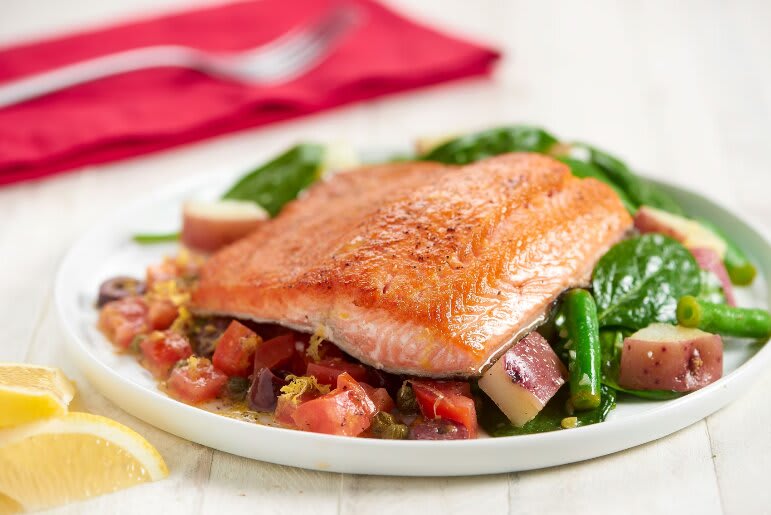 Ingredients: Roma tomato, lemon, baby spinach, red potato, green beans, pitted Kalamata olives, capers, garlic cloves, steelhead trout fillets
Steelhead trout is a rich source of high-quality protein, offering essential amino acids to support muscle maintenance. This meal blends savory and earthy notes with a hint of citrus from lemon to deliver a balanced flavor experience.
Kalamata olives and capers add a pleasant salty kick to every bite, elevating the dish's overall taste. It's also packed with fiber, vitamins, and minerals, making it a well-rounded and satisfying meal that fuels the body with high-quality protein.
Method:
Prepare olives, Roma tomato, garlic, lemon zest, and juice. Cut green beans and potatoes.
Season trout with salt and pepper.
Boil potatoes until soft; add green beans until tender, then drain.
In a bowl, mix tomatoes, half the lemon zest, olives, capers, olive oil, salt, and pepper.
Brown trout in a hot oiled pan until it reaches 145°F internally.
Combine garlic, lemon juice, olive oil, salt, and pepper in a bowl. Add potatoes, green beans, and spinach; toss.
Serve salad with trout on top, garnished with tomato relish, lemon zest, and wedges.
Try These Home Chef Meals

Order Now
» Are you a pescatarian? Try these 10 fat-burning high-protein meals.
Maximize Your Gains With Home Chef's Protein-Packed Dishes
To maximize your muscle gains, you need to include protein in your diet. Try these 10 recipes at home. If you're short on time, order them as prepped and portioned Home Chef meal kits.
Whether you crave savory chicken, vegetarian treats, or seafood delights, Home Chef offers a broad range of high-protein recipes for you to choose from.
» Looking for vegan alternatives? Try Factor.