Lack of results or back and forth loss-gain cycles are frustrating for everyone, and they generally lead to us throwing our hands up in despair and giving up.
But, it doesn't have to be like that. There are millions of people who diet, lose weight, and keep it off. What are they doing right?
It's about eliminating the obstacles that stand in our way. Get rid of the stumbling blocks, and your path to success is clear.
So, what's stopping most people from weight loss success? Some common issues include:
Social pressure
Emotional eating and cravings
Hunger
Time
So, we've identified the problems. Now, what's the solution? While there's no easy fix for all of your weight loss problems, there's one thing that can solve a lot of the issues on this list, and that is a weight loss meal delivery service. Before you head for the hills, realize I'm not talking about those airplane, microwave dinners that you're picturing in your head. No, today's meal deliveries are gourmet-level quality, and as opposed to their predecessors, modern-day meals in a box are even healthier than the food that most Americans eat every day.
Not convinced? Well, here are 5 ways that weight loss meal delivery services offer dieters a helping hand and make reaching your goals doable at last.
1. Take Time Without Taking the Time
When you talk to your friends about why they don't diet (or why they stopped), most of the time they'll say, well, it's about time. People just don't have time to prepare healthy meals like cut up salads, veggie side dishes, or nutritious protein meals. So, they opt for the faster, easier alternatives, and those are usually bad for us.
Diet meal delivery services take meal prep off your shoulders. Some services ask you to provide the cut up veggies, but they'll give you everything else including all the ingredients you need measured out exactly so you can just toss things into a pan for easy, healthy meals. Other services give you the entire meal completely prepared, so you just heat and eat. Still, others will even send you cut up vegetables, so you can grab carrot sticks or peppers instead of chips and Danishes.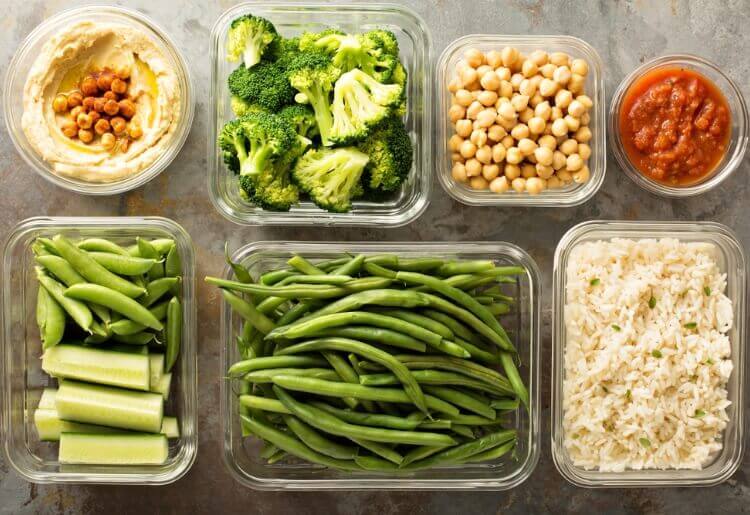 Having the healthy food prepared and ready for you makes your chances for success substantially higher.
Some meal delivery kits go the extra mile to make the cooking process and simple as possible. Dinnerly meal options, for example, include recipes with a maximum of 6 ingredients. Other meal services like Optavia's diet plans put the focus on weight loss.
2. Avoid Unhealthy Social Pressure & Eating Out
Social pressure is the devil when it comes to dieting. Nobody wants to be the odd man out, and when everyone else is enjoying their cheesy pizza, deep fried chicken, and double fudge brownies, it can be hard to resist. Plus, time factors in here as well. If you don't have time to make meals, you're just going to grab a quick bite while you're out and those meals are calorie-loaded, and we don't mean the good kind.
Enter meal delivery services. Your healthy food is prepared for you, so you don't have to settle for the unhealthy fast food alternatives. And if you avoid restaurants, you automatically knock the calorie count down exponentially. Bottom line, eating at home makes living a healthy lifestyle easier, so invite your friends over for a nutritious dinner by you (don't tell them it came from a box, and they'll never know!)
3. Clear & Present Nutrition Information
Weight loss meal delivery services help you lose weight by keeping some of the most important information ever-present: the nutrition facts. It's easy to cut corners when you're estimating how many grams of chicken you're eating or how much of a tablespoon of salad dressing you mixed into your leafy greens. Besides, how much damage could an extra ounce of pasta do anyway, right?
These little justifications that we tell ourselves are the undoing of our hard work and careful dieting plan. Without accountability and clear information, any gains we've made until now will quickly unravel, and it's likely that we won't see any results at all from a system like that.
Diet meal delivery services have intelligently and intentionally put the nutrition facts front and center so that you can see exactly how much of your caloric intake you are exhausting from this meal. You'll be able to see the calories, carbohydrates, proteins, and sugar counts for all of your meals and snacks. This gives you the ability to maintain a careful accounting and stay on track. Here's a great example:

See how Nutrisystem puts the calories, grams of fat, protein, and dietary fiber right there for you to note? This gives you the most important information right away, so you can make your calculations. Even if you aren't counting calories, the nutrition information ensures that you aren't cheating yourself with larger portions than necessary or hidden calories in the form of sauces, sides, or toppings.
4. The Choice is Yours & Tailor-Made for You
Anyone who tells you they've found the perfect diet for everyone is lying. There is no such thing as one-size fits all because each of us has our own unique blend of lifestyles, preferences, personalities, genes, and body makeups. So, what works for your friend might not work for you.
The beauty of weight loss meal delivery services is that they cater to your personal needs. You choose your dishes and the amount of meals that work for you. That's good because you might need more food (or less!) than someone else using the same diet. Tailoring the meal plans to fit your needs ensures you are getting what you need, the foods you like, and the nutrition that's right for you. It also helps if you have specific foods you're avoiding.
What's more, with these services, you can select specific diets including things like:
Paleo
Gender-based
Dairy-free
For example, Nutrisystem has a specific plan for vegetarians and diabetics, while BistroMD caters to gluten-free eaters, women during menopause, and diabetics too. There's something for everyone!
5. Meal Planning Made Easy
"A Goal Without a Plan is Just a Wish"
That is a quote from Antoine de Saint-Exupery, French poet and journalist from the last century. If that isn't clear enough, then take the words from the famed Benjamin Franklin who said, "By failing to prepare, you are preparing to fail." In other words, without a plan, your diet is doomed to failure because the first time you're running late, have a change of plans, or run out of an ingredient, you're going to grab whatever is fast and easy, and that's when your diet gets chucked out the window.
With diet meal delivery services, it's simple to plan out your week's menu. You choose the foods, meals, and snacks that are good for you according to your calorie/fat intake, so each day you have a healthy caloric intake deficit. That means no getting stuck last minute because the healthy food wasn't there and you had to settle for an unhealthy alternative. Now that's maintainable.
Service Options
There are lots of services out there, but here are 4 of the best ones and the amounts you should expect to pay for each:
Diet meal delivery isn't just the next step in your journey to weight loss freedom, it might be the last one you ever have to take! Check out some of these top quality diet delivery services to see if they're the right fit for you to lose weight, get fit, and feel good at last.