My mother always said that cooking is an act of love. Many studies even link improved health, better psychosocial outcomes, and stronger family bonds to cooking together and enjoying meals at home. However, depending on the recipe, preparing a nutritious meal for an entire family can take up a lot of time.
One-skillet meals are convenient for busy routines, providing delicious and nutritious options for the whole family. Additionally, using a single skillet reduces water waste (since you have fewer dishes to wash) while maintaining the same nutritional quality as meals cooked with multiple pans.
If you want to discover the simplicity of cooking with a single skillet, try these 10 mouthwatering one-skillet recipes to satisfy your whole family.
» Looking to spend less time in the kitchen? Check out our top picks for the best meal delivery services.
1. One-Pan Cheddar Chicken & Broccoli
Ingredients: Broccoli, white cream, cheddar cheese, chicken breast, onion, Italian panko blend
I love preparing this dish for my family because it's tasty, nutritious, and super practical. It provides a rich source of fiber, vitamin C, protein, carbohydrates, calcium, and antioxidants, making it an excellent choice for lunch or dinner.
It's also a clever way to get picky kids to eat healthier—they'll love the tasty flavors incorporated into this dish.
Cooking instructions:
Cook the chicken for 5-7 minutes and transfer it to a clean plate
Sauté broccoli in the same pan for 4-5 minutes
Add the cooked chicken, white cream, spices, and more water to the pan
Top with panko, then cheese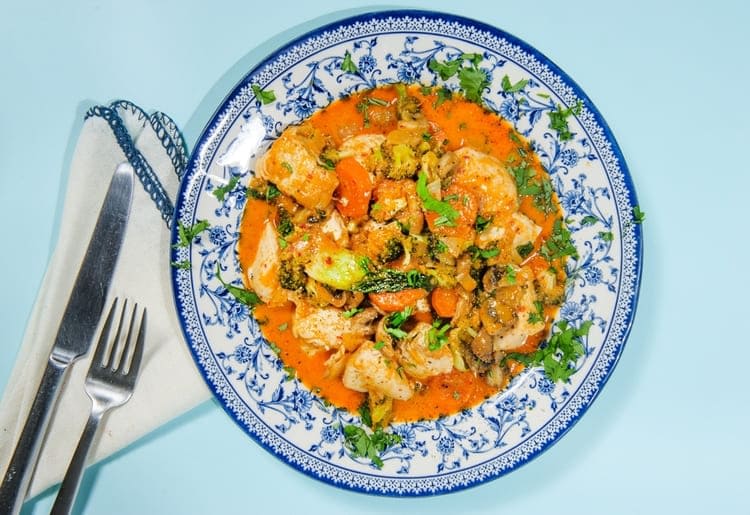 2. Garlic Butter Cod With Lemon Asparagus
Ingredients: Cod, asparagus, garlic, butter, vegetable broth, lemon juice, parsley
This fish dish is incredibly tasty and allows me to incorporate essential omega-3s into my family's diet for improved health.
Additionally, adding asparagus provides beneficial prebiotic fibers, which help promote a healthy gut.
Garlic butter cod with lemon asparagus is a straightforward dish that's perfect for busy days when time is limited.
Cooking instructions:
Cook the cod on both sides until golden brown, then set it aside on a clean plate
In the same skillet, bring the garlic and vegetable broth to a simmer
Add butter, lemon juice, parsley, and asparagus, and let it cook for 2 minutes
Return codfish fillets and reheat for another minute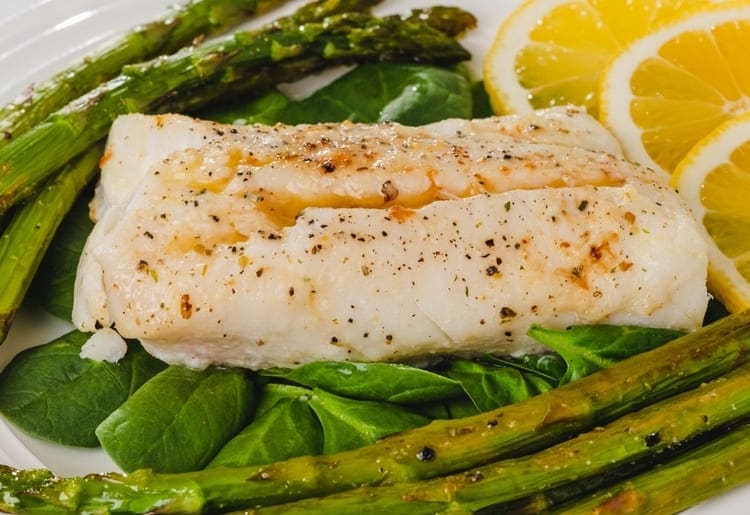 3. Beef & Rice Fiesta
Ingredients: Ground beef, white rice, cheddar, garlic, onion, lemon, tomato, sour cream, Southwest seasoning
Beef and rice fiesta is a simple and flavorful dish that everyone in my family adores, especially after a busy day. It's also perfect for entertaining friends.
What I like most about this recipe is that it uses natural ingredients and allows you to customize the spices according to your taste.
Cooking instructions:
Cook white rice until tender
Make pico de gallo and lime crema
Cook beef with onion, garlic, and Southwest seasoning for 8-10 minutes
Top rice with beef mixture, then sprinkle with cheese
Broil until cheese is melted
» Here's why you need to start meal planning.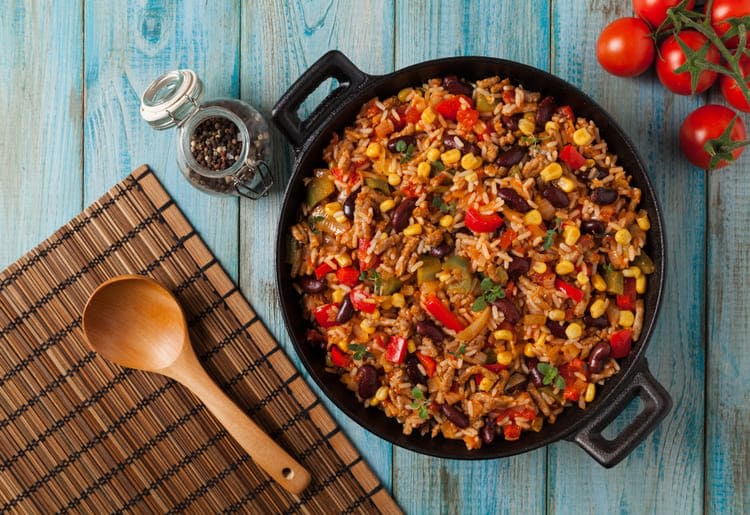 4. One-Skillet Seared Salmon With Chimichurri & Vegetables
Ingredients: Salmon, scallops, squash, fennel, tomato, lime, chimichurri
This light and refreshing recipe (which is available on Sunbasket) is perfect for beating the summer heat.
The vegetables add a freshness to the dish and perfectly complement the salmon. It's a winning combination that will satisfy your taste buds, especially if you prefer to eat seafood during the hotter months.
Cooking instructions:
Broil the salmon and scallops and set aside on a plate
Cook the vegetables in the same skillet for 2-4 minutes
Top with chimichurri and add lime wedges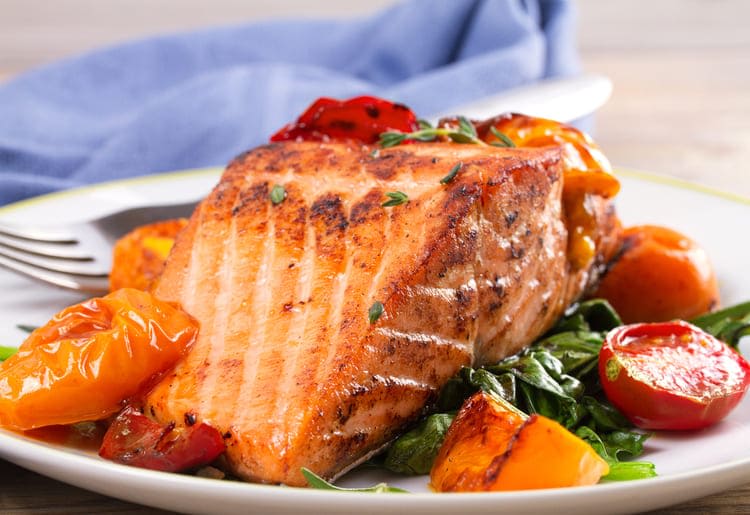 5. Shrimp Skillet With Black Beans & Corn
Ingredients: Shrimp, black beans, onion, tomato, corn, cumin, lime, sour cream, cilantro
This dish offers freshness and has a nutritional kick. Shrimp is high in protein and low in calories, making it ideal for weight loss diets.
The combination of shrimp, beans, and seasonings adds great flavor to the dish.
Cooking instructions:
In a bowl, mix the onion and tomato together
Sauté beans and corn for 5-7 minutes
Add the shrimp and broil for 3-5 minutes
Make lime crema with lime, sour cream, salt, and pepper
Top dish with onion, tomato, cilantro, and lime crema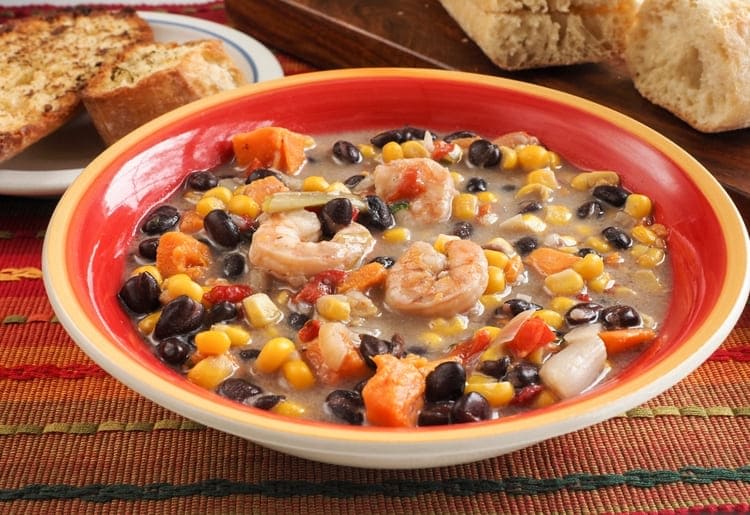 6. Philly Cheesesteak Pasta
Ingredients: Green pepper, onion, garlic, ground beef, pasta, cream cheese, beef stock concentrate, shredded pepper jack
Your family is bound to fall in love with this flavorful pasta inspired by Philly cheesesteak. It's a fantastic alternative to store-bought frozen meals since preparing it at home allows you to reduce sodium and fat.
So, this recipe is a must-try if you're looking for healthier meal options to replace high-fat, high-sodium, and preservative-laden ready meals.
Cooking instructions:
Sauté the beef for 1-2 minutes
Add vegetables and cook until tender
Mix in beef stock and pasta and cook for 12-15 minutes
Stir in cream cheese and pepper jack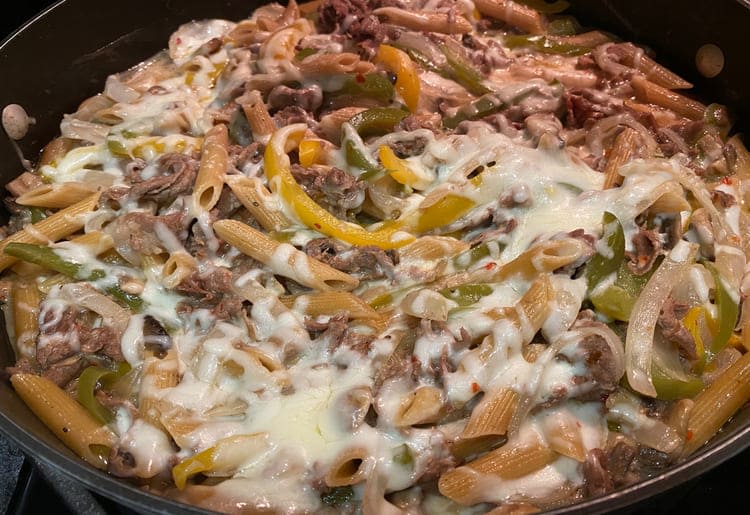 7. Kale Chicken
Ingredients: Chicken breasts, kale, garlic salt, tomato, mushrooms, cream sauce base, croutons, flour, Parmesan
This is my go-to recipe for when I want to indulge in a gourmet meal.
It's incredibly quick and easy to prepare. Its rich combination of mushrooms, creamy white sauce, Parmesan, and chicken makes it an excellent comfort dish for colder days.
Cooking instructions:
Cook the chicken and mushrooms for 5-7 minutes and set aside on a clean plate
In the same skillet, add the cream sauce, garlic salt, and water
Stir in the kale and cook until tender
Add the cooked chicken, tomatoes, and seasoning
» Want healthy dishes delivered straight to your door? Try the best prepared meal delivery services.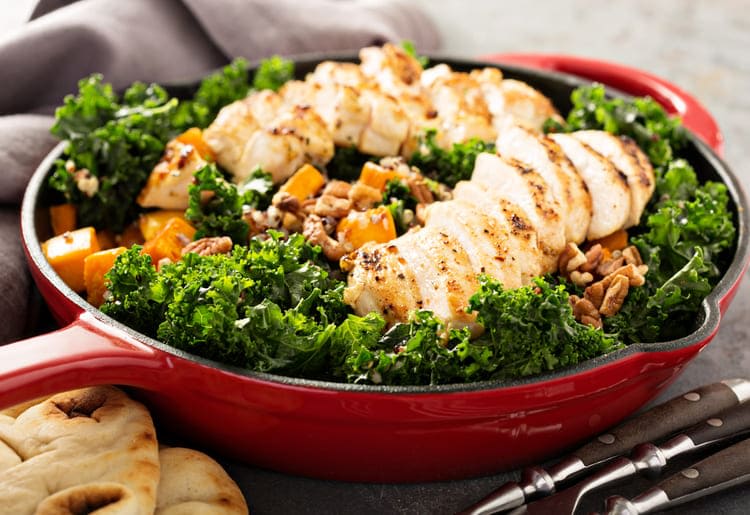 8. Garlic Chicken & Zucchini
Ingredients: Chicken breasts, zucchini, pepper, chicken stock, ground ginger, paprika, garlic powder, lemon juice
Chicken and zucchini are always a winning combination. The zucchini's fresh flavor adds a unique twist to everyday chicken dishes.
This dish is rich in protein, fiber, vitamins, and minerals and doesn't compromise taste. It's also quick to prepare, so I think it's the perfect addition to your family's menu.
Cooking instructions:
Cook chicken breasts on both sides, then set them aside on a clean plate
Add the diced zucchini and seasonings of your choice to the same pan
Sauté zucchini, then deglaze with chicken stock and lemon juice
Add the cooked chicken back to the pan to reheat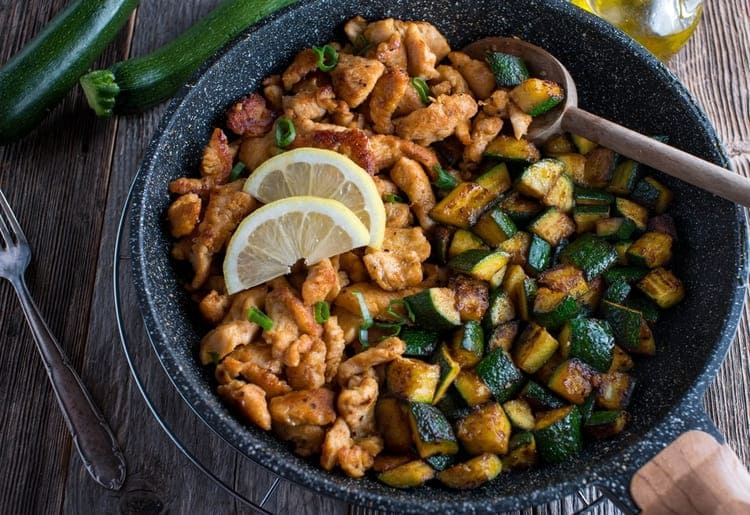 9. Turkey Burrito Skillet
Ingredients: Ground turkey, peppers, zucchini, onion, tomato, red enchilada sauce, green onion, sour cream, cheddar cheese, taco seasoning, tortilla strips
I found this dish on Home Chef while searching for easy turkey recipes. Since then, it's become a favorite in our household.
Packed with a variety of vegetables, this one-skillet turkey burrito is rich in fiber, and vitamins A, C, and K. Its blend of seasonings and toppings also make it super tasty, which is why I'm sure you'll enjoy this dish.
Cooking instructions:
Cook the turkey and veggies for 6-10 minutes
Stir in enchilada sauce until heated through
Top with cheese, tortilla strips, tomato, and sour cream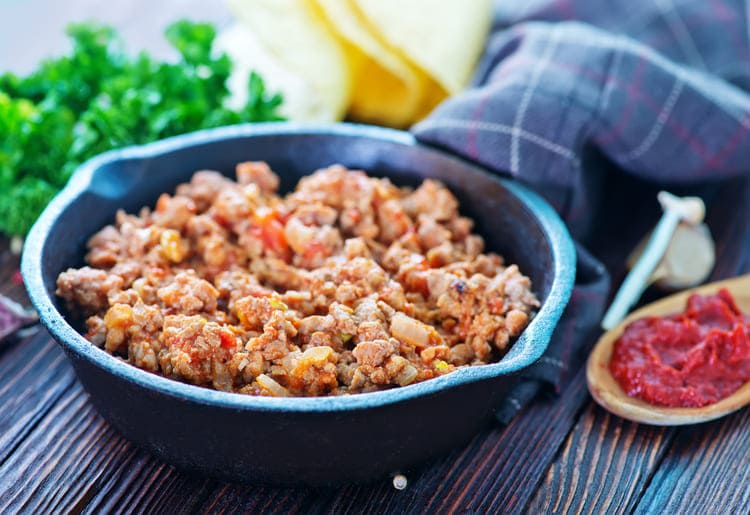 10. Tomato Pasta With Pesto
Ingredients: Onion, garlic, Parmesan, parsley, linguine, grape tomato, red pepper, basil pesto
This is the perfect Sunday lunch dish because it looks sophisticated but can be whipped up in minutes. It's rich in carotenoids, vitamin C, and antioxidants and offers a pleasurable taste reminiscent of Italy (one of my favorite cuisines worldwide).
So, if you're like me (a fan of Italian and Mediterranean cuisine), you must try this dish at home.
Cooking instructions:
Add pasta, tomatoes, onion, garlic, red pepper, and water in a skillet
Cook the ingredients until the sauce is creamy
Top with pesto and seasonings of your choice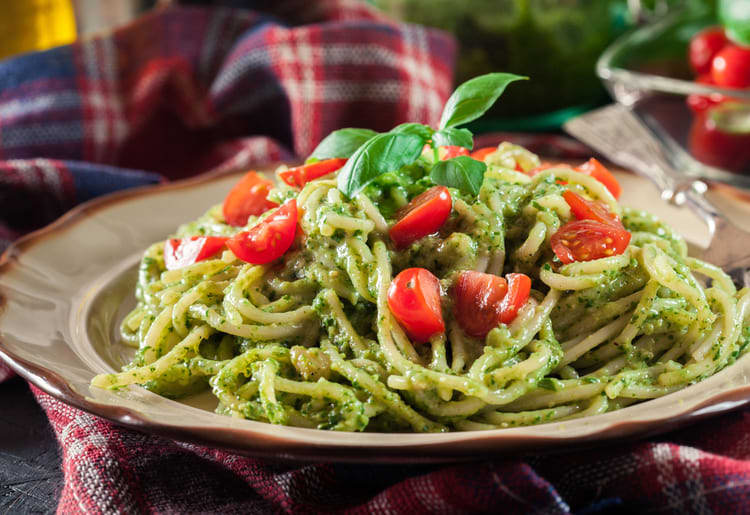 Improve Your Family's Eating Habits
Research suggests that "high consumption of ultra-processed foods (UPF) is associated with an increase in non-communicable diseases, overweight and obesity." One-skillet meals are the way to go, especially if you're trying to improve your family's eating habits but don't have much time to cook.
Of the recipes I've selected, the one-skillet cheddar chicken and broccoli dish is my absolute favorite, as it offers a healthy combination of flavors and nutrients. Chicken is an extremely accessible and versatile ingredient. With different cuts and seasonings, you can create various high-protein meals for you and your family.
» Follow these tips to keep your family healthy with meal kits.