Love honors us, lifts us up, and makes the world look a little rosier. Humankind loves and shows affection in any meaningful relationship, whether parent to child, partners between themselves, friends, and even owners to pets. The mourning we feel over lost love can be compared to almost no other pain–as such, it deserves its rightful place among the most joyous, and most tragic, occasions and is one of the most written about topics in the world.
Here's our top 10 list of the most meaningful love quotes around for you to love, share, and write on a card to your special someone:
Two Halves of a Whole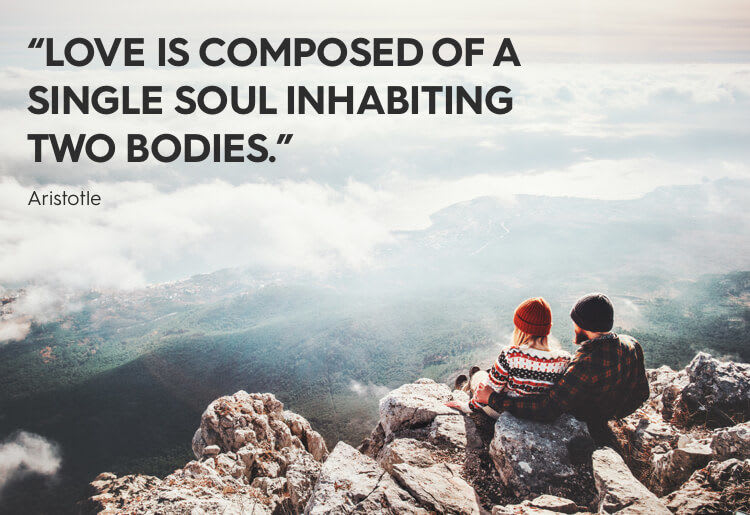 "Love is composed of a single soul inhabiting two bodies." - Aristotle
This ancient Greek philosopher is often called the 'Father of Western Philosophy,' with works covering everything from physics and logic to poetry, theater and even zoology. This quote is rumored to be based on Plato's work Symposium, which tells an origin myth in which people were originally created with four arms and four legs, each half male and half female. After seeing them conspire to climb the godly Mount Olympus, Zeus ordered them cut in half. Since then, every human being spends their life searching for the soul-mate, the other half that will complete the original being. Presumably, Aristotle was explaining why people often feel alone in the world until they meet their other half.
The Love Charm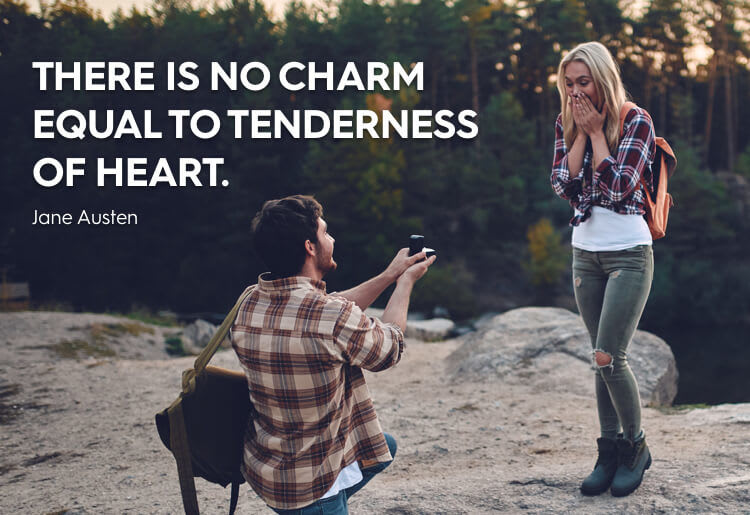 "There is no charm equal to tenderness of heart." Jane Austen
Taken from chapter 13 of Jane Austin's "Emma," this important piece of relationship advice would best have been heeded by the novel's main character who meddles and matches people based on looks, wealth and prestige. Nothing, insists Jane Austin, is more appreciated than tenderness and love–far more than good looks. To be paired with someone who loves you and treats you well is the greatest gift anyone could have. The quote continues, "There is nothing to be compared to it. Warmth and tenderness of the heart, with an affectionate, open manner, will beat all the clearness of head in the world, for attraction, I am sure it will." This quote refers not only to romance, but even to great, tender friendships, which far surpass looks and vanity.
Beyond Nature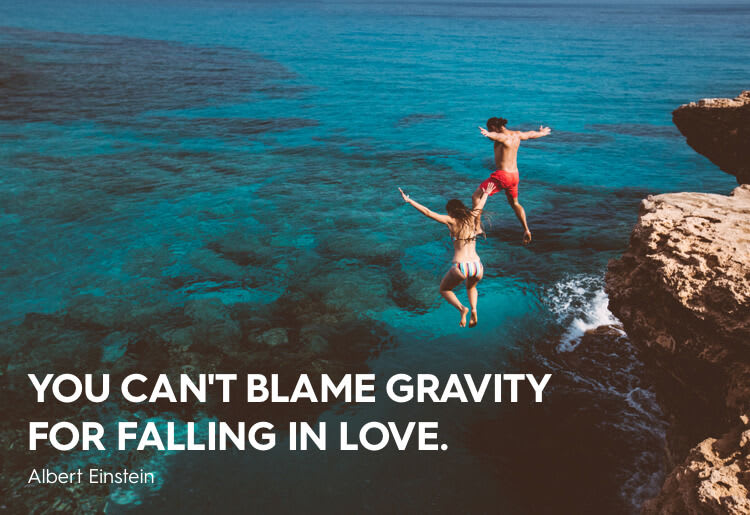 "You can't blame gravity for falling in love." -Albert Einstein
Supposedly, Albert Einstein wrote this phrase in German to a correspondent in 1933. His acquaintance wrote to him that perhaps, due to the earth's gravitational pull, a person was sometimes upright, and sometimes standing upside down on his head. He suggested that it was during those upside down periods when people make foolish decisions–like falling in love. Einstein supposedly wrote a response, though there's no way to know if it was ever sent. The quote, written down said, "Falling in love is not at all the most stupod thing that people do, but gravity cannot be held responsible for that." Theres no knowing what he meant by it exactly, but perhaps he was saying that what the correspondent wrote was more stupid indeed than falling in love.
Until the Very End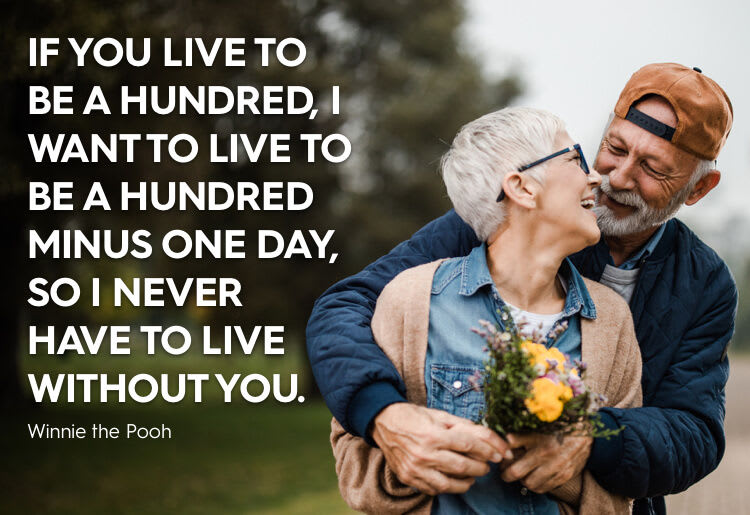 "If you live to be a hundred, I want to live to be a hundred minus one day, so I never have to live without you." - Winnie the Pooh
There's not much stronger than Alan Alexander Milne's Winnie the Pooh's friendship with his favorite companion: Piglet. Winnie the Pooh, a happy, innocent and rambunctious fellow, needs his best friend to keep him on track, out of danger, and ready to look for more honey. Published in "Pooh's Little Instruction Book," Pooh says to Piglet that he hopes they'll be together forever. Similarly, Pooh ponders, "Sometimes the smallest things take up the most room in our hearts," reminding us all that these stuffed animal friends belonged indeed to the littlest people around. To children.
Together Forever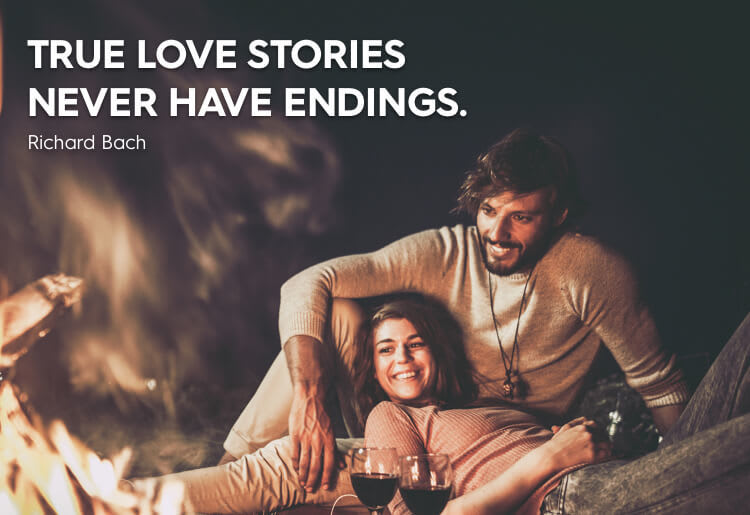 "True love stories never have endings." - Richard Bach
Richard Bach was an aviator and author, best known for some of the 1970's biggest sellers, including "Jonathan Livingston Segull," and "Illusions: The Adventures of a Reluctant Messiah." He began flying at age 14 and wrote both fiction and non-fiction flight-related books. Despite having married three times, Bach had quite a lot of say about love throughout his books, adding to this one, "No, true love stories repeat themselves over and over again. True love stories are about loving, hurting, fighting, separating, meeting anew, and loving again; over and over and over again."
Improving Reality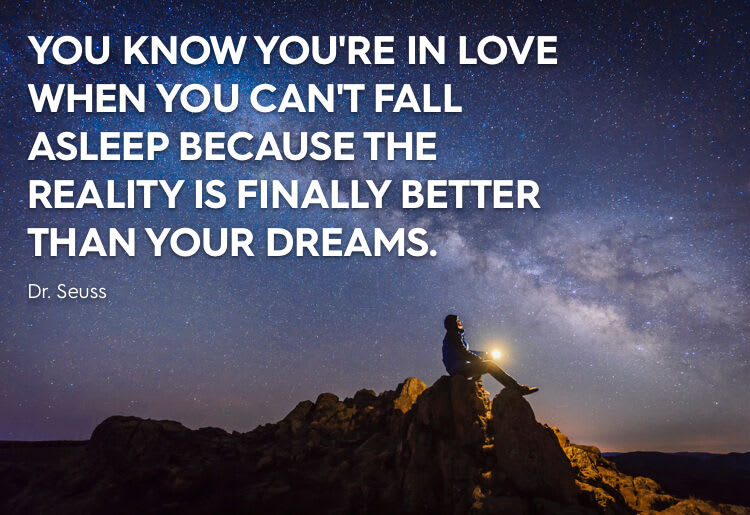 "You know you're in love when you can't fall asleep because the reality is finally better than your dreams." -Dr. Seuss
Also known as Theodor Seuss Geisel, Dr. Seuss is one of the most famous childrens' authors of all time, publishing over 60 books during his lifetime, and spawning numerous adaptations for TV, film and Broadway theater. Geisel fell in love twice: his first wife Helen originally convinced him to give up his post-graduate education to pursue a career as a cartoonist, and his second wife Audrey Diamond, who oversaw his estate until her own death in 2018. He is known to have said about children, "You have 'em, I'll entertain them." That, he certainly did.
Let it Blossom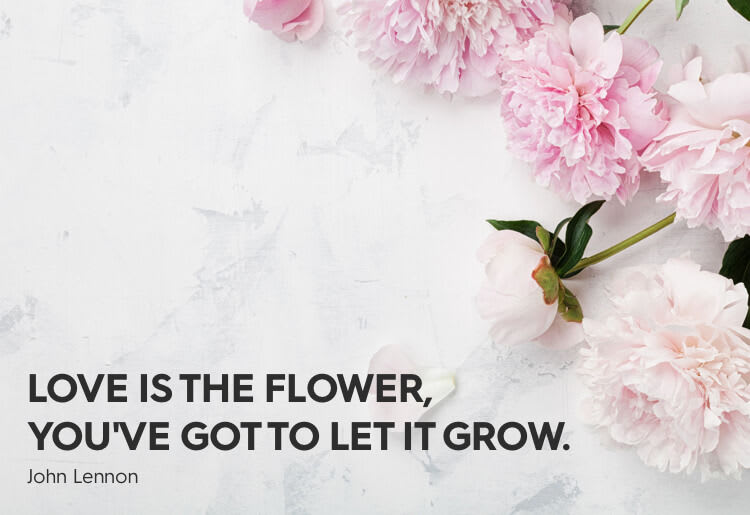 "Love is the flower; you've got to let it grow." - John Lennon
Quoted from his song "Mind Games", Lennon proposes that love, no less, is the answer to the world's cosmic mind games. If we all love enough, and nurture that love with patience and encouragement, we could be "raising the spirit of peace and love." He uses further allegory, calling love the "magic, the search for the grail." What John Lennon really meant in his lyrics, we'll never know, but this one's a feel-good chance to heal the world's troubles. Love is all you need.
The Most Powerful Words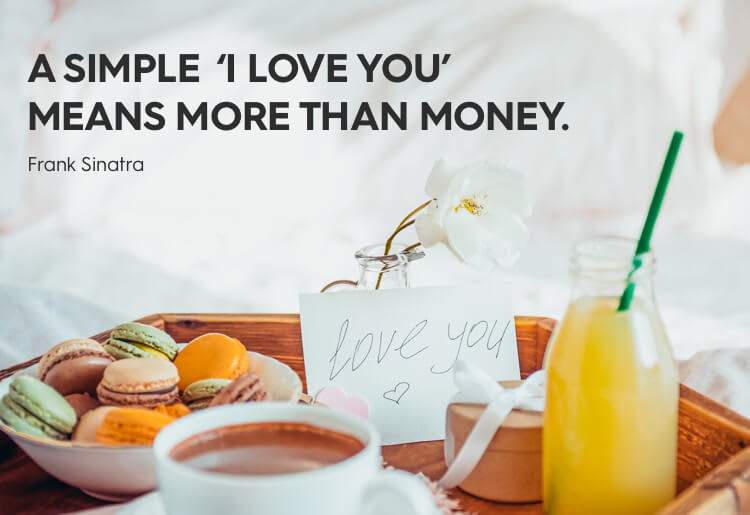 "A simple 'I love you' means more than money." - Frank Sinatra
One of the most influential and popular musical artists of the 20th century, Frank Sinatra is also one of the best selling musicians of all time. He's also won several Academy Awards, Golden Globes, and Grammys. When he says love tops money, well, we can believe him: he's a poet, singer, and one of the worlds best known artists. His popularity was only later matched by Elvis, the Beatles, and Michael Jackson. His estate's net worth was estimated at about $100 million at this death. If you can believe it, he'd rather hear "I love you" from someone special.
Put Yourself First
"Love yourself first and everything else falls into line. You really have to love yourself to get anything done in this world." - Lucille Ball
Thought it's been decades since the much loved Lucille Ball passed away, her affirmations still stand strong as life hacks from this successful comedian, businesswoman, and actress. The first woman to run a major TV studio and nominee for thirteen Primetime Emmy Awards, Ball certainly knew how to get things done. Despite her world famous romance with co-star and husband Desi Arnaz, first things first. The greatest tip from this not-so-red redhead? Love yourself to get anything done in this world.
That's a Wrap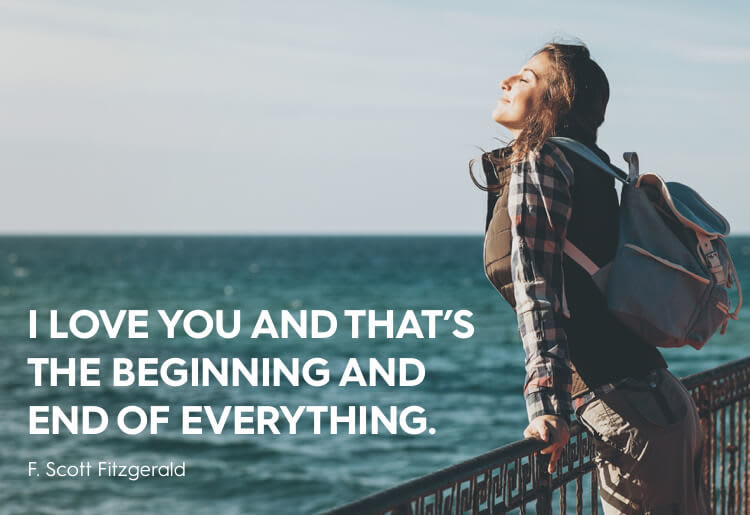 "I love you and that's the beginning and end of everything." - F. Scott Fitzgerald
Written to his beloved wife by one of America's best known authors, this quote begins the remarkable collection of love letters, published in "Dear Scott, Dearest Zelda: The Love Letters of F. Scott and Zelda Fitzgerald" in 2003. Written over the course of their lives together, starting with courtship in 1918 though F. Scott's death in 1940, these letters and quotes sum up a loving, nuanced and complicated relationship. Despite the challenges of the time and mental health, the affection and romance this couple shared is sprinkled throughout some of the most timeless American literature around.
We All Love to Love
There's no argument; celebrities, writers, and famous characters love to write and speak about this most cherished of emotions. Even regular folks have something to say about love, sharing experiences, losses, and new love stories with a world that's seen more versions of human love than imaginable. From this list of top 10 famous love quotes, we've learned that love connects, transcends, and lasts. It takes time, nurturing, commitment, and a bit of powerful self esteem. To quote Daniel Jones, editor for the New York Times column "Modern Love," "Good writing about love features the same virtues that define a good relationship: honesty, generosity, open-mindedness, curiosity, humor and self-deprecation. Bad writing about love suffers from the same flaws that define a bad relationship: dishonesty, withholding, defensiveness, blame, pettiness and egotism."
Looking for love? It's time to check out the best online dating sites and find yourself someone who will inspire you.