Engaging kids online is one of the best ways to teach new concepts and get them excited about the learning process. If you build education websites together, that can be a great bonding experience, in which both you and your kids learn a lot.
However, creating an educational website that kids will love can be tricky. Kids have shorter attention spans and more limited vocabularies than adults. So, you need to use a different set of techniques for crafting and arranging content than you might when building a site for an adult audience.
In this guide, we highlight 10 things to remember as you make your own website for kids, so you can build a site that both delights and educates.
» Selling your knowledge for the first time? Learn about how to create and sell online courses with Wix.
Building a Kid-Friendly Educational Website
1. Determine Your Audience
When designing an educational website for kids, it's important to think carefully about what types of kids you're hoping to reach. In particular, you need to focus on a specific age group to target with your site.
If your goal is to create a site for high school-aged students, for example, you can present more complex ideas and use more text throughout your site. If your goal is to teach younger children—say, elementary school students—you'll need to simplify the information that you present as much as possible and rely more on multimedia than text to get your points across.
It's also important to think about what your target students are interested in. For example, some kids might relate to references to nature and science, while others may be more interested in lessons that relate to cities or everyday life.
Creating a website for kids with Wix is easy!

Start Now
2. Make It Fun
No matter what age your target audience is, kids are more likely to engage with an educational website if it's fun to use. What will be fun will be different for different kids, but a few things to try include adding animations and short videos to explain concepts instead of relying on text. You can also gamify your content by having kids compete for the best score on interactive quizzes, for example.
The styles that your site uses are also important to making it fun. Bright colors and informal fonts convey a positive, lighthearted tone that's more likely to appeal to children than a serious-looking site. If you need inspiration for colors and fonts, check out some of the most popular cartoons and television shows among the age group your website is aimed at.
» Don't have a logo yet? Here's how you can design a professional logo without photoshop.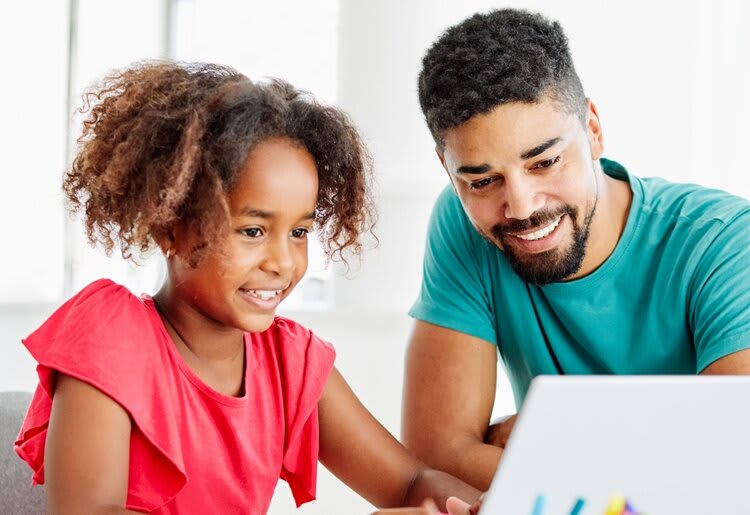 3. Be Imaginative
One of the best ways to teach kids, especially younger kids, is to present information to them as a story rather than a set of bland facts. That means you can offer a unique take on the information that you want kids to take away and create a world for them to explore along the way.
For example, you could create a fairy-tale land, where magical creatures teach educational lessons. Or you could take site visitors on a journey in the ocean or through space, introducing them to new concepts along the way. The more engaging the experience, the more likely that kids are to stick with your lessons and remember what they learned.
4. Enable Kids to Create Their Own Adventure
Another way to keep kids excited about your website and the learning process is to let them choose their own adventure. For example, if you use an animation of a submarine in the ocean to explore concepts in marine biology, you could let students choose which direction to turn the sub or what creatures to encounter.
Building an interactive design also has the advantage of keeping kids coming back to your site multiple times because they can expect a different experience—and different lessons—every time they explore your website. It also makes it easy to add new lessons later by incorporating them into your site's narrative framework as other options for kids to choose from.
» Want your website to stand out? Check out our top tips for choosing a website color scheme.
5. Use Text Sparingly
There's nothing that turns kids away from an educational website like blocks of text appearing on the screen. While it can be tempting to explain concepts in detail using words, showing kids how something works is often much more effective than telling them. So, try to explain concepts through multimedia like animations, videos, and games as much as possible.
When you must use text, keep it as brief as possible. Stick to large fonts, and use bullet points to get across the main points that you want to communicate. Break up long sentences and split text into multiple paragraphs so it's easier for kids to follow.
It's also a good idea to check your content for how easy it is to read. For example, the Flesch-Kincaid reading ease score can tell you what grade level your writing is appropriate for. The grade level of your writing should match or even be below the grade level of the students your website is targeting.
6. Offer Rewards and Certificates
Another way to encourage kids to work through the lessons on your website is to offer rewards and certificates. Rewards can come in the form of points or skill levels that are earned as students progress through your site or take quizzes to test their knowledge. This provides positive reinforcement as students learn and enables them to track their progress and compete against their friends.
Certificates can also give students a tangible reward for their efforts and make it easier for your website to partner with other educators. For example, teachers could assign lessons from your site as homework, and students could use a certificate as proof of having completed the assignment.
» Want to improve your user experience? Try making your website mobile-friendly.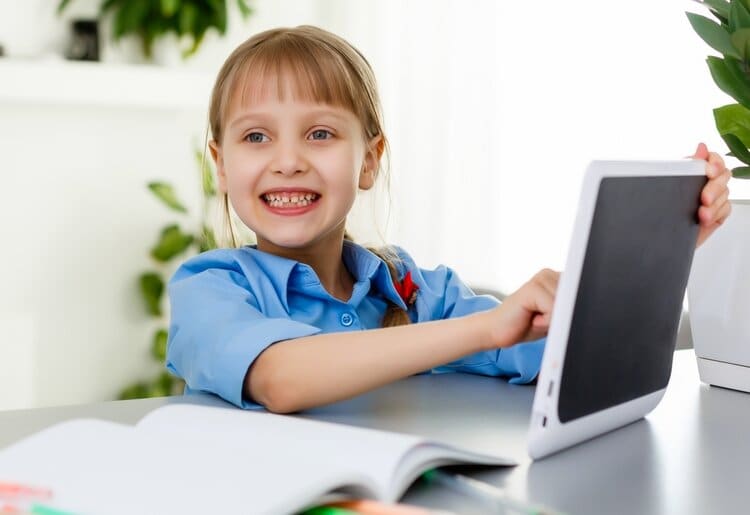 7. Use Quizzes to Get Feedback
Once you've designed an educational website, it's important to make sure that students are actually learning the key concepts that your site is intended to teach. One of the best ways to do this is by offering short, interactive quizzes that students can take after finishing a lesson.
If students are generally doing well on these quizzes, it's a good sign that they are grasping the key takeaways from your lessons. If they're performing poorly, however, it could indicate that your site needs to simplify concepts or explain them more thoroughly. Getting this feedback is essential to improving your site over time, especially when you're crafting lessons on new topics.
8. Simplify Your Navigation
Another thing to consider when creating an education website for kids is that your navigation menu needs to be as simple as possible. Traditional menus with a series of buttons can be confusing for younger kids because they don't necessarily convey the order in which your website is meant to be explored. Consider using a numbered list or large buttons that kids can click to be taken exactly where they're supposed to go next.
You can also experiment with creative menu options that reflect your site's content. For example, if your site takes children on a journey through space, you could create a series of planets or stars to serve as your navigation menu. In a fairy-tale land, you could have a map with different landmarks that kids can click on to navigate your site.
9. Try Different Media
Most educational websites rely on images, animations, and short videos to get their ideas across. But other types of multimedia, like audio or 3D photos and videos, can also be effective for teaching concepts, particularly for younger kids. Including unusual types of media can be useful for holding their attention and keeping your website fun.
10. Use a Website Builder
Building an education website for kids doesn't mean you have to learn to code. The best website builders can help you create a fully custom website using no-code editing tools. Many of the top builders, such as Wix and Squarespace, also come with hundreds of professionally designed templates to get your website off the ground.
Another advantage of using a website builder is that many of the top builders are impressively flexible. For example, with GoDaddy's website builder, you can use a set of marketing tools to track students as they progress through your website and offer rewards for completing lessons.
Website builders are much less expensive than hiring a professional designer. In fact, many let you start designing for free, and you only pay when you're ready to publish your site. You can put the money that you save by using a website builder toward developing animations and other engaging educational content for your site.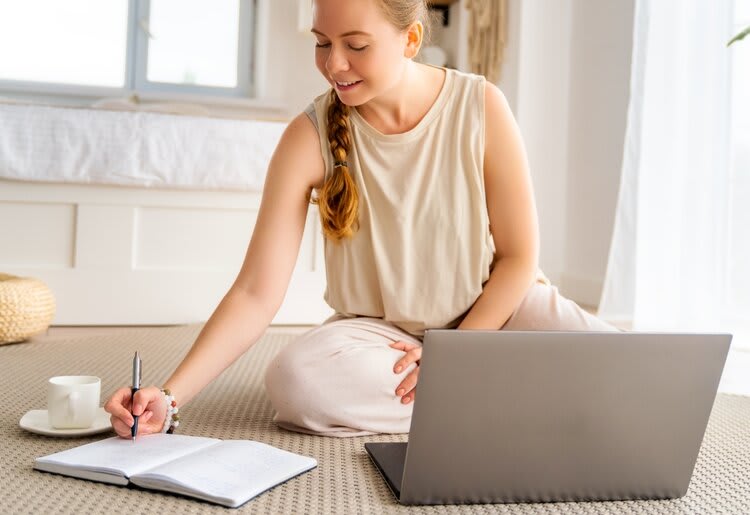 Bottom Line
For an education website for kids to be effective, it needs to be fun, engaging, and age-appropriate for the audience that you're trying to teach. Children's websites have distinct design requirements compared to websites built for adults, and it's important to keep these requirements in mind at every stage of the design process.
If you're ready to start creating a new education website for kids, you can use one of the best website builders to make the process easier.
» Need to promote your new website? Check out these first post ideas for your business's social media.