Weebly is among the best website builders for small businesses if you want to manage email campaigns. Weebly Promote is an email campaign app packed with features designed to make email marketing easy for skilled marketers and beginners alike.
In this article, we'll look at the top 10 things that marketers love about Weebly's email campaigns and help you make the most of these features.
» Want a more versatile website? Check out our top 10 picks for the best website builders.
1. Weebly Lets You Automate Emails
Automated emails are a huge time saver. They help you stay connected with your customers, thereby increasing engagement, brand recognition, and loyalty without personally needing to write or send each email.
With Weebly Promote, you can create and send automated emails when:
Someone buys a product
Someone signs up for your newsletter
Someone hasn't logged in for a while
A loyal customer has a birthday
This helps you stay front of mind for your customers and build meaningful relationships.
2. Weebly Has a Drag-and-Drop Email Editor
Weebly's easy-to-use drag-and-drop email editor enables you to create stunning, on-brand emails in minutes. You can add text, images, galleries, maps, and embed code.
The editor is intuitive to use, so even if you have no experience with email marketing, it's easy to get everything right from the get-go.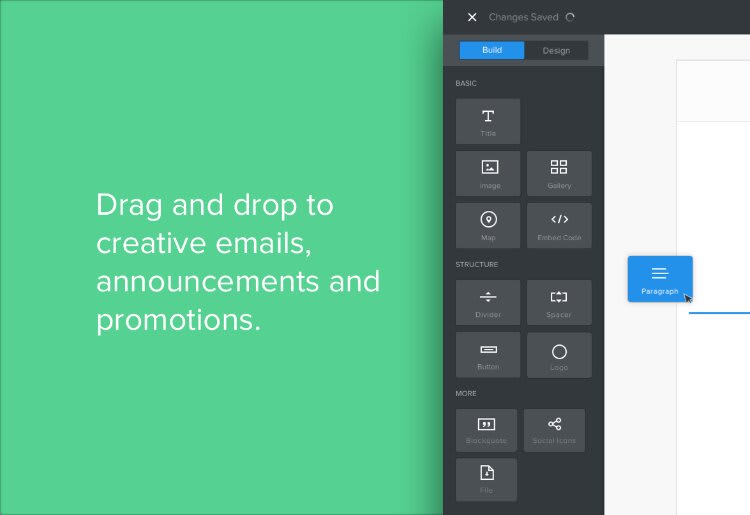 3. Weebly Has an Easy Segmentation Feature
Personalized email marketing is an essential trend in marketing for a good reason: It's one of the best ways to improve engagement and conversion rates.
Weebly allows you to do that by easily segmenting contacts into different groups.
» Learn more about simple but effective ways to promote your website.
4. Weebly Has Different Ways to Build Email Lists
The first thing you need for email marketing is a way to build your email list. Weebly gives you a few different options for this.
With it, you can:
Import your contacts from Gmail, Google Workspace, or Yahoo!
Sync your Weebly contacts from orders you've received
Add a "Subscribe to our newsletter" form on your website
5. Weebly Has Mobile-Friendly Email Campaigns
According to HubSpot, the majority of email opens in 2021 came from mobile devices, 41%, compared to 39% from desktops. Today, this trend is even stronger, with mobile use consistently growing.
Thankfully, with Weebly, your emails will look good on any device because they're automatically mobile-friendly.
6. Weebly Provides Email Stats
How can you improve your campaigns if you don't know what worked and what didn't?
With Weebly Promote, you don't have to guess. You can instantly measure opens, views, and clicks from the platform and optimize your future emails based on the data you collect.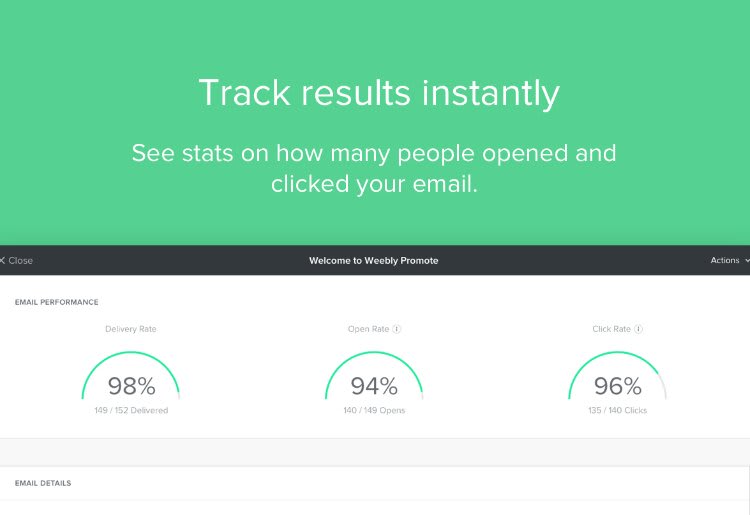 7. Weebly Can Send Test Emails
You can easily catch any typos and errors with test emails before you send your campaign. Any experienced marketer will likely have a story of sending an email containing a mistake at least once, which is why diligently checking all the details before you hit "Send" is key.
Don't just double-check everything in the editor; make sure you send yourself a test email. Or, even better, send a test email to someone else! Weebly lets you do just that.
» Want to capture customer feedback easily? Try these customer review templates.
8. Weebly Lets You Schedule Email Campaigns
Easily prepare your campaigns and schedule them for a specific date and time with Weebly's scheduling feature.
This is perfect if you want to segment your customers by geographic region and send emails at different times of the day.
9. Weebly Has Customizable Email Templates
If you need some inspiration to get started, Weebly offers a few professionally-designed email templates that you can customize to fit your brand.
Marketers love this feature because it significantly reduces the time you need to create an email.
10. Weebly Offers Customer Support
Weebly's customer support is there for you if you run into a problem or need help figuring out how best to build your campaign.
Even experienced marketers sometimes need extra support to make the most of marketing. So, if you're a beginner, you can get expert help from customer support to configure your campaigns based on your needs.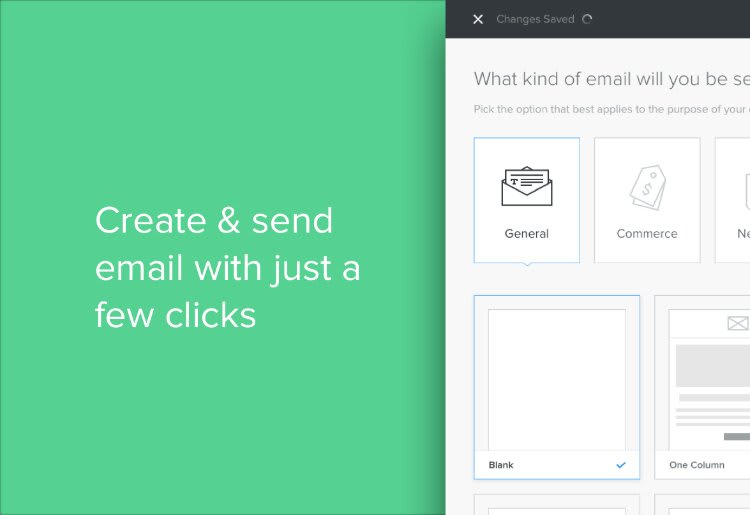 Build Email Campaigns Like A Pro With Weebly
With all-in-one website builders like Weebly or GoDaddy, it's easy to build beautiful email campaigns that get you the results you need to grow your business.
Weebly Promote has many valuable features that make email marketing easier to do right, even if you have no experience with it. And if you need more ideas on building a successful campaign, check out our email marketing tips.
» Check out the best email marketing integrations for Squarespace.