If you want to promote your website efficiently, you need to track website metrics. A survey by Virant shows that 64% of consumers move to a competitor after poor user experiences. And this starts with your website.
With metric tracking, you can see what does and doesn't work and take action to improve performance. Most website builders, like Squarespace and GoDaddy, offer SEO features or plugins to help you analyze traffic and metrics. Alternatively, you also have tools like Google Analytics and Google Search Console.
In this post, you'll discover 10 crucial website metrics to track and monitor in 2023.
» Looking to create a website that converts? Check out our picks for the best website builders.
Why Website Metrics Are Important for Your Business
Website metrics enable you to understand two main things about your website:
How it ranks in search results
How users engage with it
These two points are connected. Users can't find your website if it doesn't appear in search results, and search engines take your visitor's behavior into account when ranking your site.
Whenever I work with a new client, I always check their current website metrics in Google Search Console and Google Analytics, so we can decide together how to move forward.
Here are the top 10 metrics I usually track.
1. Total Clicks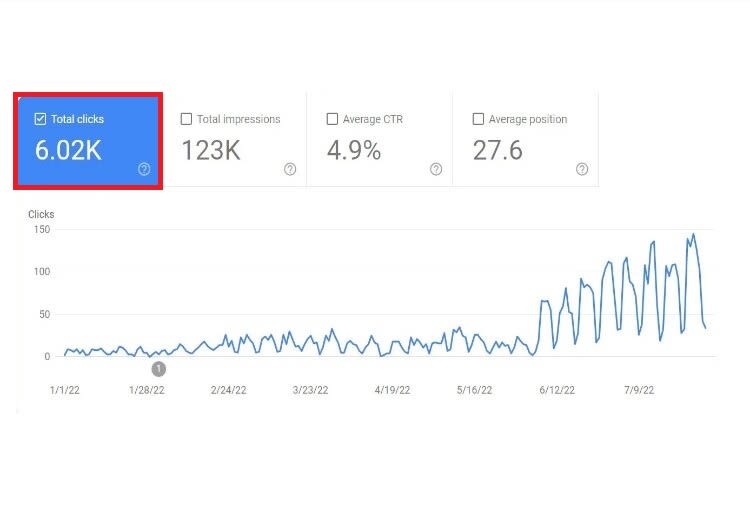 Total clicks refer to the number of visitors who clicked on your website's page(s) after searching for a specific term. To see the total clicks, you simply need to go to "Search results" under the "Performance" tab on Google Search Console's right-side menu.
The above screenshot is from one of my clients whom I met on LinkedIn and who started investing in content marketing around June 2022. Here, you can see how the total clicks on the website started growing after we began publishing blog content.
2. Total Impressions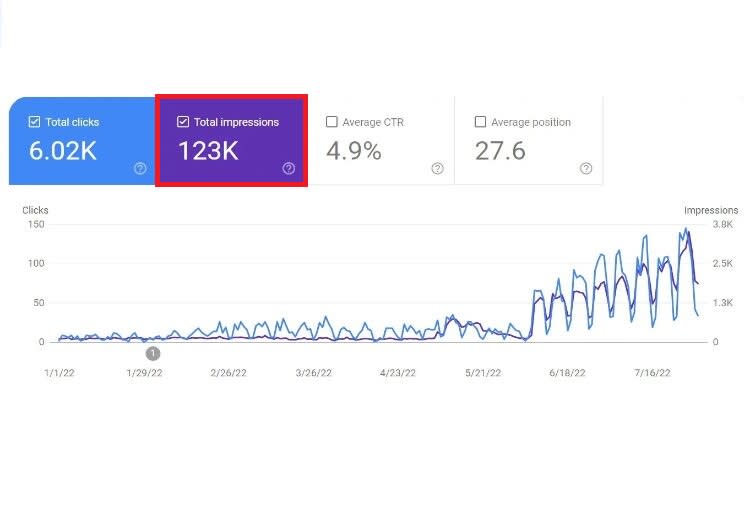 The total impressions are the number of times your website's pages showed up in search results, even if the user didn't click on them.
Above is what it looks like in Google Search Console. This is the same website used in the previous point.
As you can see, the number of impressions grew at the same time as the total clicks. This makes sense: to discover your website and click on it, visitors first need to see it in search results. Plus, the more often your website shows up in search results, the more users will see it and click on it.
3. Average Click-Through Rate (CTR)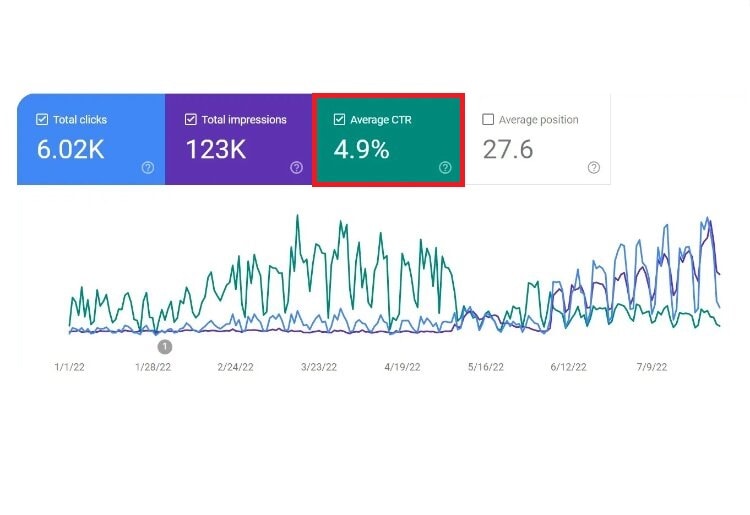 The average click-through rate (CTR) is simply the ratio between impressions and clicks. You can see above how the CTR appears in the Google Search Console.
Now, you may be wondering why it dropped, but it's actually quite simple.
Before investing in web content, the company relied on its own name as the primary keyword for ranking. In other words, most of their traffic came from people who were actually looking for their website. Once the company started publishing keyword-specific blog content, it started ranking for other highly competitive keywords.
4. Top Keywords/Queries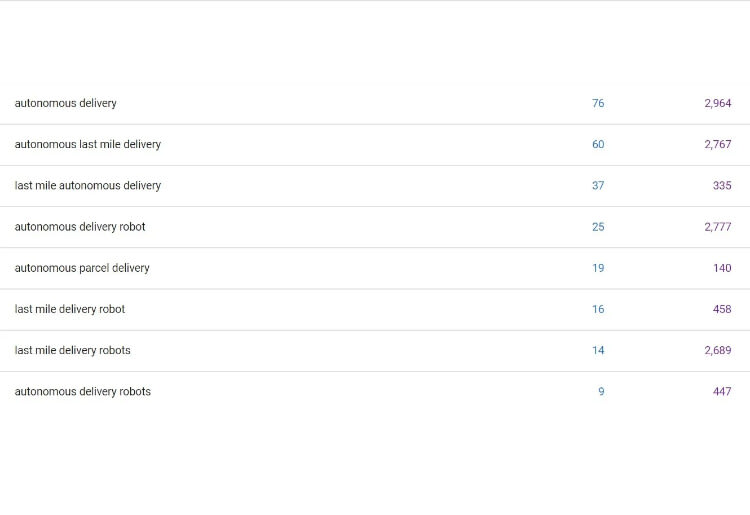 Next, we have the top queries/keywords or the search strings that visitors used to find a website. To view the top keywords on Google Search Console, you need to click on "Search results" (under "Performance") and then scroll down to the "Queries" tab.
Let's consider an example from another client, a company developing software for autonomous delivery robots.
Above, you can see keywords that have a relatively low search volume, which is why the numbers aren't very high. Keywords in this context are simply the queries that people use to search in Google. In the column on the left, you can see the number of clicks, and in the right-side column, you can see the number of impressions.
If few people search for a specific keyword, your traffic from this keyword will be on the lower side. However, here, these keywords are exactly what this client aims to rank for and covers a wide range of variations in a meaningful way.
5. Average Position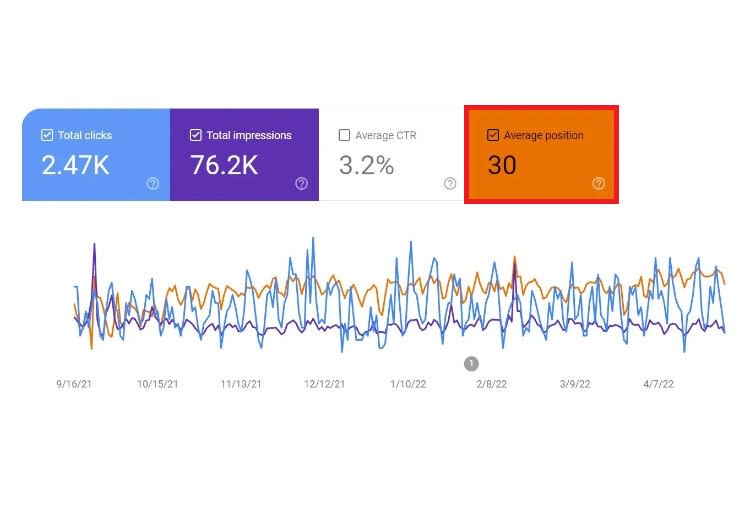 The average position in search results is where your website appears, counted from top to bottom, for all search queries over time.
Here, you see an average position that's stable for a specific period. You can also look at the average position for specific pages to see how each piece of content performs.
6. Site Speed and Performance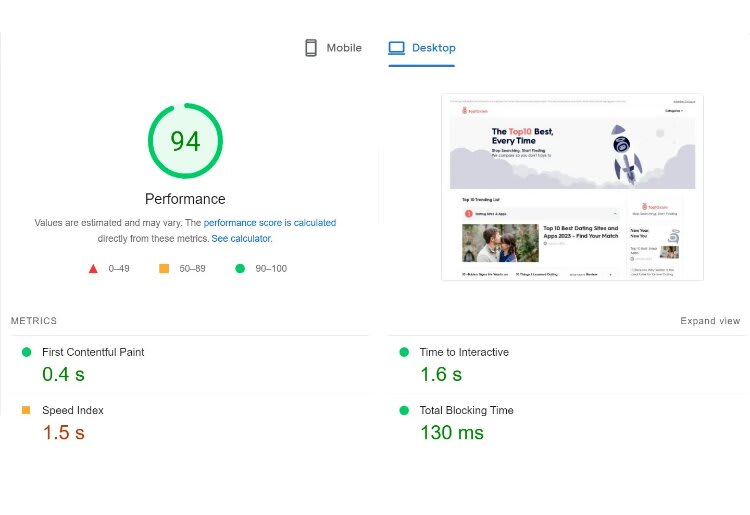 How fast your website loads can make all the difference between users staying on it or bouncing back.
You can use Google's Page Speed Insights and GTMetrix to get information on the performance of any site.
» Need to improve your website's load speed? You should optimize your images.
7. Bounce Rate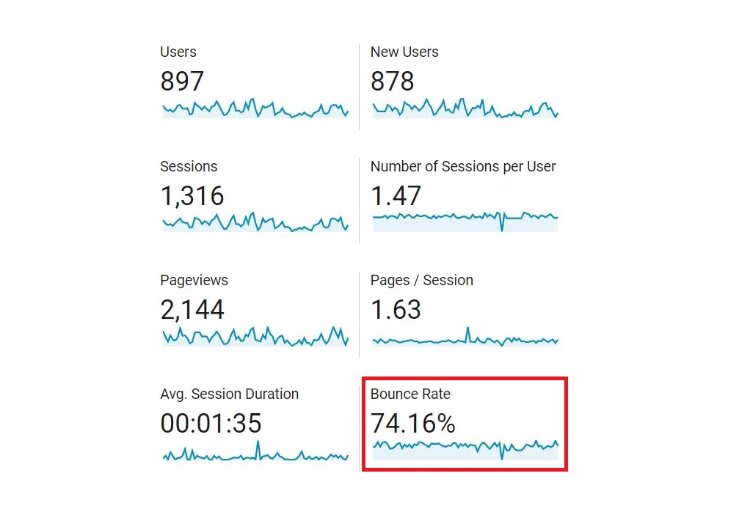 The bounce rate is the percentage of users who close a website without interacting with it. You can view your bounce rate in Google Analytics by navigating to "Audience" and then clicking on "Overview."
Search engines consider your bounce rate when deciding where you should rank on search results. This can impact your conversions, because if you rank low, then fewer visitors access your website.
The average bounce rate generally varies between 26 and 70%. But, as in the above example, blogs have even higher bounce rates at around 65% to 90%.
» Want to reduce your bounce rate? Try these tips to improve user experience on your website.
8. Traffic Channels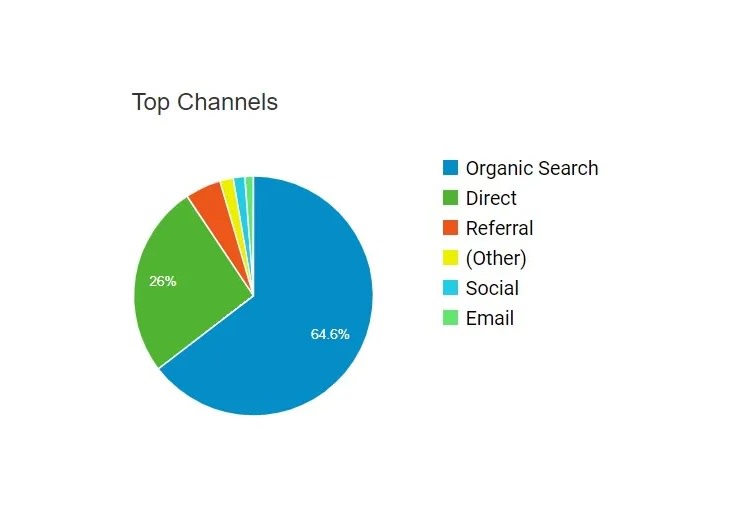 Knowing which traffic channels bring the most visitors can inform your marketing strategies for optimal reach. To view your traffic channels in Google Analytics, go to "Acquisition" and then "Overview." Above is an example of a webpage's traffic sources.
It is useful to track your traffic channels after:
Doing affiliate marketing
Promoting your website via email
9. Average Session Duration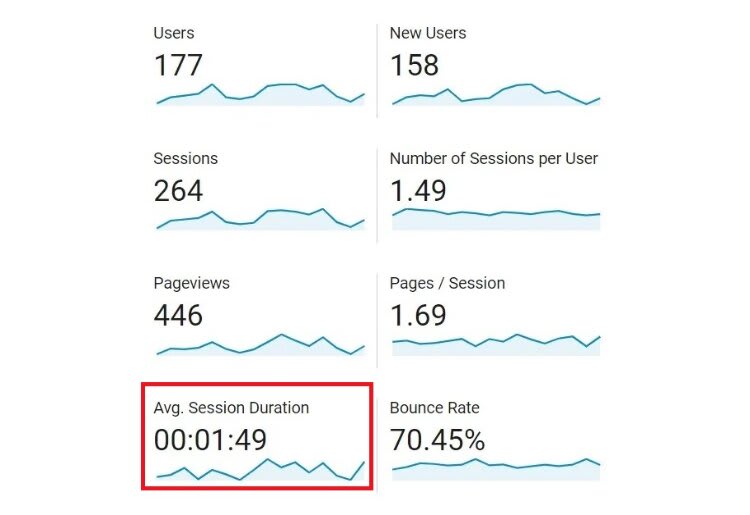 Average session duration is how much time a user spends on your website. You can also find this in Google Analytics under "Overview."
According to Databox, the median value of the average session duration for B2B sites is 77 seconds. Benchmarks like this can indicate if your site needs tweaking or if you've successfully kept users engaged.
10. Top-Performing Pages
To identify your top-performing pages, ask yourself the following questions:
Which blog posts or product pages yield the highest results?
What keywords do they rank for?
Could you get them to rank for other, similar keywords?
Remember that you shouldn't stuff keywords in your content just because you'd like to rank for a few extra ones. Always look for ways to include keywords naturally and in the right context.
Make Your Metrics Count
Tracking metrics enables you to be more intentional about your goals (e.g., to bring in more traffic) and KPIs (e.g., the number of visitors per month). This enables you to think strategically about how you can achieve your objectives.
Metrics can also point out areas that need improvement. Maybe certain blogs aren't performing well because they're ranking for the wrong keywords. Or perhaps your website layout is putting customers off, resulting in a high bounce rate. For this, you can investigate customer review templates to get feedback.
» Not sure where to start? Check out the best website builders for SEO.