In a Nutshell
Fiverr is an online marketplace frequently used by businesses for various outsourcing projects like digital marketing and graphics. Fiverr also has website designers for every need from a few basic site images to full-blown websites. Fiverr designers work with both mobile and desktop apps. And since it is an open marketplace, Fiverr projects are generally considerably cheaper than competitors.
pros
Large marketplace of talent to choose from
Prices range from $5 upwards
Seller levels for easy ranking
cons
Doesn't guarantee quality work
Initial price isn't always what you pay
No DIY or maintenance options

Fiverr Visit Site
Fiverr at a Glance
Price: Starting at $5
Service type: Do it for me service
Turnaround time: From 24 hours up to 7 days depending on designer
Customization level: Varies depending on designer
Mobile responsive sites: Yes
Fiverr Web Design Examples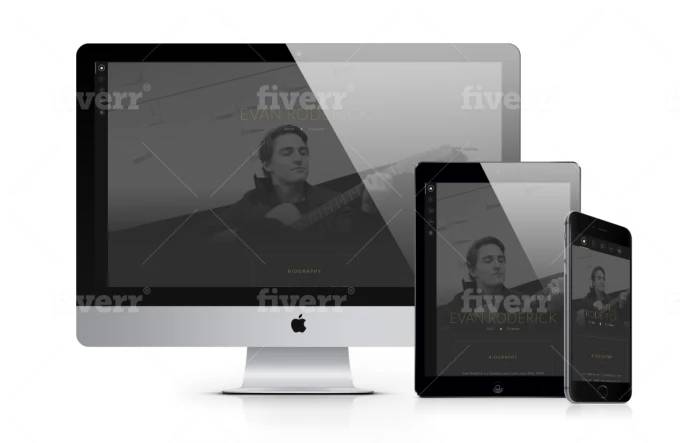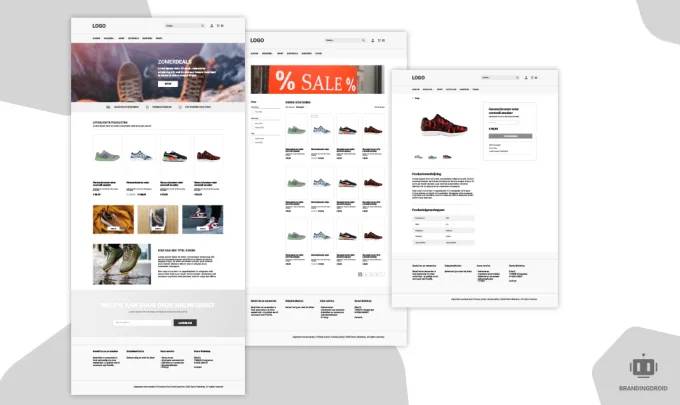 What Services and Features Does Fiverr Offer?
As a marketplace, Fiverr provides a range of services and features, and these will vary depending on which designer you decide to work with. There are no do-it-yourself gigs, only designers who will do it for you. There's also no continuous maintenance. Once your Fiverr designer finishes the job, the upkeep is up to you (or you could hire the same or another designer to do another job for you). In this respect, Fiverr is very much a WYSIWYG service. Some businesses prefer it this way. Pay for what you want, and walk away with your hands clean. If this is what you're looking for, then Fiverr is a great option that provides plenty of professional website designers for significantly less than the competition. Some service options include:
Email templates
Mobile websites/responsive designs
Landing pages
Full business sites
HTML sites
Commercial use sites
Interactive mockups
It is important to note that not all of the designers offer the same services. So, check with the designer for specifics about a project before you sign on the dotted line to make sure that you are getting what you want.
Prices, Plans, and Value for Money
In terms of value for money, you will not get much better than Fiverr. The site features talented designers who sell their services for a pittance (whatever that is). Some jobs are priced starting at $5. You just can't beat that.
Of course, there's a caveat or 2 here. While projects may say starting at $5, most professional website design projects will end up costing you a bit more than the initial starting price. For example, $5 might only include the homepage of your website. Once you start adding on pages, features, or other elements, the price can quickly climb. This isn't always the case, but make sure you know exactly what's included in the quoted price before you pay for a job, including how many revisions rounds are allowed.
What's more, Fiverr has a wide range of talent, but not all freelancers were created equal. Sometimes, you can get a bargain from this marketplace-style competition pricing. But other times, well, you get what you pay for. Be sure to read all of the reviews of the designers carefully before you select a freelancer to work with. Also, it is a good idea to review the Seller Level for each potential designer. This is Fiverr's way of ranking freelancers, and it gives businesses an excellent way to easily see which designers have the talent and experience to fit their projects.
You can expect to pay anywhere from $5 up to $600 for a professional, customized website for your business, with the average Fiverr designer charging in the range of $30-$60. Make sure to look out for any additional fees such as service fees, expedited delivery charges, and additional file types that aren't included.
Fiverr also has a Fiverr Pro option. This service offers a higher quality of designers and guarantees that level of professionalism. For businesses looking to create a truly professional website design, pro provides this distinction with verified pro sellers. Realize that this badge comes with a higher price tag, as well.
Ease of Use
Fiverr is incredibly easy to use, in general. Obviously, how easy and fast the process is will depend on the designer you choose to work with. But for the most part, Fiverr designers are about speed. After all, when you're getting paid $5 for a project, you want to get it done with as quickly as possible!
Fiverr has a clean and intuitive website that is easy to navigate. There are plenty of filters and search features to help you narrow down the selection. Once you've decided on a designer, sending out an order form is very simple. Fiverr has a few questions to fill out regarding your website design preferences (color palette, style preferences, etc.), and then the designer gets to work. Depending on how many revisions are included, you can go back and forth with the freelancer a number of times via email correspondence. The whole system works really smoothly, and people are generally very happy with the results from Fiverr.
What People Say About Fiverr
"Mehar786 was a pleasure working with. He's very reliable and thorough! After three failed attempts from other sellers, Mehar786 has saved the day and I am able to now promote my products on my webpage!! Thanks Mehar! :-)" - Lavenza July 2020
"Everything went very smoothly. I was provided with a website that matched my ideas greatly! I am very pleased." - Kately N Puglisi June 2020
"rave_jahan's professionalism and expertise was *outstanding* (5 stars no doubt!) He is 100% committed to the task at hand, talented and hard-working. He is able to direct the project to ensure that it is completed at a high-level, with great attention to design principles. So far, one of the best experiences on Fiverr to date. Will definitely buy again or recommend in the near future. All the best." - My 8 Day Week July 2020

Fiverr Visit Site
FAQ
Q: Is Fiverr.com legit?
A: Yes. Fiverr is a legitimate website that benefits both sellers and buyers by providing an open-source freelance marketplace where businesses can find talented workers at affordable prices.
Q: What is Fiverr, and how does it work?
A: Fiverr is an online marketplace that connects buyers and sellers for various business projects. Sellers post a project, and buyers can purchase those orders according to their project requirements.
Q: Does Fiverr refund?
A: Yes. Speak to a support rep or request a refund via the website for a direct refund or a Fiverr credit.
Bottom Line
Fiverr is marketplace hunting at its best. Collecting thousands of talented designers into a single network and having them compete for your business is a great way to ensure quality results while maintaining affordable pricing throughout. While some designers are a hit or miss, Fiverr's rating system makes it a lot easier to weed out the good from the bad. Most designers offer unlimited revisions and fast turnarounds, too.