At one point or another, finding out the owner of a VoIP number may become vital to you or your business's well-being. For example, you might miss an important call and lose a lot of money, get a spam caller harassing you, or receive a call from a scammer who manages to con you.
Even if you're using one of the best VoIP services on the market, you'll need to use various techniques to discover who owns the VoIP application and the number connected to your number. So if you've been searching online "how to find the owner of VoIP number," here's our comprehensive list of 10 tips to help you uncover the VoIP number's owner.
1. Set Up Caller ID on Your Device
There are many benefits of VoIP phones, such as accessibility and helpful software integrations, but before using them, you should configure the device for your organization's needs—and safety. One important feature to activate is caller ID, which comes in two parts: Default VoIP phone number, and Caller ID Name (CNAM).
The steps for activating caller ID may vary depending on your device, but typically, you have to go to the account settings through the main menu and select the option there.
Check whether there's an option to display an incoming VoIP call number and name. If the name is already in your phonebook, it will display automatically. If not, the service will review online databases to match the number to an owner's name and display this on your screen when you receive a call.
2. Use the Automated Service *69
When you dial "*69" on your phone, it initiates an automated service that displays the details of the last call, including the VoIP number and the time of the call. The system will also show calls whereby the caller has blocked or hidden their caller ID.
Since VoIP service providers like Grasshopper enable you to talk to people globally at any time, the automated service *69 might come in handy if you miss a call. The service might even help you identify a spam caller to make them stop harassing you.
3. Do a Reverse Phone Search
If you have a missed call and want to figure out who was trying to contact you, a reverse phone search or lookup can help. It involves taking a caller ID and inputting it into an application or a lookup website to search for the caller's details. Reverse phone lookups may be available free or for a small subscription fee, and you may get the owner's name and address.
Lawyers can benefit significantly from reverse phone searches because they'll be able to identify callers trying to contact them to contribute to a case. They might have missed the phone call or the call disconnected abruptly, which can occur when a VoIP phone service provider fails to control a connection between two parties—known as call control.
The best VoIP providers for lawyers have many features, such as call recording, logging, and tracking—crucial for storing case details—but none of these enables them to uncover a VoIP owner's ID, so a reverse phone number search can be vital.
4. Ask Your VoIP Service Provider
Your VoIP service provider may be able to trace where a call came from if the caller has a registered caller ID and IP address. All you have to do is contact your provider and give its support team the caller ID and the time of the call.
For regular users, your provider is likely to be able to trace the caller for you at zero cost. You might need to pay for the service in other situations, for example, if the search service is a paid add-on feature from the provider. Furthermore, you can ask the VoIP service provider to do a CNAM lookup to help you find the caller, but you'll need to provide reasonable justification for your query to be approved.
If it's a nefarious person who was calling you, however, they'll likely have hidden their ID and IP address, making it challenging to find out who they are, so the service provider may not be able to find this information either.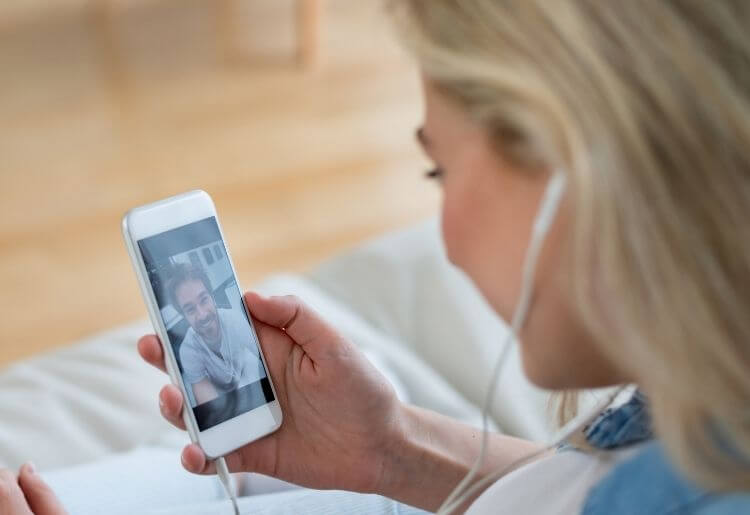 5. Install a Packet Analyzer to a Softphone or Hardphone
Session Initiation Protocol (SIP) phones—softphones and hardphones—are usually found in call centers, where a call agent will be wearing a headset and answering incoming calls or making outbound calls. SIP is a signaling protocol, and it manages core elements of an internet telephony call—voice communications and multimedia sessions over an IP network.
A SIP hardphone is primarily a desktop phone that looks like a regular traditional telephone. However, it's connected to a Local Area Network (LAN)—multiple devices grouped together in a network to connect to internal servers or share a single internet connection.
SIP softphones are VoIP calling apps and software also using the call signaling protocol for VoIP to establish links to a telephone network, that is, between a gatekeeper and an endpoint.
While a call queuing feature may help keep a VoIP caller on the line to transfer the call to another department, some calls may disconnect, and you may wish to contact the caller. To trace the number on a SIP phone, you'll need a packet analyzer—a program that intercepts or logs network traffic. The packet analyzer's SIP filter will display the IP address and CNAM of the VoIP owner.
6. Perform an IP Address Lookup
To perform an IP address lookup, you'll need to obtain the caller's IP address. For example, the IP address can be displayed on your VoIP phone screen, which gets it from your router via Dynamic Host Configuration Protocol (DHCP). DHCP is a protocol that assigns IP addresses within a computer network.
Once you have the address, perform an IP WHOIS lookup online to obtain the details of the IP owner, location, Internet Service Provider (ISP), hostname, and contact information.
7. Check the Domain
As you review logged inbound calls on your VoIP phone, you might notice that they display a VoIP address domain connected to the number. You can check the domain using the lookup option on ICANN to access publicly available information about the domain owner's name and mailing address.
8. Directory Check for Fixed VoIP Number
There are two types of VoIP numbers: fixed and non-fixed. The key difference is that fixed VoIP numbers are registered to a physical address using a VoIP provider whose broadband network is linked to the Public Switched Telephone Network (PSTN). Non-fixed VoIP numbers are considered "virtual numbers" associated with different locations.
VoIP companies like RingCentral MVP offer phone numbers for local area codes, toll-free numbers, and virtual numbers. While the mobility and flexibility of VoIP phones make them more valuable than traditional phones that tie you to a specific phone number or to an address, non-fixed VoIP numbers may be almost impossible to trace.
To track fixed VoIP numbers, you might need to go old-school by searching for the number in a phone directory.
9. Check the VoIP Call Logs
Similar to a phone bill check, whereby you can review all the calls you've received on a traditional phone, you can check your VoIP call logs to determine the missed or dropped calls that you wish to reconnect with. The process remains the same, as you'll obtain the caller ID or CNAM and search for the name of the VoIP number's owner.
If you don't already have an IT team, consider hiring an IT technician to perform a CNAM query on your behalf and provide you with the information you're searching for.
10. Talk to Law Enforcement
Finally, scammers are constantly looking for potential victims, and VoIP presents a new frontier for them to take advantage of people. Voice over IP phishing scams—known as Vishing—involves using legitimate-sounding caller IDs to convince people to divulge sensitive personal and financial information.
Scammers can target the service provider and attempt to steal data, or they can access your account and obtain your details. Notify your VoIP service provider and tell them about any suspicious calls you've received, the time, and the call duration. Moreover, you can contact the Federal Bureau of Investigation (FBI), which will investigate scam phone calls routed through a VoIP service and identify the owner of the number.
To avoid VoIP attacks, the FBI recommends using multi-factor authentication (MFA), giving user accounts the least privileges and access to the network, and monitoring accounts and the network for intrusions.
Conclusion
Finding the owner of a VoIP number may be the difference between making or losing money, obtaining valuable information, or helping to thwart spammers and scam artists. Set up your caller ID in advance and use other tools like reverse phone, IP, CNAM, and domain name lookups to identify VoIP callers whose details aren't immediately clear.
Some calls will be difficult to review because people may not be registered to a VoIP service or may be malicious actors hiding their information. But the tips above should help you find the VoIP number's owner in most cases. If you're dealing with scammers, contact the police for guidance.