However, phone services can be expensive and complex to implement. And as your company grows, it can also be difficult to scale your communication infrastructure to accommodate the additional bandwidth you need.
Enter VoIP (Voice over Internet Protocol) services. The best VoIP providers offer a cloud-based alternative to traditional phone systems, allowing you to make and receive calls at a fraction of the cost. RingCentral, a top VoIP provider, states that VoIP costs up to 68% less than traditional phone solutions to run, while the FCC notes that VoIP can offer some features traditional phone services can't. VoIP systems can also be significantly cheaper to install and run. This makes VoIP a no-brainer for most businesses.
Because VoIP forgoes traditional phone lines and instead delivers voice calls over the internet, VoIP providers can offer new features that are unavailable or expensive on traditional phone exchanges. Below are 10 of the most value-adding VoIP phone features you should look for when choosing a VoIP provider for your business.
1. CRM integration
As VoIP is a software solution, it's relatively easy to integrate your phone system with your CRM (customer relationship management) software. This can pay off enormously in efficiency savings.
Sales teams can call prospects at the touch of a button, for instance, instead of having to manually enter every phone number on a list in turn. Every touchpoint with customers can be recorded so you know exactly where each customer is in the sales cadence, improving sales conversions. Customer support agents can pull the full details of any customer who calls the company up on their screen in an instant, enhancing the customer service they're able to provide.
Integrations available between VoIP software and any other software you use daily should be at the top of your list of VoIP phone features to look for when shopping for a new VoIP provider.
2. Call conferencing
Call conferencing means that more than 2 people can be in conversation at the same time. Three-way calls or calls between larger groups of people are common in business, and it can add an air of professionalism to your small business when you're able to quickly conference with other people important to the discussion. Some advanced VoIP systems allow for hundreds of people to listen in to a call with a few key speakers.
3. Voicemail-to-email and voicemail-to-text
With a good VoIP service, you can always listen to your voicemail by using an app on your cell phone. As long as you're with a good cell phone company, you'll never miss a message.
Most VoIP providers will also be able to send an alert to your email when you receive a new voicemail, or you can choose to receive an SMS alert instead. You can often get an MP3 recording of the voicemail sent to your email, or you can listen to the audio directly from within the mobile app. Therefore, you'll never miss an important call, improving customer satisfaction.
4. Voicemail transcription
Who has time to listen to voicemail messages these days? Some VoIP providers offer a solution. With voicemail transcription, the details of the message will be automatically transcribed and sent to you by email or imported into your CRM. This way, you can quickly sort through voicemails to find the calls that matter the most.
You can take this to the next level by filtering the voicemails you receive into different types based on keywords. And with good CRM integration, transcribed voicemail messages will appear in customer records, so you always have a record of all customer communication.
5. Call queuing
Customer experience can make or break a company, and being left on hold for long periods is often ranked the number-one annoyance customers hate when they need to call a support line. Customers also dislike being transferred multiple times or having to repeat themselves. Everything that can be done to improve their experience should be considered.
VoIP for call centers with advanced queuing systems can help to transfer customers to the right department faster. Skills-based routing can make the most of agents who are trained in multiple fields, ensuring that customers always get to speak to staff who will be able to help them.
Good call queuing systems follow the AI rules you've set up. For instance, you can set up the system to attempt to call your desk phone first, then try your mobile phone. If there's still no response, the caller can be offered the option of talking to one of your colleagues, requesting a callback, or leaving a voice message. Smart AI rules avoid customers having to wait on hold for extended periods so people will be happier with the customer service you provide.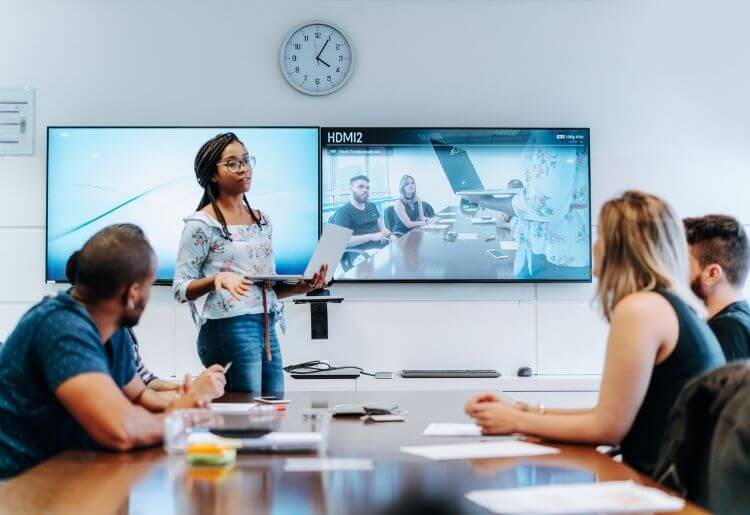 6. Video conferencing
VoIP providers rarely only offer a direct replacement for traditional phone lines. With apps for desktop and mobile devices, most providers also include video conferencing features for better team communication.
Video conferencing has become an essential tool in a world that's moved to remote working, with most businesses finding video conferencing improves productivity in workers. Video conferencing promotes collaboration, reduces travel expenses, and makes it easier for managers to keep tabs on how projects are progressing.
7. Auto-attendant
An auto-attendant is a simple way to transfer calls based on set rules. With Ooma Office's Virtual Receptionist feature, for instance, you can create custom greetings, offer separate options for different languages, and transfer calls to different extensions based on the time of day. Customers can ask for staff members by name to be transferred to their extension.
With an IVR (interactive voice response) system, customers can offer information on their requirements to an AI system and be transferred to the right people so you don't need human receptionists.
More advanced IVR systems can be used to set up completely automated customer transactions, so that for simple tasks such as reporting a fault, customers need not speak with a human operator at all if they don't want to.
8. Call monitoring
Another useful tool for contact centers is call monitoring. When training new call center staff, it's helpful to be able to listen in to their calls and offer guidance should they need it.
RingCentral, for instance, offers four modes of call monitoring. Silent monitoring means you simply listen to both ends of the call without offering any input. Whisper allows you to talk to the extension you are coaching without the other end of the call being able to hear you. The Barge feature means you can force the conversation into a 3-way conference, and Take Over means you can disconnect the agent completely and take over the call in their stead.
Most of these modes can be used from either the desktop or the mobile app, making it a convenient way to monitor the quality of calls.
9. Call recording
Call recording is one of the more common and powerful VoIP features that's handy for finding and fixing holes in your customer service processes. You can review calls your agents have made with customers to check whether they've been following company protocol. It's a valuable tool in agent training and call coaching sessions.
Further, call recording can help protect you from litigation. With proof in hand of every conversation you've had with customers, frivolous lawsuits can be quickly dismissed.
And sometimes agents make human errors or forget details. Having a full record of the details discussed over the phone allows you to go back and find important missing information, potentially avoiding a disgruntled customer.
10. Team chat
Another communication method that VoIP providers usually include in their software is team chat. Instant messaging between team members results in faster response times, something that's highly beneficial when work tasks require speedy collaboration.
Team chat users generally get faster responses from colleagues and team members, making it a valuable tool in a world where businesses thrive on swiftness. Team chat can be less intrusive than voice calls and makes working together in multiple time zones easier to manage.
Conclusion
The use of VoIP in the United States increased by 18.5% in 2020 alone. VoIP services are not only significantly cheaper than traditional phone services, but they also offer many features that are expensive to implement with traditional phones.
The integration of your phone systems with your customer relationship management systems can be a big boon, building efficiency and reducing time spent on menial tasks.
Team members can communicate with each other better as they have always-available phone service as well as video conferencing and team chat tools. And features like call monitoring and call queuing can help you improve the service your agents give to customers.