Top10 Best Teeth Whitening Strips and Gels Ranked:
Best for flavor selection and affordability—Zimba teeth whitening strips
Best for gluten-free, organic, vegan—Auraglow whitening strips
Best for customized teeth whitening—Smile Brilliant teeth whitening gel
Best hassle-free whitening—SNOW magic strips
Best peroxide-free whitening strips—hismile PAP+ strips
Best for speedy whitening—SmileDirectClub fast-dissolving whitening strips
Best-tasting—Burst coconut whitening strips
What are teeth whitening strips?
Whitening strips are made from a soft, flexible plastic (typically polyethylene) and are coated with a non-toxic adhesive (PVP and carbomer). When applied to the front surface of the teeth, the whitening strips attach, just like a sticking plaster. The other ingredient is a bleaching agent, usually carbamide or hydrogen peroxide, contained in gel form within the thin strip of plastic. Once applied to the teeth, the gel works to lift surface and internal staining. Most teeth-whitening strips also contain water to rehydrate the tooth.
When used correctly per the instructions, whitening strips provide a safe and cost-effective way of whitening teeth and can be used as a standalone treatment or to further enhance professional teeth-whitening treatments carried out by a dentist.
How to use teeth whitening strips?
Almost all whitening strips are applied and used similarly, although some brands may have different wearing periods. So it's essential to read instructions.
After familiarizing yourself with the wearing time, the next step is to brush your teeth. A thorough brush removes food particles or debris that can otherwise prevent the whitening strips from directly contacting the tooth's surface. Contact is essential to achieve an even whitening.
As a top tip, brushing teeth at least half an hour before allows saliva to clean away any excess fluoride, thus preparing the enamel for more effective whitening.
Next, dry the teeth (you may want to use a napkin or kitchen towel) and apply the strips to your teeth. Ensure that the gel-coated side is touching the teeth and that the strips cover the teeth, removing any bumps or air pockets. Wear them for the specified time described on the box and avoid touching the strips.
When the time is up, and you need to remove the strips, gently peel them away from your teeth and discard them. Finally, rinse your mouth to remove any excess gel. Repeat the process as instructed.
What are the best whitening strips?
If you're looking to buy teeth whitening strips at your local pharmacy, superstore, or online, you're likely to be inundated with choices. The best whitening strips for you will vary depending on your expectations and requirements.
SNOW's magic strips are my recommendation if you value convenience, ease of use, and speedy results. These dissolving strips reduce mess and have received glowing reviews. If you'd prefer a gentler, hydrogen-peroxide-free product, hismile's PAP+ teeth whitening strips are also a great choice.
Whether you're looking to use whitening strips for the first time and don't know where to start, or are somewhat skeptical about whether they work, I've reviewed seven of the best gel teeth whitening strips currently on the market. Below, you'll find out what I liked, what I didn't like, and whether they offer good value for money.
The Best Teeth Whitening Strips and Gels
SNOW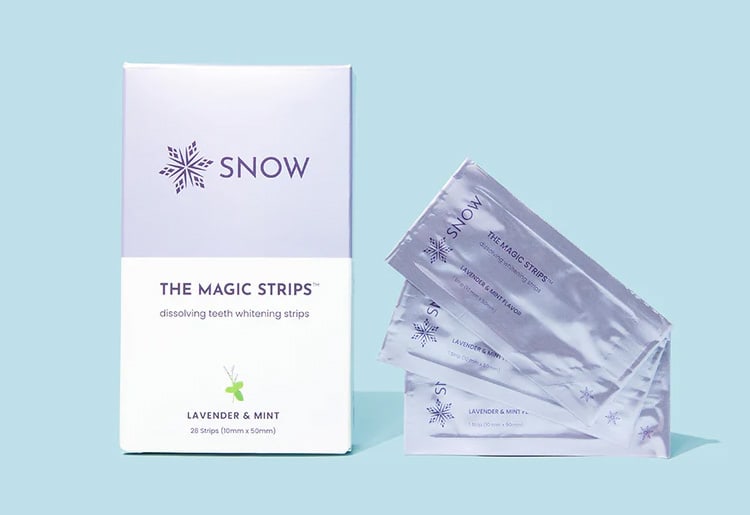 Fully dissolvable strips worn for 15 minutes
Peeling whitening strips off teeth when finishing the treatment can be tricky and may leave some residue behind. Not so with SNOW! The company has eliminated this by making the strips dissolvable, so no more messy clean-ups.
SNOW claims that its lavender-and-mint-flavored strips whiten teeth faster than other dissolvable strips on the market, in this case, within 15 minutes. The strips contain hydrogen peroxide to whiten teeth and assorted antibacterial ingredients to help freshen breath. They're also safe for enamel and kind to sensitive gums.
A pack of 28 "magic" whitening strips costs $49, with discounts available if you purchase 3 or 6 packs in a single order. Although it's not the cheapest on the market, a majority of the people who bought this product on Amazon loved it. Many consumers started seeing results within one to two days.
Pros:
Dissolvable strips

Short use time

Highly rated on Amazon
Cons:
Some reviewers found strips stuck to their fingers

Customers loved the mint flavor but aren't so keen on lavender
Why not whiten your teeth with clean ingredients? Try SNOW's whitening strips and gels today.

Order Now
SmileDirectClub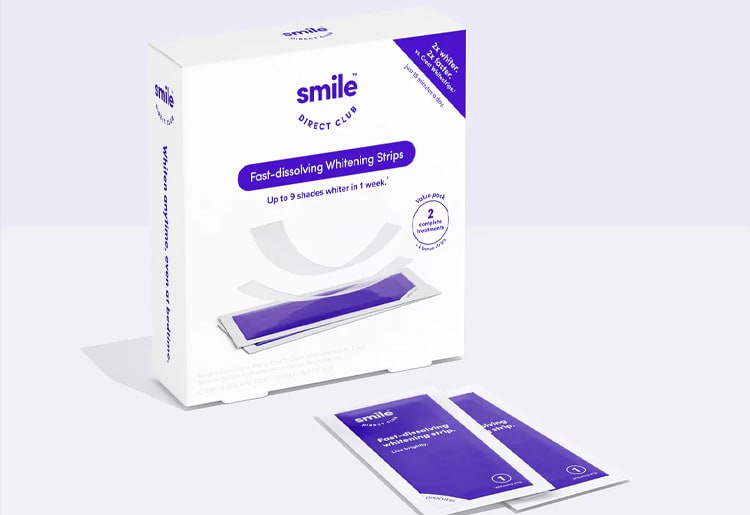 Global teledentistry brand does teeth whitening
SmileDirectClub is perhaps better known for its clear aligners. However, in the early part of 2023, they brought out a range of teeth-whitening products, including these fast-dissolvable whitening strips. With 15-20 minutes of daily use, the wear time is half the 30-minute duration of many of its competitors.
The product claims to whiten teeth by up to nine shades in seven days with an enamel-safe formula specially designed for sensitive teeth. Also, being fully dissolvable, the strips are thin and harder to see. Reviewers like that they can put them on before bed without worrying about taking them off.
Competitively priced at around $30, each box includes bonus strips for effortless touch-ups. So far, Amazon buyers have been impressed, with 65% of consumers loving the product.
Pros:
Dissolvable for less mess

Generous amount of strips per box

Enamel-safe formula for sensitive teeth
Cons:
Some reviewers have found strips are too short

Strips dissolve quickly and can be hard to place
Read our SmileDirectClub review
By enrolling in SmileDirectClub's referral program, you can give and get $100 for an invited friend.

Order Now
hismile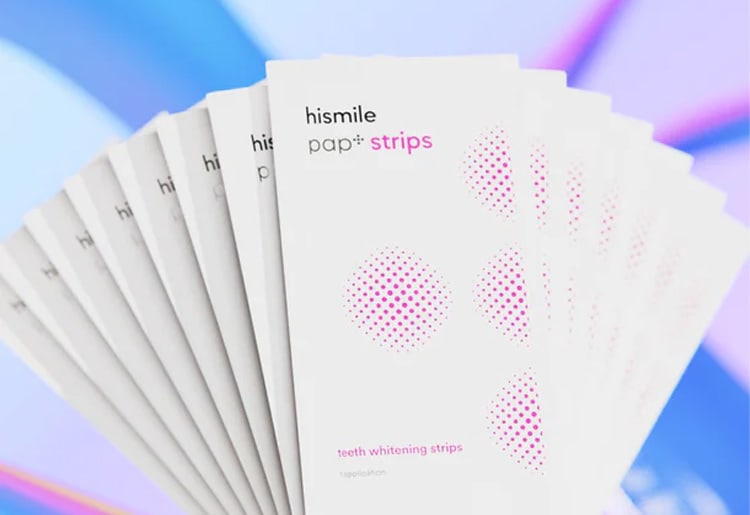 PAP+ whitening for mild to moderate stains
hismile whitening strips are unmistakenly noticeable with their funky pink branding, so you definitely won't lose them in the clutter of your bedside drawer. This company prides itself on providing peroxide-free whitening across all its whitening kits, including its whitening strips. PAP, like hydrogen peroxide, is a molecule that belongs to the bleach family, but it's generally considered to be gentler.
Priced at $39, or four installments of $9.75 with Afterpay, each box contains 14 individually wrapped treatments of two strips, one each for your top and bottom teeth. When used for 30 minutes per day, hismile's PAP+ whitening strips aim to provide fast whitening for those with sensitive teeth.
The company suggests that you will see visible results after a single use and that you can use PAP+ strips as often as required for ongoing smile maintenance. And buyers tend to be impressed by the results, if a high percentage of five-star reviews is anything to go by.
Pros:
Hydrogen-peroxide-free

Said to whiten teeth without pain or sensitivity

Optional four-installment payment plan
Cons:
Some users may need more treatment than others

Not suitable for heavy staining

Hismile Order Now
Auraglow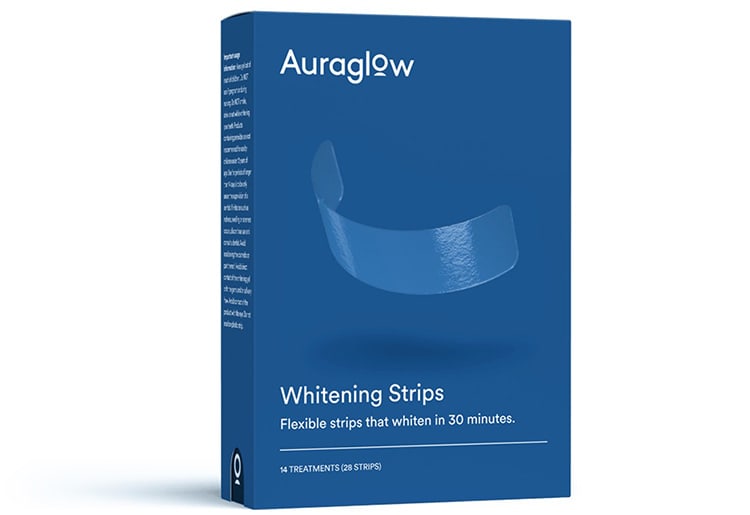 Whitening that's gentle on teeth and the planet
Auraglow is a US-based company that's taken all the good things from other teeth whitening brands and made them better. Its whitening strips have the coveted American Dental Association (ADA) seal of approval, meaning they're proven safe when used as instructed. Plus, they're designed to stretch to comfortably fit the upper and lower teeth.
Auraglow's products claim to be sensitivity-free while making teeth up to ten shades whiter, and customers love that they can wear them without irritation or discomfort. According to its website, all Auroglow products are kosher, vegan, non-GMO, cruelty-free, gluten-free, organic, and contain no artificial colors. Reviews suggest that they work quickly, too.
To further back this up, the company offers a 30-day no-quibble, full money-back guarantee if you aren't happy with the result. A pack of 28 strips, providing 14 treatments, currently costs $40 and includes free shipping to anywhere in the US when you order directly from Auraglow.
Pros:
Organic and cruelty-free

Gentle enough for sensitive teeth

Full money-back guarantee
Cons
Strips are super sticky and can be difficult to remove

Ten shades lighter may not be true for everyone

Auraglow Order Now
BURST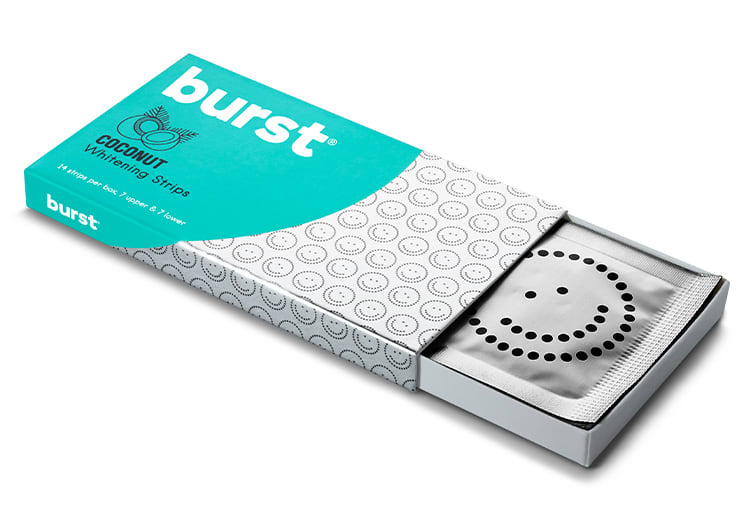 15-minute treatment with a great coconut taste
BURST is a popular whitening treatment that likens its product to coconut oil pulling meets enamel-safe peroxide. When used just 15 minutes a day for 14 days, the company says its formula is gentle and effective. Instead of the unnatural chemical flavors of some other brands, BURST's whitening strips have a pleasant coconut flavor that people seem to love.
A single pack of 28 whitening strips costs $19.99 and offers you a full 14-day treatment, which may be sufficient to keep your teeth white for up to three months, depending on your diet, hygiene, and lifestyle. Alternatively, BURST also offers a quarterly subscription plan, which reduces the price to $14.99 per pack, meaning you could maintain your smile all year round for a little under $60.
Customers who buy BURST's whitening strips appear to like them, suggesting they whiten teeth effectively, although reviewers do report that results aren't as immediate as some other brands.
Pros
Great coconut taste

Gentle formula

Affordable price
Cons
May not whiten teeth as quickly as other brands

Strips can be challenging to insert

BURST Order Now
Smile Brilliant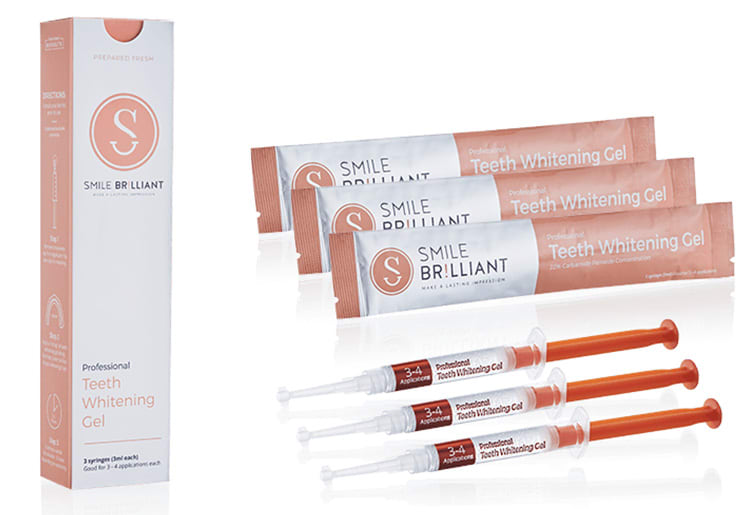 Fully customized whitening treatment
Smile Brilliant whitening gel is designed to be used with custom-fitted trays and works the same way as the at-home whitening kits generally supplied by dentists. In fact, the company says it provides custom-made trays to dentists who don't have the lab space to create custom trays in-house. Ultimately, customers are getting fully customized whitening for a fraction of the cost of a dentist-led treatment.
Studies show that 16% carbamide peroxide, used in conjunction with customized trays, is an effective way to whiten teeth. Smile Brilliant whitening gel contains carbamide peroxide. So it should be effective in lifting mild, moderate, and heavy tooth staining. The company backs these claims up by offering a full refund within 45 days if you aren't happy with the results.
When you first get your customized trays, the company also offers a choice of various gel formulas depending on whether your teeth are sensitive or not and how heavy the staining is, making its system as gentle or as powerful as you need. Gel refills appear to only be available in one formula, however.
Pros:
Customized whitening treatment without an expensive price tag

Long-lasting results

It comes with a desensitizing gel
Cons:
Must wait for customized trays before starting whitening

Gel could have a better flavor

Smile Brilliant Order Now
Zimba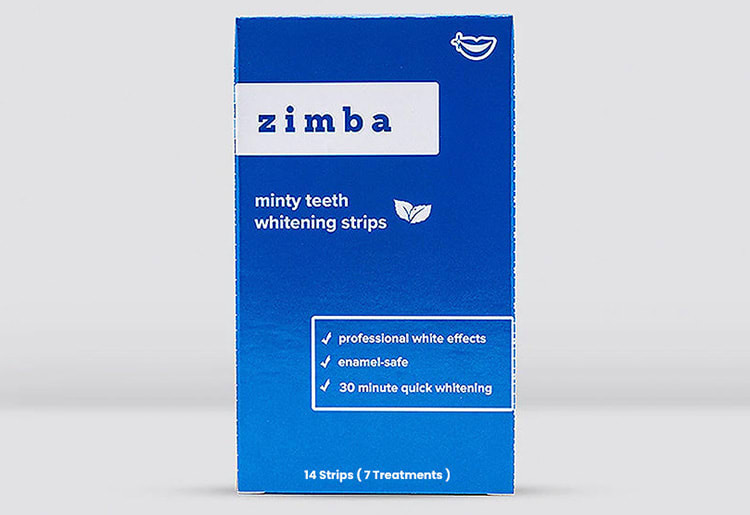 Affordable reduced-sensitivity strips
If you're considering teeth whitening for the first time, you could do much worse than choosing Zimba. Its whitening strips cost just $20 per box, some 60% cheaper than other leading brands. In addition, Zimba's whitening strips contain a host of natural ingredients to aid tooth sensitivity alongside a selection of unique flavors.
Strips must be worn for 30 minutes a day for seven to 14 days to achieve the desired results, and according to the Zimba website, results can last up to six months. However, how long it takes for your teeth to achieve the desired shade will depend upon your oral care routines, diet, and lifestyle choices.
Zimba's bundle deals allow you to tailor your whitening options to suit both needs and budget and are available in two-week, four-week, and six-week treatment packages. Overall, Zimba customers love that they can achieve fast, effective teeth whitening that is easy on their wallets and gums.
Pros:
Up to 60% cheaper than competitors

Enamel-safe and sensitivity-free

Wide selection of flavors
Cons:
Not ideal for heavy staining

No free shipping available

Zimba Order Now
Summary of the Best Whitening Strips and Gels
So, I've listed seven of the best whitening strips and gels you can use at home, but which do you choose? In reality, it depends upon your priorities.
Do you want something that tastes great, or would you prefer something that's hassle-free? What about strips or gels that are fast-acting? Do you want to see instant results? Alternatively, are you particular about ingredients and sourcing?
Whatever your criteria, don't worry because I have you covered. In this section, I've summarized the best whitening strips and gels to suit any given needs so you can select the right product for you.
Pros and cons of whitening strips
At-home teeth whitening strips can be appealing because of the lower cost for a whiter smile, but there are a few things to consider before you start. Let's start with the pros.
In the majority of cases, whitening strips whiten teeth without any significant side effects or issues.

Most whitening strips are inexpensive, convenient, and easy to use. No prescription is necessary, and you can easily purchase them online or from any pharmacy or superstore.

The time needed to whiten teeth with strips is minimal, typically just 15-30 minutes a day for a few days to a few weeks.

Because whitening strips stick to the teeth, you can use the time you must wear them to catch up on a good book, email a friend, watch a movie, or do some exercise or housework.
But don't forget to consider the cons.
Whitening strips must maintain continuous contact with the tooth enamel to whiten teeth evenly. For people with crooked or uneven teeth, this may not be the best method.

Some people do experience temporary pain or tooth sensitivity after using whitening strips.

Strips can be difficult to use. The sticky adhesive can fail, rendering a strip useless, or, conversely, overly sticky strips can prove difficult to remove. Dissolvable strips may stick to fingers or lips.

Some strips can leave a chemical taste in the mouth until rinsed.
Are whitening strips safe?
Whitening strips are safe, providing you stick rigidly to the instructions for use. Prolonged wear can lead to sensitive teeth and gums, and in some cases, it can lead to gum irritation.
As a top tip, consider using strips that carry the ADA seal of approval. Being ADA-approved means that the product has been declared safe to use by the American Dental Association, provided you use the strips or gels within the guidelines as detailed on the packaging.
Also, people should avoid using teeth whitening strips if they have untreated cavities or gum disease, particularly those with exposed tooth roots. These scenarios can lead to discomfort and other tooth or gum damage.
If you're allergic to bleaching agents like peroxide, it's best to stick to a natural whitening strip or one that contains PAP instead. PAP whitens teeth the same way as hydrogen or carbamide peroxide but is less aggressive.
Following the above rules will ensure both effective and safe teeth whitening.
Best Whitening Strip Alternatives
If you don't like the thought of whitening strips, there are a variety of alternatives you can use to whiten teeth just as effectively. Here are some of the best on the market.
Gels and customized trays—For a fully customized whitening approach, opt for tailor-made mouth trays and whitening gels. While they take longer to use, whitening trays and gels can give a better all-over whiteness, ideal if you have uneven teeth.
Light-activated whitening kits—LED-activated whitening accelerates the teeth-whitening process by allowing the peroxide bleaching agent to break down faster, resulting in a speedier whitening experience. Sometimes, just 10 minutes of daily use can make all the difference.
Teeth whitening powders—For centuries, people have been using natural products like baking soda to whiten teeth. Modern teeth whitening powders are an extension of this and utilize a variety of gentle ingredients to help lift stubborn stains. You can choose from carbon or charcoal powders, re-mineralizing powders that are kind to teeth, or organic, all-natural powders that gently lift stains.