In a Nutshell
Smile Brilliant offers at-home teeth whitening kits designed to help you eliminate stains and discoloration. Kits are available for both sensitive and non-sensitive teeth and come with a tray that's custom-fitted for your teeth. The Smile Brilliant kit requires you to wear the tray with whitening gel for 1-3 hours a day, and the whole whitening process takes 1-2 weeks. Smile Brilliant offers a 45-day money-back guarantee.
pros
Kits for both sensitive and non-sensitive teeth
Backed by 30 years of industry experience
Treatment designed for sensitive teeth
cons
More expensive than some whitening kits
Since trays are custom made, getting started can be a little slow

Smile Brilliant Visit Site
Smile Brilliant At A Glance
Best For: Professional advice and custom whitening without a dentist.
Starting Price: $127 for non-sensitive teeth; $135 for sensitive teeth
Treatment Duration: Two to three hours per treatment across seven to fourteen treatments
Estimated Length of Results: Six to 12 months with light touch-ups
LED Technology: No
Money-Back Guarantee: Yes
What Is Smile Brilliant?
Smile Brilliant is a US-based company founded in 2014 by dentist Betty Shah. The company is staffed by a team of hygienists and dental professionals with over 30 years of industry experience with the goal of providing professional-grade teeth whitening without the high prices.
Smile Brilliant offers a personalized three-step tooth-whitening process.
Take impressions of your teeth using the impression kit sent to you.

Receiving a custom whitening tray from the associated dental lab.

Fill the tray with whitening gel and wear at your convenience.
Following the initial success of its whitening products, the company has expanded into other dental care and hygiene products and has been featured in prominent publications like Forbes and channels like Fox. All whitening products are cruelty-free, vegetarian, and vegan friendly. The company also states that they don't carry out animal testing or work with factories that do.
How Much Does Smile Brilliant Cost?
Smile Brilliant offers several pricing levels based on whether you have sensitive or non-sensitive teeth and whether you require light, moderate, or heavy staining treatment. If you order from outside the US, shipping fees will also apply.
Smile Brilliant Light Staining Whitening Kit
Smile Brilliant Moderate Staining Whitening Kit
Smile Brilliant Heavy Staining Whitening Kit
You can pay in three monthly installments, and the company also offers a series of top-up pens in bundles of three, six, or nine to maintain your smile. When you order 9 pens you only pay $20 more (at ($169/$189 for non-sensitive/sensitive teeth) than the bundle of 3 (at $149/$169), so bulk ordering may be the way to go.
Compared to the same treatments supplied directly by a dentist, the cost of Smile Brilliant's whitening products are cheaper by around one-third. In addition, they're competitively priced alongside other similar whitening kits you would buy online or in store.
What Comes in the Smile Brilliant Whitening Kit
In this review, we'll be discussing Smile Brilliant's whitening kits. We'll cover a few small differences between the various kits, how the product works, what you get for your money, and whether it's safe for use.
What's in the box?

First, you'll receive the following:
Enough material to take impressions of your teeth (plus an extra set just in case)

Two impression trays to create the mold

Stamped, addressed packaging to send the impression directly to the dental lab

Once you take your impressions and the lab receives them, you'll be sent your personalized whitening kit:
A set of custom whitening trays (upper and lower)

Either nine, 18, or 27 applications of whitening gel (depending upon current staining)

For sensitive teeth, you will also get nine,18 or 27 desensitizing applications
Smile Brilliant Whitening Kit Ingredients
The ingredients contained within the kit are said to be safe and vegan-friendly. Products are also cruelty-free and untested on animals. The contents listed on the company website include the following.
Whitening gel
Natural vegetable glycerine –

Carbamide peroxide

Carbomer

EDTA

Menthol
Desensitizing gel
Glycerine

Potassium Nitrate

Deionized water

Sodium Monofluorophosphate

Sodium Fluoride

Carbapol

Menthol
How Does the Smile Brilliant Whitening Kit Work?
Smile Brilliant uses custom-made trays fabricated in a US dental lab, which provide a better fit for a more even whitening effect. They offer non-sensitive and sensitive teeth options across various treatment types ranging from light to heavy staining.
When the active bleaching agent (carbamide peroxide) is applied to teeth, the oxygen molecules contained within the gel react by disrupting the chemical bonds that cause tooth staining. The result is whiter, brighter teeth.
For those with more sensitive teeth, the desensitizing gel works to close the pores in the tooth enamel opened up by the whitening gel. This prevents further sensitivity while rehydrating the tooth.
How To Use the Smile Brilliant Whitening Kit
The process itself is pretty simple. You take your impressions, receive custom trays, and follow instructions on the box. For best results, the gel-filled trays should be worn for around 45 minutes to three hours per session (depending upon how comfortable/sensitive your teeth are).Getting results takes anywhere between seven and 14 sessions.
Here's a breakdown of the process:
Purchase the Smile Brilliant kit and receive your impression kit. Take your impressions and mail them back to the dental lab using the prepaid packaging.

After the dental lab receives the molds, they will fabricate your custom trays and mail them back to you. This should take between three and five days.

With your custom trays, you'll also receive whitening and desensitizing gel specified to your requirements.

Simply fill the trays with the whitening gel, insert the tray into the mouth and use for the allotted time

Finally, take out the trays, rinse and (if sensitive teeth) apply the desensitizing gel
The best time to use the kit is when you have some relaxing time, preferably before bed or when watching TV. As long as you use the correct formula for sensitive teeth, there should be little or no discomfort.
Is Smile Brilliant Safe to Use?
Yes, Smile Brilliant whitening kits are safe to use. Both the teeth whitening and desensitizing gel have been registered with the FDA. However, the company website states that its teeth-whitening products are not intended to be used by pregnant or breastfeeding women or those undergoing fertility treatment.
If you are concerned about the effects of cosmetic whitening, it's advisable to talk to your dentist first.
Does Smile Brilliant Actually Work?
Based on feedback from independent review sites, the product has been well-received. For most people, it works as advertised, although some say that the process of whitening takes longer than the 14 sessions suggested.
While some said they noticed significant results in as little as two sessions, others took up to four months to achieve the desired whitening effects.
Smile Brilliant suggests that once your teeth are whitened, depending on your diet, smoking habits, and age, you should only need regular touch-up treatments to maintain a great smile. They also advise you can expect the results to last for as long as one year.
The company stands by its claims and offers a 45-day money-back guarantee if you aren't happy with the product or its results.
How Does Smile Brilliant Compare to Other Whitening Kits?
Whitening gel with custom trays
Seven to 14 sessions, two to three hours per session
Sixteen-minute sessions for five days
Can last up to three months
45-day money-back guarantee for US customers, 50-day money-back guarantee if you live outside the US
Smile Brilliant vs Hismile
Smile Brilliant and Hismile offer whitening kits complete with trays at a similar price. While Hismile utilizes a one-size-fits-all LED mouthpiece, Smile Brilliant provides tailor-made whitening trays that only use whitening gel. Treatment takes 6 days for Hismile as opposed to seven to 14 sessions for Smile Brilliant. However, Hismile results last up to three months, whereas Smile Brilliant whitening typically lasts for a full year.
Smile Brilliant vs NewSmile
While Smile Brilliant provides a custom whitening system, NewSmile only offers whitening foam. While you don't need to worry about applicators, gels, and mouthpieces with the latter, the former provides a more personalized whitening experience. You are encouraged to use the whitening foam from NewSmile daily to maintain a degree of whiteness, while results from seven to 14 sessions with Smile Brilliant may last up to one year.
Smile Brilliant vs Primal Life Organics
The key point of difference here is the cost. Primal Life Organics LED whitening is currently priced at $549, whereas you will only pay $161 for the highest-cost treatment offered by Smile Brilliant. To achieve the same degree of whiteness, Smile Brilliant may take longer. Reviews suggest both are equally effective, lasting many months, with top-up applications required sporadically.
Other Smile Brilliant Products
Top-Up Whitening Gels
Keep teeth whiter for longer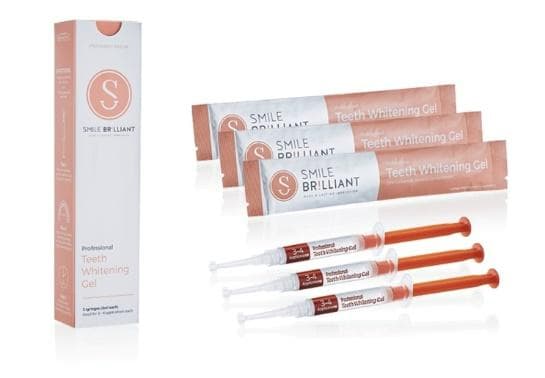 Starting price: $30
Treatment duration: As and when required
Results: Helps maintain your bright smile for longer
Smile Brilliant top-up gels utilize a sticky formula to ensure even distribution and adhesion over the teeth. You can choose from three, six, and nine syringes offering nine, 18, and 27 top-up sessions, respectively. To use, simply follow these steps.
Remove the syringe tip

Apply gel to your custom trays

Insert trays into your mouth and let the gel work
Pros
Good results when used with whitening kit

Reasonably priced

Keep your smile whiter for longer
Cons
Can feel sticky on the teeth

Can be difficult to apply
Smile Brilliant Desensitizing Gel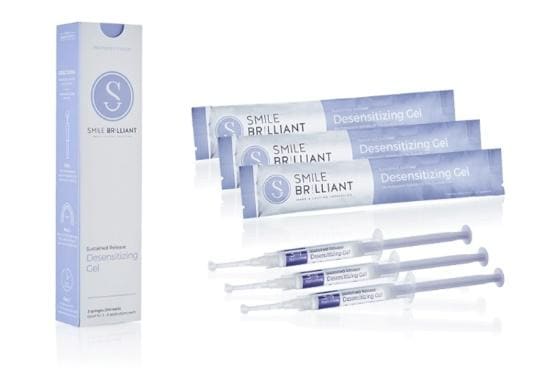 Put an end to tooth-whitening discomfort
Starting price: $16
Treatment duration: After whitening as needed.
Results: Helps prevent tooth sensitivity during the whitening process
Designed to reduce sensitivity by blocking the pores that open up during the whitening process, Smile Brilliant desensitizing gel allows the teeth to rehydrate. You can choose from three, six, or nine syringes, giving you nine, 18, or 27 applications. Use for 15-20 minutes after teeth whitening or let the gel work overnight. To use:
Remove the end cap from the syringe

Apply gel to the two trays

Insert the trays into your mouth

Leave for at least 15-20 minutes or during sleep
Pros
Up to 27 applications

Ideal for frequent use

Works to rehydrate teeth after whitening
Cons
Difficult to measure exact amounts

Can feel sticky on the teeth
Is Smile Brilliant's Teeth Whitening Kit Worth It?
According to reviews, results for Smile Brilliant's whitening treatment have been pretty positive. People particularly love that they can get a dentist-led treatment complete with custom-made trays without actually visiting a dentist. When it comes to cost, Smile Brilliant appears to offer good value for money, especially given the long-lasting results that may be achieved.
In terms of product experience, people also like that they can choose between treatments for sensitive and non-sensitive teeth, plus a variety of options for light, moderate and heavy staining. It might take longer to work than some other brands, but the personalized whitening could be quite worth it.