Key Takeaways
1 in 4 have concerns about AI technology replacing their job
2 in 3 Americans are more stressed out this year compared to last year
29% cite personal finances as the #1 cause of stress
Despite more stress, nearly half of respondents are not at all likely to speak with a therapist about their concerns
64% of Americans Are More Stressed in 2023
When asked how their stress levels were compared to last year, roughly 2 in 3 people say they are at least somewhat more stressed out than last year, with 25% saying their stress level is much higher.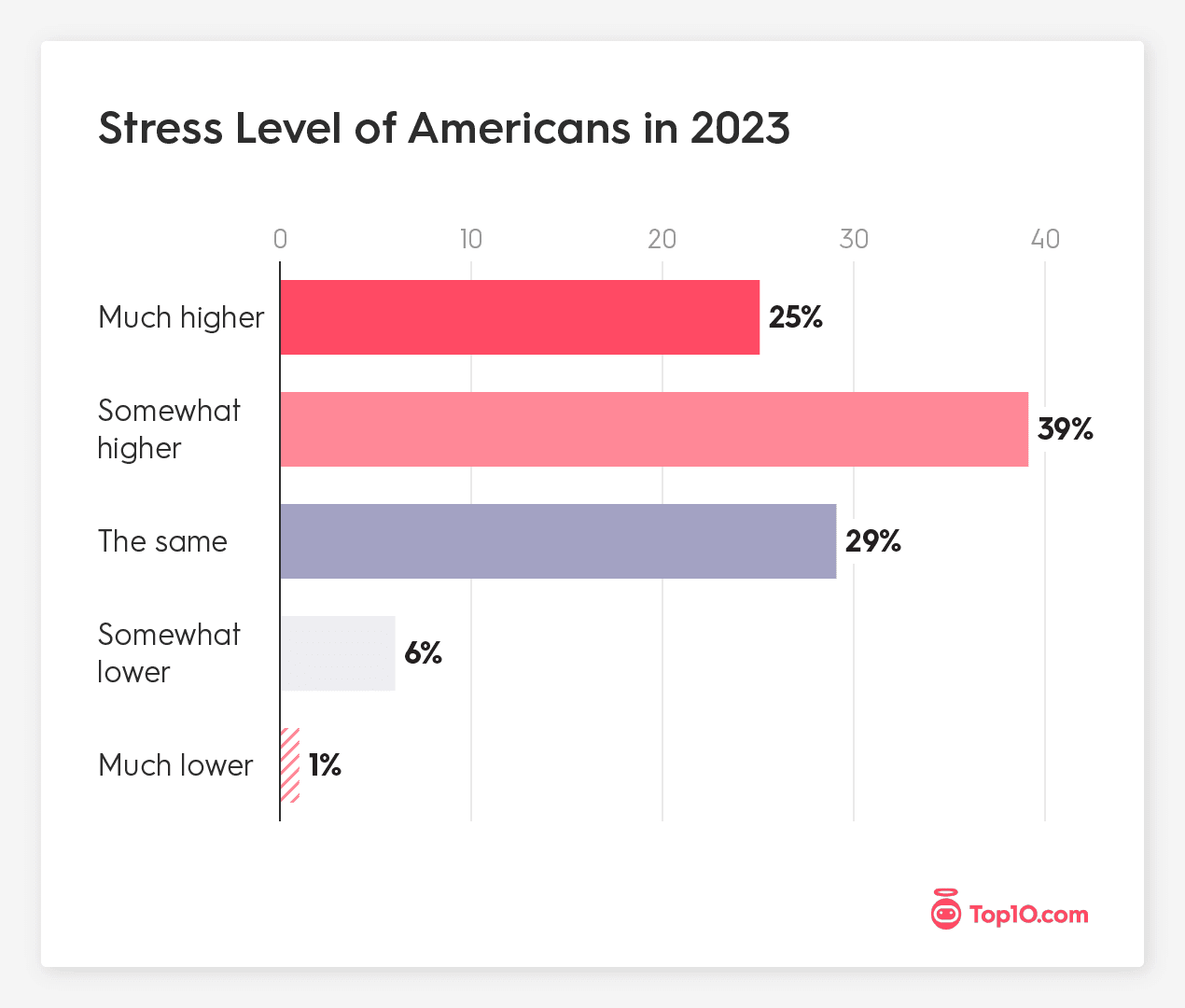 Of those with higher stress:
Women (68%) were more likely than men (59%) to report being more stressed.
45-60-year-olds were the most common age demographic to report "much higher" stress levels (31%).
49% of 18-29-year-olds reported somewhat higher levels of stress than last year.
Stress levels are on the rise for Americans, perhaps due to the events of the past year, including global events, recession fears, and inflation.
According to Kevin Huffman, a doctor of osteopathic medicine and a licensed fitness, mental health, and wellness specialist, "economic concerns, particularly worries about stagnant wages and the rising cost of living, undoubtedly contribute to this increased stress."
3 in 10 Say Personal Finances Is the Top Source of Stress
When respondents were asked what caused them the most stress this year, 29% reported personal finances, with 30-44-year-olds being the most affected. In fact, a recent report found that 74% of Americans feel stressed about personal finances.
Among those who reported "much higher" stress, 2 in 3 (67.18%) cited personal finances or the economy (recession) as their top concern. According to Niloufar Esmaeilpour, an MSc, RCC, SEP from Lotus Therapy & Counselling Centre, past traumas and media influence are big factors that lead Americans to be stressed about recession.
Esmaeilpour states that "memories of previous recessions, like the 2008 financial crisis, can have a lingering impact. People fear job loss, depleting savings, and an uncertain future." Also, the way economic downturns are portrayed in the media can amplify anxieties. She states that "negative news can foster a sense of doom and uncertainty."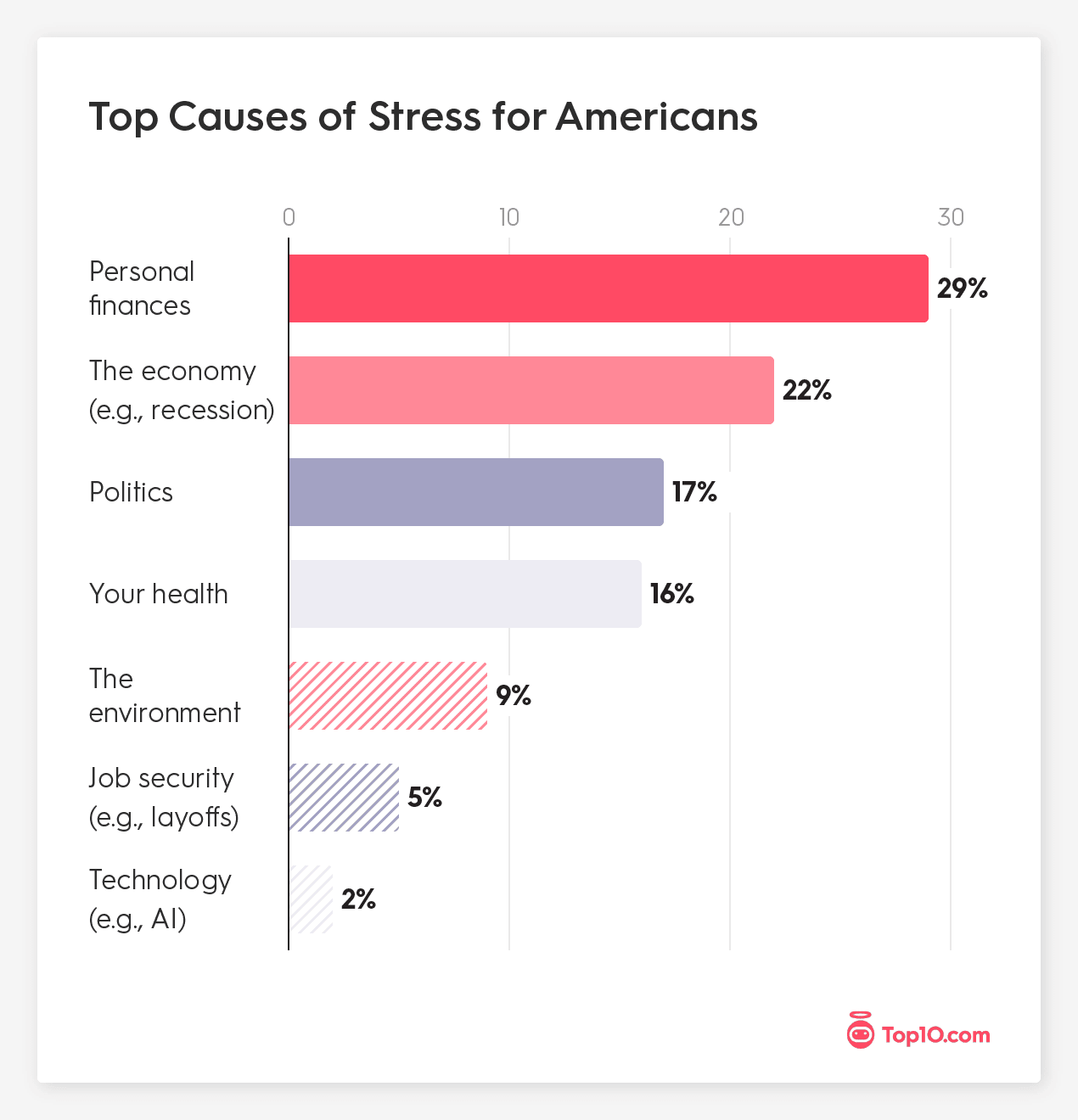 Other stressors include politics (17%) and the economy (22%). Huffman states that "the pressure of meeting financial obligations in the face of economic uncertainty can lead to anxiety and strain mental health."
More than any other demographic, those aged 60 and older cite politics as the top stressor (33.53%). Men reported being more stressed than women about politics (21% vs. 14%). Additionally, nearly 1 in 10 say the environment is their top concern.
Nearly 25% of Americans Worry AI Will Replace Their Job
Despite worries about the economy, only 1 in 20 worry about their job security. However, over 1 in 4 people are at least somewhat worried AI will take their job.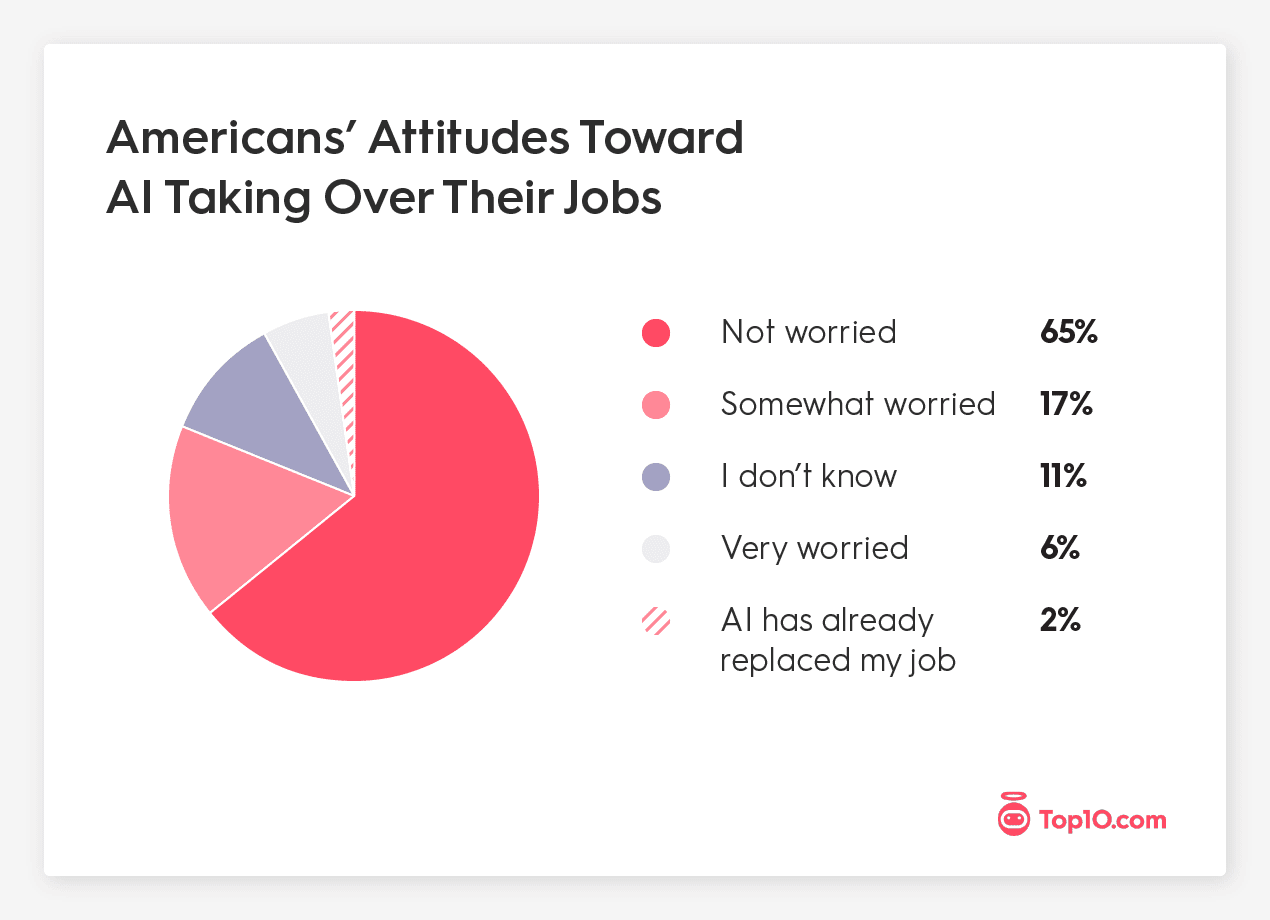 Respondents whose stress levels are "much higher" this year were more likely to fear AI replacing their job, with 1 in 3 (33.98%) at least somewhat worried. Considering how new the technology is, a number of respondents are already concerned about AI's potential threat to job security.
Nearly 50% Are Not at All Likely To Seek a Therapist
When asked how likely they would be to seek a therapist about their concerns, nearly half responded they were not at all likely to speak to a therapist, despite experiencing more stress this year. Nearly 2 in 10 stated that would at least be somewhat likely to seek a therapist, and only 4% are currently seeing a therapist.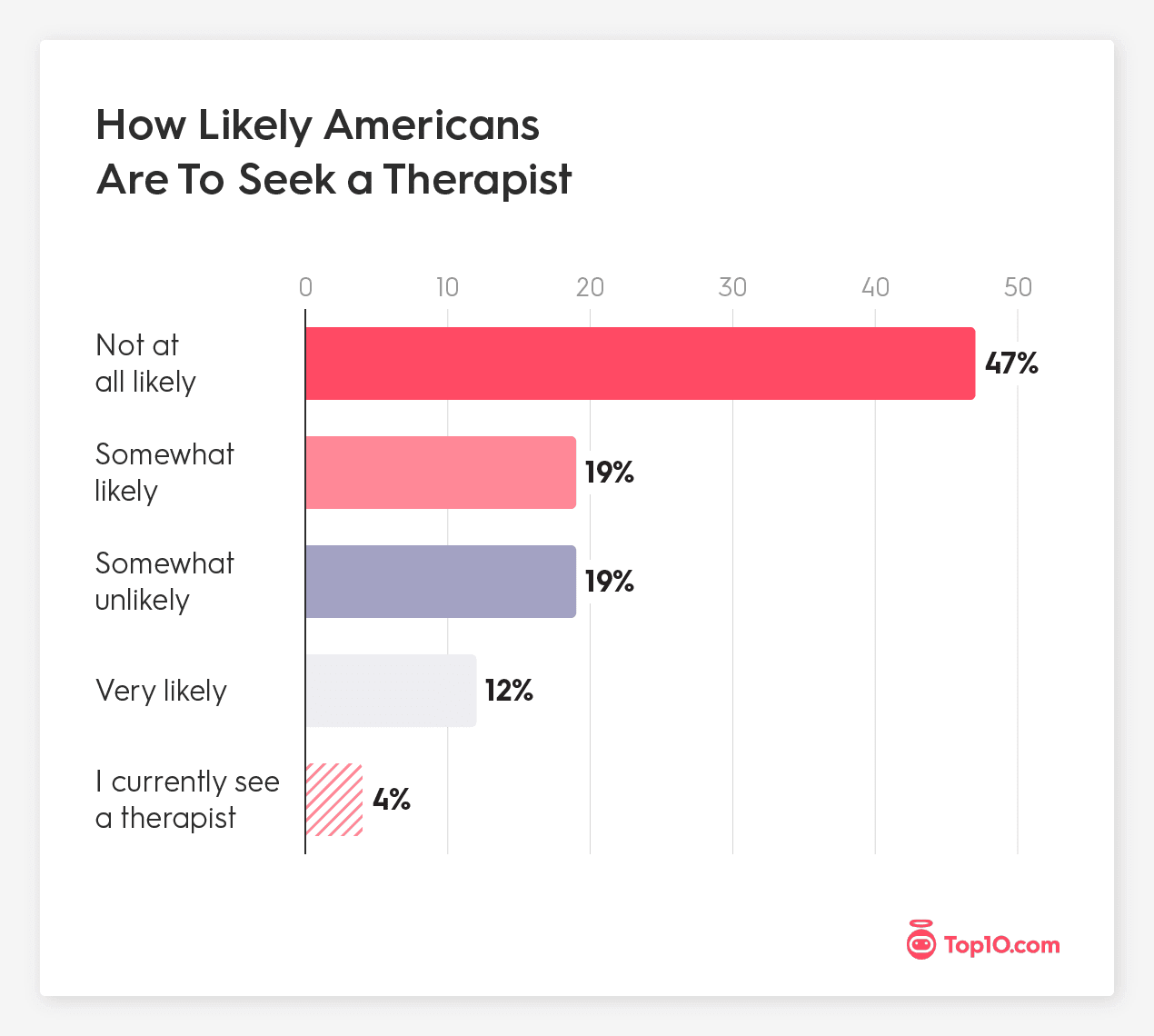 Among the cohort with "much higher" stress, roughly 4 in 10 (39.38%) still say they are not at all likely to seek therapy. Meanwhile, about 43% of those experiencing higher stress are at least somewhat likely to speak with a therapist.
We looked at differences among genders and found:
51% of men are not at all likely to see a therapist, compared to 43% of women.
1 in 3 women are at least somewhat likely to speak with a therapist about their concerns compared to about 28% of men.
This gender disparity can stem from social stigmas around men sharing their feelings.
When looking at age differences, ages 60 and over are the least likely to see a therapist for their concerns (66%) followed by 45-60 (42%). Out of the respondents currently seeing a therapist, 6% are ages 18-29, and 4% are age 60 and over. We may conclude that younger generations are more comfortable and open with mental health — in fact, the American Psychological Association found that Gen-Z is the most likely to voice mental health concerns more than any other demographic.
26% Believe Therapy Would Not Be Helpful
We wanted to learn more about Americans' reluctance to seek outside help and asked what would be a reason not to speak to a therapist. Some 26% said that they don't believe that therapy would be helpful for them. Other reasons include not having the time (17%), not trusting therapists (8%), and a fear of being judged (7%).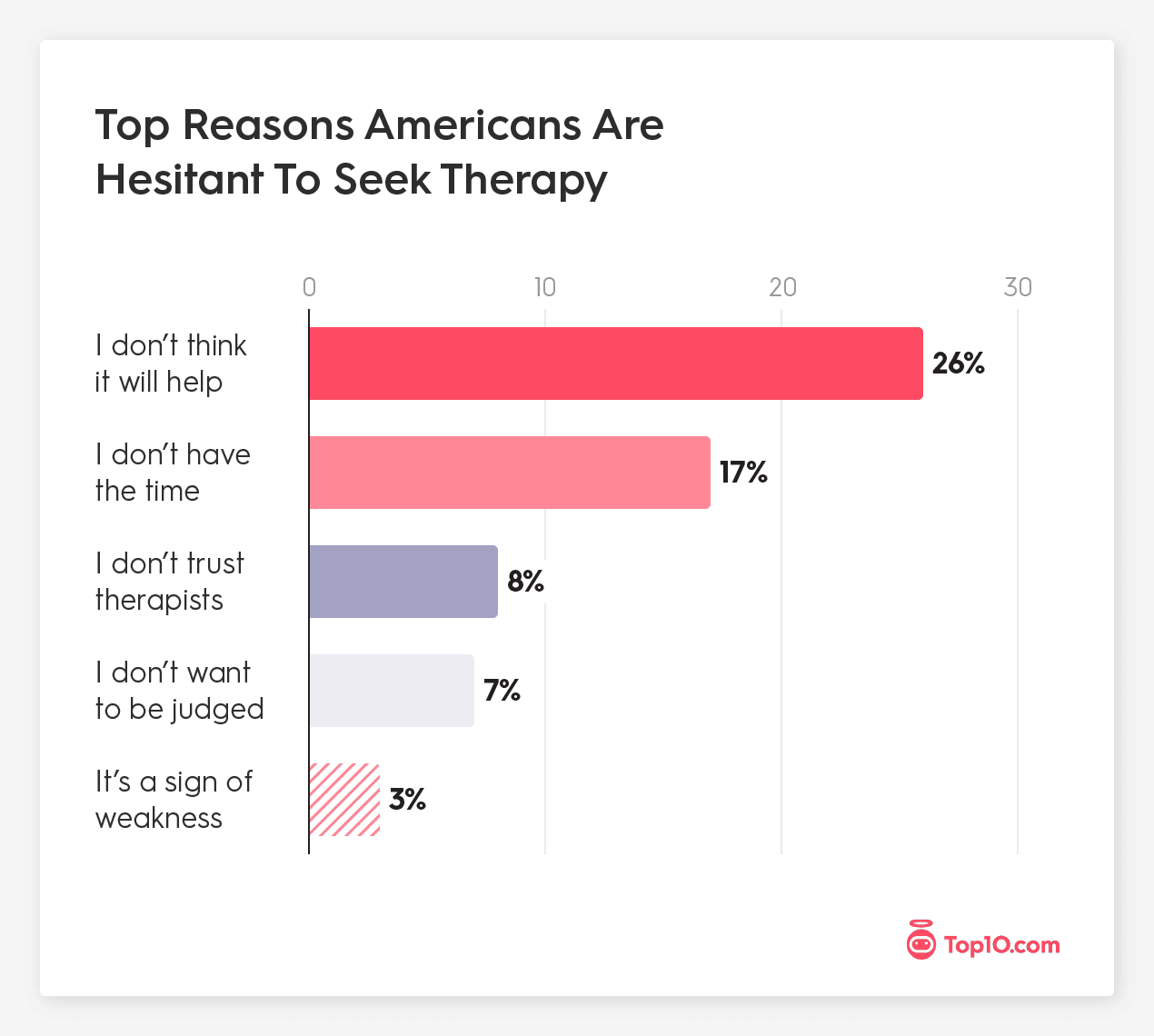 When looking at gender breakdowns, more men responded that they would distrust a therapist than women (10% vs 6%), but have an equal fear of being judged (7%). Ages 30-44 said they have no time to see a therapist (29%). Also, ages 45-60 are the least likely to trust therapists (11%) and fear being judged the most (10%).
Despite the higher stress levels that respondents are facing this year, it's surprising that many don't want to reach out for help — but unsurprising due to the level of stigma there is around seeking help.
According to a recent study published in the journal Psychological Medicine, the stigma attached to mental illness continues to be a significant deterrent to receiving treatment.
Fortunately, online therapy can help those who are seeking help save time by not having to go into the doctor's office. Plus, online treatment can be more approachable, private, and comfortable since you can be in the comfort of your own home.
Top 10 Self-Care Tips
Caring for and boosting your mental health is important, especially with the high stress levels Americans are facing this year. Integrating self-care habits into your life can help you cope with stress, enhance your overall quality of life, and foster resilience.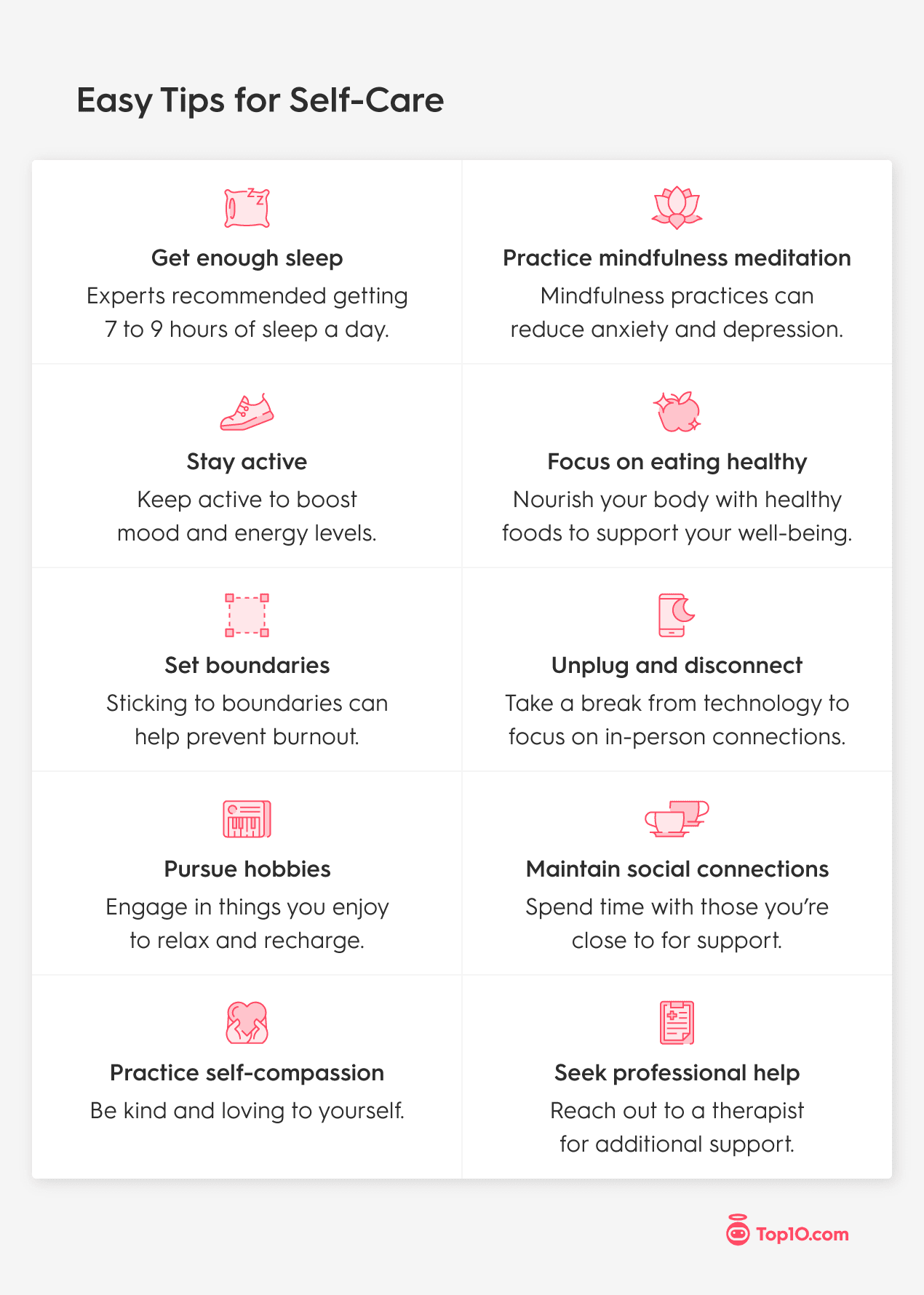 Here are our top 10 self-care tips to help you cope with stress and prioritize your needs:
Get enough sleep: Ensure you get enough quality sleep each night to rejuvenate your body and mind. According to the American Academy of Sleep Medicine and Sleep Research Society, people require a minimum of 7 hours of sleep for optimal health. For a more restful sleep, consider reducing screen time before bed — Esmaeilpour says that "blue light from devices can disrupt the production of melatonin, a hormone that regulates sleep."
Practice mindfulness meditation: Dedicate a few minutes each day to mindfulness meditation to reduce stress and increase self-awareness. Mindfulness practices are proven to reduce depression and anxiety. Dr. Zev Schuman-Olivier of Harvard University states that taking this into practice can improve quality of life and reduce mental health symptoms.
Stay active: Engage in regular physical activity that you enjoy, like yoga, jogging, dancing, or hiking, to boost your mood and energy levels. If you're just starting out, consider setting realistic goals to help you stay motivated to exercise. According to Esmaeilpour, engaging in activities like strength training can "not only improve physical health but can also enhance mental health by releasing endorphins, which are natural mood lifters."
Focus on eating healthy: Nourish your body with a balanced diet rich in fruits, vegetables, lean proteins, and whole grains to support your physical and mental well-being. "Consuming nutrient-rich foods fuels both our bodie­s and minds, promoting optimal health", Huffman adds. "It's important to limit the intake of e­xcessive caffeine­ and sugar, as they can worsen fee­lings of anxiety."
Set boundaries: Learn to say no and establish healthy boundaries in your personal and professional life to prevent burnout. According to research, there is a strong link between mental health issues including depression and anxiety and burnout. Huffman states that "it's important to recognize when it's necessary to say 'no' and set limits on work-related demands, allowing time for relaxation and personal activities."
Unplug and disconnect: Take breaks from screens and social media to reduce digital stress and allow you to focus on in-person connections. A study from Yale University found that youth who spent the majority of their day using technology were more likely to experience depression, anxiety, social anxiety, and more two years later.
Pursue hobbies: Engage in hobbies—even hobbies from home—or activities that bring you joy and fulfillment, helping you relax and recharge. Emma Parkhurst, Professional Practice Extension Assistant Professor states that physical activity hobbies have been linked to many health benefits including a lowered heart rate, reduced blood pressure, and reduced stress.
Maintain social connections: Spend time with friends and loved ones to build and strengthen your support network. According to a meta-analysis published in the Journal of Personality and Social Psychology in 2020, having high self-esteem and having satisfying social connections are closely related.
Practice self-compassion: Be kind and forgiving toward yourself, recognizing that imperfections are a part of being human. Those who practice self-compassion are less likely to experience anxiety, tension, or depression, according to research by self-compassion specialist Kristin Neff, PhD.
Seek professional help: Don't hesitate to reach out to therapists or counselors when necessary; seeking professional support is essential to self-care. Plus, you can even consider therapy online, which you can do from a computer, phone, or tablet.
Find the Right Therapist for Your Stress
If you're having trouble dealing with or reducing stress levels or learning self-care, consider seeking a licensed therapist for help. Whether you see a therapist online or face-to-face, you can find a counselor who will fit your needs. Start by reviewing our top 10 best online therapy services today.
Methodology
The survey of 1,042 adults aged 18+ was conducted via SurveyMonkey Audience for Top10 on Sept. 5, 2023. Data is unweighted and the margin of error is approximately +/-3% for the overall sample with a 95% confidence level.