Post-traumatic stress disorder (PTSD) is a challenging condition that may surface after experiencing a traumatic event. It involves:
Intrusive thoughts about past trauma
Changes in memory and cognition
Sleeplessness
Mood disturbances
Heightened sensitivity to sudden stimuli
A constant feeling of being on edge or alert
This disorder can be treated through various cognitive and behavioral therapies, including online therapy and medication.
But recent research backs another approach: EMDR—a procedure developed in the 1980s to reduce negative emotions and make disturbing memories more tolerable.
» Ready to invest in your mental health? Check out our top picks for the best online therapy services.
What Is EMDR Therapy?
Eye movement desensitization and reprocessing therapy (EMDR) is one of several types of therapy designed to promote healing from traumatic events.
EMDR reduces the emotional charge of traumatic memories by stimulating both hemispheres of the brain and replacing negative beliefs related to that memory with positive ones. During these sessions, patients shift their focus from damaging thoughts like, "It's my fault I was abused," to empowering affirmations such as, "It wasn't my fault. I'm a survivor."
Atop treating PTSD, EMDR can help treat:
Depression
Anxiety
Phobias
Chronic pain
Addiction
Some personality disorders
Eating disorders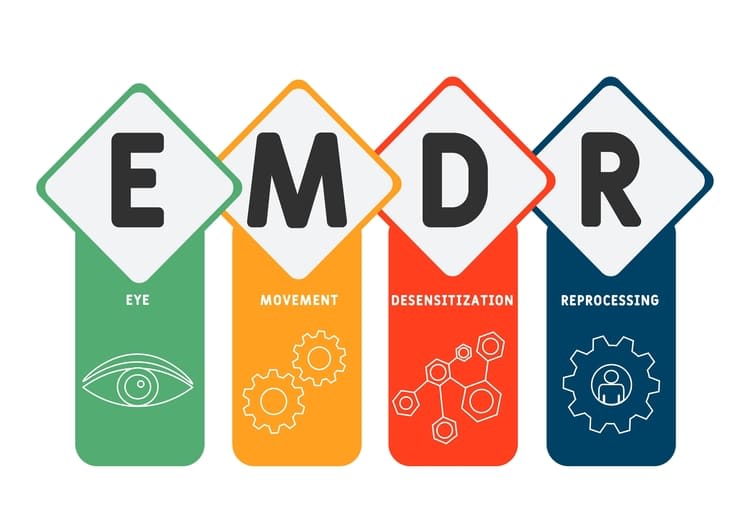 EMDR Therapy: The Eight-Phase Treatment Approach
EMDR uses an eight-phase treatment approach that spans multiple sessions.
Phase 1: History Taking (1-2 sessions)
All EMDR therapists take an extensive history of their clients' ongoing symptoms. They also record clients' problems, triggers, negative core beliefs, traumatic memories, and desired outcomes, before starting treatment.
Phase 2: Preparation (1-4 sessions)
In the second phase, therapists explain how EMDR works, explore clients' current coping skills, and help them practice new ones as needed.
Phase 3: Assessment
Next, therapists guide clients to identify vivid images, negative beliefs and emotions, and bodily sensations related to the target event (i.e., past trauma).
Therapists then also ask clients to pinpoint a positive belief they'd like to "install" in place of the negative ones.
Phase 4: Desensitization
In the fourth phase, therapists engage clients in bilateral stimulation. This involves instructing clients to visually track the therapist's finger moving from side to side or guiding them to tap alternate sides of their bodies repetitively.
Clients may also have the option to hold a device that delivers alternating vibrations to each hand, or they may be instructed to listen to pulse sounds transmitted through headphones, alternating between the ears.
This process is repeated until the client no longer reports distress while recalling the traumatic memory.
Phase 5: Installation
Once desensitization is achieved, therapists invite clients to call the positive belief they generated earlier to mind while focusing on the trauma-related image.
Phase 6: Body Scan
In the sixth phase, therapists guide clients through a calming body scan to pinpoint any residual tension and help them release it.
Phase 7: Closure
Therapists then help clients practice self-soothing techniques to manage any lingering distress outside of therapy and brief them on what to expect between sessions.
Phase 8: Reassessment
At the start of each subsequent session, therapists assess whether desensitization has been maintained and help clients identify unresolved or new targets for treatment.
» Here are 10 effective ways to manage panic attacks.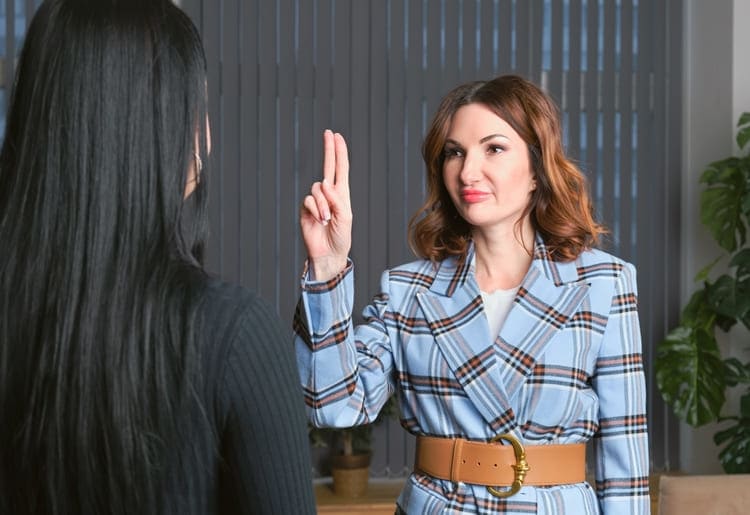 How Effective Is EMDR in Treating PTSD?
Multiple studies show that EMDR effectively reduces symptoms of PTSD, including:
Intrusive thoughts
Hyper-arousal
Mood dysregulation
Nightmares and flashbacks
Insomnia
Anxiety
Depression
EMDR can be conducted in person or online. If you're opting for the latter, keep these science-based tips for effective online therapy in mind.
Pros and Cons of Treating PTSD With EMDR Therapy
Like all treatments, EMDR has both pros and cons. Here are a few important things to consider when deciding whether it's right for you.
Pros of EMDR Therapy
Backed by research. EMDR is supported by a large body of research speaking to its efficacy in reducing PTSD symptoms.
Doesn't require in-depth discussions. You are not required to discuss your past trauma in detail to benefit from EMDR.
Can treat a range of conditions. EMDR is not only used to treat PTSD, so it's a smart option if you're experiencing co-occurring disorders like mood disorders, eating disorders, or obsessive-compulsive disorders.
Non-invasive. You don't have to take any pills or needles or undergo sedation to reap its benefits.
Has few adverse side effects. Because your body isn't responding to new medication or recovering from an invasive procedure, there aren't as many side effects to worry about.
Cons of EMDR Therapy
Not always covered by insurance. You may have to pay out of pocket for sessions, which often exceed $100 each. However, some practitioners can bill insurance for EMDR—typically under the general CPT code for psychotherapy of 90834.
May increase distress. Like any psychotherapy, EMDR may increase the recollection of traumatic memories simply because you're facing these experiences head-on.
» Take a look at the best LGBTQ online therapy and counseling services.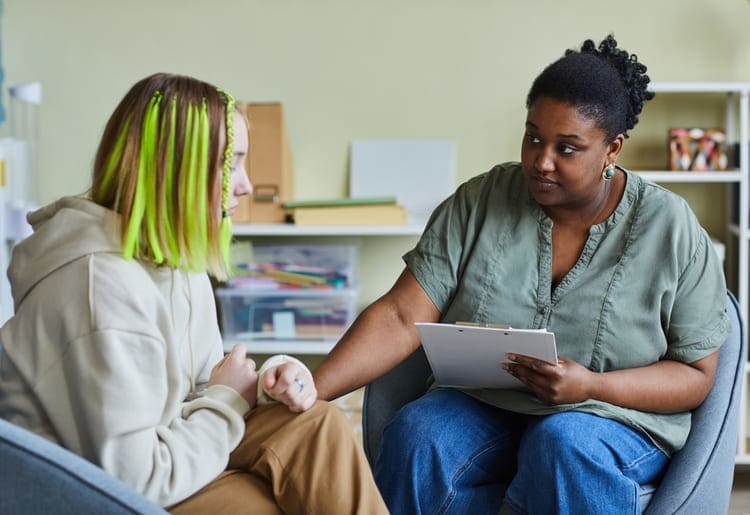 An Expert's Take: Should You Try EMDR for PTSD?
The number of EMDR sessions a therapist recommends for a client will change depending on the severity of the client's symptoms and their responsiveness to treatment. Many different people may benefit from EMDR, provided they have the time and patience to undergo it and the finances to afford it.
The risks are relatively low, and the benefits are often high. But you should certainly speak with your doctor before beginning any new treatments. Plus, you may want to interview a few EMDR therapists until you find the one that feels like the best fit.
If you experience PTSD symptoms, it's critical that you seek support. If you decide not to undergo EMDR therapy, cognitive behavioral therapy (CBT) can also help you change problematic thoughts and behaviors resulting from PTSD. Online-Therapy.com provides CBT for a fraction of the cost of most in-person providers.
If you're in the market for more affordable mental health treatment, consider the Calmerry app, which offers 30-minute video therapy sessions with experienced therapists, many of whom have worked with individuals struggling with PTSD.
» This is how online therapy can help if you deal with bipolar disorder.