Whether you're feasting in your backyard, campsite, or at the beach, here are 10 vegetarian-approved barbecue ideas for Independence Day and beyond. If you'd rather spend the holiday outside of the kitchen, check out Top10's list of the best Meal Delivery kits for convenient options that free you up to enjoy more of the festivities.
1. Portobello Steaks with Chimichurri
If you're in the mood for an entrée with a meaty texture, try marinating and grilling large Portobello mushroom caps. Portobellos make a good vegetarian alternative to steak thanks to their savory flavor. They're low in calories, which can support weight management, and are a good source of B vitamins and potassium.
Marinate the mushrooms in a mixture of olive oil, balsamic vinegar, and your favorite herbs and/or spices, and grill for 2 to 4 minutes per side. Serve with chimichurri, which is a sauce made from olive oil, garlic, salt, pepper, and finely minced fresh parsley or cilantro.
2. Black Bean Burgers
Following a vegetarian diet is no reason to miss out on enjoying a juicy burger hot off the grill. You can find veggie burgers and other plant-based burger alternatives in grocery stores, but making the patties at home gives you the chance to pack in loads of fresh flavor.
Black beans are an excellent substitute for ground meat and are packed with protein, fiber, and iron. To turn beans into burgers, mash beans with sautéed onion and garlic, bread crumbs, eggs, and your choice of herbs and spices. Shape the mixture into patties and bake or grill for 8 to 10 minutes on each side. Serve with buns, condiments, and assorted toppings like guacamole, sliced tomato, lettuce, or sautéed mushrooms.
3. Grilled Veggie Kabobs
Both plant-based eaters and meat eaters can enjoy veggie kabobs as an entrée or side dish. They're also an easy way to include several types of vegetables in a meal, which helps ensure you're getting a variety of vitamins, minerals, and antioxidants.
Vegetables that hold up well in skewered form include button mushrooms, bell peppers, onion, yellow squash, zucchini, and cherry tomatoes. You can marinate your kabobs before grilling or simply brush them with olive oil and season with salt and ground black pepper.
One trick to getting all the ingredients on your skewers to cook in the same amount of time is cutting all the vegetables into uniform-size pieces. After grilling, you can drizzle veggie kabobs with balsamic vinegar or serve with a dipping sauce like tzatziki or hummus.
4. Corn and Pea Fritters
If you're looking for a new way to enjoy summer's bounty of sweet corn and peas, check out this corn fritter recipe from Blue Apron. Freshly shaved corn kernels are combined with green peas, eggs, cornmeal, milk, onion, lemon, and chives to create a batter.
Spoonfuls of the fritter batter are lightly fried in oil until golden and crispy. This recipe also includes instructions to make a remoulade dipping sauce, but these would also be tasty paired with a yogurt and dill sauce or tzatziki.
Corn is mostly a starchy carbohydrate, which provides energy, and green peas are a type of legume that contains significant amounts of fiber, B vitamins, vitamin A, and vitamin K.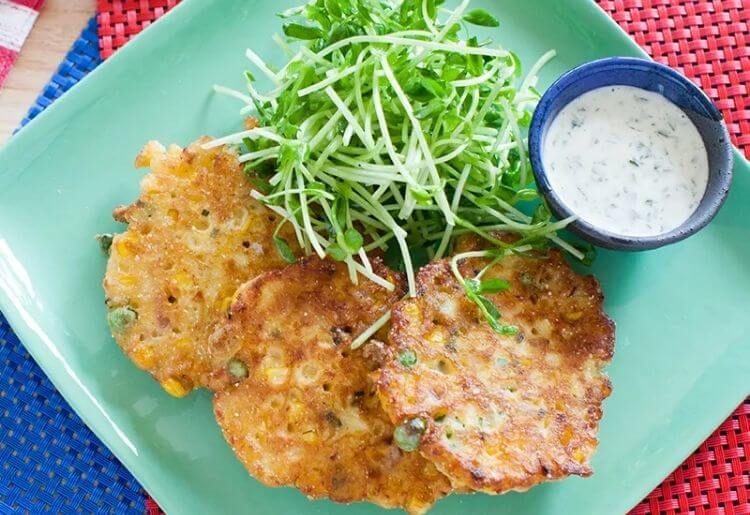 5. Homemade Baked Beans
Beans are a filling food thanks to their high fiber and protein content. They're also an excellent source of plant-based iron. Although canned vegetarian baked beans are widely available, making your own lets you control how much sodium and sugar go into the recipe.
You can make baked beans with any variety of dried beans, such as pinto or navy, or opt for canned beans to save time. Combine beans with onion, vegetable broth, tomato sauce or paste, a sweetener such as molasses, brown sugar, honey, or maple syrup, and seasonings of choice. The beans can be baked in the oven, simmered on the stovetop, or cooked in a slow cooker.
6. Avocado Potato Salad
Traditional potato salad is usually tossed in a mayonnaise-based dressing and some versions contain hard-boiled eggs. Both ingredients are avoided on a vegan diet and some vegetarian plans. For a healthier and vegan-approved take, try tossing cooked and chopped potatoes with mashed avocado. Avocado is full of healthy, unsaturated fat that supports heart health, as well as fiber which promotes healthy digestion.
Chop russet or Yukon potatoes into 1-inch pieces and boil until fork-tender. Toss the drained potatoes with finely chopped celery, mashed avocado, salt, pepper, lemon juice, and fresh herbs like parsley, dill, and/or chives. If you'd like to add more veggies to this recipe, blanched green beans or asparagus chopped into 1-inch pieces pairs well with the creamy potato mixture.
7. Grilled Romaine Salad
If you've never had grilled lettuce, you're in for a treat. Hearts of romaine hold up well to the heat of the grill and become lightly charred on the outside and crisp-tender on the inside. Romaine lettuce is low in calories with a high water content, which makes it a good choice to support weight loss. It's also a good source of potassium, which supports normal blood pressure and electrolyte balance.
To make it, halve each romaine heart, brush with olive oil, and place cut-side down on a hot grill for about 30 seconds or until grill marks appear. Then, remove the romaine from the grill and top with cheese, such as shredded parmesan or goat cheese, and a homemade vinaigrette or dressing of choice. If you'd like the dish to be vegan, skip the cheese or opt for a dairy-free cheese alternative.
8. Veggie Topped Pizza/Flatbread
Homemade pizzas are easy to prepare, can be baked or grilled, and are a blank canvas for a variety of toppings and flavor combinations. To keep the recipe vegetarian, skip meat toppings and use a variety of seasonal vegetables, mushrooms, herbs, and any cheese that melts well.
If you need some topping inspiration or prefer to have all the ingredients you need to make a summer-y pizza delivered, check out the flatbread offerings from HelloFresh. The Roasted Garlic Zucchini Flatbread is topped with both a creamy garlic sauce and roasted garlic cloves for maximum flavor. Garlic possesses powerful antioxidant properties that can support the immune system.
The BBQ Pineapple Flatbread combines smoky barbecue sauce with sweet pineapple. Pineapple is an excellent source of vitamin C which enhances iron absorption, helps your body make collagen, and supports immunity.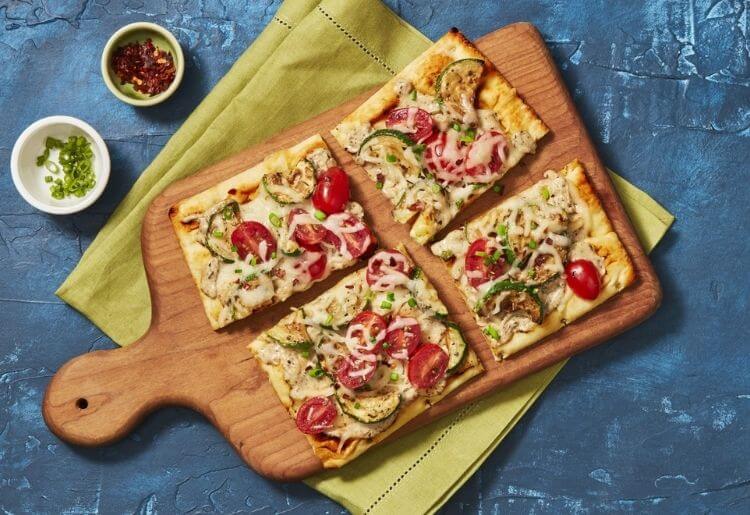 9. Tomato and Watermelon Salad
A light and cooling salad is a welcome recipe on hot summer days and provides some contrast to warm, grilled foods. This salad is made with two summer produce stand staples: ripe tomatoes and juicy watermelon. Both ingredients are rich in lycopene, the compound that gives these foods their rich red color. Lycopene has antioxidant properties that can support overall health and combat signs of aging.
Chop watermelon and tomatoes and toss with fresh basil and/or mint leaves, thinly sliced red onion, and a simple vinaigrette made with extra virgin olive oil, red wine vinegar, salt, and pepper.
If you eat cheese, a sprinkling of tangy feta adds extra flavor. To make this salad even heartier, try adding a cooked whole grain such as farro, quinoa, or wheat berries. This salad is best made just before serving, as storing tomatoes in the refrigerator can turn them mushy.
10. Grilled Caprese Zucchini Boats
Zucchini is low in calories and carbohydrates and, like other vegetables, is a good source of antioxidants. In this recipe, hollowed zucchini halves are filled with chopped tomatoes marinated in olive oil, balsamic vinegar, basil, salt, pepper, and garlic inspired by the traditional flavors of a Caprese salad.
For best results, choose medium-sized zucchini, slice each in half lengthwise, and use a spoon to gently remove the seeds and some of the inner flesh to create a shallow cavity. Then, lightly coat the zucchini with olive oil and grill, cut side down, for about 5 minutes or until grill marks appear and the zucchini begins to soften. Fill each zucchini with the tomato mixture, sprinkle with shredded mozzarella cheese, and continue to cook for several more minutes until the cheese begins to melt.
Getting the most out of 4th of July
Whether you're committed to a plant-based lifestyle or trying to eat more vegetables, there are plenty of easy and tasty recipes to enjoy at all your backyard cookouts. From grilled veggie kabobs to refreshing summer salads, summer barbecues are the ideal time to use all the fresh produce and flavors the season has to offer.