Obviously, these meatless burgers are appealing to vegetarians. Containing no meat (got that from the name, huh?), plant burgers are a vegetarian's dream come true. You get the flavor and heartiness of real beef burgers without the blood, gore, and cruelty to animals.
But what if you're not a garden gobbler? Is there any benefit to eating meatless burgers for the rest of the world? Turns out there is. Check out what all the hype surrounding the new impossible meat patties is about and why so many die-hard carnivores are switching camps.
What's All the Buzz Around the Impossible Burgers?
Has the world gone crazy? Really, what is all the buzz about these veggie-based patties? For one thing, plant burgers are lower in calories and fat. So if you're trying to lose weight, this is an easy way to do it straight off the bat without having to give up one of your favorite dinners. Don't believe us? Let's take a look:
Traditional red meat burger
200+ calories per burger (just for the burger!)
Beef burgers are loaded in saturated fat, the kind of fat that is associated with high LDL cholesterol. That's the stuff that puts you at risk for heart disease, stroke, and high blood pressure. But before you start up the grill, check the package on your plant burgers. Some are not as healthy as they claim to be. Beyond Burger ingredients stick to the healthier alternatives, including cocoa butter, canola oil, and pea protein, leaving out the junk. But some plant burgers are just a facade. So do your research before you put on the apron.
Plant burgers make a solid argument on the health front just because they get you to eat more greens than you would normally. Higher vegetable intake is associated with lower incidence of major diseases, including colon cancer, and your body will retain more calcium as well. The high levels of phytochemicals can also help lower your cholesterol.
Additionally, brands like Impossible Burger and Sweet Earth (to name a few) have much less of the junk that you normally find in processed hamburgers. There are significantly fewer preservatives (and sometimes none at all) in veggie burgers. Since there is no meat to keep fresh, these patties don't need all the sodium nitrite garbage that typical burgers do.
Impossible meat burgers are also chock-full of fiber, something that's heart-healthy, great for your colon, and helps, em, regulate your bathroom breaks.
Finally, meatless burgers are better for the planet. Using about 75% less water to produce, plants are an obvious choice for green-conscious consumers. What's more, plant burgers generate almost 90% fewer greenhouse gasses and require 95% less land to produce.
Cool Serving Suggestions for Impossible Meat Burgers
Ready to take the plunge but not sure your friends or family are? Check out a few neat ways to serve meatless burgers and ease your loved ones into this exciting new trend in healthier eating:
Meaty pizza slices
Nachos and cheese!
Stir-fried with your fave vegetables and pasta
Food bowl (Asian, Mexican, Indian, Greek)
Wraps, paninis, or enchiladas
Taco Tuesday!
In a hummus plate (yum)
Italian meatball subs
Make it cheeseburger style
Coat it with panko crumbs and fry it up
How to Get Your Hands on the Best Veggie Burgers in Town
By now your mouth is probably salivating, and you're wondering where to buy Impossible Burgers (or any of the other delicious options). Good news food fanatics. You can find the best veggie burgers around both online (Amazon!) and in your local grocery stores like Whole Foods, Publix, ShopRite, and Costco. A lot of folks aren't heading outdoors right now. So online grocery ordering is a simple way to avoid the crowds while still enjoying your delicious Impossible Meat entrees.
And for those who are going out, you'll be happy to hear that Impossible Burgers and other plant-based patties are available in thousands of restaurants across the country. So you can order your meatless burger at the same White Castle, Burger King, Denny's, Subway, and TGI Fridays fast food joints you're used to frequenting. Nice!
Here's our rundown of the best meatless burgers to try in 2023:
We don't know about you, but we are stoked for our next BBQ, complete with plant burgers, meatless sliders, and beer (some things never change). So without further ado, here are 10 of the best veggie burgers on the market today.
1. Impossible Burger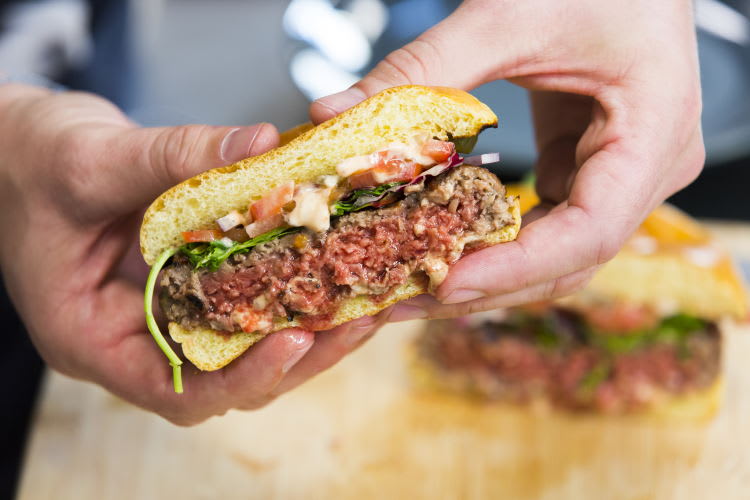 Impossible Burger is one of the most popular meatless burgers out there. It's been rated as having the most beef-like flavor. Impossible Burger is also a big winner for its faux blood look on the grill. The Impossible meat soy-based burgers have potato protein and a party mix of natural oils to give them flavor and a good burger-like consistency.
2. Beyond Burger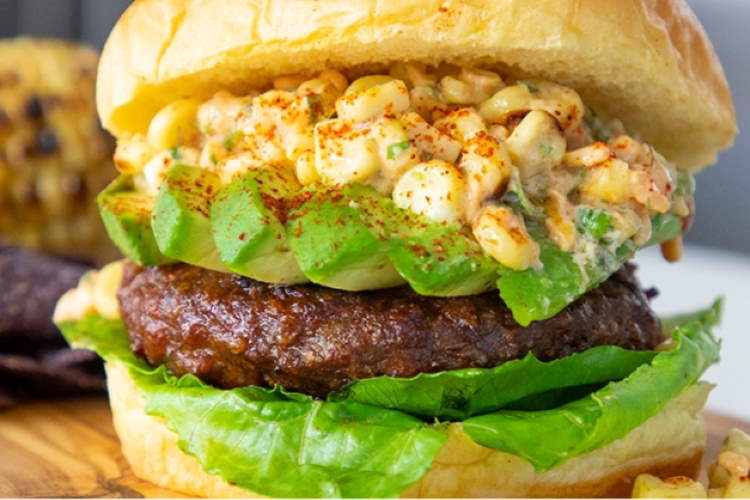 If you are sensitive to soy, then you'll be happy to hear that there is not a single soybean or soy derivative in the Beyond Burger ingredients list. Instead, these juicy plant burgers are loaded with flavorful umami, rich rich beet juice, and rice protein for a cleaner texture. These patties are also moister than many meatless burgers, which is always a plus for burgers. Beyond Burgers also look just like beef burgers. So you can enjoy the visual appeal along with the taste.
3. Sweet Earth Burgers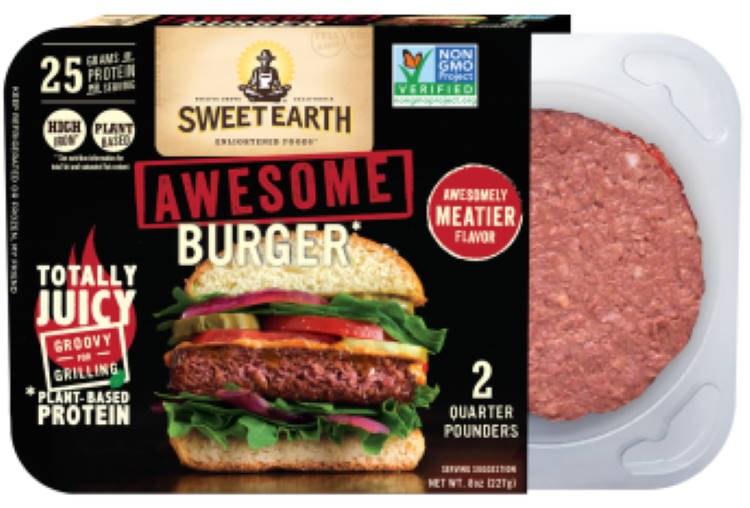 Sweet Earth is another non-GMO and soy-free meat alternative. And this company sure knows how to keep your palette dancing! The Sweet Earth plant burgers come in a variety of zesty flavors, including Mediterranean, Teriyaki, and Bacon. And with 25 grams of protein and 6 grams of fiber for every burger, you'll quickly begin to see just how sweet Mother Earth is.
4. Uncut Burger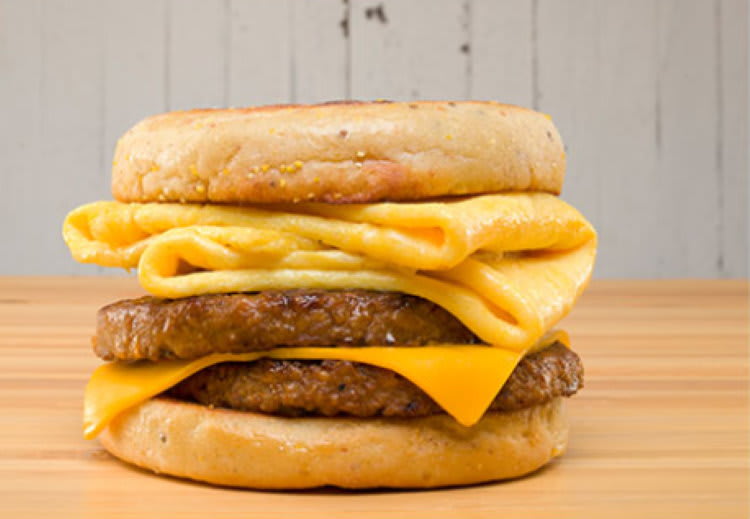 Uncut Burger is a close contender with Impossible Burger for meatiness. This meatless burger (we promise) has a lot of natural flavors added to give the patty a smokier, grill-like taste. And they've certainly succeeded. From the smoke flavor to the oozing, dripping patty, Uncut Burgers are a juicy alternative for vegans and gluten-free eaters everywhere.
5. Lightlife Burger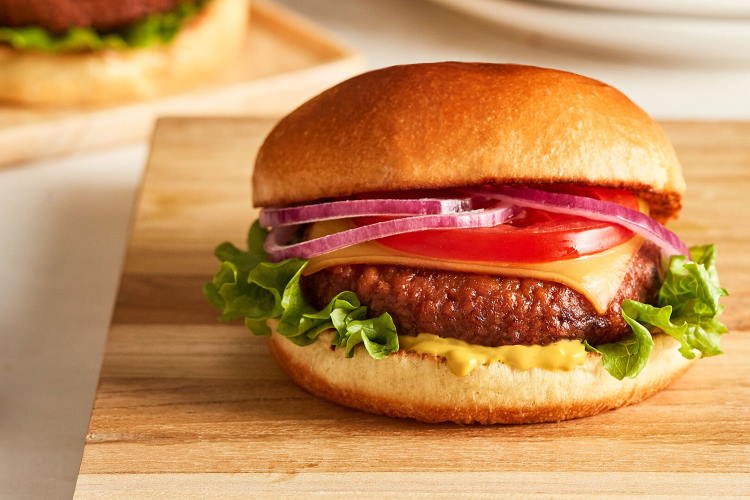 Lightlife Burgers are the best veggie burgers for health-conscious folks and vegans. That's because these patties are gluten-free, soy-free, and made from non-GMO products. Lightlife Burger is known for its firm and delicious consistency, mimicking a traditional beef burger shockingly well. You'll also appreciate the natural ingredients, including beet powder, pea protein, and sea salt. And Lightlife packs a whopping 20 grams of protein into each burger for a deliciously-healthy alternative to beef.
6. Morning Star Veggie Burgers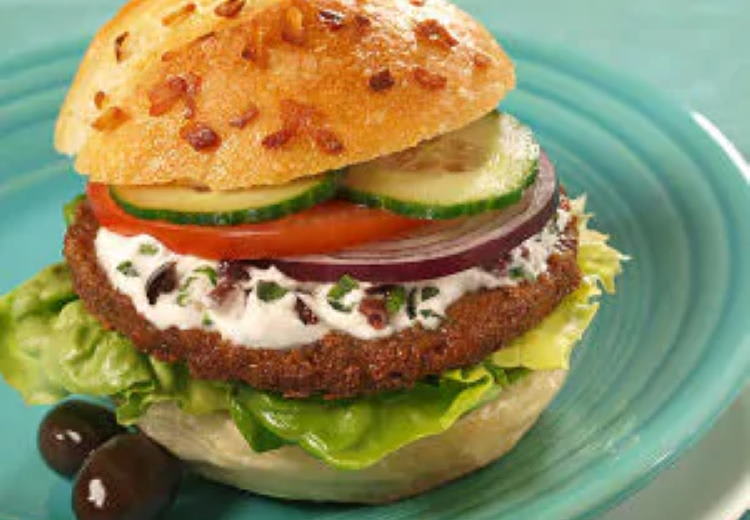 Morning Star has been doing the whole plant-based meat alternative thing for decades now. So it's not surprising that these burgers are amongst the top 10 best veggie burgers on the planet. Get ready for some sizzle action with a plant burger that won't fall apart on you, packs plenty of protein into a single pattie, and has 74% less fat than regular beef burgers. And with a name like Incogmeato, you've gotta love it!
7. Gardein Beefless Burgers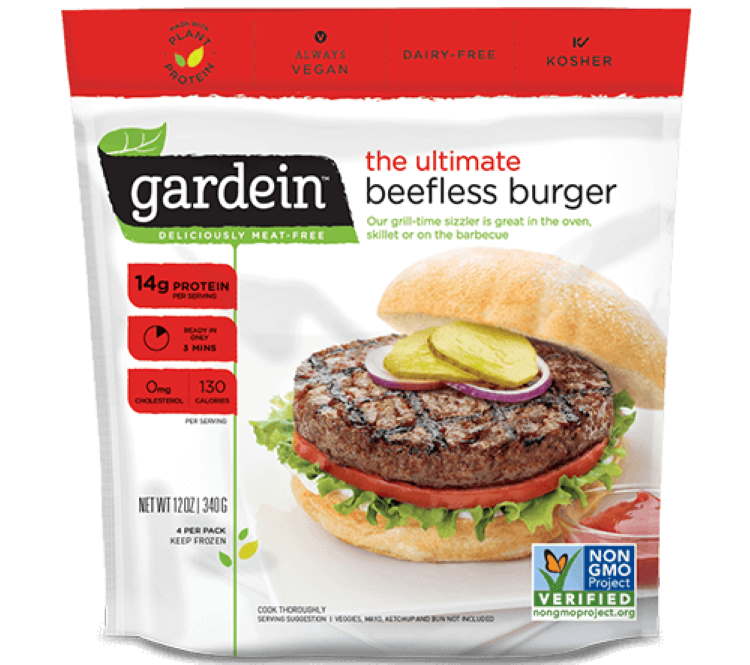 The Gardein Beefless Burgers have a lot going for them, including close to 70% less fat than traditional burgers, a good meaty texture, and even an affordable price tag. That's not to mention the juicy flavor that these plant-based burgers contain. You can make Gardein burgers on the grill, in a pan, or even in the oven, and they'll still come out great. 16 grams of protein are packed into these lean burgers, and Gardein has kosher and dairy-free certification as well.
8. Trader Joe's Hi-Protein Veggie Burgers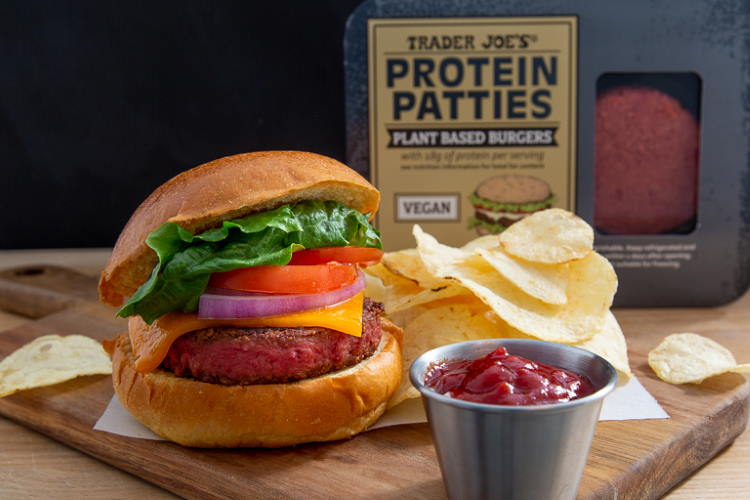 As if you needed another reason to love Trader Joe's, these high-protein veggie burgers are loaded with delicious meat-like taste and a hefty helping of iron. Based on pea protein and black beans, Trader Joe's veggie burgers are a good vegan-friendly source of protein with a dizzying 26 grams of protein per serving. And did we mention these patties are sugar-free as well?
9. BOCA All-American Veggie Burgers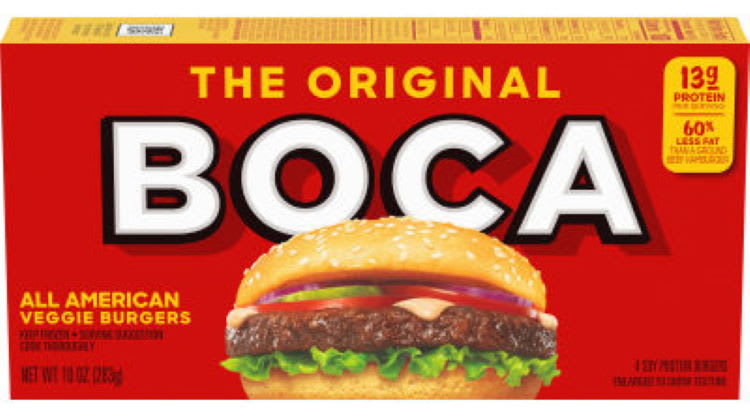 Do the words liquid smoke bring a tingling sensation to your body? Well, that's the secret ingredient in the Boca All-American Veggie Burgers, and it's what gives these beef-like patties their rich straight-off-the-fire flavor. You can test drive the original burgers or opt for the extra-large whoppers. Boca also has a vegan plant burger, and at just 70 calories per patty, there's no reason not to have more!
10. Hodo Tofu & Veggie Burgers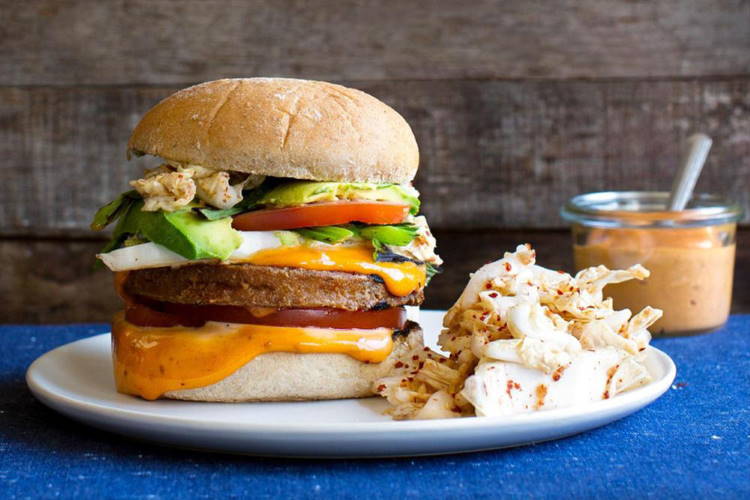 Hodo makes a fun and delicious variety of plant-based burgers, so you'll never get bored. Ingredients include a delightful blend of dried shiitake mushrooms for a savory punch and hearty pea protein for a thicker burger bit. From tofu burgers that are high in protein and low in calories (19g protein, 8g fiber, and just 190 calories for a four-ouncer), to Perfect burgers with a hefty 20g of pure plant protein, Hodo's got everything you could ask for in a plant burger. Looking for something hot? Check out Hodo's cajun burger with cayenne pepper and a fiesta in your mouth!
Meatless Burgers, A New Revolution
Making the right choice doesn't always have to be the harder one. Yes, you'll need to cut back on Devil's Food cake if you want to fit into those fab jeans, and you won't be able to avoid the gym every day if you want to get rid of that gut. But sometimes making the right choice can be as easy as swapping out your traditional beef burger for a nutrient-rich plant burger instead. Fire up the grill, and get down and dirty with your new favorite meatless burger this weekend.
You may also like:
Best Meal Kit Services of 2023
I Tried HelloFresh Instead of Online Grocery Shopping. Here's Why I'm Now Hooked!