After all, I HATE going to the supermarket. The endless aisles of grocery items that beckon to me even though I know I don't need them, the interminable waiting in line, the hours spent making meaningless calculations when the stores are just going to steal my money in the next aisle anyway. It was all too much. Yes, online grocery shopping was the way to go.
But being the savvy shopper, I was content with just signing up to a grocery store and doing my shopping with a few clicks. I wanted the best option for me, including the right prices, the right selection, and the right features. So, I did my homework.
And do you know what I found? HelloFresh. No, I'm not trying to be overly-friendly. I'm talking about the meal kit delivery service. To be honest, I stumbled upon the idea accidentally. But once I started to do the math (both figuratively and literally), I realized that this option made a lot of sense. So, I did something wild, I switched to HelloFresh for a month. And now, a year later, I will never go back to traditional online grocery shopping. If you are like me and love the convenience, cost-efficiency, and other perks of online shopping, then here's what you should know about using a meal kit delivery service like HelloFresh to fuel your food tank.
HelloFresh View Plans
HelloFresh vs. Grocery Shopping #1: The Convenience Factor
Ok, so in order for me to switch from traditional online grocery shopping to the newer age meal kit delivery services, I'd have to have a good reason. Convenience is right at the top of my list. After all, isn't that what online shopping is all about? But are meal kits like HelloFresh any more convenient than the regular online grocery stores? Apparently, they are.
For one thing, you get the recipes already made for you. Meaning, I don't have to scour the internet or pore over cookbooks to find something delicious. It's served up to me right under my nose. HelloFresh has a ton of mouthwatering recipes ready to get your digestive juices going (that sounds gross, but you get what I mean).
For another (and much, much bigger) thing, all of your ingredients come measured out and ready to roll. We're talking 8 tablespoons of teriyaki sauce, 2 tablespoons of sour cream, 5 teaspoons of red wine vinegar...you see my point? That's the kind of convenience that anyone living in the 21st century can appreciate.
And then there are all the extras that HelloFresh throws in for fun. Things like cooking tips, a huge backlog of yummy recipes you can try, and convenient pause or skip order settings. Basically, the entire experience is oozing convenience. So, it was an obvious win in my book.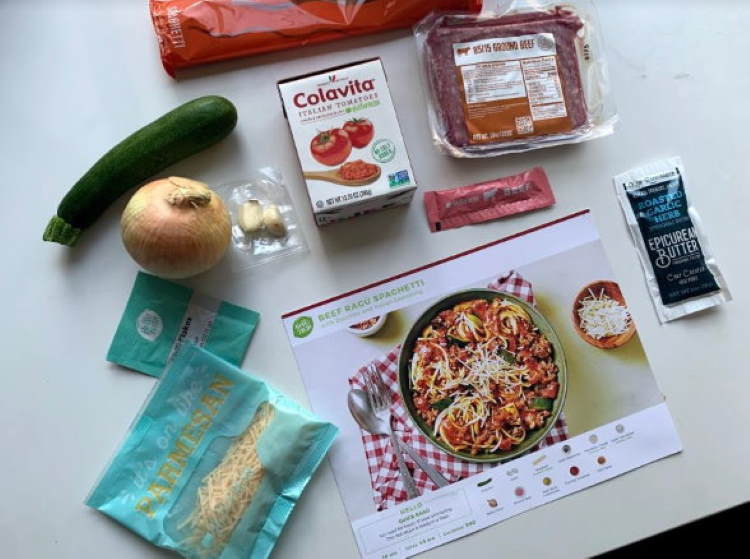 HelloFresh vs. Grocery Shopping #2: Cost Analysis
Naturally, I loved the idea of convenience. But how much was that idea going to cost me? Obviously, online grocery shopping is a much more cost-effective option than eating out. That's a no-brainer. It's also a cheaper option than shopping for groceries in the store itself. After all, how often have you bought items on impulse because you were hungry, because you were distracted, or because they looked so damn good you couldn't say no?! With online grocery shopping, that never happens. Hence, your bill stays right where you calculated it to be.
But the real question is, which is cheaper: meal kits or online grocery shopping? It seemed to me that online grocery shopping would be the obvious choice. After all, someone else picking out the groceries for me is bound to add up to more than if I have to click on the items myself...doesn't it?
And that's when I got my first really big surprise. I did a lot (and I mean A LOT) of comparison shopping. Here's just one study done by PSECU, a financial education institution, to prove the point. According to this and other studies, ordering meal kits is significantly cheaper than doing grocery shopping.
I was a little confused about the numbers, but one idea really made sense to me. Let's just say that you have a recipe that calls for, among other things, one teaspoon of Sriracha sauce. You could say, what's one teaspoon? I'll just leave it out. But that one teaspoon actually makes a big difference, particularly for the discerning palette. So, more likely, you'll buy the entire 24-ounce bottle of Sriracha sauce. You'll use one teaspoon, and then...the bottle will sit in the back of your fridge collecting moisture droplets until you finally throw it out six to eight months later.
And that's where you can really save. The meal kits come with exactly what you need for each recipe, carefully measured out, so there's no waste. And more importantly, you don't have to buy the entire bottle for a single teaspoon of the stuff. Not all meal kit delivery services do this for you, but HelloFresh does. Points for HelloFresh.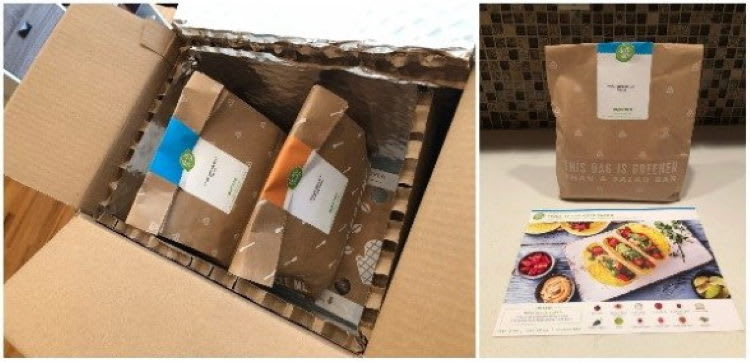 HelloFresh s vs. Grocery Shopping #3: But Are There Options?
Finally, there were options to choose from. I'm a bit of a foodie. Let's just say it would be a drastic understatement to say that I just like my food. They say that variety is the spice of life, and I have to agree with them (whoever they are) wholeheartedly. So, what were my available options when it came down to meal kits? Were there enough to satisfy my voracious appetite? Or would I be starved by my need for a zesty, flavorful variety? I had to find out.
So, I dug some more. What I found out was that HelloFresh has the type of selection that even my curiosity-happy stomach could fall in love with. There are around 20 recipes to choose from, and the menu changes every week. The meals vary in style, flavors, culture, and heaviness.
Wondering what those recipe options might be? Well, I'm not going to list all of the choices because I didn't try them all out for myself. But here are some meals that were prepared by me, thankyouverymuch. And I can personally vouch for their flavor...yum!
Creamy Mushroom Cavatappi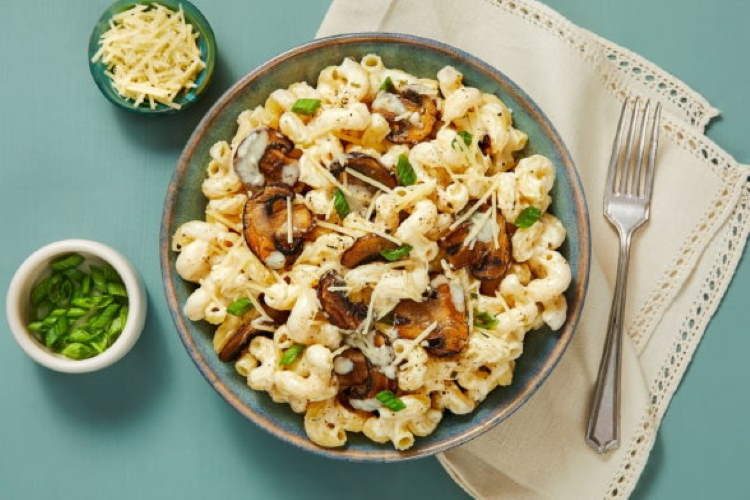 This creamy pasta dish spoke to all of my comfort levels. It combined a cream cheese and parmesan cheese sauce with garlic herb butter and scallions (drooling as I type) with pasta and cremini mushrooms. A definite recipe for success.
Salmon Limone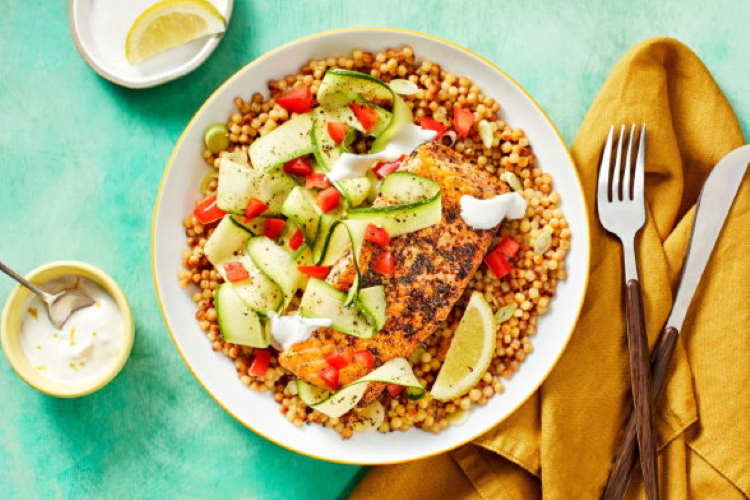 This one might not have been fair since anything to do with salmon is an instant hit in my book. But I loved the hearty couscous and the zesty Italian herbs that combined to make this entire dish a success.
Teriyaki Chicken Tacos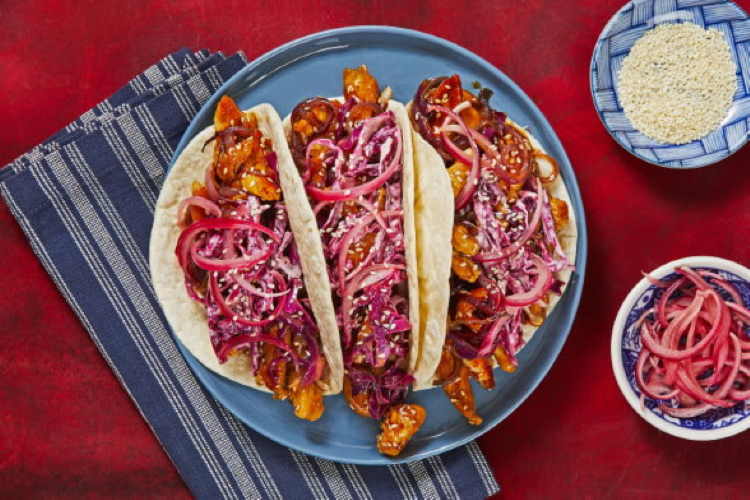 Because who doesn't love tacos?! I had to try this dish, especially since it is a fusion of two of my favorite types of cuisines. I was skeptical of how the two flavors would work, but it turns out that sweet and savory teriyaki sauce plays very nicely with the crunchy tacos. Score!
Bye Bye Meal Boredom, Hello HelloFresh!
HelloFresh has been a godsend for me. From the outstanding variety and flavor to the cost-savings and let's not forget the all-important time-saver, HelloFresh is easily one of the best switches I've ever made. A year into this service, I can safely say that I've never once looked back.
HelloFresh Order Now