But, as with anything else, dating needs change with age. Baby Boomers are most likely not looking to start a family, and Gen Z is most likely not ready for the retirement lifestyle.
At Top 10, we know the importance of finding the best options. So, we decided to take a look at which cities are the best for dating for each generation. Read on to see what we found.
Our Methodology
We assigned cities a score of 0-5 for each ranking factor, with a score of 5 representing the most favorable conditions. We determined each city's score from the total of its individual factor scores, which were weighted according to their impact on the generational dating scene. Individual factor scores were then added together to give each city a final score from 0-50. Higher scores indicate cities that are better for dating for that generation.
Ranking factors:
Number of Cocktail Lounges per 100K People
Number of Dating Events per 100K People
Total Cost of "Date Night"
Number of Google searches for generation-specific dating sites: OurTime, eHarmony, Match.com, Hinge, Bumble, Tinder, and Lolly
Percentage of Generation that is Single
Read on to see which cities are the best for dating for each generation.
The Top 10 Best and Worst US Cities for Dating for Baby Boomers
For Baby Boomers looking for the perfect dating scene, San Antonio is the place-to-be. This Texas city has affordable date-night prices and is home to more single Baby Boomers than any other U.S. city. Boomers can also try their luck in Las Vegas-- the second-best city for dating in this generation with an impressive city score of 35.3. On the other hand, it's best for Baby Boomers in the dating scene to steer clear of San Jose, California, and Salt Lake City, Utah. These two cities are the worst for the Boomer dating scene. With incredibly low city scores of 13.7 and 13.9, it's safe to say there isn't much luck for singles in the older generation to find dating success.

It doesn't matter if you're 18 or 80 - Zoosk can set you up. With over 40 million singles worldwide, you're sure to find a match!
The Best and Worst US Cities for Dating for Gen X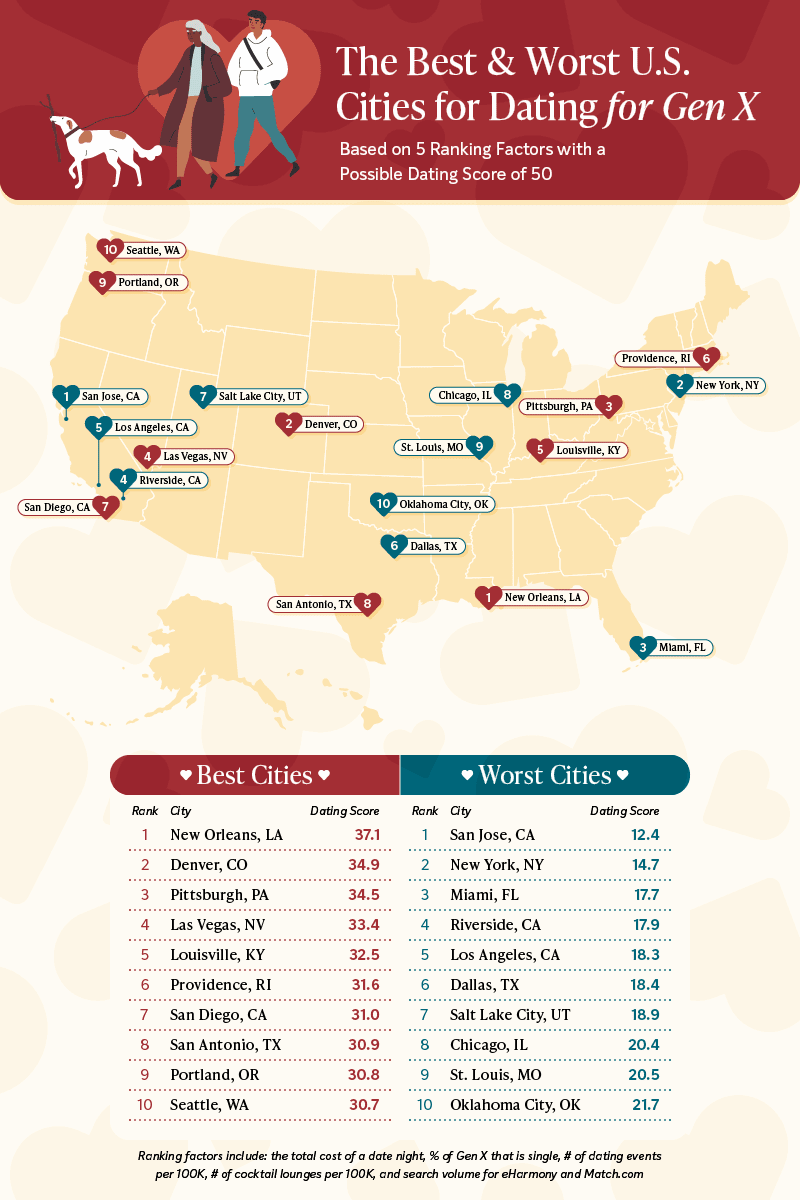 New Orleans is the perfect spot for Gen X'ers looking for love. This top-scoring city earned a dating score of 37.1 for its large share of single Gen X'ers, number of dating events, and number of cocktail lounges. With so much to do and so many single people to meet, New Orleans is sure to give Gen X the best dating experience possible. Denver, CO, Pittsburgh, PA, Las Vegas, NV, and Louisville, KY, round out the top 5 cities for dating for this generation, ranging in scores from 32.5 to 34.9.
San Jose, once again, ranks at the bottom of the list for this generation's dating scene. With a low score of 12.4, this city doesn't have much to offer when it comes to dating for Gen X.
The Best and Worst US Cities for Dating for Millennials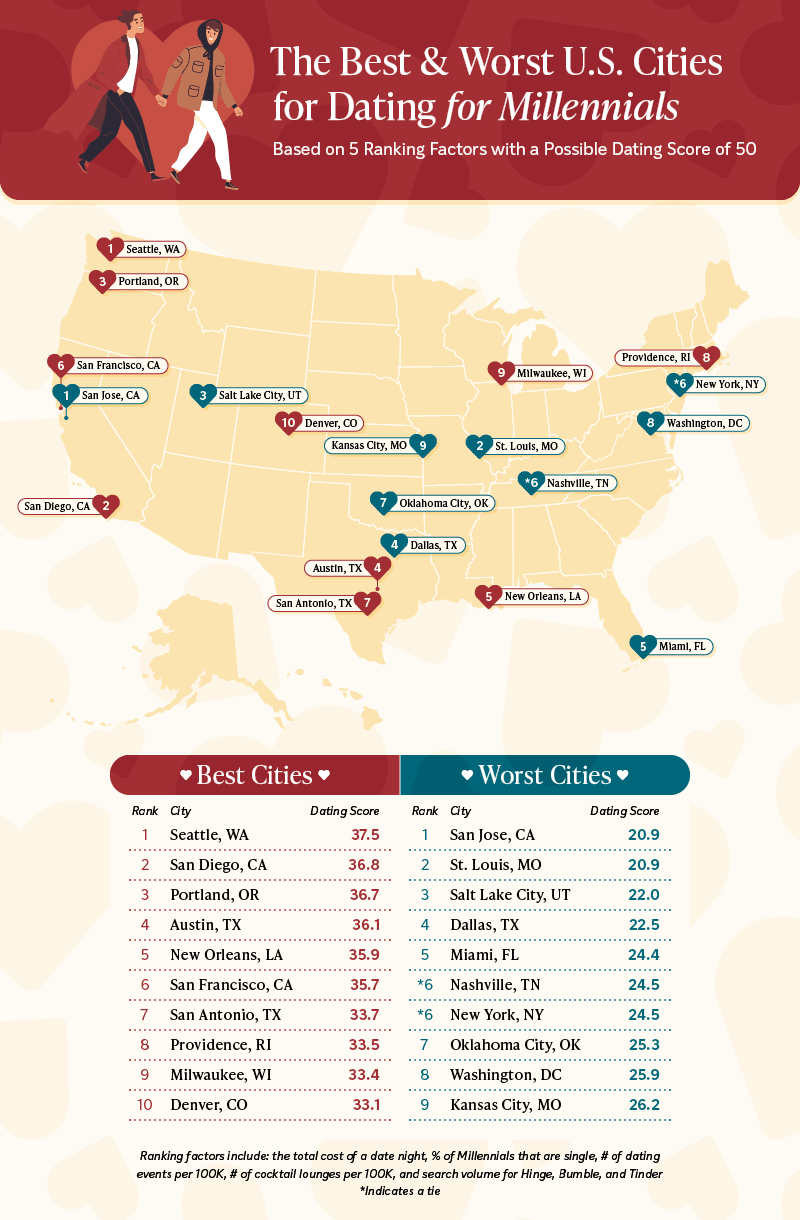 The West Coast is the Best Coast when it comes to dating for millennials. Seattle, Washington, tops the charts with an impressive dating score of 37.5. The Emerald City is home to the largest share of single millennials and has high search volumes for millennial-friendly dating apps like Tinder, Bumble, and Hinge, making dating a guaranteed success for millennials.
Following closely behind is San Diego, California, with the second-highest score of 36.8. Portland, OR, Austin, TX, and New Orleans, LA, round out the top five cities in the rankings. San Jose, CA, once again ranks as the worst city for millennials to date with a score of 20.9. Ranking last for Baby Boomers, Gen X, and Millennials, it's safe to say dating in San Jose is probably a difficult task for all ages.
The Best and Worst US Cities for Dating for Gen Z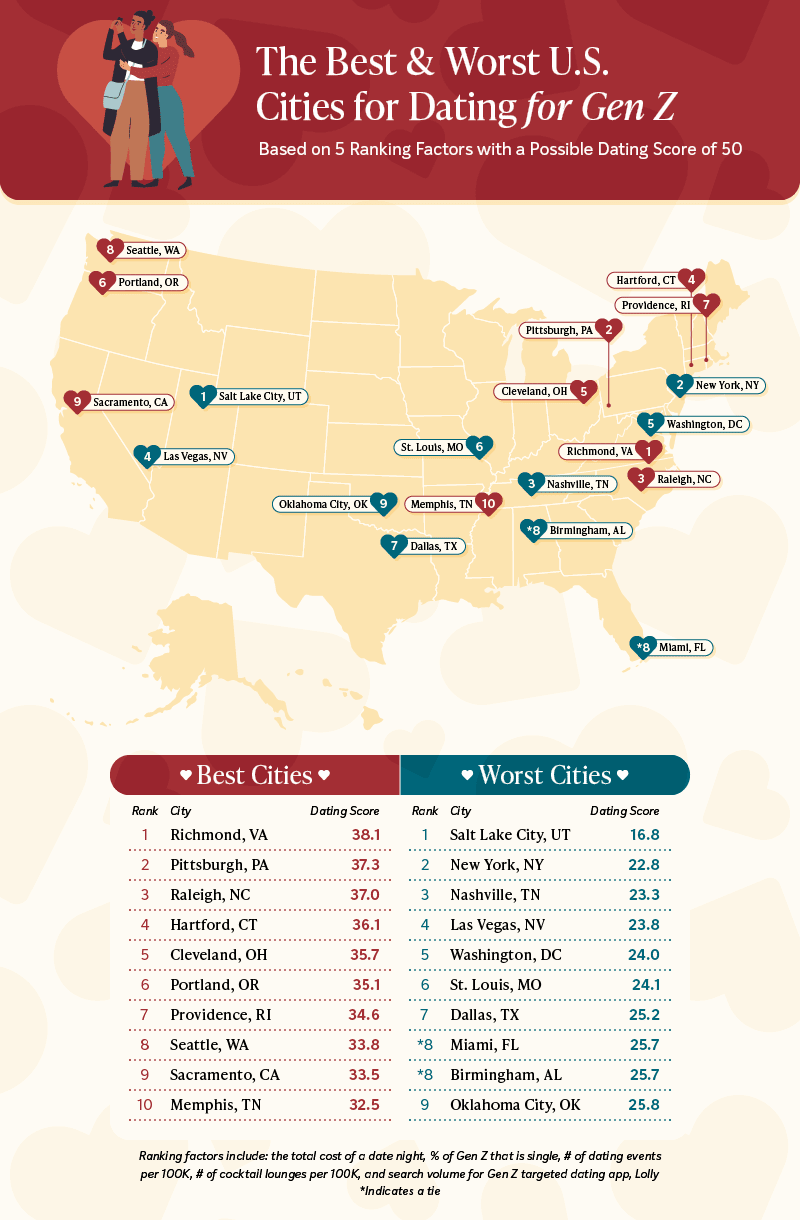 Last but not least, we took a look at where Gen Z is bound to find luck in the dating scene. Opposite of Millennials, it looks like the East Coast is the best for Gen Z to happily date. Richmond, VA tops the charts, with a whopping dating score of 38.1. This city has the highest search volume for the Gen Z-targeted dating app, Lolly, and has a relatively high percentage of single Gen Z members of the population.
Pittsburgh, PA followed closely behind, earning a dating score of 37.3 for its large portion of singles and affordable date night costs. Gen Z'ers looking for a successful dating experience may want to avoid Salt Lake City, UT, as the city earned a shockingly low score of 16.8. Though Salt Lake City has affordable date night prices and plenty of dating events, the city has the lowest percentage of single Gen Z'ers, limited cocktail lounges, and little usage of the dating app, Lolly.
You may also find these articles interesting:
Closing Thoughts
Dating can be tough at any age. But, some cities are better equipped to handle the stress of dating for some generations more than others. Check out our list of the best dating apps and sites for more romantic comparisons, and find the best dating tools for your generation.