In a Nutshell
PlentyofFish is one of the biggest online dating websites. With millions of conversations every day, there's bound to be someone right for you. Despite its massive size, POF manages to keep the service personal, professional, and organized—so it's simple to find matches, chat, and develop relationships. Adding gamification and a fast matchmaking algorithm, POF is growing in popularity every day.
pros
Millions of singles in the database
Trendy mobile app
Plenty of free options and functionality
cons
Advertisements on the free account
A lot going on, it can be overwhelming at first
POF Visit Site
Plenty of Fish Video Review

Plenty of Fish at a Glance
Anyone looking for casual dating or a serious relationship
Singles looking for anything from friendship to marriage
POF Love Stories
There are approximately 1 million relationships started on POF every single year. Broken down, that means that a flame is ignited once every 2 minutes. Those are incredible statistics, and if you want to hear it straight from the horse's mouth, here are a few real users' testimonials to give you an idea of how it is dealing with POF in the real world.
"We had our first kiss in the parking lot between our cars, a kiss that I will always remember because at that moment, I knew that David and I had something special." - David & Andrea
"It all started with me sending my now-husband a short note on Plenty of Fish, along with a 'Virtual Steak'...We messaged back & forth for a few days, before we arranged for him to meet me at my house for lunch one afternoon...Less than a week after that, he asked me to be his girlfriend, and one year exactly after that - he asked e to be his wife. It will be seven years this month that we have been together & inseparable. And to think - it all started with a Virtual Steak :) Thank you Plenty of Fish!" - Caitie & Randy
"We met on plenty of fish back in November of 2016...It truly was fate because we've been inseparable ever since. We went on our first date and I found it he had moved to NYC all the way from St. Louis, MO which is why he joined POF. We are truly a perfect match and I can't wait for our wedding this November. Thank you Plenty of Fish!!!!" - Diana & Ryan
"Gary and i met for the first time after messaging on POF for three months. We had drinks at Applebees and at the end our the date he kissed me and asked if he could see me the next day. He has been my best friend ever since. We are due to be married August 11th 2022 a little after our 3 yr anniversary. We have a 2 yr old son together and our life couldn't get any better." - Heather & Gary
Signup Process
POF has a super fast and easy signup form. Pick a username and password, enter your birthdate, gender, country, ethnicity, and email address, and you're done. Bam, 20 seconds, and you're in. None of this hour-long process of filling out questionnaires just to get on the site.
What's nice about it is that you can sign up and get started browsing, become searchable, and get a feel for the site without spending a lot of time filling out the profile test. Of course, if you want to tally up the entire process, it'll total around 20-30 minutes depending on how quick you are with your answers.
Matchmaking & Search Functions
Once you've gotten your feet wet, you can head over to the Chemistry Test and fill it out at your leisure. This test ranks you on 5 key components, namely:
Self-confidence
Family orientation
Self-control
Easygoingness
Social dependency or openness
Based on your answers to the test questions, PlentyofFish will generate matches to fit your criteria and personality. With a database of over 150 million singles, POF offers its members a boatload of options. So, the sooner you finish the Chemistry Test, the sooner POF can start matching you up with the most appropriate candidates. To get things rolling, PlentyofFish will send you your Ultra Matches, a list of partners most aptly suited for you.
Relationship Needs Assessment
This is one more step that helps POF clarify exactly who you are and what you're looking for in a match. The relationship needs assessment is a rather long test (roughly 50 questions in total), asking you questions about 9 different relationship needs categories, including:
Attitudes about love
Communication
Conflict resolution
Interdependence
Intimacy
Preferred expressions of affection
Relationship readiness
Self-efficacy
Sexuality
The answers to these questions hone in on your desires and needs in a relationship. While you might feel like all of these questions are unnecessary at best and a pain at worst, there's a reason POF has such a high success rate, and this is it. Using these answers, the system finds unbelievably accurate matches the vast majority of the time.
By the way, if you enjoy these little questionnaires, you can take a few more from POF for the fun of it. There's the Is Your Love Interest a Keeper, the Psychological Assessment, and the ever-popular Sex Test. Believe it or not, these tests aren't just for fun. They all help in the dating and matchmaking process.
Searching for Your Soulmate
In case you thought it would be hard to find anyone in that huge ocean of availables, POF offers 7 ways to search, select, and narrow down the masses. You have 2 options when searching manually for a match: advanced search and basic search. The basic search will let you sort and select from test answers such as age, level of education, and religion.
The advanced search lets you dig deeper into your search results, providing you with specifics about potential partner personalities such as committed, independent, or thought out. Also search via location, who's on your favorites list, who's online right now.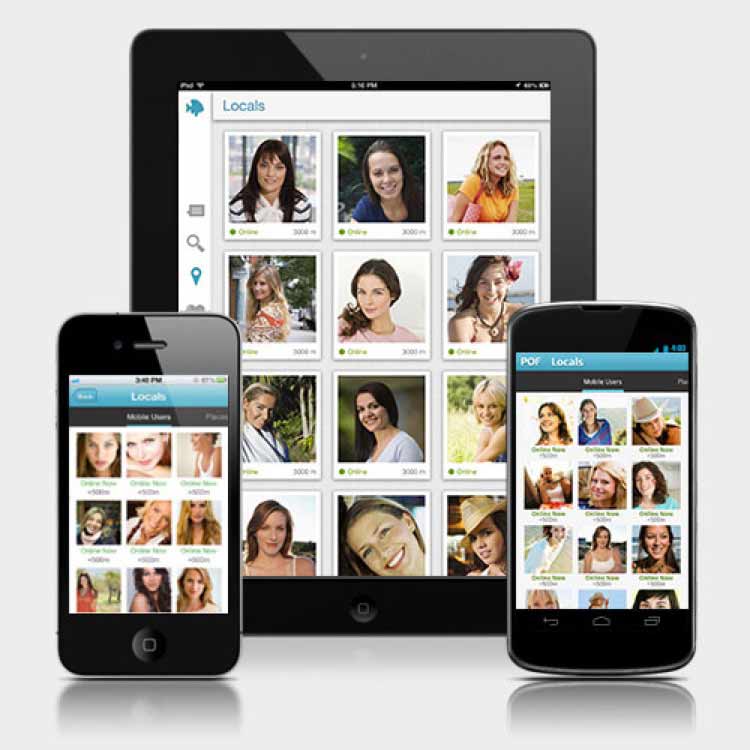 Features & Communication Tools
PlentyofFish is loaded with some awesome features that make it not only stand out from other popular dating websites, but just plain fun to use! To begin with, PlentyofFish has a mobile app in both the iTunes and Google Play stores. In a recent update to the app, POF went one step further by allowing the site to be accessed by Google Assistant. So, it's even smart home-available. Nice.
Another great thing about POF is its dating style. Instead of the standard email format (it's got that too), POF offers fun and friendly alternatives. You can use communications tools like these:
Meet Me
This online form of speed dating lets you quickly skim through potential partners by viewing their profile pics and making a flash decision of Yes, No, or Maybe. You'll also get notifications when someone says Yes to your profile using the Meet Me feature (though you'll only be able to see who they are with a paid account).
Spark
Spark is a neat feature on the mobile app that lets users grab a chunk of another user's profile and use it to launch a conversation. According to the number, this little feature boosted conversations by as much as 15%.
POF also has smartly introduced gamification into its dating scene. You can buy Goldfish credits, get login points, and send potential dates virtual gifts or shout outs.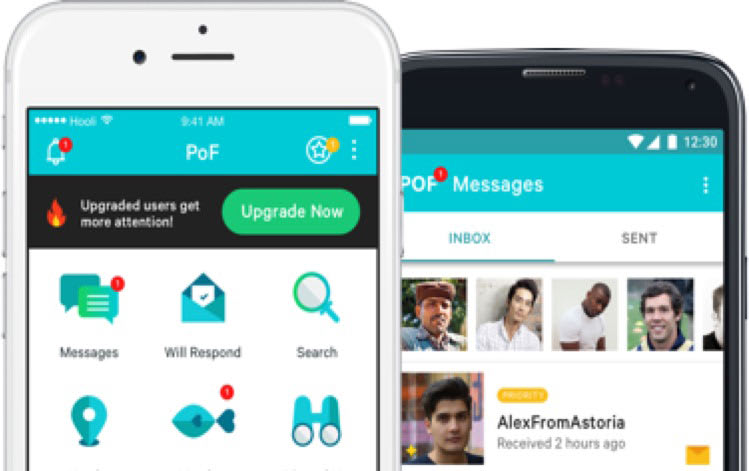 Safety & Security
POF does a lot to keep its members safe, and it really takes your personal interest to heart. For example, POF only allows women to send pictures on its server since men were abusing the privilege and sending unwanted photos to unsuspecting women. What's more, there's a lot of discussion on the site about what to stay away from, telltale signs that a profile isn't legit, and how to keep safe when surfing the sea of potential candidates. In fact, there's an entire section of Dating Safety Tips including how to be wise on the web, protect your personal info, and avoid money schemes. POF also has a section on how to stay safe when meeting matches and practicing safe (healthy) sex.
Pricing
POF has Premium memberships, but if you aren't interested in spending money right now, you can still get a significant amount of use out of a free POF account. Unlike a lot of other dating sites, POF has a ton of functionality even on its free accounts. You can chat, see profiles, and use most of the features such as search and Ultra Match. If you're interested in shelling out some cash, you'll enjoy more features and services.
POF Visit Site
Help & Support
POF has a huge FAQ section. It covers every aspect of your account and the services offered. There's also a blog and community forum you can reach out to with any questions. You can also call the 1-800 number for assistance 24/7.
Find Love on Plenty of Fish
POF is one of the most popular online dating services out there. It's got cutting edge technology in all the right places including insightful matchmaking skills, fast and easy communications, and a sleek mobile app for dating on the go. With loads of features available even for free, over 150 million members, and fun and engaging socializing, an account with POF is a great way for anyone to find the relationship they've been looking for.