Before coronavirus hit, a popular theme in the US news cycle was consumer overspending. With research reporting that most Americans spend far more than they can afford on non-essential purchases, such as eating out or paying for cable and streaming services, it isn't surprising that the recent crisis and resulting economic downturn have caused many people to reevaluate their spending.
When it comes to superfluous spending, the average American consumer spent $18,000 a year, or over a million dollars over the course of an adult lifetime, on non-essential items, including apparel and accessories. In fact, most people spend more on clothing than they do on education. While excessive shopping might not impact your financial health if you are earning more than you spend, for most buyers, this is not the case.
Overspending comes with risks like not being able to save money in case of emergency, not being able to afford things like insurance, running up interest-accruing debt, and missing bills or payments. In the face of recession and high rates of unemployment, coronavirus is forcing many people to seriously lower their expenses, and one area that is being significantly reduced is clothing purchases. Even as shelter in place lockdowns are lifting across the country, Americans are staying out of the stores to save money.
Top10.com conducted a survey of 1,000 American consumers to find out more about how coronavirus is impacting people and their spending habits. What were the results? The pandemic has deeply affected most people in a way that will transform how we shop and what we buy for a long time to come.
The Survey Says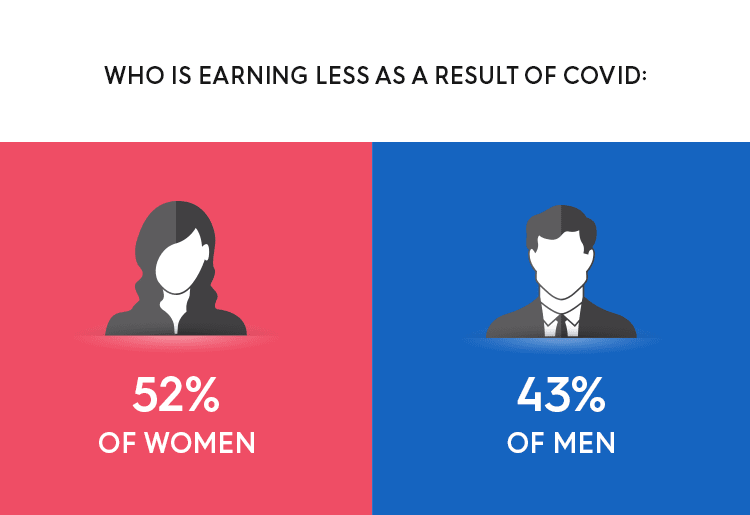 Shelter in place orders shut down much of the American economy in March 2020, resulting in a dramatic spike in unemployment and in an equally dramatic drop in consumer purchasing. These trends were strongly confirmed in our survey.
When asked how coronavirus has impacted employment, 46% of survey respondents answered that they had lost their job, been furloughed, or were uncertain of their job status. Those impacted the most reported lower income, while top-tier earners were less affected by the economic contraction. Understandably, 48% of people surveyed reported earning less money since the outbreak, and 80% of these have taken action to cut spending accordingly.
The biggest strategic financial decision made by around 66% of respondents has been to overhaul their day-to-day budgeting to cut down on spending, with the biggest cut to clothing purchases. More than any other category, Americans are adjusting how they shop for apparel and accessories.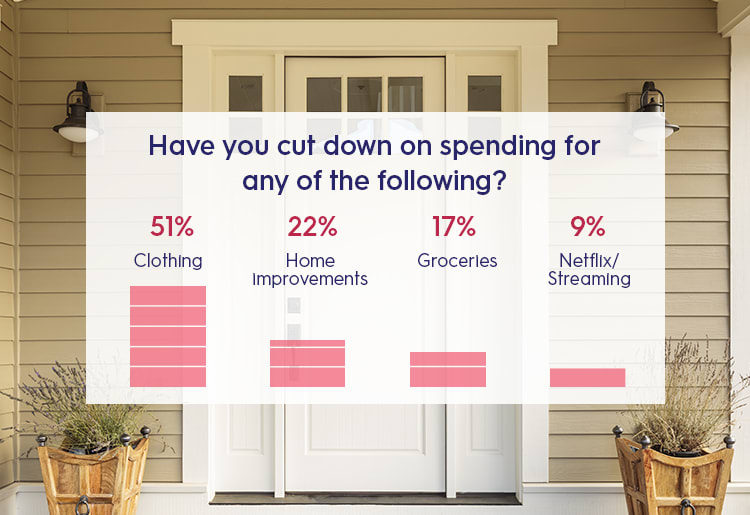 When asked about what they were cutting out, 51% of respondents answered clothing. While women are moderately more likely to adjust their clothes purchasing habits, this was the number one category that Americans are looking to reduce across all ages, demographics, and genders. Considering how widespread overspending on clothing was before the pandemic and the negative environmental impact of excessive clothes shopping, the time is right for Americans to find ways to stop buying clothes. So, what are some ways to lower spending without feeling underdressed? Here are some tips to help you be frugal while staying stylish.
10 Tips to Spend Less on Clothes and Stay on Trend
Based on our survey results, it's clear that most Americans are planning to reduce what they spend on clothes. While this is a good strategy for lowering expenses during these difficult times, it can be hard to follow through on. Breaking a shopping habit takes planning, so as the economy gets rollings again, don't get caught up. Before buying, try some of these alternatives:
1. Sign up to a fashion subscription service
You'll likely save money on clothes if you sign up for one of these increasingly popular subscription style boxes. Every month, you will receive a curated collection of clothes to try on. You can keep what you like and send back the rest, so you don't wind up with a closet full of unworn clothing. An added benefit? With many retail stores still closed or operating with limited hours, subscription shopping lets you find great styles from the comfort of your home. Just make sure you only buy what you need or love.
2. Shop thrift stores
Thrift stores or online vintage clothing stores are a goldmine of cool clothes for cheap. With prices slashed to up to 90% less than retail, second-hand clothing is frugal and funky. Find a retro leather jacket or the perfect pair of jeans for a fraction of what it would cost to buy those same items new. Plus, if you have stuff crowding your closet, bring it to a consignment shop, so you can shop with the proceeds of your wardrobe rejects. Another bonus? Thrift shopping reduces waste, and that's good for everyone.
3. Use apps to buy or sell second-hand clothing
If digging through piles of musty clothes isn't your thing, used clothing apps like ThredUp or Poshmark do the sifting for you. Snag great deals on designer fashion without breaking the bank or having to set foot in a thrift store. These apps are user-friendly and will let you search for specific items, which can help stop impulse buying. Decide in advance what you're looking for, find a pre-loved fashion piece, and head to the checkout.
4. Shop in your closet
Considering how much Americans spend on clothes, it's more than likely that many of us have more clothing than we will ever need. Before spending another dime, declutter your closet and take inventory of everything you already own. When your shelves are stuffed and disorganized, you may be tempted to buy items that you already have but have forgotten about. Make a list of what you keep and bag what you don't - but don't get rid of them just yet. Your castaways can be swapped, sold, or upcycled.
5. Wash your clothes right
One way to cut back on clothes spending is to preserve what you already have. Think twice before tossing barely worn outfits into the hamper to reduce wear and tear while reducing electricity and water costs for extra savings. Another tip is to check labels before washing to make sure you aren't ruining your clothes by using the wrong setting. Finally, if the local climate permits, line dry your wash. Not only is this gentler on fabrics, but it is also gentler on your utility bills.
6. Rent or borrow for special events
There's really no need to buy new outfits for every occasion, especially since formal wear is very costly. With a growing number of online designer rental services like Rent The Runway, you can go black tie without going over budget. Another place to save is on buying activity-specific attire. Investing in full ski gear for a one-time vacation isn't worth it. Instead, borrow from a friend or rent the gear on-site.
7. Swap clothes
This is a great tip for saving on kids' clothing as well as refreshing your own wardrobe for free. Find a group of like-minded friends and exchange items instead of buying new. With kids often growing out of their wardrobes before they can be ruined, it's likely that your group of swappers will have more than enough good-quality children's clothing to go around. After the swap, consider donating any unwanted items in good condition to charity.
8. Shop online
Ecommerce is quickly catching up with retail's market footprint. Shopping for clothes online is super convenient, but it can also help consumers be more frugal. Of course, overspending online is still a risk, especially because it is so easy, so only buy what you need after following all of the other tips. Before clicking the pay button, do a little research for coupons, deals, or similar but lower-priced items.
9. Save your hand me downs for kids
As mentioned, kids wear clothes for what often seems like a minute before they get too small. Saving clothes to pass down to younger siblings or getting hand me downs from cousins, friends, or neighbors will save a bundle. One USDA report estimates that parents spend more than $700 on clothing per child every year. Investing the same amount every year could generate a serious amount of money that you could put towards college instead.
10. Go on a no-spend diet
The ideal way to save is to not spend any money at all. This is obviously a hard strategy to stick to, but if you ban buying for shorter periods of time, it is definitely doable. Getting out of the cycle of spending can give you time to evaluate what you really need, what you already have, and what you want badly enough to spend money on. By training yourself to shop thoughtfully, you will likely spend less without feeling like you're missing out.
Refreshing Your Wardrobe Is Easier Than You Think
The global Coronavirus pandemic has deeply affected people's finances. In America, rising unemployment and lockdowns are propelling people to reevaluate their material and recreational needs, with many deciding that they will stop overspending, especially on clothing. In our recent online survey, 70% of people said that they're looking at these needs differently. However, keeping spending under control can be challenging - even when shopping means using credit and racking up debt. Finding frugal alternatives to buying new clothes can help reduce spending without it feeling like a sacrifice, so before hitting the stores, look for other ways to refresh your wardrobe.