Whether you're a seasoned traveler eager to share your adventures or an entrepreneur looking to tap into the lucrative travel industry, creating an online travel website can be your passport to success. In this comprehensive guide, we'll journey through 10 easy steps to design a visually stunning and user-friendly travel website. By the end, you'll be well-equipped to create a platform that stands out in the digital landscape and caters to every traveler's dream.
1. Choose a Website Builder Platform
Having a website is crucial for businesses, freelancers, and even hobbyists. However, the process of creating a website can be daunting, especially if you're not tech-savvy. Thankfully, there are numerous website builders available that make the task easier and more accessible.
Popular Website Building Platforms
There are several platforms available that cater to different needs and skill levels:
Wix: Known for its drag-and-drop interface, Wix is a great choice for those who are new to website building. It offers a wide range of templates and design tools that require no coding knowledge.
WordPress: A versatile platform that can be as simple or as complex as you need it to be. With thousands of themes and plugins, WordPress is ideal for those who want a bit more control over their site's functionality.
Squarespace: With its modern templates and focus on visual content, Squarespace is perfect for artists, photographers, and businesses that want a visually stunning website.
GoDaddy: Apart from being a domain registrar, GoDaddy offers a straightforward website builder that's great for beginners. Its interface is user-friendly and the setup process is quick.
HostGator: If you're looking for a platform that incorporates AI to assist in the design process, HostGator might be your best bet. It simplifies the design process by offering suggestions based on your inputs.
Making an Informed Decision
When evaluating these platforms, consider the following:
Intuitiveness: Which platform's design interface feels most natural to you? Can you navigate it easily without constantly referring to tutorials?
Customization: Think about the specific features and functionalities you want on your website. Which platform offers those features or allows you to add them easily?
Technical Comfort: If you have some coding knowledge or are willing to learn, platforms like WordPress offer more flexibility. However, if you prefer a no-code solution, Wix or GoDaddy might be more suitable.
Before committing to a platform, it's wise to explore the free trials most of these platforms offer. This hands-on experience allows you to understand the platform's user interface, experiment with customization options, and delve into the various design tools available.
2. Share Your Travels In One Place
Choosing the right platform for your travel blog is a pivotal step that can save you from future headaches. Once you begin building and populating your website, migrating to another platform can be a cumbersome and time-consuming process. You might find yourself revisiting each article and image, reformatting every page, and grappling with complex export-import procedures. Take it from someone who's been there: you want to avoid migration if possible.
Switching platforms can also jeopardize your existing SEO efforts, potentially affecting your site's visibility on search engines. Moreover, not all platforms offer the same level of customer support, so you could find yourself navigating unfamiliar waters without much guidance.
However, it's crucial not to get paralyzed by indecision. Most well-known platforms are reliable and will serve you well if you commit to them. Once you've made your choice, go ahead and finalize your subscription. Start exploring the range of website templates and customization options to make your travel blog uniquely yours.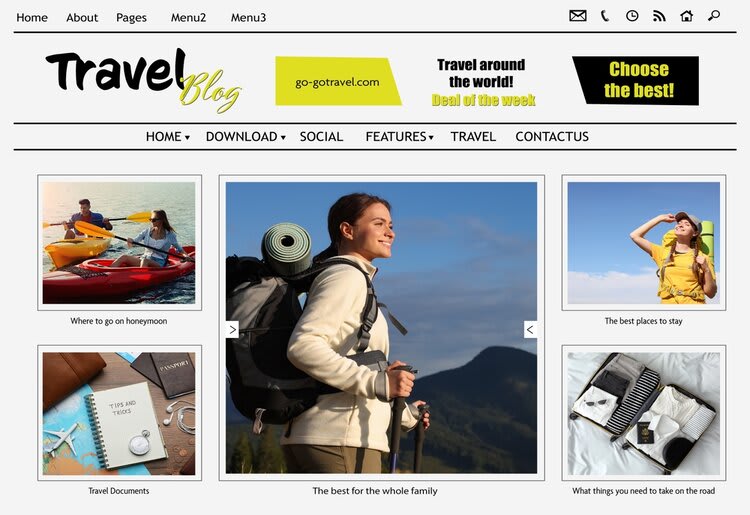 3. Know Your Costs
How much does it cost to build a website? It depends on both the provider and the options you choose. I went through several options before settling for one that offers both value for money and the features I needed to create a great travel website.
One of the things you'll want to consider is whether or not you want a domain name.
Buying your own domain usually costs less than $20/year, but website builders charge different amounts to use your own domain name vs., say, www.yourdomain.squarespace.com or www.yourdomain.wix.com.
Builders typically start billing at $3 a month for the absolute cheapest (paid annually) and $12-15 a month on average.
Realistically, it usually costs more like $25-50 a month once you've decided how much storage space you'll need, whether or not you want a store, or better quality templates or support.
These things all cost anywhere from a few dollars extra a month to a significant investment, depending on what you want. Many of the fees are pretty comparable on the website builders.
Still, I would recommend staying away from the cheapest ones for numerous reasons: They may not be here tomorrow, or they may not offer anything but the most basic templates and services or support.
Of course, there are ways to minimize costs without compromising quality. For example, HostGator's premium plan starts at $5.39 a month and offers everything you need to create a dynamic website, including priority support.
4. Write and Share Your Pictures and Videos!
Websites consist of pages filled with text, images, videos, and links. Visual elements like videos and images are pivotal in retaining your audience's interest. This realization struck me during the early days of my first website.
I observed that content enriched with visuals attracts more traffic and holds attention far better than text-only articles. Compare a plain text page to one bursting with vibrant images and interactive elements. The difference is evident.
Starting your content journey doesn't require any elaborate setup. Begin writing now and refine as you go. Aim to include at least one image or video in each section, or consider creating image galleries and interactive lightboxes.
Wondering what a lightbox is? Platforms like Hubspot, Wix, and a detailed Wikipedia article offer comprehensive insights. In essence, a lightbox is a popup showcasing promotional information or resources for your readers.
Remember to optimize your visuals. For reference, see point #8. Videos should ideally be under 15 minutes, maintaining a consistent level of intrigue to prevent viewers from navigating away.
5. Brand Your Social Media Accounts
Without branding, you're just another website like millions of others. Branding is critical in making yourself stand out and get followers, so it's important to make yours unique, memorable, and, most of all, consistent!
What I did was create social media accounts similar to my site URL to reinforce branding, and I would recommend you do the same. For instance, if your site is marysonlinetravelsite.com, choose handles like @marystravelsite, etc.
You should have at least Facebook, Twitter, and Instagram, as those are some of the biggest social media platforms around. If you're up for it, you can even start a YouTube, TikTok, or Twitch channel, a Pinterest page, and more.
Just make sure to always include a link to your website so that people know where to go, and you'll get the SEO benefits.
6. Write Up At Least a Few Articles First
Try to put up at least a dozen articles on your website before you go public so that people have something to binge on when they come to your site.
When I first started, I did a series about my top 12 favorite things about travel and included my favorite travel pictures.
You can replicate this by thinking of your top 12 favorite travel memories and writing them all down. This is one of the best ways to get ideas for what articles to write. If you're excited about them, it's easier to write and more fun to read.
Having more than a few articles on your site at launch not only pleases readers but also helps your SEO rankings. The more unique pages your site has, the more the search engines take you seriously and rank you highly.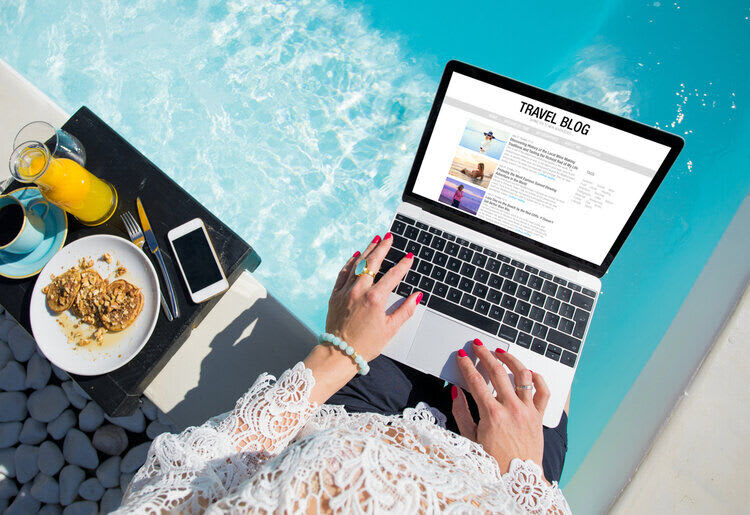 7. Plan For Good SEO
Just like any site, with a personal online travel site, the nuts and bolts of SEO are what's important. Without good Search Engine Optimization (SEO), your site will have a much harder time being found by people interested in your content.
Of course, trends are always changing, but the basics never do. The key idea? Always be relevant. Be relevant to what your readers want to see, focus on the tips below, and you'll have the basics down:
Get a good domain name that includes the word "travel." That's what I did, and I feel like it did wonders for my website.
Follow the advice on your platform about SEO. Most platforms have a wealth of information and tips on this.
Use good keywords in your articles, like travel, vacation, adventure, destinations, etc.
Link to other articles on your site with the links set on keywords.
Always use a link to your site in your online signature on every site you comment on.
Use proper tags for the right parts of the article. Check out Semantics in HTML. It can be a little bit technical, but a basic understanding is helpful.
8. Optimize, Optimize, Optimize!
You have just a few seconds to grab (and keep) someone's attention, so you need fast-loading pages. According to Google, even a one-second delay can lead to a 20% conversion drop. Part of this is ensuring that your images are optimized for the web.
The best practice is to use jpg and webp formats or svg for illustrations, which are the smallest. Keep image file sizes as small as possible while still looking good, and don't worry about the rest.
A lot of the rest of the science behind it will be taken care of by your website provider, who has done all the heavy lifting on this.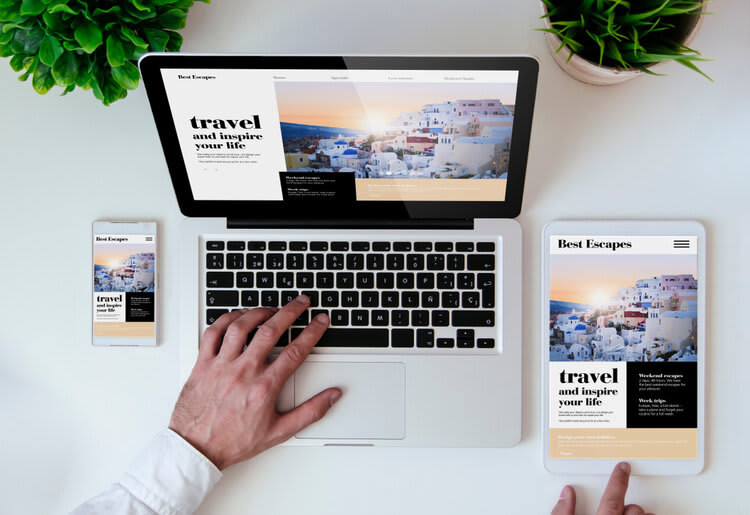 9. Get Your Branding Together
Would you recognize McDonald's without their Golden Arches and red and yellow theme? Google without their colorful logo? You want to be as recognizable as possible, just as they are.
While you probably don't have millions of dollars to hire an ad agency to create a logo for you, there's a lot you can do to maximize your branding.
One of the things I did was ask a graphic designer friend to help me with branding, and in exchange, I helped them with their social media copy.
By now, you should have chosen a theme from your selected platform, customized it, and have a logo. If you get stuck on color schemes, use Adobe's free Color tool.
If you've chosen to use your own domain name, always set up and use an email for yourself on that domain name, for example, mary@marystravelsite.com, so every time you send out an email, it's branding for you. This can help to foster customer recognition, loyalty, and trust.
It's generally known that for your marketing to be remembered, your name, logo, or another branding must be seen at least nine times, and these days, probably more because there's so much out there.
10. Tell The World!
If nobody knows about a product (i.e. your website), no one will use it. That's why advertising is such a huge business. Think about the last ad or viral video that really stuck in your memory. That's the kind of thing you're going for.
Make. People. Remember. You. In a good way, of course. Start by letting all your friends, family, and co-workers know about your new site. Ask them to share it. Post on your social media accounts. That's what I did to get my website off the ground.
I've found that following other people on social media with similar interests usually results in them following you as well.
Now Do The Thing You Love!
Now is your time to shine and get that payoff. Go out, have fun, have adventures, and get all the experiences you can. Then write, write, write.
Make sure to avoid some common mistakes. Don't deluge people with social media posts. Make sure to use lots of travel-related keywords in your posts, but don't sound like that's all you're trying to do. And most importantly, have fun.